It's officially summer in Rome, and similar to Trapani that we've just been back, people here are only willing to hang out when the sun is set. Or, to catch up with friends, many start to host dinner at home or weekend garden party. Summer is the season for eating, drinking, and gathering with friends. We cannot resist the idea of hosting the Italian themed dinner party at home.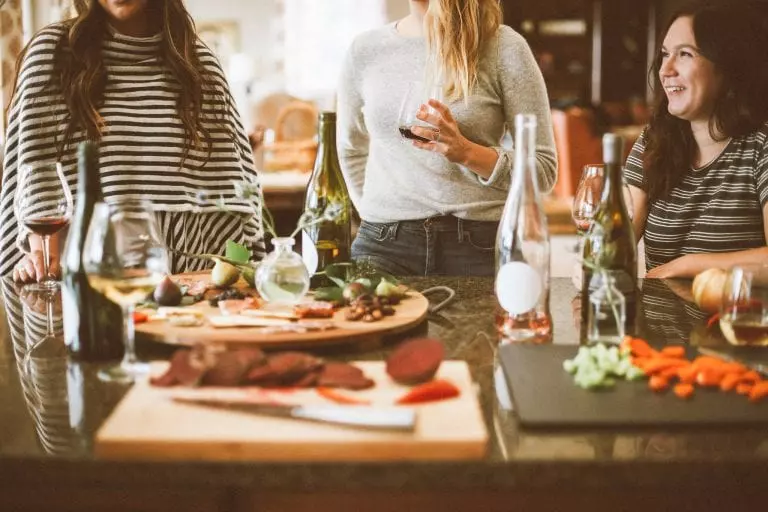 Last weekend, we hosted two in a row. I admit it's stressful to do so, but we are happy to catch up with people after being away from Rome for two weeks.
Talking about throwing an Italian themed dinner party in the summer, I do have a few tips for you. Indeed, it's all about knowing clearly what you need to buy, to stock, and to prepare in advance, so that you won't sweat out when the party clock is counting down. I want to take the example of our home Aperitivo dinner and show you how to do it easily.
You might ask, why we did Aperitivo? Summer, especially in Rome, the most we want to avoid is cooking. The Italian Aperitivo is normally a nice combination of vegetables, meat, cheese, fruit, and nuts. Most of them don't ask for cooking. Even some of them do, we always buy from the fresh market near us, or get some from the supermarket or bakery.
Ok, now let's start.
Set up the vibe for an Italian themed dinner party
Italy is part of the Mediterranean culture. From the Dolomites to Tuscany, from Sicily to Napoli, Italy is full of natural things like sea, mountains, hills, and the beautiful countryside. What I like for my table, are always something related to nature. Sometimes, I like to add a touch of Italian "spice" as well, for example, the lemon-yellow or olive-green tablecloth. You can consider the wooden dining table and chairs, some straw table mats, and a beautiful Italian-inspired tablecloth or napkins.
We've only one friend coming for Aperitivo dinner last weekend, so instead of a tablecloth, we put our natural fabric tablemats in all different sizes. The smallest ones I'm always using as a coaster in my home office, or for the wine bottles during dinners. We took out a few dishes and bowls in different sizes, especially those tiny Japanese bowls we got from Tiger, they are perfect for the olive cores. The cheese and cold cuts were served on our slate platter and marble paddle.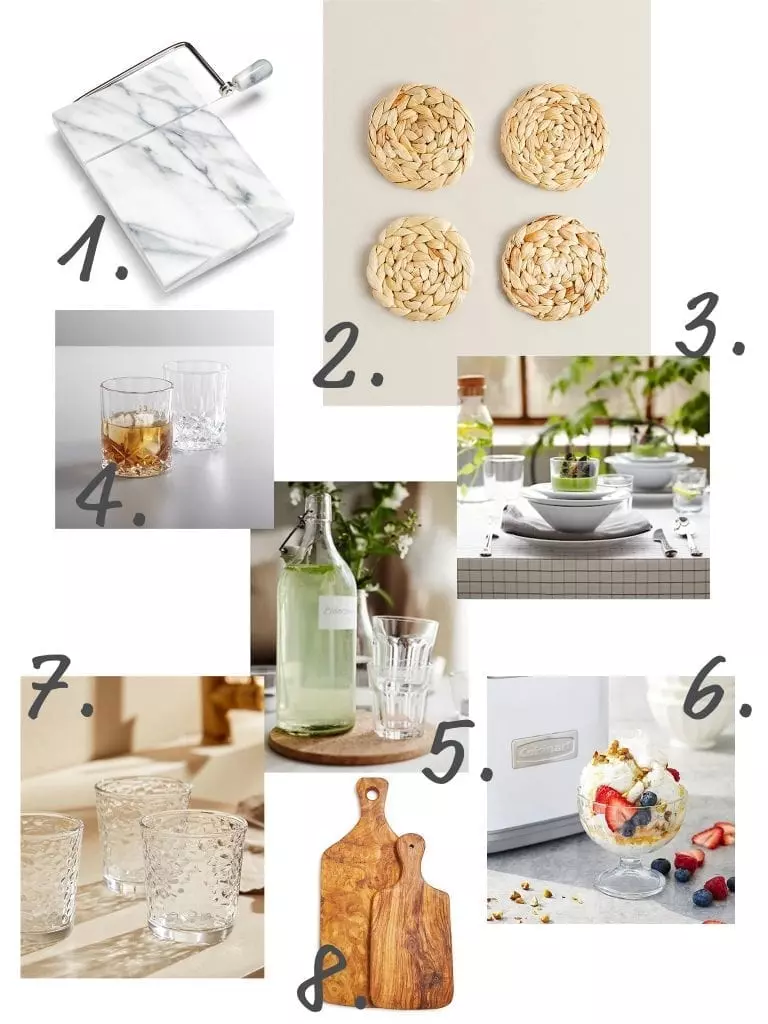 We normally don't drink wine from a wine glass at home. It's just, you know, "We are at home"! A beautiful tumbler is all we need for both water and wine, or any drink coming in the middle. Of course, you can consider a wine glass to upgrade your Italian table. However, what I want currently is a cute dessert glass. You can use it for the famous Italian Affogato al Caffe, or make Panna Cotta or Tiramisu with it. You also need to consider a shot glass which is very important to complete an Italian dinner (with dessert wine). There are different dessert wine glasses for different after-dinner drinks in Italy, but I think a single shot-shot type is more than enough at home.
On my Italian themed dinner party table:
Tablemats or tablecloth and napkins
Coasters
Plates and bowls in different sizes, even the smallest ones can be important
Serving board or platter
Water glasses, wine glasses or something in the middle
Shot glasses and dessert glasses (in the future)
Recycled olive oil bottles for wine, cocktail and water serving
I put a few below, and you can go to the end to find more.
Did I almost forget the music?!
The music is the "secret trick" for a perfect Italian themed dinner party at home! In general, my Italian friends don't mind what music for an Aperitivo in the bar. However, something Italiano or Latino is always good. I've made some playlists a while ago, I think "Summer Latino" and "Wine Night" fit well.
Italian Aperitivo dinner menu
Our Aperitivo was small, thinking about only 3 people including me and Luigi. But, we just cannot scale down the food and drink selection. It's like if you throw an Aperitivo party, you gonna have them all, or none.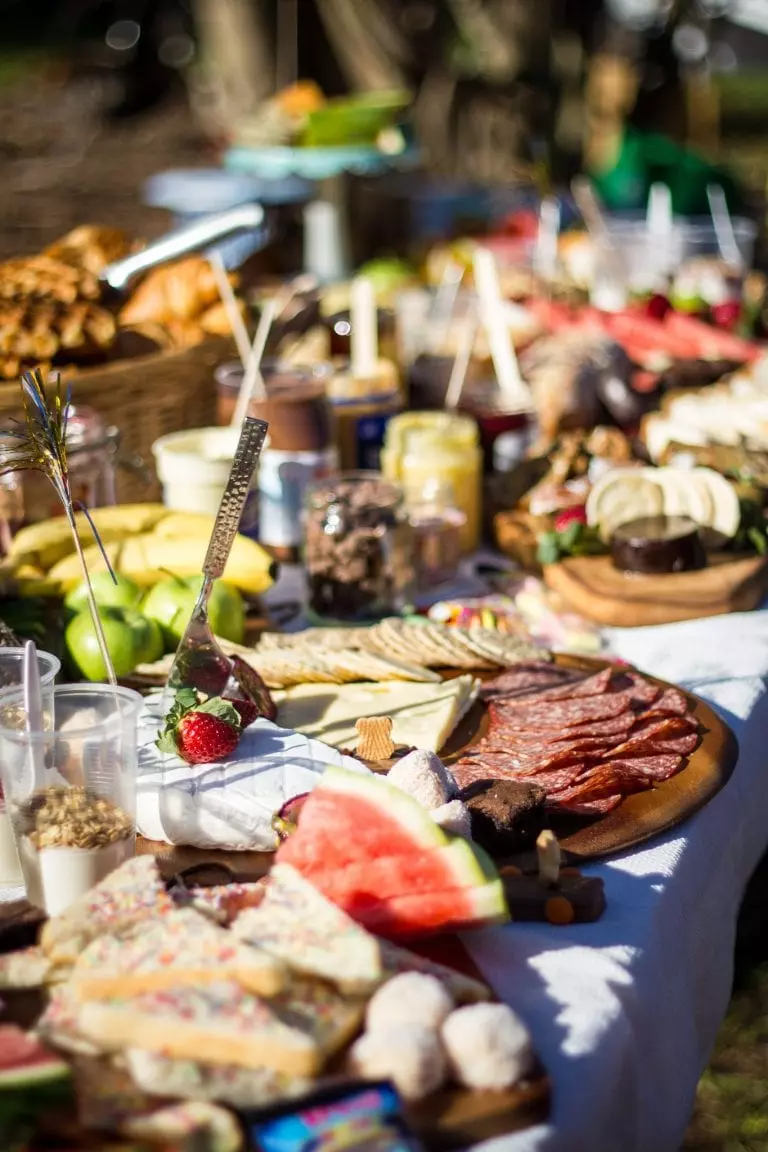 Here you are the food list:
In my experience, the bigger, juicier, sweeter green olives are always performing better than the other one. Black lives are bitter but good with cheese and some wine. If you like a bit of spice, try to find those stuffed green olives on the daily counter of your neighborhood supermarket.
Chips or nachos in plain flavor
Who doesn't get some chips for a home party? Yes, even we are talking about the Italian Aperitivo dinner party, but chips are "the international guest". In Italy, the locals love plain chips – those types with the only salt. The cheesy nachos or BBQ flavor chips are rarely seen at an Italian party table.
for example, the salted or flavored walnuts, pistachio, peanuts, or anything you like. Just, don't choose the nut that requires extra effort to open or clean. They go very well alone, or with cheese.
is not an Italian thing. But, guacamole and avocado are trendy here. Hummus is basically from the neighboring country of Italy, and it's healthy. So, why not?
Fresh and semi-aged cheeses
are the must-have items for an Italian themed dinner party, not only Aperitivo. Normally 2-3 types of Italian cheeses are enough. However, we love combining fresh and hard cheese, then it always turns out to have 3-5 types on our table. If you are similar to us, congratulation on the Italian cheese world, and I have some names of the local cheese near Rome for you.
Mozzarella in the mini ball form is perfect as a fresh Aperitivo cheese. Similarly, you can get some small balls of Scamorza Affumicato. They are soft (cute) but smoky. Pecorino cheese is a big cheese family in Lazio and Tuscany (Rome is from the Lazio region). However, I don't recommend Pecorino Romano, as they are usually for cooking. Pecorino Fresco Dolce, Pecorino Tartufo, Pecorino Picante or Peperoncino are all good choices. You can also consider a little jar of homemade fig jam or a luxury jar of acacia honey with white truffle to go with the hard cheese.
are another must-have part for the Italian themed dinner party. You are probably thinking about Salami and Prosciutto, right? Ok, about Prosciutto, I suggest to look for Prosciutto Dolce or Semi-Dolce, or you can try to find "Prosciutto San Daniele". They are sweeter and more delicate. Of course, Prosciutto di Parma (Parma Ham) is good too. Capocollo is another common Italian cold cut. They are made with herbs and spices.
You can find many different types of Salami here in Italy. Normally, I like the spicy ones to be ordered from the daily counter. Just ask for "Salami Piccante". Or you can get one or two small salami from the shelves (in a supermarket).
can be considered as a perfect company to the nuts and the cheese. I'm talking about those easy-to-take-and-to-eat fruits. Figs, cherries, strawberries are common ones. Fresh figs, now it's the season and they cannot taste better. Watermelon is another good choice. What we did is cutting it into small cubes and served directly from the fridge! Everyone loves it.
Ok, it's more like bread than pizza. The Italians call them, Pizzette Rosse. They are smaller than my palm. In the bakery, we usually can find not only "Rosse" (those with tomato sauce), but also the ones with thin potato slices and rosemary, cheese and anchovies (my favorite), and those with the sliced zucchini and cheese.
Of course, you can also take pizza bianca or foccaccia from the bakery or supermarket. They are just salted plain pizza without any sauce or toppings. 
Gelato for Affogato al Caffe
is the perfect dessert that I can imagine for a summer Aperitivo dinner table. We choose only vanilla or milk flavor to do it.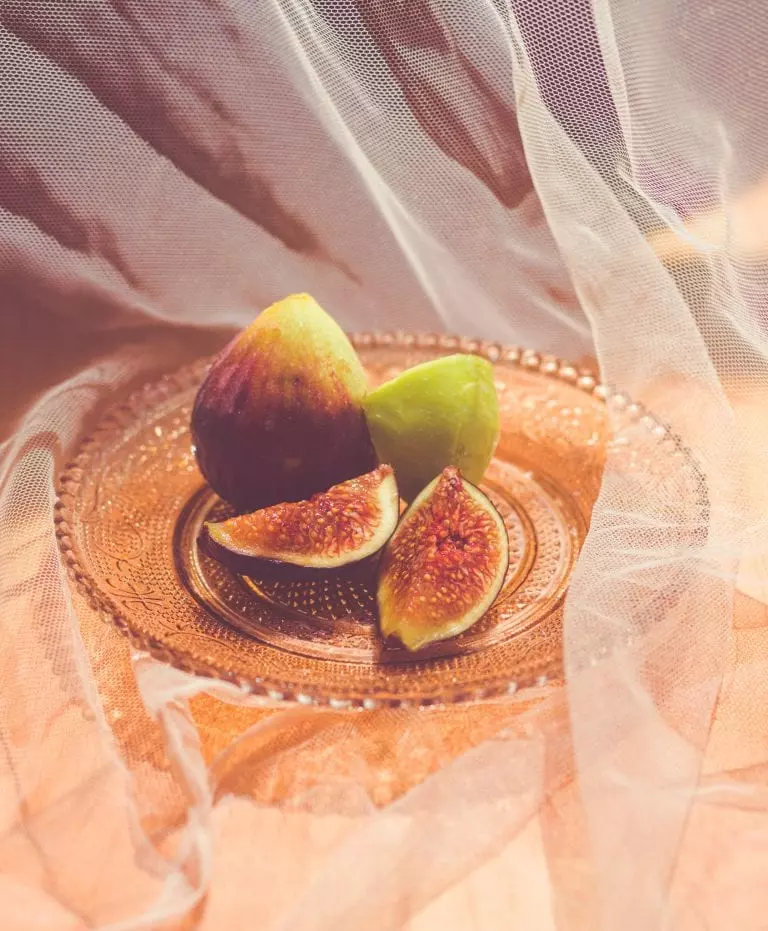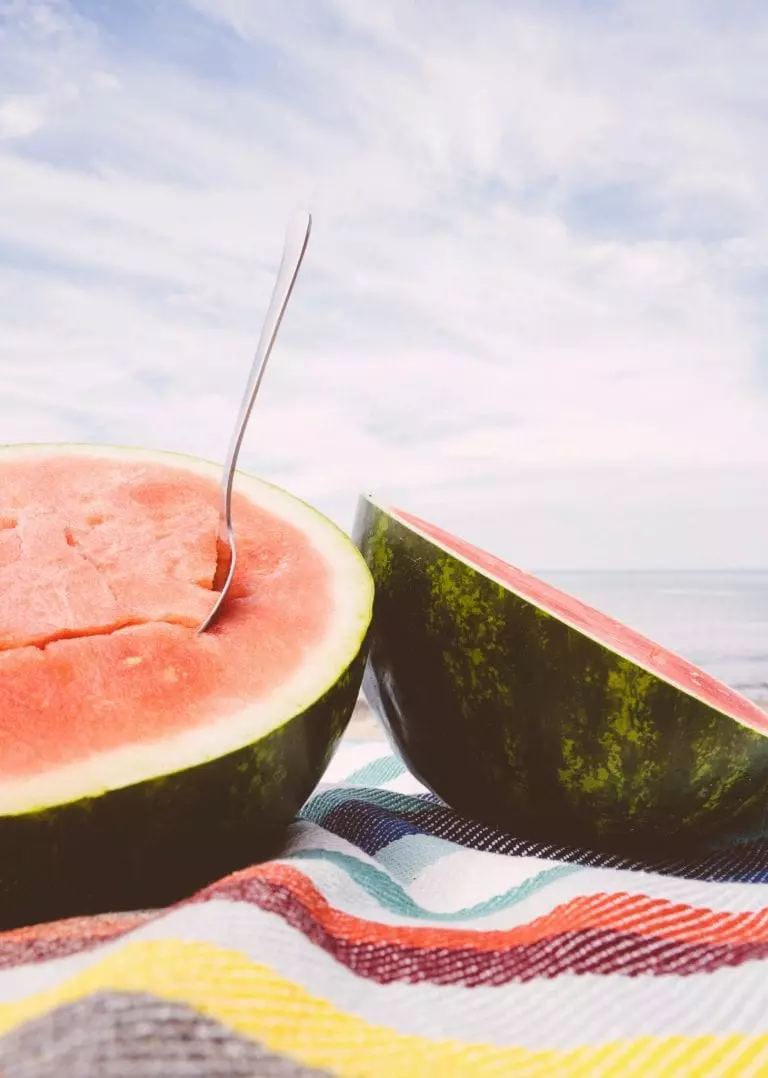 Finally, it's the BEST, drink list:
Infused water with mint and cucumber
is the most healthy drink on an Italian dinner table.
is as important as the name, Aperitivo. People always mix them up. Indeed, without the invention of Spritz, Aperitivo won't become popular in Italy, and we will miss one of the biggest social activity in the world. Spritz has many types with different spirits. Aperol Spritz is probably the easiest one for beginners for its delicate taste. We do have our way to make Aperol Spritz (a bit stronger), and recently I've fallen in love with its twisted version, Limoncello Spritz.
is especially ideal for an Aperitivo in summer. We drink the signature Montefiascone white wine, Est! Est! Est! very often, just because we always buy liters and bring back to Rome from there. However, Rome has a few nice local white wine which has lighter-body and decent taste for occasions like Aperitivo. You can try Frascati and Pecorino (not the cheese this time) from Castelli Romani. Italian white wine from the north like Pinot Grigio, Moscato Secco (not Moscato Dolce or Moscato d'Asti), Nascetta is good too.
is not necessary for an Italian Aperitivo, usually, you won't find them when having Aperitivo outside in a bar. However, at home, we like to complete the feast with a shot of Limoncello or Vecchio Amaro del Capo. They are ice-cold and refreshing.
Our shopping list for an Italian themed dinner party:
Sweet and spicy olives
Chips or nachos in plain flavour normally
Nuts
Guacamole or hummus 
Fresh and semi-aged cheeses
Cold Cuts like Salami, Prosciutto Dolce or "Prosciutto San Daniele", Prosciutto di Parma (Parma Ham), Capocollo
Fresh fruit like fresh figs and watermelon
Pizzette
Gelato for Affogato al Caffe
Aperol and Dry Prosecco for Spritz
White wine like Frascati, Pecorino, Pinot Grigio, Moscato Secco, Nascetta
Dessert wine like Limencello or Vecchio Amaro del Capo
Are you ready for the weekend now?