Winter is always my favorite season, because it is a season full of festivals, gatherings, special food, and Vin Brule.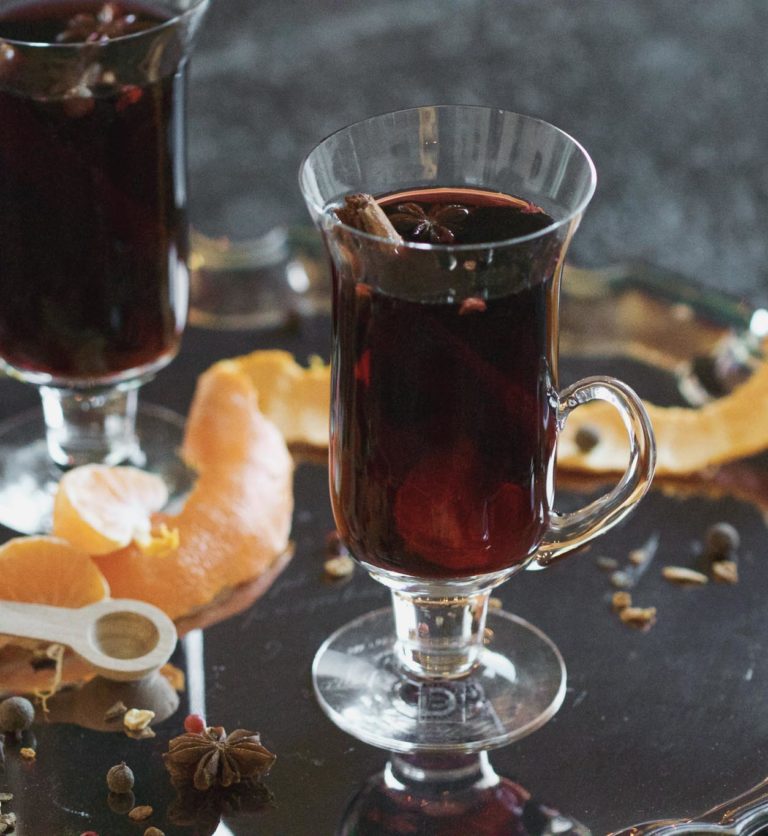 Hey, it's been a long while since my last update here.
Well, I'm slowly getting back. There were quite a lot of things in the past 2 months, and I was kind of losing my focus. I still want to share everything in Rome with you, however, "thank to" this all-year-around-home-quarantine life, I have the idea to use this blog as a curated place to share with you more beautiful lifestyle-related ideas and pieces. Stay tuned. 
This week in Rome, it rains (actually was storm) a lot and it just makes you feel wet and cold. It seems social life is just not encouraged in any ways, not the anti-Covid rules nor the weather. With my friends, we were talking about drinking hot wine or hot chocolate outside a bar in Rome, while watching the Christmas lights. Winter is always my favorite season, because it is a season full of festivals, gatherings* (we might not have it this year), special food, and Vin Brule.
Vin Brule is the Italian name for mulled wine. It is not as famous as Panettone, cioccolato caldo (very condensed hot chocolate), roasted chestnut, torrone or gianduja torrone (similar to fudge) here. However, I find it super easy to prepare and cozy to enjoy at home for the typical wet-ish winter in Rome.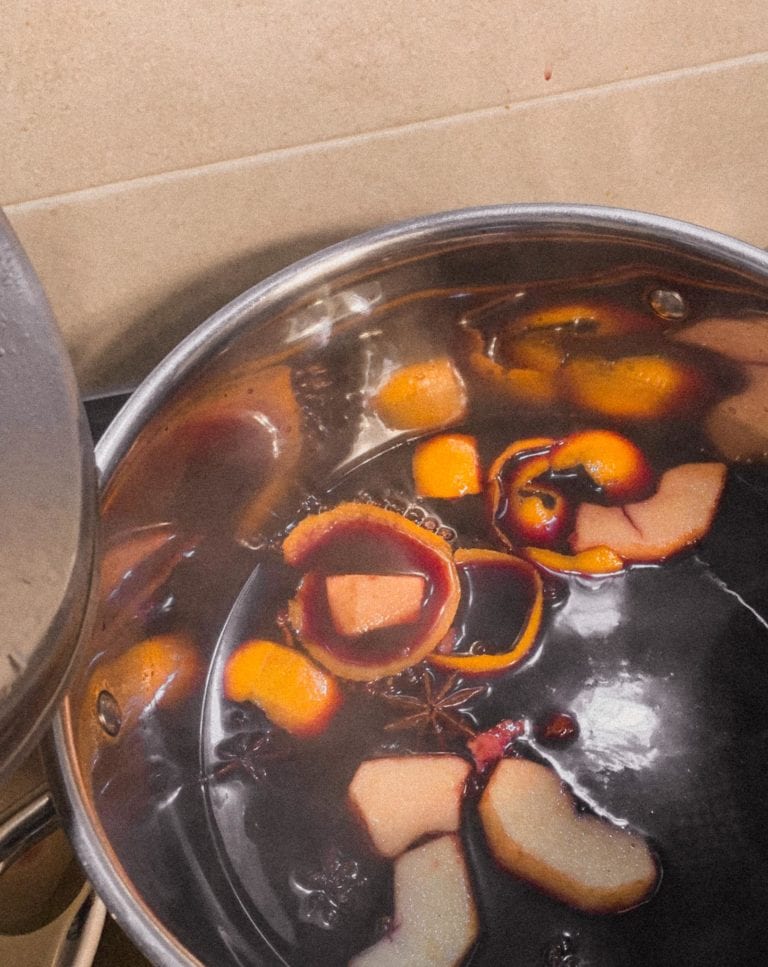 What Italian wine is good for Vin Brule?
I like my Vin Brule in the traditional way – My choice is a bottle of red wine. I do see some recipes with prosecco… I mean, please leave my prosecco with Aperol Spritz.
Luckily, we have over 500 varieties of red wine in Italy. Choosing a bottle is always difficult. A bottle of basic table wine around €2 to €6 is ok. My go-to is something around €4. Please just don't waste your Barolo or Brunello.
However, not all Italian red wine is good for Vin Brule. For example, a lot of Piedmont red are great but great for their high tannis and acidity. It is said that during the cooking process, the wine tannis will turn to bitterness in the taste. Therefore, full-bodied and fruity Italian wine from southern Italy regions is more ideal.
I love Nero d'Avola from Sicily, Negromaro and Primitivo from Puglia – also drinking them alone. Luigi and I carefully choose Sangiovese as well. Sangiovese can be dry and powerful (tannic) but it has such a big variety in Tuscany and other nearby Italian regions. We can always find a less aggressive one, for example Morellino di Scansano. If you have doubt about Italian red wine, this one by Winefolly might be helpful.
If you ask me how to cook Vin Brule, I will tell you it is actually about what ingredients to prepare our Vin Brule. The cooking, takes seriously only 5 to 10 minutes. There are tons of mulled wine recipes online like this one.
Where to buy the ingredients for Vin Brule in Rome?
In Rome, Castroni and Eatly are the two easy places to collect those ingredients (also a bottle of red wine). I love that big Castroni shop in Prati. It is like a huge rabbit hole and you find a lot of strange things by countries! They have the pre-packed Vin Brule ingredients bag!
Another important ingredient is orange zest. In our recipe, we replace it with fresh squeezed orange juice. Because we prefer the organic orange if it is the case of zest. In Italy, Naturasi is specialized in bio-products and they are in Rome too. I find they even have prepared organic orange zest… Have they read our mind?
Some fresh air and a walk to Vin Brule?
I know, even Vin Brule is super easy to make at home. We can also get some fresh air, walk a bit in Rome city, and grab a glass of Vin Brule. Enoteca Il Piccolo in the Rome city center has its reputation of serving nice Vin Brule over the years.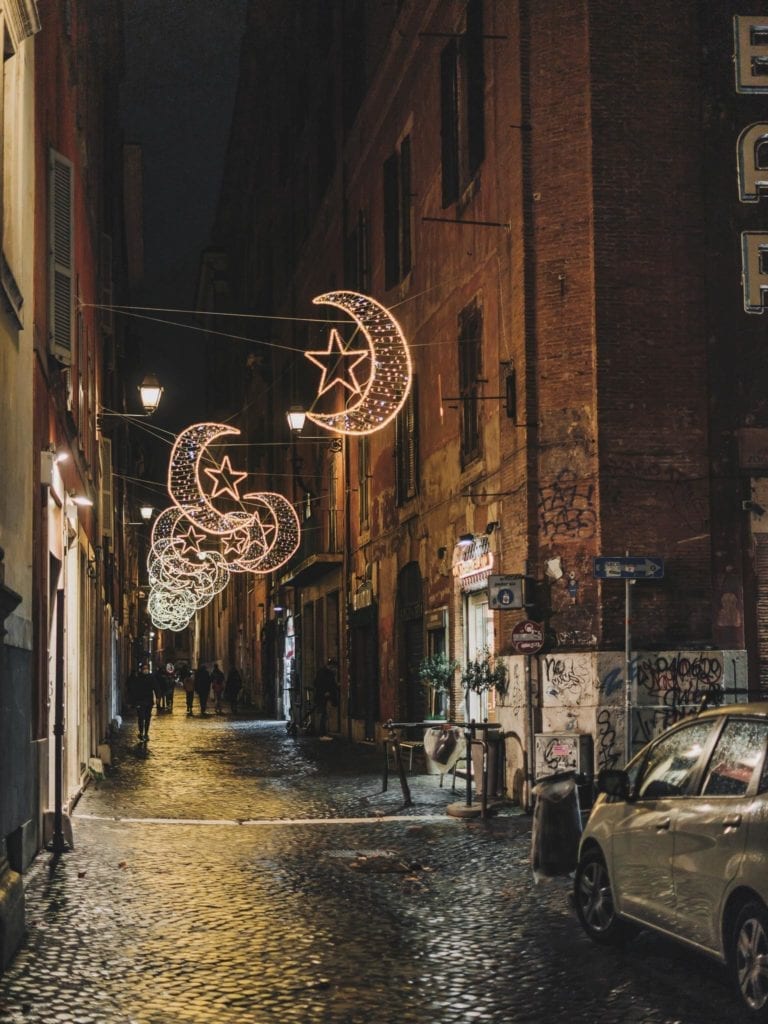 Hope you enjoy making and drinking a small glass of Vin Brule this winter. However, if you are a loyal fan of the most classic Italian cocktails,
here
you are.