Springtime! The Italians always cook and eat as the season moves on. We do, too. I'm so glad to receive many requests after my
Instagram
story about cooking Italian artichokes ("Carciofi"). So, I decided to share
the easiest of all Italian artichoke recipes to try at home
.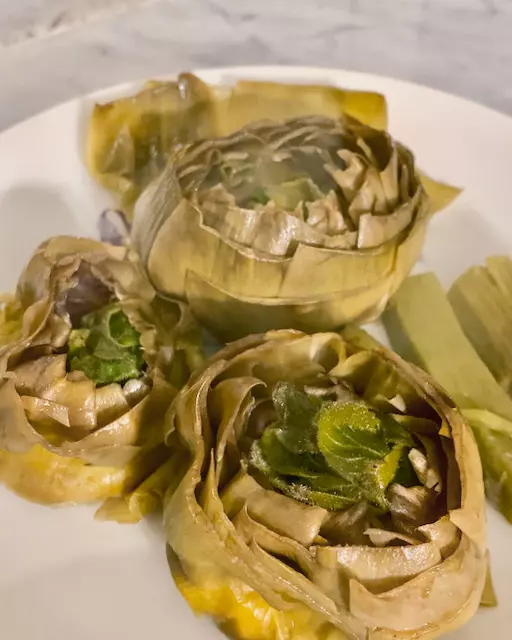 First of all, if you don't know what is the "Carciofo" – We say Carciofi more often because they are so delicious that you won't eat only one. Carciofo is the Italian name of artichoke. Of course, it has many types. I have found probably 3-4 different shapes in our neighborhood market.
Nowadays, the artichokes are mainly from Italy, Spain, and France in Europe, and the States and Peru from America. Cooking and eating artichoke has a long history back in Greek and Roman times.
Artichoke is a spring baby. Around the beginning of February, you can find it in supermarkets and markets quite often. However, for tourists, and if you visit Rome specifically, I am pretty sure that you can find them all year round. Artichoke is one of the Roman cuisine "stars".
In Rome, there are two equally famous carciofi dishes. Both of them are from Roman cuisine. One is "Carciofi alla Romana". It is boiled and bathed in extra virgin olive oil with bits of garlic and mentuccia (lesser calamint – a kind of mint). That is my personal favorite! The other one is "Carciofi alla Giudia", which is invented by the Jews in ancient Rome. The word "Giudia" represents the Jews community. It is deeply fried and seasoned with a little salt. The taste is absolutely crispy and "evil", in a good way, you know it. You can find both in a Roman restaurant, but for Carciofi alla Giudia, people love tasting them in Roman Ghetto area (near Theatre of Marcellus).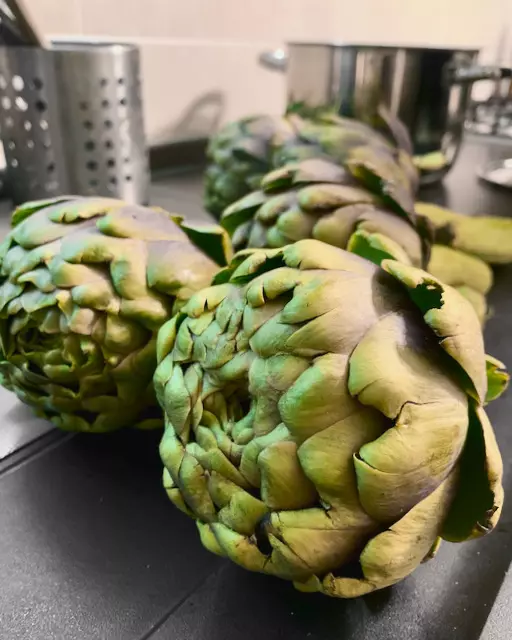 I also did a quick research about the nutrition facts of the artichokes. Surprisingly, it is such a vegetable type rich in fiber, protein, and minerals but low in fat. It is considered a good resource of antioxidants. If you want to know more about this part, read
this
. So, naturally, you assume people cook artichokes often from home?
However, in many Italian and even Roman families' kitchens, you don't find them often. The reason is, "it is so difficult to prepare" – many of my Italian friends claim it.
Well, I agree. I failed the first time. So, I went back to Luigi's mom and grandma for advice. Also, I consulted with the owner of the vegetable stall we visited always in the market. Here I am – "It is not that horrible to cook artichokes at home. Instead, it can be very easy, if you know how to do."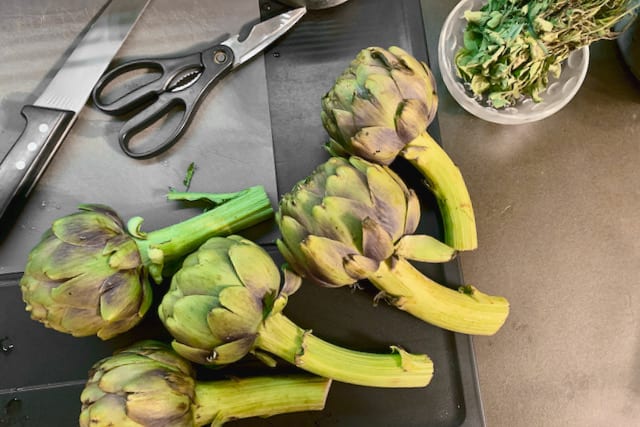 First, choose the right artichoke is the key to the successful Italian artichoke recipes
Thinking about "Carciofi alla Romana", so you get one or two Carciofi Romaneschi? Wrong!
Carciofi Romaneschi is the kind of big artichokes in round shape. My experience is, they are big before cleaning, and tiny after cooking. Also, they have a very "fluffy" heart and shorter stem. Believe me, you don't want your edible artichokes like those.
I find it seldom mentioned in many other Italian artichoke recipes. But I do believe selecting the right type is important.
I suggest choosing the type with a long stem. Some can be as long as my palm! The medium size is good. If you can find that type with a pointed shape, get that one.
Second, don't feel sorry. You gotta throw a lot of leaves, and then trim even more
I have read some "Italian" artichoke recipes when I was making my virgin try. They didn't ask me to peel off and trim so much like what an Italian grandma told me. She said, "You probably need to trim more than half".
So!!! How much we must throw?
First, you need to peel off around 3-4 outer layers. Of course, the number of layers varies as to how good the artichokes you get. The better it is, the lesser outer leaves you have to throw away.
Second, use a kitchen scissor to trim down those leaves. I cut half off from those 1-2 outer layers, which should be the middle ones. And then, you reach the central part which is difficult to work on. Naturally, you will be only able to reach the top 2-3 centimeters. Cut them off.
Last step of cleaning the leaves, which is not mandatory. When you put the artichoke under the running water, it will be open easier and you will see the last layer of baby leaves inside. They are the "monsters"! Because they have almost-invisible-but-fatal spikes on the top of each leave. It hurts! If you can, trim the tips off. If you cannot reach them, leave it…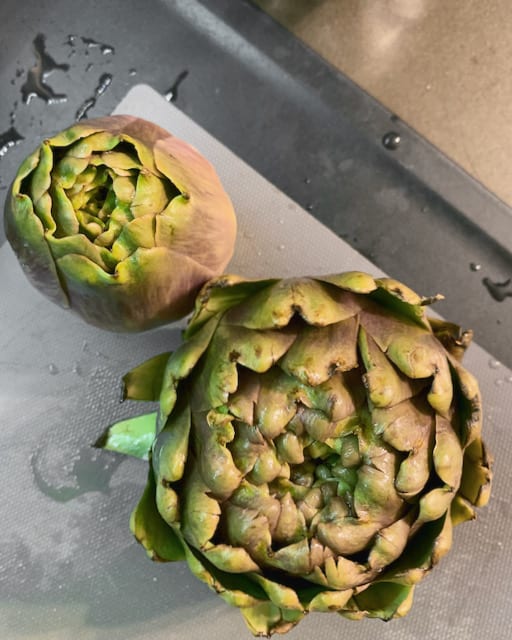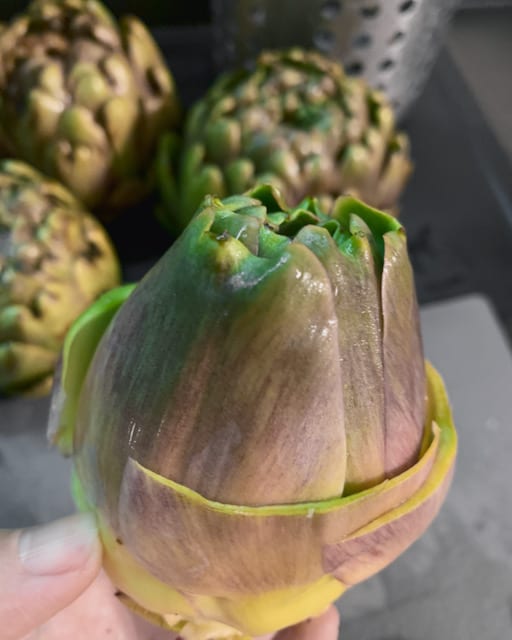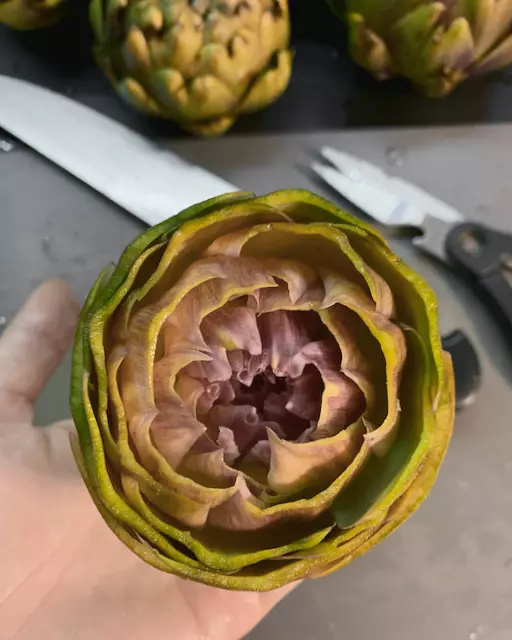 Third, chop off the stem and the "butt"
You have done most of the "dirty" jobs. This is the second easiest task.
Chop off the stem from the "butt". I use my kitchen knife to peel off the outer layer, as well as chop off the last (maybe) 5-10 centimeters. You will see them easily because they are yellowish and old.
Also, don't forget to perfect the "butt". I start from the end of the leaves and simply trim off a thin layer to make sure only the fresh part left.
Double clean everything and put them into a pot evenly. Add water until it touches roughly half of the artichokes.
You can squeeze a bit of lemon juice to preserve the color of the artichoke from browning. However, I simply add a pinch of salt and little extra virgin olive oil.
I use medium fire to cook them. It takes roughly 10 minutes for the water to boil. I will leave it on for another 3-5 minutes with a small fire. Then, it is done.
For a more tasty version, you can chop some garlic, mix with mentuccia (that type of mint I have mentioned in the beginning), and stuff them in the central of the cleaned and trimmed artichokes. Personally, I don't eat garlic, so I prefer not to use mentuccia either. You know, these two are a pair to balance each other.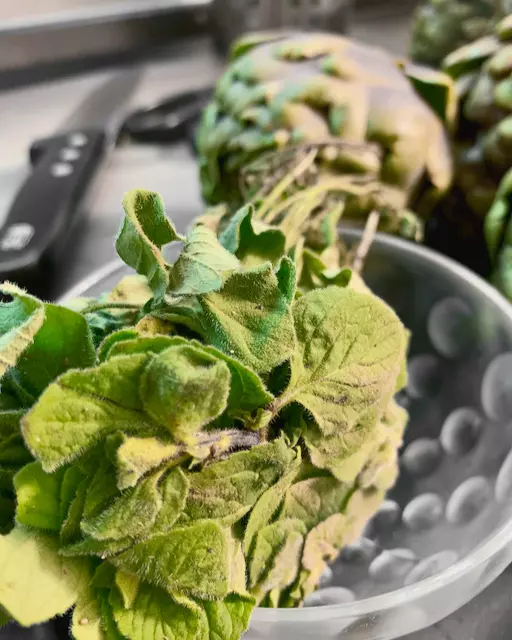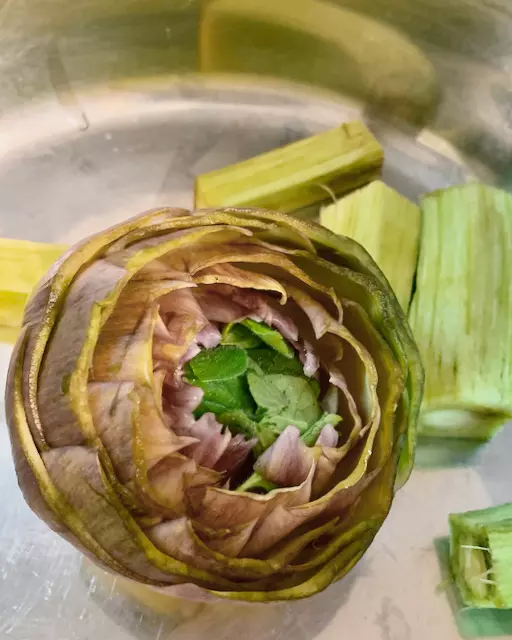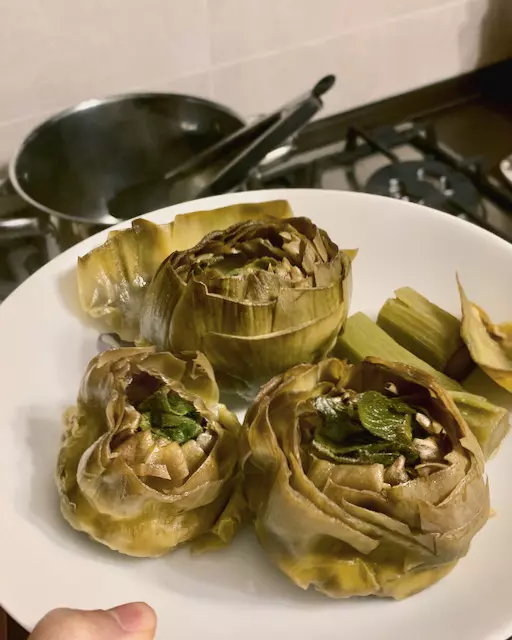 I hope you enjoy this post about how to select, clean, and cook artichokes, especially you want to do as those Italian artichoke recipes. And, of course, I wish you enjoy this spring with this awesome (with healthy benefits) and yummy vegetable. If you have any questions or simply want to share with me, leave your comments below, or find me on Instagram.
If you are living in Rome, and you want some Carciofi dishes. I have recommended some very good Roman restaurants in the past, for example, Di Bucatino and Velavevodetto in Testaccio, Matricianella in the city center, and so on.