How to order food in Rome? This is a post for whom want to know, what to order for authentic Roman cuisine, and what you shouldn't ask from an authentic Roman restaurant like Flavio al Velavevodetto!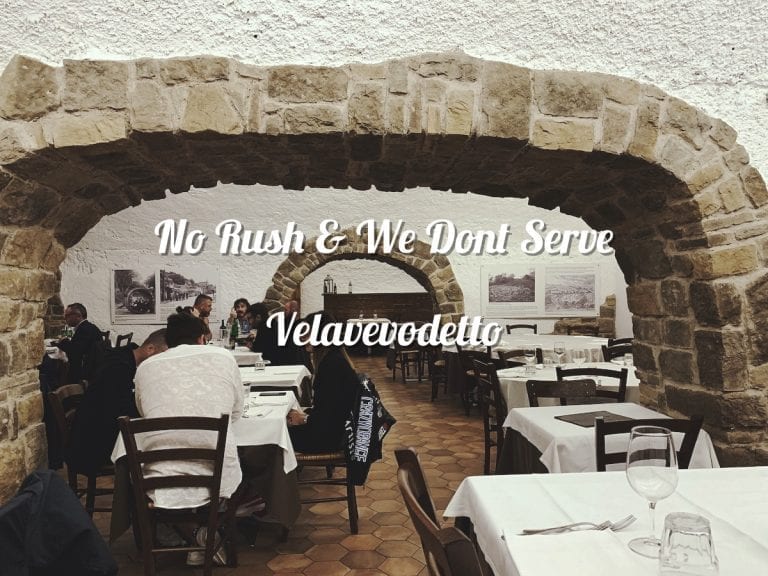 Last week, we went out for a spontaneous dinner with a friend from Milan. As usual, we presented our hospitality by picking up a traditional Roman restaurant. Before I jump into today's topic: How to order food in Rome, I've got a small tip first.
In Rome, if you want a nice and authentic dining experience, booking is always highly recommended. Because, when Google tells you the restaurant is open, it might still be close when you arrive. If it is open as Google, you might be the first unlucky one on a waiting list, even it's a random Wednesday night!
Testaccio neighborhood has the reputation of an authentic dining area in Rome among the locals.
That night we headed to Flavio al Velavevodetto which is a traditional restaurant with an inconvenient location. We took the metro to Pyramide from Termini, then walked 5-10 mintues there. On our way, we didn't encounter more than 5 persons and the time is before the dinner, considered as early for the Italians! We dined in the grotto-like area.
The menu is absolutely THE perfect self-portrait of an authentic Roman restaurant, which we find it super entertaining. Flavio al Velavevodetto is 100% a good example to show us a few tips of how to order food in Rome.
In Rome, "never rush those guys in a restaurant", is a well-known rule. If you don't know it, you know it now.
The guys working in a restaurant have their own rhythm. That is an important part of the restaurant-dining culture in Italy. They need to entertain their clients, especially for a table of ladies, and they don't like to rush around in their crowded restaurant space. Most of the restaurants are family-run, which means the kitchen is professional only in the taste, but not necessarily in the time management and efficient operation.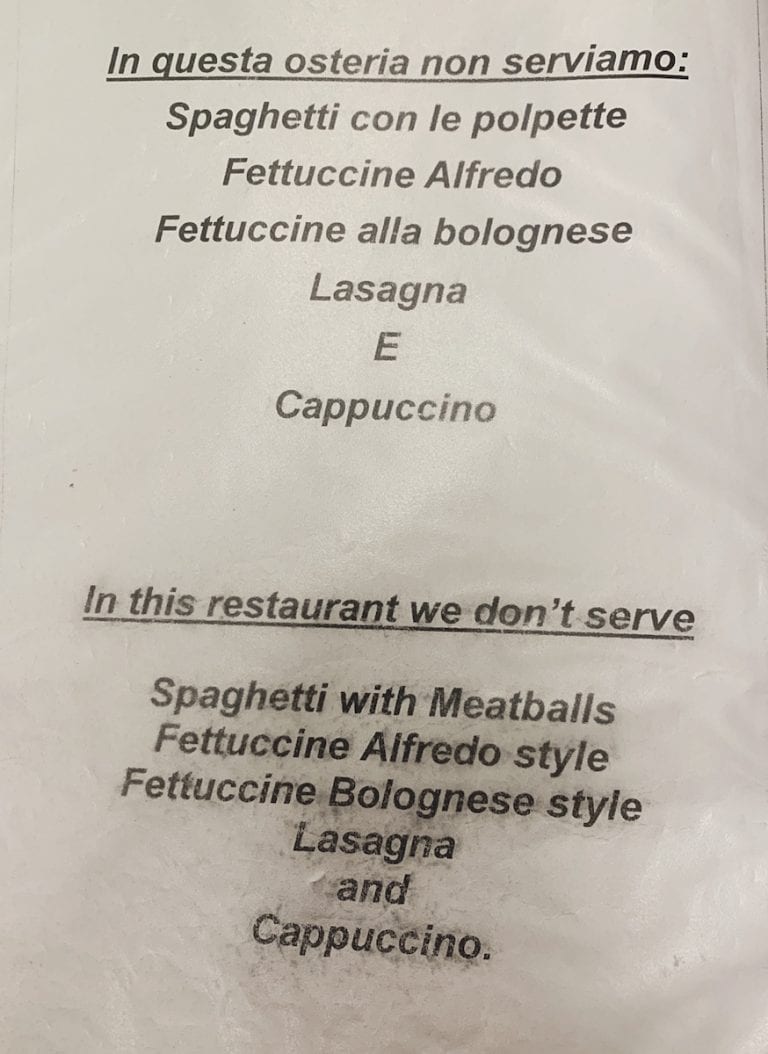 Just as written above in the picture, some of the world-known "Italian" dishes are not available here. The Chef will never compromise to make one from that list. And I guess the truth is that he doesn't know how to do it!
A lot of people think Italian dishes are simply pasta and pizza, however, before this country was united in 1861, it was a place with many republics, states and kingdoms. The people from different regions maintain their unique food culture. Sometimes, they don't even accept or appreciate others'. From the 19th, the Italian immigrants brought their cuisine to America and then to the world proudly. But, there are many localization and adjusting to the original recipes due to the international immigration. That's also why many people find the Italian cuisine are so different when they really travel in Italy.
Velavevodetto's funny statement tells exactly those misunderstandings. So why they wrote that special statement?
Alfredo style / Bolognese style / Lasagna
Alfredo style is with butter and originally from northern Italy regions.
Bolognese style is from Bologna and the recipe is with tomato and minced meat.
Lasagna is from Naples.
Therefore, none of them belong to a traditional Roman restaurant. If you consider the old history of those 3 regions, they even fighted fiercely for a couple of times.
Spaghetti with meatballs?
Meatballs (In Italian: Polpette) shall never be together with spaghetti. They are a dish by themselves, separately, as tradition.
"Are you kidding?" – An Italian will say this.
Cappuccino is a beverage with a 30% or less coffee. Accordingly to the Italians, it is a "milky" drink for breakfast.
If you follow
the Italians' way to drink coffee
. Noon time is the deadline for the last cappuccino of the day. After that, everything would be a caffe (Italian espresso). No negotiation.
OK, so how to order food in Rome, if we cannot get those "Italian" dishes we know? Velavevodetto shows a good example as they've got almost all the traditional dishes, in a pretty professional way!
Spaghetti with meatballs / Fettuccine Bolognese style
Choice 1: Bucatini all'Amatriciana
A lot of traditional Roman dishes are tomato-based, and the Central Italy is never a place for vegan dishes.
In Rome, one of the most traditional pasta dish is Bucatini all'Amatriciana. In Italian, "Buco" means hole. So, we imagine Bucatino is a pasta with a hole – let's say like a tube. It is said, this shape is easier to cook and to grab more sauce.
Amatriciana, is a type of sauce with tomato, pecorino cheese from Amatrice and guanciale (cured pork cheek) from Rieti (province of Lazio region) originally. Now you will find it a bit spicy because many make this sauce with black or chili pepper.
Choice 2: Rigatoni con la Pajata
Rigatoni is a pasta from Central and Southern Italy. It is like a big brother of penne. With the very traditional Pajata sauce, its name is Rigatoni con la Pajata, which is the most traditional Roman dishes. Pajata, is the intestines of the calf only when it still feeds on its mother's milk. The intestines have to be well skinned, cleaned, and stewed in the typical tomato sauce. The creamy consistency with the good balance from the acid tomato sauce, is the key to this dish. Unfortunately, I don't see this dish much in Rome.
It is the most well-known Rome pasta. Carbonara is what you must try! Bacon, cheese, egg and pepper is the major 4 ingredients for Carbonara. However, you can have a few choices of different pasta. They are fettucine, spaghetti or rigatoni. Here in Velavevodetto, they make with rigatoni.
The origin of Carbonara is not 100% clear, however, there is a mainstream theory I found it creditable and interesting. Carbonara, the name derived from "Carbonaro", which in Italian words, means charcoal burner. Probably, this word refers to the working class with charcoals, or they are miners. Guess what? They all love Carbonara!
The second theory is related to an American-Italian chef in the time of the Italian immigration to America. The Italian Chef didn't want to waste those "left-over" bacons, eggs, and cheese from the American's breakfast. So, he invented the Carbonara by mixing those "breakfast" ingredients with the Italian pasta!
A good carbonara will never be milky white. Instead, it should be in gold-yellow color with many black dots (the peppers). You might find it very different from the "Carbonara" outside Italy, because many restaurants make it with cream sauce (absolutely not acceptable). The ingredients are so simple that I imagine it as an easy home-made dish. Truth is I'm naïve. I can always make a Carbonara edible and fairly tasty but never presentable as those from the good restaurants.
You might notice in Rome, Carbonara has a few "cousins", which might be confusing when you have to order.
Cacio e Pepe, means cheese and pepper literally. Normally, it is the spaghetti with pecorino cheese and black pepper. It is very similar to Carbonara but it's without eggs.
Another non-egg "cousin" is Gricia, which is an ancient Roman dish since 400 AC. The main ingredients are guanciale (cured pork cheek), pecorino cheese and black pepper. You can find also in Velavevodetto.
This is just a short introduction of Roman dishes based on Velavevodetto's menu. However, I would love to share a guide of what are the Rome's traditional dishes, from starters to desserts. Also, I want to talk about the tips and the culture in Rome so that you can understand how to order food in Rome better. I hope it can be a very practical "bible" for who visiting Rome, but also an enjoyable reading for whom is interesting in the local culture and history.
I specially mention a few more dishes those we've ordered that night at Flavio al Velavevodetto. They tasted so good, so just in case you are going, remember to try.