Do you like drinking coffee? Do you drink coffee almost every day? If your answer is a Yes, be careful! Because you might not drink coffee like an Italian, if you are traveling in Rome or any other places in Italy. Worse thing is, without understanding how to drink coffee like an Italian, you might end up with uncomfortable experience or even bad impression.
"The World is a book and those who do not travel read only one page." - St. Augustine
However, traveling is a practical book. Taking the topic "How to drink coffee like an Italian" as an example, to read page of Rome or Italy, you probably need to know some basics about Italian's coffee culture. To understand, to try (practice) is the way to finally enjoy it.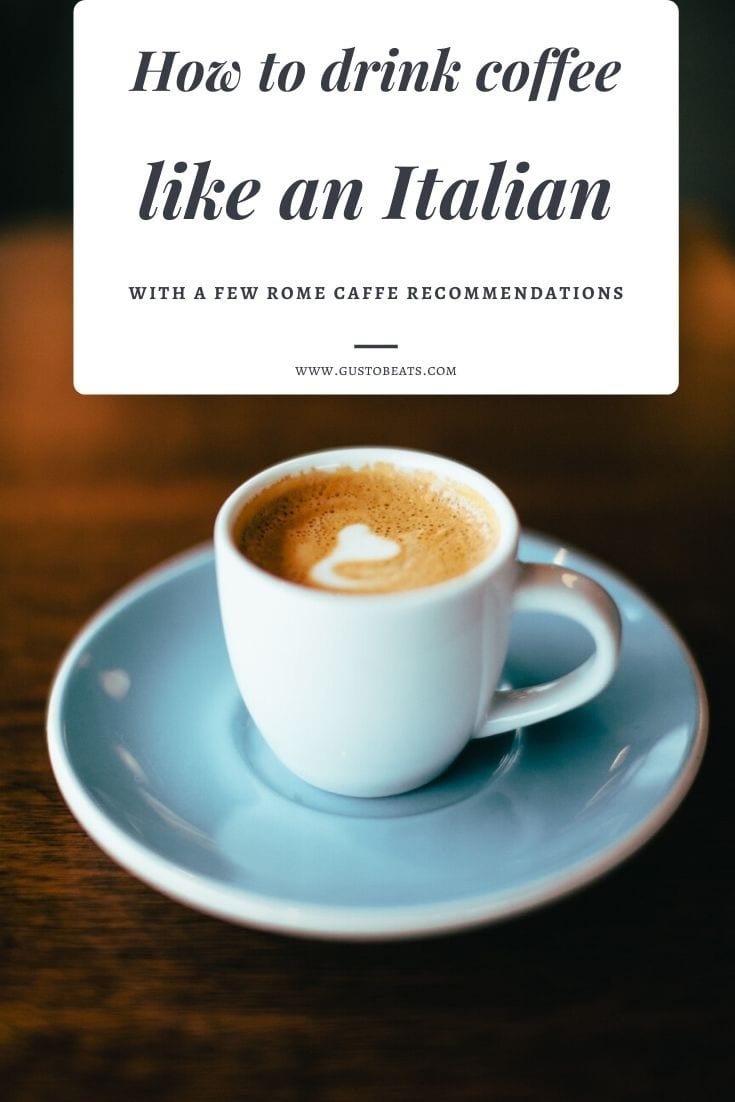 Romans or let's say Italians, have a very different coffee culture.
Let me give you a few numbers first!
The coffee giant, Starbucks has 31,256 stores over the world as the figure of 2019, according to

Statista

. However, if I'm not wrong, the number of Starbucks store in Rome is 0!
In 2018, the first Starbucks store opened in Italy. It is a Reserve Roastery and it is in Milan. It had been 35 years since Starbucks was inspired by Italian's coffee culture and took its business off by CNN. Unfortunately, we've been told that in Milan's store, you won't find Frappuccino!
In a year, 14 billions espressos are consumed in Italy.
In a day, 230.3 cups of coffee are sold in Italian's bars. And among those, 59.8% are espressos! (If you want to read a few more figures, click here)
It seems that Italians have the true passion to coffee, however, somehow, they "refuse" the international coffee culture. Instead, they are really proud of their bars, little coffee cups, or we should say their unique way to drink coffee.
A brief history of Italian coffee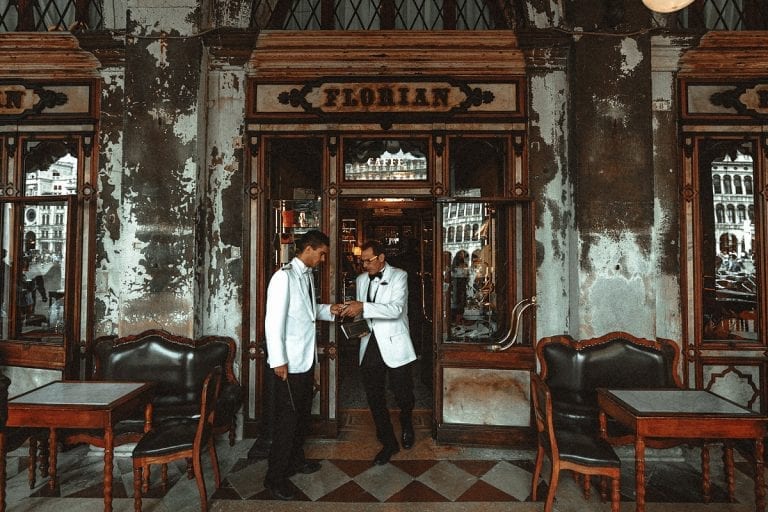 It seems that Venice is the starting point of Italian's coffee history. From the 16th century, Venice was one of the first European ports to import coffee beans. Not a coincidence, the Venetians' Caffe Florian is one of the oldest cafe in Europe. Italians are the first to bring the steam-pressure coffee machine to the world. In 1884, the espresso machine was patented in Torino, and some 20 years later on, it is improved in Milan for a more commercial and international purpose.
Why Italians drink coffee and how many cups of coffee the Italian drinks in a day?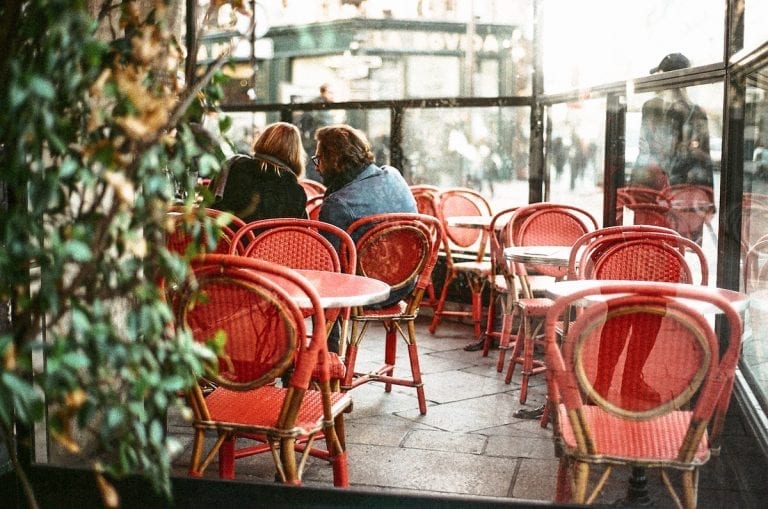 Why Italians drink coffee?
Before learning how to drink coffee like an Italian, we need to understand why they drink coffee. For Italians, coffee is a strong linkage to their social life.
When they meet a friend in the street and want to catch up with him, they say "Caffe?". 
After a meal in the restaurant, they order a coffee and then start the conversation for another one hour!
In the workdays, they call the whole office to the nearest bar for a coffee break when it's the time to feel tired.
To thank someone's help, they offer a cup of coffee back.
Somehow, the Italians coffee culture sounds familiar. They take one in the morning to wake up and then one after lunch for digestion or simply refresh their mouth. Around 4pm, someone might take another one to lift up the spirit. 
However, all the "coffee" above means a small cup of espresso. It is not black coffee, nor cappuccino or latte! Thinking about double-espresso? No, that is not the way how to drink coffee like an Italian either. It is always espresso, and only espresso!
So how many cups of coffee does an Italian drink in a day?
The answer is "It depends…". A couple of Italian friends don't drink coffee at all, or they choose a decaffeinated espresso. In general, an Italian drinks 2-3 espressos a day, however, I won't feel surprised if someone drinks 6-8 cups. Luigi doesn't drink a lot now, but he had a record of 20 cups a day in his "stupid" college life!
How to drink coffee like an Italian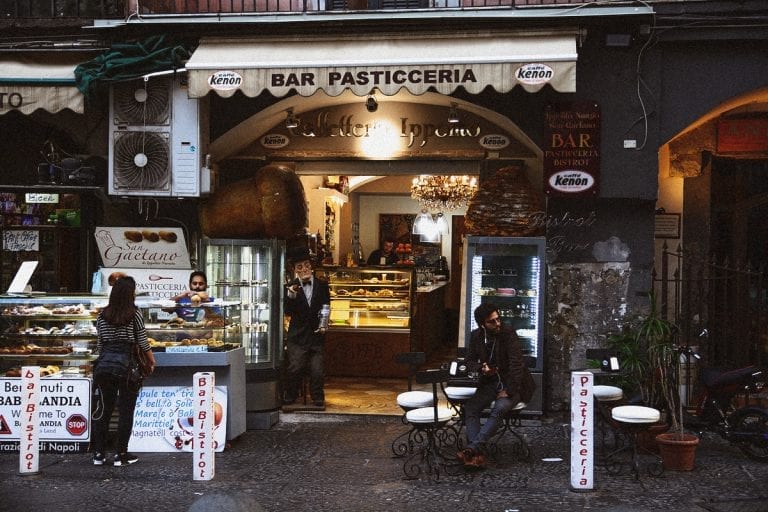 First, there are a few potential places for you to drink coffee in Italy:
Bar

Restaurant
Home or Office
The most common place is Italian's bar. Bar, in Italy, means a small shop serving coffee and other alcoholic or non-alcoholic drinks. Sometimes, a bar is also a tobacco shop where you can buy cigarettes.
Then, the Italians have a few simple rules about when to drink what coffee:
In the morning, before 11am or at least before noon, you "are allowed" the drink cappuccino or any kinds of espresso coffee. 
In winter, and probably it rarely happens in the morning time, some will have an espresso with spirit to warm up. A few Italian spirits can do, but so do others. For example, now I like my after-lunch coffee to be espresso with Bailey's. 
The last, is a couple of things about how Italians drink coffee:
The espresso is served without sugar and sometimes, with a glass of water aside. Sugar is everywhere in the bar, so you can grab as you wish.
Italians drink their coffee super-fast! The whole process of ordering, waiting, drinking and leaving, takes probably less than 5 mins. Of course, if they chat with the bartender or the bar owner, it doesn't count.
In the bar, they drink coffee standing. It is somehow understandable if you've read the above point. Who cares a table and a seat, if finishing an espresso takes less than 1 minute? Then, I have a reminder for you. To drink coffee sitting-down, means a different charge. In almost all bars, table menu has at least double pricing than the standing one.
Coffee is never consumed when it's cold! If you love to drink coffee like an Italian, avoid your craving to ice coffee and be prepare that your coffee might be served very hot!
How many types of coffee in Italy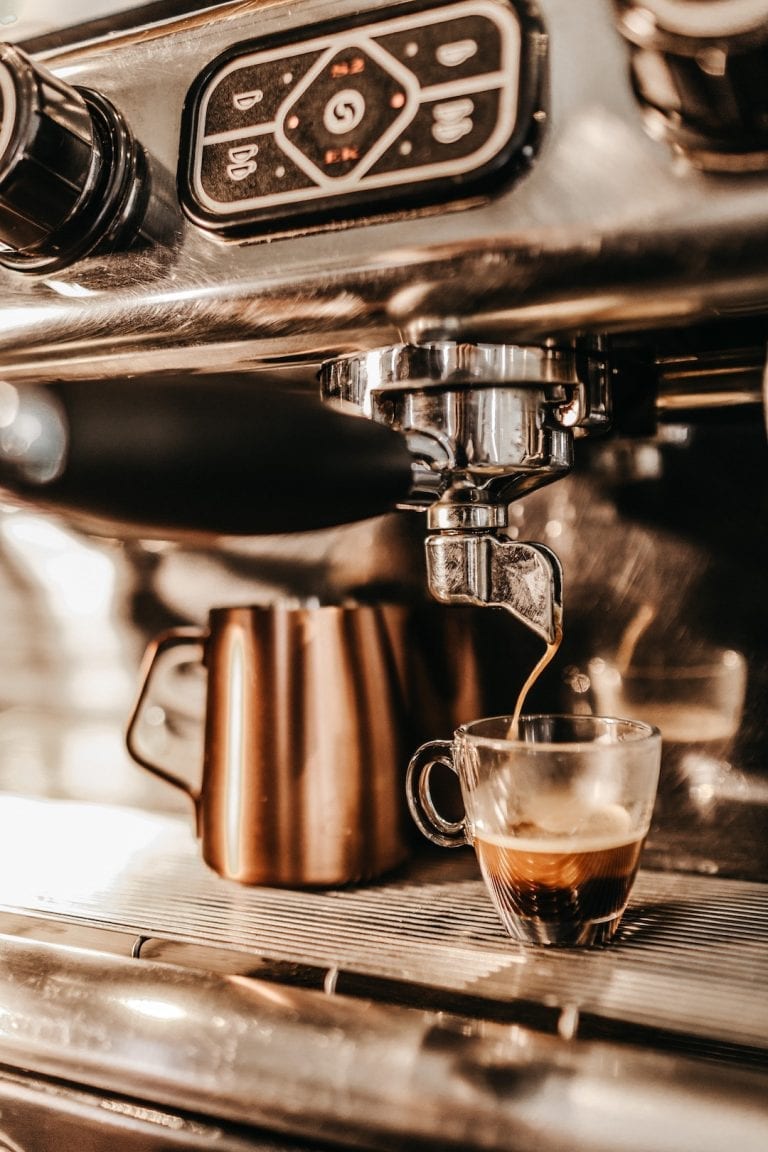 The common coffee types Starbucks teaches us, are almost not present in Italy. Or maximum, you can find a similar type however, Italians never consider them as coffees. If you are coming to Italy for a coffee or two like an Italian, you might want to know these words first.
Caffè: This is normal espresso, and it's single shot. In the bar or restaurant, if you call out this word, people will give you an espresso only. So, if you mean something others, you really need to use correct word or give more details. Sometimes, in the busy bars, the bartender will forget your special request and give you an espresso directly. In this case, tell him/her what you asked and they don't bother to make another one for you.
Caffè Macchiato: This is my frequent choice because I drink my coffee without sugar but I don't like bitter or strong taste either. With a bit milk and milk foam on top of an espresso, is the way of Caffè Macchiato. And that's the perfect way I like.
Cappuccino: Cappuccino is the common choice when Italians go for their breakfast. In the bar, we will just order a cappuccino and a cornetto (Italians' croissant). Cornetto comes the first. Normally your cappuccino will follow when you almost finish the cornetto, because all coffees in Italy are made freshly on your order. The cup of cappuccino is not as large as what we have in a brunch in Germany, in Hong Kong or in US. The foam, sometimes, is thinner than you expect.
Those beloved coffees by Italians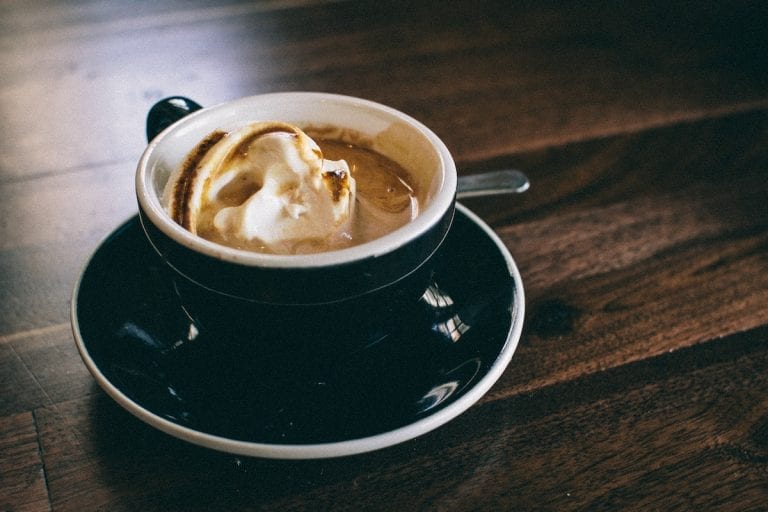 Caffè Ristretto/ Caffe Cotto: If you really need a strong boost from caffeine, this might work. Ristretto or Cotto means they will cut off the water earlier to make a thicker and more intense espresso.
Caffè Corretto: This is one of my favorite coffee in Italy because it is espresso with a bit of alcohol. (I'm not an alcoholic but just have the passion) You need tell the bartender which alcohol you want. Normally the options are Italians' Grappa and Sambuca, French's Cognac, or some international ones like Brandy, Rum or Bailey's. It is perfect for a cold day, but people rarely have it in the morning hours.
Caffè con Panna: This version is not common but I think sweet-tooth might like it. It's simple topped with whipped cream and you can even do it at home easily! Panna is light and tastes slightly sweet. When you mixed it into the hot espresso, it will turn coffee creamier. Beautiful!
Those rarely ordered coffees
Caffè Latte: It is similar to latte as we know usually, but it is not a common coffee in Italy. Probably they do it more for tourists than locals. Pay attention, when you want a latte, do not only say "latte", you have to say "Caffè Latte". The reason is "latte" simply means hot milk and in Italy, people do order hot milk to drink, sometimes… or for kids. Once time, my friend bought a cup of latte from the coffee vending machine inside Vatican Museum. She drunk to the end and asked me why she couldn't taste a bit of coffee? We laughed so much that day!
Caffè Lungo: Normally, this coffee will be served in a slighter larger cup, but it shouldn't be with a cup for cappuccino. Your espresso will have a bit more hot water. If you are longing for Americans' black coffee, this one is the potential candidate, however, you might still find it a bit stronger.
Caffè Doppio: It is double espresso. To be honest, the Italians don't order it, because they prefer to order another cup!
Caffè Shakerato: I've taken it once or twice in the summer. They put ice and a cup of espresso into cocktail shaker and shake hardly to make this for you. It's a creamy and cold coffee. Interestingly, it tastes like Frappuccino if you ask the bartender to put sugar or chocolate syrup inside. 
How to order coffee like an Italian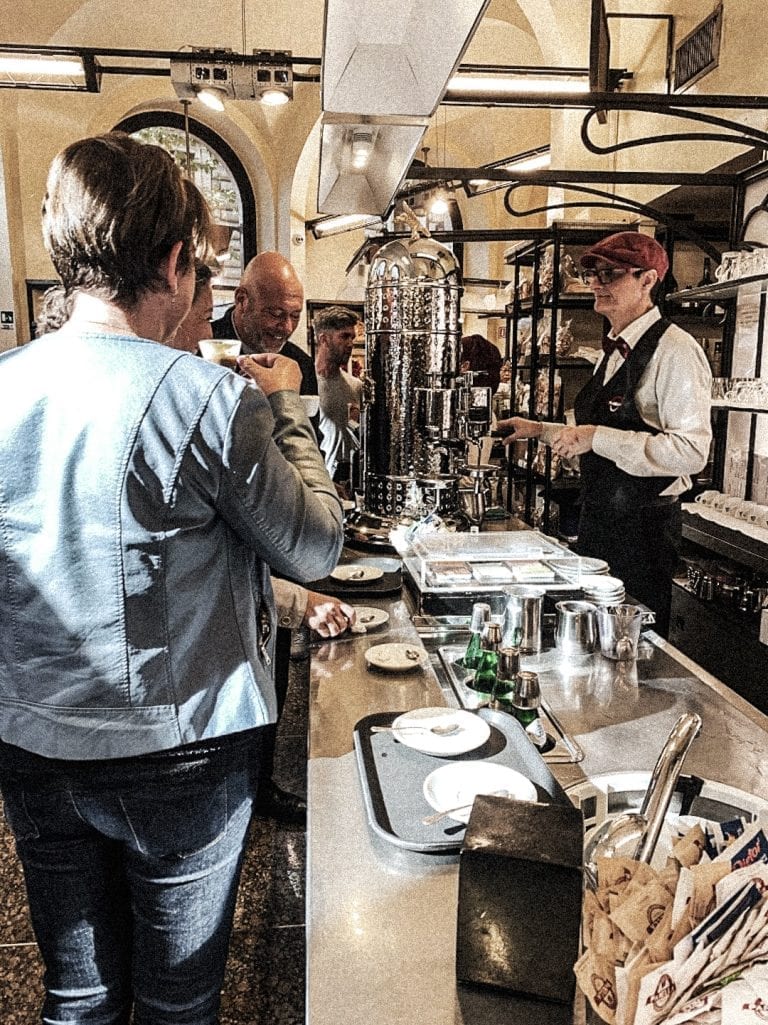 Crowded, "chaos", noisy are the words to describe Italians' bars. I often go to take a coffee in Roma Termini before taking a train, or in random bar while I'm walking in the city. To drink coffee like an Italian also means to order coffee properly.
The most common place is the bar...
Cappuccino normally is 10-30 cents more expensive than an espresso. Normally, we pay at bar cashier first and then trade a small cup of espresso with the receipt. You can always tell the bartender how you want your coffee to be, if you buy an espresso. For me, I will say "Caffè Macchiato".
You can always ask a glass of water on the side, but pay attention, it's not a bottle of water! A bottle of water means you want to buy a bottle by paying another 1 euro something. Normally an espresso costs 1 euro, but it can be as cheap as 0.5 euro outside Rome city centre or as expensive as 2 euro in the fancy bars. "Caffè Macchiato" and "Caffè Ristretto" cost the same as an espresso (Caffè), and sometimes Caffè Lungo can be the same too.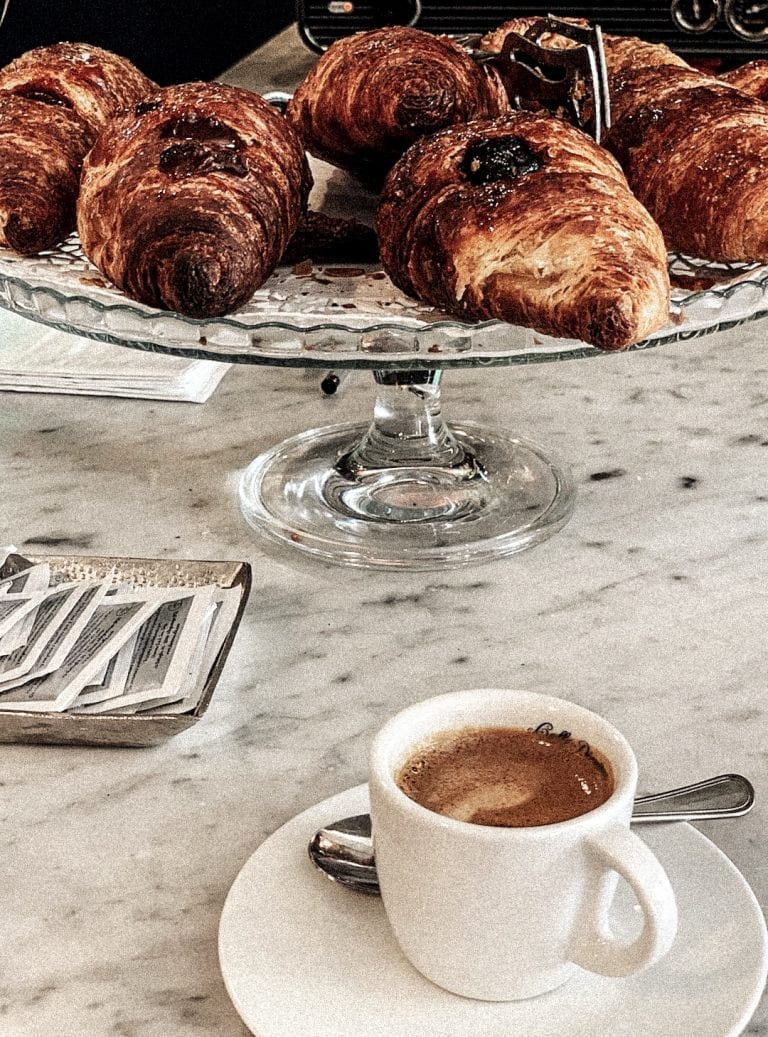 While you stand and drink your Caffè, it won't last for 1 minute. If you've got a cappuccino, maybe it will take you 2 minutes? Of course, coffee is always a link to social life. Say "Ciao" to your bartender and maybe you guys can have a nice chat, if the bartender can speak English and it is not in a rush hour!
After finishing your coffee, simply leave everything on the bar. I always say "Grazie" and "Ciao/ Arrivederci" to the bartender, so that they know I am leaving.
The chance to have a cappuccino in the restaurants is nearly to zero! Because restaurants are for lunch and dinner and even some traditional ones only open in the night! Cappuccino is definitely against one of the basic rule to drink coffee like an Italian. One of the very funny example I've seen is Velavevodetto. They've got a full page in their menu to tell their guests, "In this restaurant we don't serve: Cappuccino!"
The best places to drink coffee like an Italian in Rome
So, now you are clear about how to drink coffee like an Italian. You must have another question is, where is the best places to drink coffee?
In Rome, you cannot miss Antica Caffè Greco near Piazza Spagna and Tazza D'Oro near Patheon. Both of them are super easy to reach and more importantly, they are among those oldest and the most classic bars of Rome.
I also love

Panella

which in my previous post, I talked about their special offer of whipped cream and zabaione-like cream to replace normal coffee sugar. 

Castroni

is another recommended bar and their stores are also a small boutique for all Italian sweets, desserts, chocolates and more food souvenirs.
Tazza D'Oro and Castroni don't have a different menu for standing or sitting-down style, as I remember. However, Caffè Greco and Panella certainly have.
If you don't want to drink coffee like an Italian, where to go in Rome?
You might appreciate Italian's coffee culture, but at the end, you still prefer an international cup of coffee? Luckily in Rome, we've got many places to have an all-day cappuccino, free WIFI and the stress-free environment. 
Caffè Delle Esposizioni, under Palazzo delle Esposizioni on Via Nazionale, is a good place. They might not have free wifi, but the beautiful garden and spacious indoor area open all day. They also serve simple lunches as you can read my little sharing here.
Barnum Cafè near Campo de' Fiori is another perfect option. They are small but very cozy. A lot of expats love to hang out there as I also love the seamless international atmosphere there. They serve a few healthy dishes as well!

Vivi Bistrot

is my new findings which I've talked about in my another post of

Best Places To Eat In Rome

. They've got a few stores in Rome and I've been to the one on Piazza Navona and the one inside

Rinascente

department store. The former one is super epic and lovely while the other one is a perfect break in a big shopping day.
I've personally marked down a few more Cafès for a speak-easy and work-friendly request from another Rome-focus blog site. You can find more information there.
Happy coffee drinking!
xoxo