Do you know in Italy, there is only Roma Termini is named with this "Termini" word? Somehow, I guess it's related to Italian's emotion to the antique Roman Empire and the famous phase "All Roads Lead To Rome"!
However, as a person with good direction sense, I was confused in Roma Termini once or twice (maybe more).
I've been running crazily in the train station;
I've been killing my time when my train got delayed or I missed one;
I've been discovering shortcuts and their accessibility after my recent home-moving.
This ultimate guide might not be a bible of Roma Termini or for who's going to or leaving from Rome by trains, but I think, at least, it is much better than Google Map!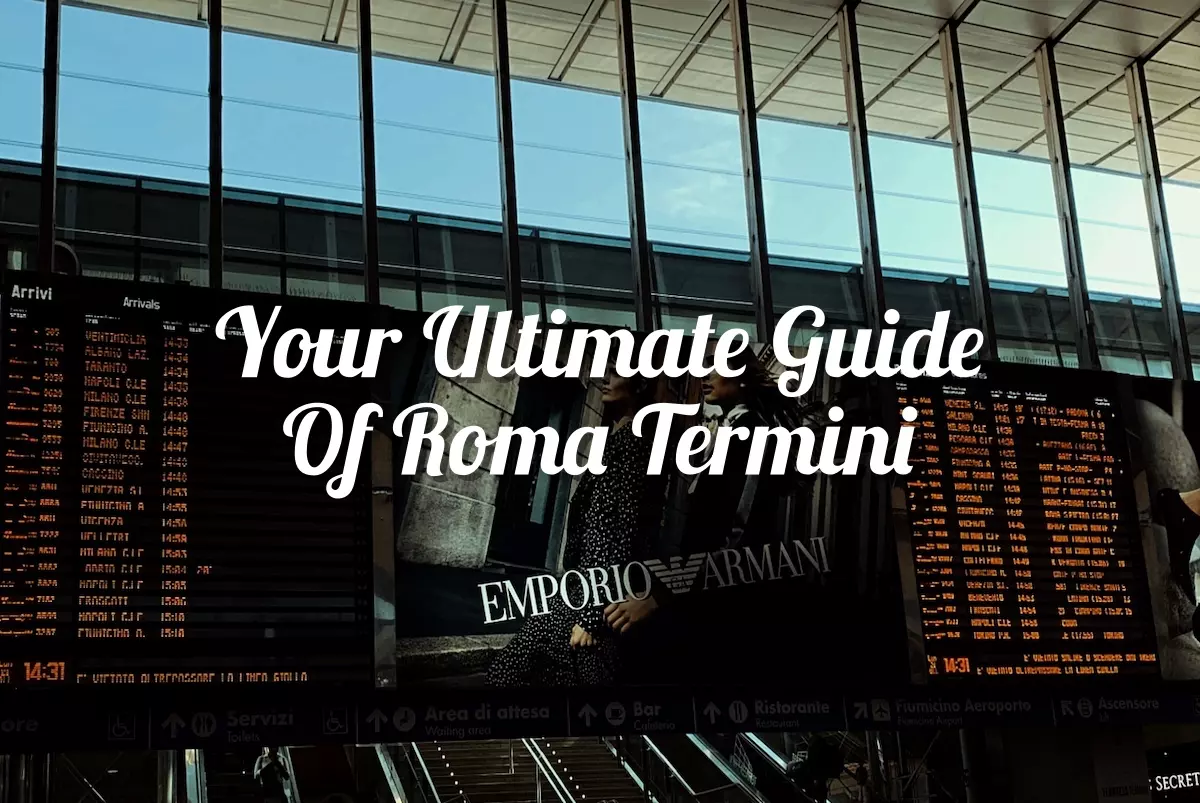 Roma Termini is a giant who's always busy, therefore confusing to everyone. First I have some basics before I start more personal tips, for the goal of no hassle, no time-wasting, no risk of missing a train!
The platform with the smallest number starts from left side (near Via Marsala)
The train platforms are named with numbers. The platform with the smallest number starts from left side (near Via Marsala). If you are standing on the square and facing to Roma Termini's main entrance. The big square is where all the buses stops are and where you will see Terme di Diocleziano at your back.
If you are really in a rush, make sure your ticket is really in your hand
Not like other train stations in Rome, the security level is pretty high here. Whatever gate you will take to reach your train, it requires a quick "human scan" of your train ticket. If you buy online, you bring a printed paper or show on your phone. If you get the ticket on site, you quickly show it to the station staff (dark navy color or sometimes a fresh red uniform). If you are really in a rush, make sure your ticket is really in your hand!
Look at the correct information board, otherwise you will never find your train information while becoming nervous without a proper reason
There are many checking points to find your train information. The biggest ones are in the center after you pass the main entrance and two ends of the station's side entrances. Don't get too excited once you see a huge board flipping frequently. One is for arrival, one is for departure. Look at the correct information board, otherwise you will never find your train information while becoming nervous without a proper reason. Believe me, a lot of people really do that!
Many small boards are all around the station, almost 2 per each platform on the ground and in the tunnels. If you really don't like those digital stuff, you can go for the most traditional paper version. They are hanged on the walls and you can find all train information there.

How NOT To Miss Your Train
Check & Buy Your Ticket Online
Normally, I buy my train ticket in the two official websites Trenitalia and Italo. They are the two Italian railway companies and, frankly speaking, it is pretty easy to use their website to buy tickets. Trenitalia offers fast train and regional train options (even the slowest ones), while Italo only covers fast trains. For example, if you are going from Rome to Milan, check both sites to compare the best option, however, if you are going to Viterbo from Rome, probably only Trenitalia is suitable.
Or, if you want a general ticket platform, RailEurope and ItaliaRail are good, or even Google Map can tell you some basic information nowadays.
There are 2 absolute advantages of checking and buying your tickets online.
You avoid getting a ticket of a wrong train in rush or confusion. In Italy, there are inter-city, regional, fast trains but also the most rare local slow trains. For example, from Fiumicino Airport to Rome Termini, there is Leonardo Express with a price of €14 and it is non-stop and only takes you 20mins. There is another regional train to Termini too. But it will cover all small local stations and you have to change the train in Roma Tiburtina with an overall timing of 1 hour and 15 mins around, the only good thing is that it costs €8 only.

You can get some percentage of discount than you buy at the last minute in the station, if it is a fast train ticket. Considering a fast train from Rome to Milan, I even managed to get an offer of 1st class with a price under 30 euro, or if you are a budget traveler, at least you can compare the offers. Also, online booking can secure a seat for you if you are running in some busy hours. Disadvantage is, if your travel plan is changed or you missed the train, you will take some effort to change your ticket in the service office which I will mention later.
Buy Your Ticket Quickly & Easily On Site
I always go for the vending machines. 90% of them work well and it's way more faster than buying a ticket from a counter with a queue. The machines offer multi-language options and accept credit cards.
Two Extra Attention About Those Machines
Not all the machines are accepting everything. For example, some accept notes, coins and cards, some like only cards, and others prefer coins and cards but not notes! The simple way to tell is, check the machine design, if it doesn't have an insert slot for cash and note, it's clear this is a card-only machine.

They do accept credit cards. If you've got a contactless one, great! If you don't, watch out the little instruction how you swap your card, make sure the card chip side is towards the correct direction (there is a small printed instruction on the machine), otherwise the machine cannot get your money, and you don't get the ticket!

The clicking is a bit mis-matching to your finger point. Don't be panic, if it doesn't answer you. Just try to move your finger a bit and click again. If it still doesn't work, don't waste time there, switch to another machine nearby.
Personally, I have to point out another two things
Don't try to buy your ticket for a train is leaving in 5 mins, coz this train information will just not show up when you search the ticket! (Which means, you need to arrive in the train station at least 10 mins earlier, given that your train platform is right in front of you!)
Don't try to get the "help" from the non-staff people in the station. Roma Termini is a public place. Everyone can go, everyone can stay, and everyone can try to make money there. In the many mornings, I see tourists buying tickets from the machines while half-accepting the help of a guy or a girl (obviously not a station staff), who's clicking for them on the screen, taking the ticket for them and when it's done, also taking away the changes before they can recognize what is happening! Personally, I appreciate others' help, but only if I ask for it or I accept it with my consciousness and willingness.
Of course, you can always go to counter to buy a ticket. The ticket offices are in the train station, or in the peak season (normally in summer), you will also find a stand-along red box with a staff inside. Even, before you enter the station from the main entrance, there is a red van and that is a ticket office too!
Check Timetable In Advance
The most traditional way is to check the printed timetable, I know it sounds very grandma, but I find it really practical! The timetable is almost everywhere if you pay attention to the walls in the station. You can find all the stops of your train, each stop with precise time (if your train is on schedule that day), and even the platform number (if there is no big chaos that day)! Lovely right?!
Well, we are in 2019, so let's be digital. Luigi loves Train Timetable APP which tells you the platform number also. It's available on Apple store and Android.
Arrive At Least 20 Mins Earlier
You must ask me, "you said to arrive at least 10 mins earlier before, why now increase to 20?!" Yes, I did, and I really strongly suggest you to arrive 20 mins earlier, and at least 20! Why, coz the station is a giant! 33 platforms and 150 million passengers per year, is the data of this station. It is the second biggest in Europe according to Wikipedia. Imaging you are going to take a Leonardo express to Fiumicino Airport, which normally departs from platform 23 or 24, while you enter the station from the gate on Via Marsala where Platform 1 and 1EST are located? Nice "road trip" of Roma Termini, just on foot.
Smallest number starts from the left (Via Marsala). Be careful, there are quite a few hidden platforms which many people cannot find. Pay attention especially if you are planning a trip to little countryside near Rome. For example, 1EST and 2EST is about 50 meters at the back of platform 1. Near platform 24, where runs Leonardo Express, if you go further back, you will find a few platforms more (as I just mentioned there are 33 platforms). If getting to a normal platform from the gate takes 5 mins (if you are not lost), then those hidden ones will take you 10 mins, depending on how fast you walk also.

Enter The Station By The Correct Gate
The fastest way to get to your platform given that you know which platform, is to enter the station by the right gate! We talk about main entrances, but there are two side gates. One is on Via Marsala, the other is on Via Giovanni Giolitti. Both gates will lead you to a few steps or an escalator to enter the underground tunnel, where you can reach your platform directly. Important thing is you know which platform you shall go because there is no board for consolidated train information in the tunnel.
Recently I find a "back door" on Via Giovanni Giolitti crossing Via Mamianin (almost at the end of the station). That gate leads you to the platforms 25-33 directly.
For the gates, main entrance opens 24/7, while two sides close around 10pm, and the "back door" may be 1 hour later (around 11pm).
There Are Underground Tunnels
Inside the station, if you are going to change a train, knowing the tunnels will be absolutely helpful and time-saving! The most basic one is the one connects two side gates. In that long tunnel, you always find a small digital panel to mark each platform and the real-time train information, however, unless the train is very much nearby or already on the platform, normally, the panel won't show a word. So, again, know your train's platform information in advance is important!
There is another hidden tunnel which less people use. It basically connects those hidden platforms. So, for example, you get off from platform 1EST and walk towards platform 1 direction, then you will see a tunnel entrance right at the end of platform 1 (in front of the staff lifts). From there, you will travel all the way to where Leonardo Express is, and from there you can reach the last few hidden platforms within 2 mins.
Read The Information Board & Be Calm
The big board is refreshing all train information in real time, but if your train is leaving in more than 20 mins, probably you will not see it there. On the contrast, if your train is leaving in 5 mins, but you cannot find it on the board? It is probably a delayed case. For the delayed train, even Termini doesn't know which platform the train should go, so you don't need to be panic! Pay attention to the in-station broadcast, and try to stay close with the board for any instant update.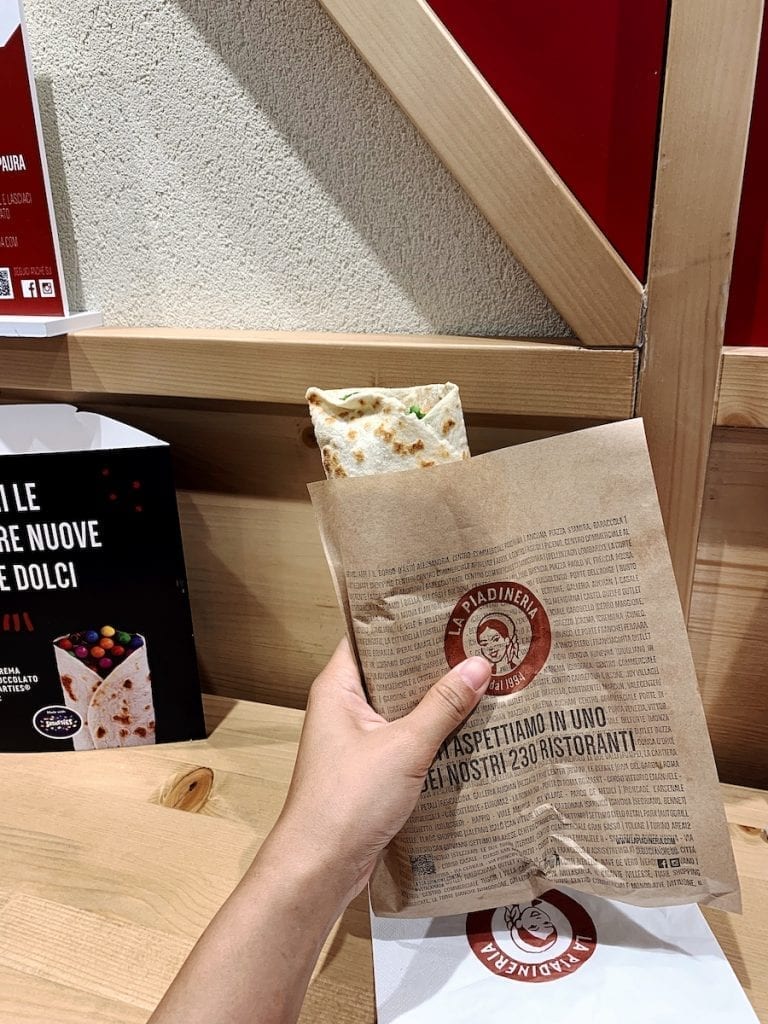 How NOT To Be Offline
Basically, WIFI is everywhere available in the station, however, as I tested, it doesn't work well in the crowded area, for example, the ground floor where everyone and every train are. The suggestion would be upstairs, and my favorite is, Termini Terrace. Entrance is at the center of the station, opposite to the Mcdonald, pretty close to the huge information board. From there, WIFI works well and it's a heaven of food and drink also (I will talk later). WIFI connection is available for 3 hours. If you don't live in Termini, it could be generous enough.
Of course, to stay online, you need to make sure battery is in healthy level! I've found free plugs at the bistro "La Piadineria". Guys, this is so amazing!

How NOT To Feel Boring
(If Your Train Is In 1 Hour)
Bookstore
Borribooks is my absolutely NO.1 option when my train is in 1 hour or more. They've got two floors up and one floor underground. All English books are on the 1st floor (above the ground floor), where you can find a lot of Rome guides or little historic stories, or simply a fancy novel for an easy trip. The most interesting part is underground, where the Italian books are categorized very well. All the cooking book, photography, sports, business & marketing are there. Most importantly, a small collection of Art books are there too! You will find books about Leonardo Da Vinci, Michelangelo, Raffael, Caravaggio and more.
Eating & People Watching
This eating is different from those fast standing-eating bars or gelato shops in the station. What I mean is really, getting a table, eating, relaxing and people-watching. Two places I will recommend.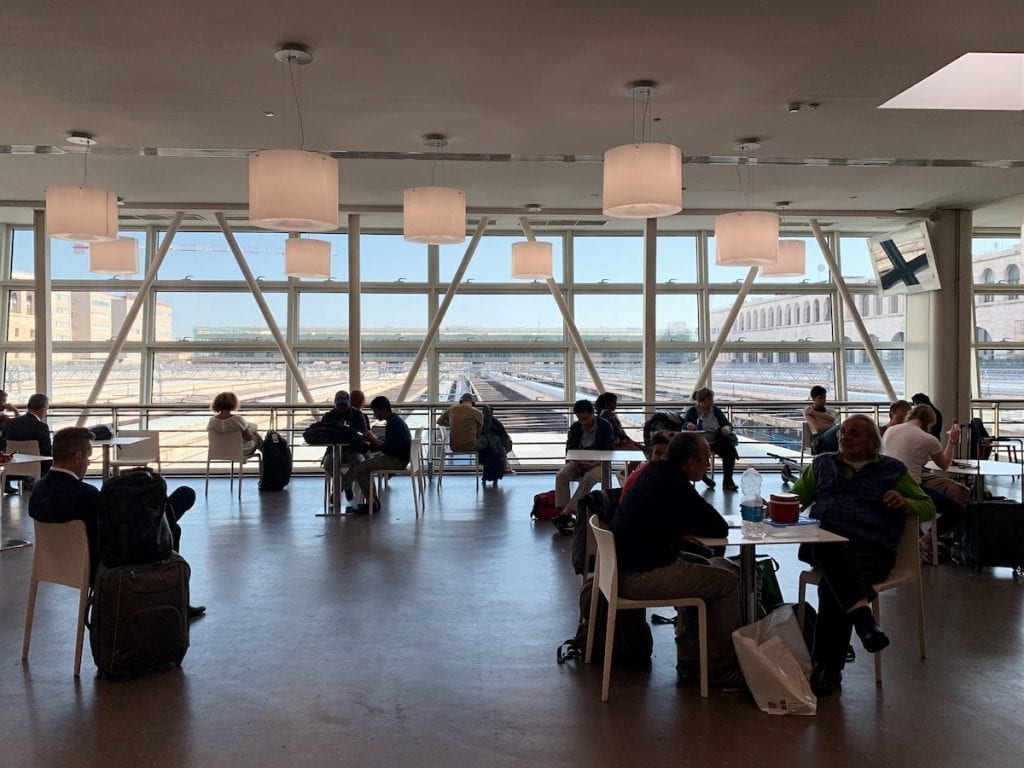 Termini Terrace
Amazing place with bright light and a little view over all the platforms. There are a lot of bistros there, Sicilian bistro, fresh pasta, sushi, burger are all possible. Most importantly, there is also a big digital board to update you the train information!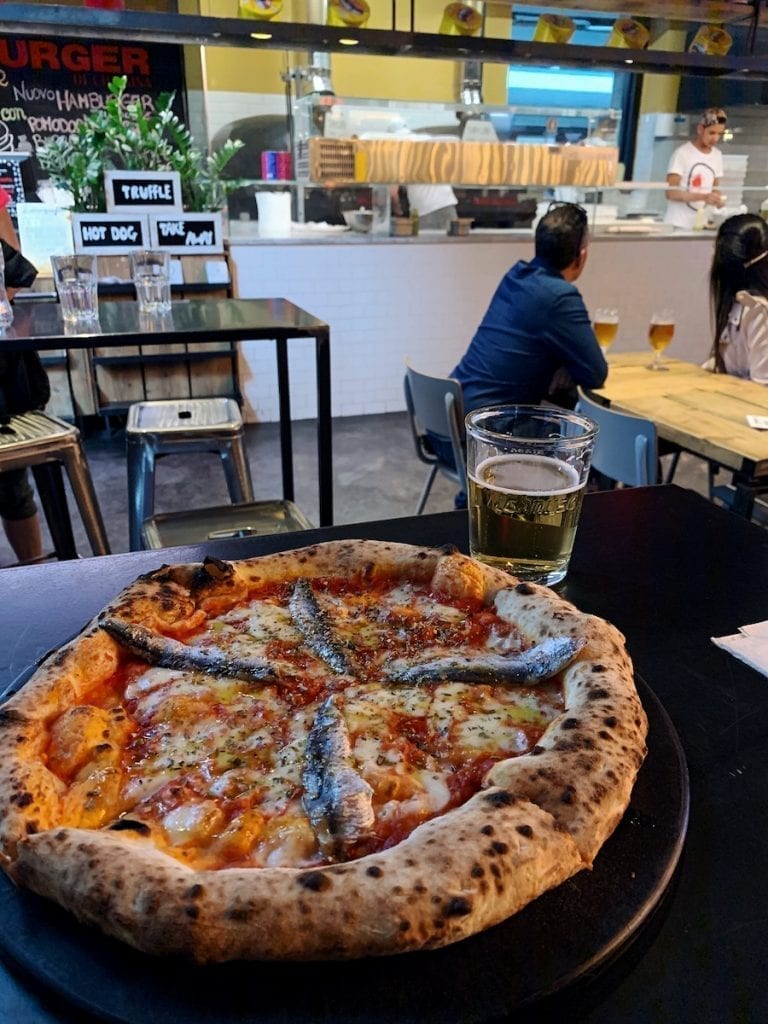 Mercato Centrale
It is an upgraded food court as my point. The Neapolitan pizza, Burger, Sicilian counters are highly rated as my opinion. I will grab a coffee when I'm running fast or a draught beer if I've a bit time.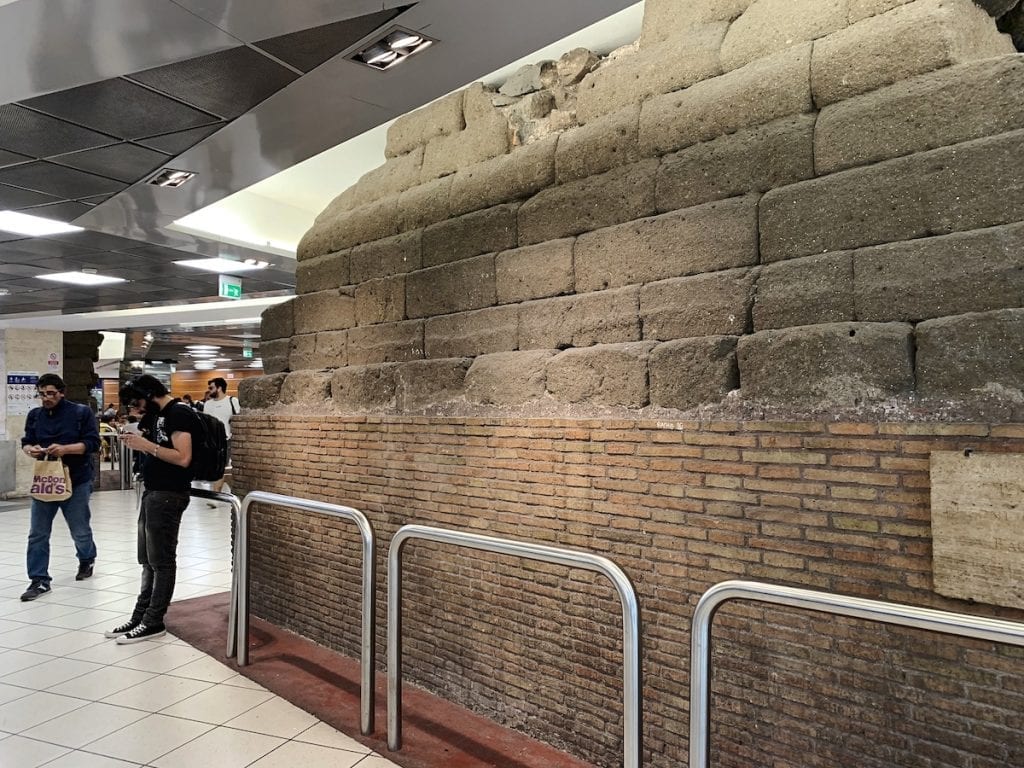 Culture & History Discovery
If you've paid attention when entering Termini from the main entrance, or you've reached there by taxi, a part of Roman Walls must be somehow in your memory. That is Servian Wall, which was built in 4th century BC as the defence of Rome city in Rome Republic, however its name is after the 6th Roman King, Servius Tullius. The part above the ground is so far the most well-preserved, and interestingly, you can even go for a further look if you go to Mcdonald on the undergrand floor. Basically you can enjoy a burger from 1940's while leaning on a 400BC wall!
Shopping
Italians love shopping! If you have time, go around and explore, you might find you have to run to your train at the end.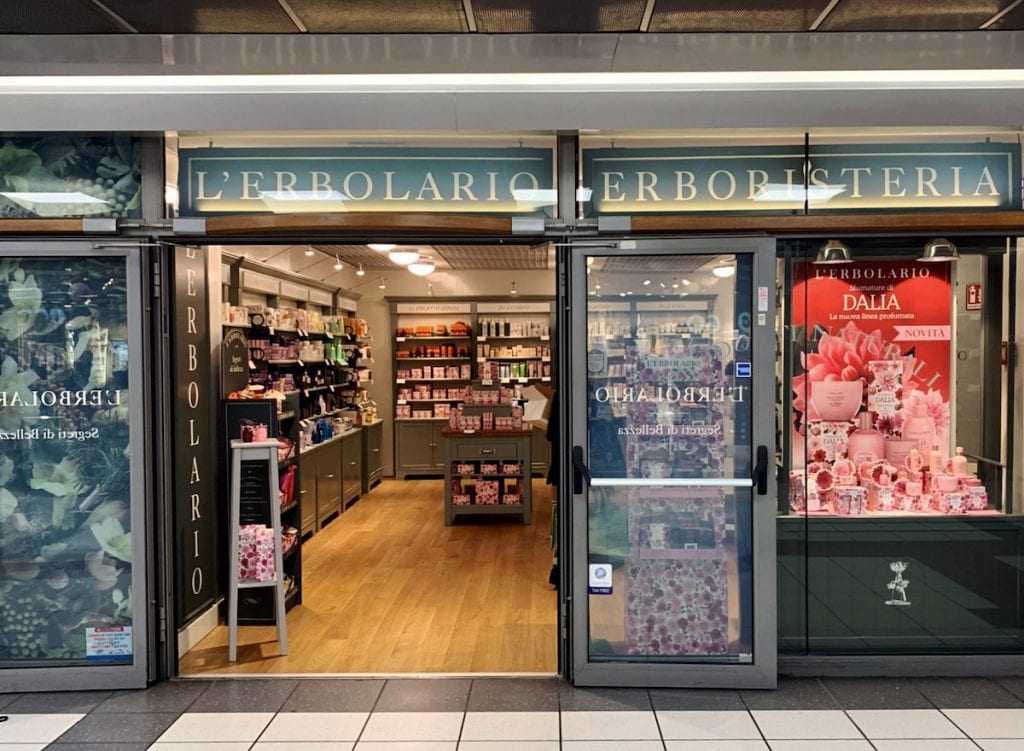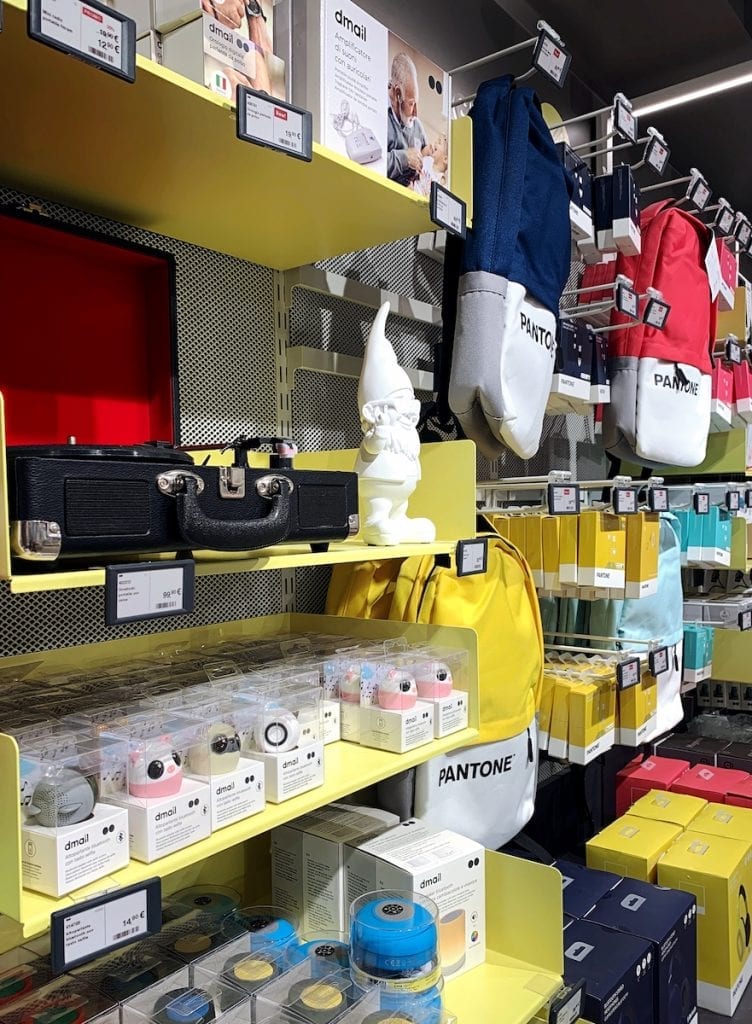 Skin care & Make up: Sephora, L'erbolario, LUSH, MAC…
Clothing & Shoes: Victoria secret, Calvin Klein, Mango, NIKE, Foot Locker…
Lifestyle: Dmall , Flying Tiger…
Food & Beverage: Mcdonald, Venchi, GROM…
Supermarket: Incoop
Last but not least is the ultimate department store COIN…

How NOT To Get Lost
(For Really Urgent & Important Issues)
The service office
The biggest office is right in front of the main entrance, on the ground floor. The Italians do have their Italian-English accent, but as long as you can explain your request clearly, it's no problem. (Again, I strongly suggest not to take any "help" from the free-runners-but-non-staff in the station)
There are other smaller offices on the underground floor of Termini and also an office located near the entrance to where the metro is connected.
The station staff and volunteers
The station staff normally is in dark blue/navy uniform and some staff and the official volunteers will be in red. You can also find a security staff for help and instruction, so that you will finally find the right person to help you.
I'm still traveling quite often from Roma Termini and I think there should be something small I still haven't noticed. I would feel happy if you take my sharing useful and helpful, but I would be happier if you can share more with me, so that everyone can spend more time to visit beautiful places in Rome instead of figuring out the train station!
---
Pin It If You Like!