If you are following
my Instagram
, you must know that in the last week, I've got my friend from Shanghai and we visited Rome and Florence together. She's got two weeks for her vacation, and as I suggested, I proposed one week for Rome and Florence, and the other week for Paris.
The best places to visit in Rome in 3 days, is the biggest task for me and surprisingly, we were pretty satisfied about our 3 day Rome itinerary. As we covered the top Rome attractions, we combined authentic food huntings and special shopping, without compromise any time for relaxing and enjoying Rome's vibe.
Here I am, to share with you this personalised 3-day Rome itinerary for its best attractions. This is specifically for those who will experience their first time in Rome and crave ancient Rome and Rome in Renaissance.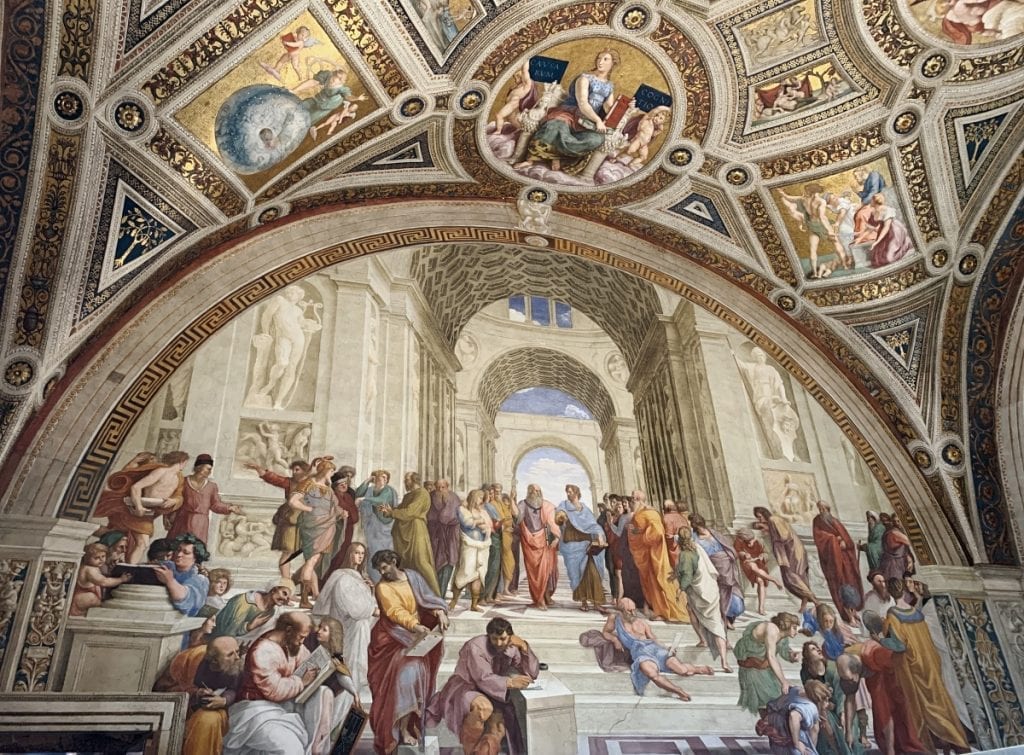 Vatican City
What you should know before going:
Once I planned for Vatican City, I knew 70% of our daily energy would be consumed easily, as the museum is "overwhelming" (you will not see everything in one day), and there are a few must-see places near Vatican City, which I wouldn't opt out of if I was going to the area.
First, you can do a quick walk in
Vatican city before seeing the world-famous
Vatican Museum ("Museo Vaticano")
and
St. Peter's Basilica
("
Basilica San Pietro")
. Well, the easiest way to visit Vatican Museum and San Pietro, is to make the plan and to book your tickets in advance. I suggest
to make the appointment of seeing the Vatican Museum around lunch time, while making sure to get up early in the morning to visit San Pietro with a comparably shorter queue
. Believe me, I tried the sequence of Museum-Church, the long line in the early afternoon hours made me give up straight away.
I consider myself as the most traditional and stubborn tourist. To check information and book tickets online, my priority is the official website, however crappy it could be! Luckily,
Vatican Museum
is a positive example. A full price of the 'skip-the-line' ticket including the
Sistine Chapel
is €17 plus an online booking fee of €4 – not cheap but worth it. Ticket runs out impressively fast, so
make sure you book as early as possible (probably 1 month before)
! Of course you can get other options, for example bundling up with an audioguide or with a lunch / breakfast /Happy Hour; for more details, check out their website.
How to reach Vatican City:
Metro Line A, gets to Ottaviano straight away. Once you are out, pay attention to the sign in the metro, or follow the flow (look like tourists obviously) or grab a metro staff for help. Walk down Via Ottaviano until you pass Piazza del Risorgimento for the entrance of Vatican City.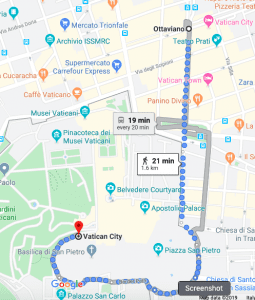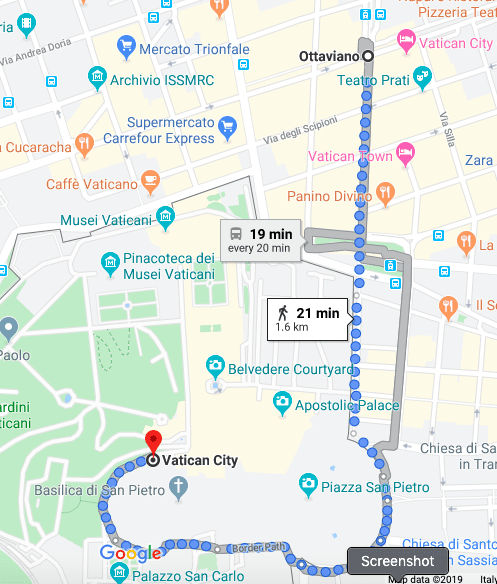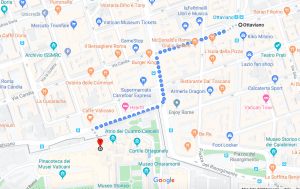 If the Vatican Museum is your first stop and you booked the ticket online, when reaching Piazza del Risorgimento, turn right and walk along the huge city wall until you see the queue again or the museum entrance. Alternatively, you can turn right earlier once you're out of Ottaviano, Via degli Scipioni or Via Candia both will lead you to Viale Vaticano where the entrance is.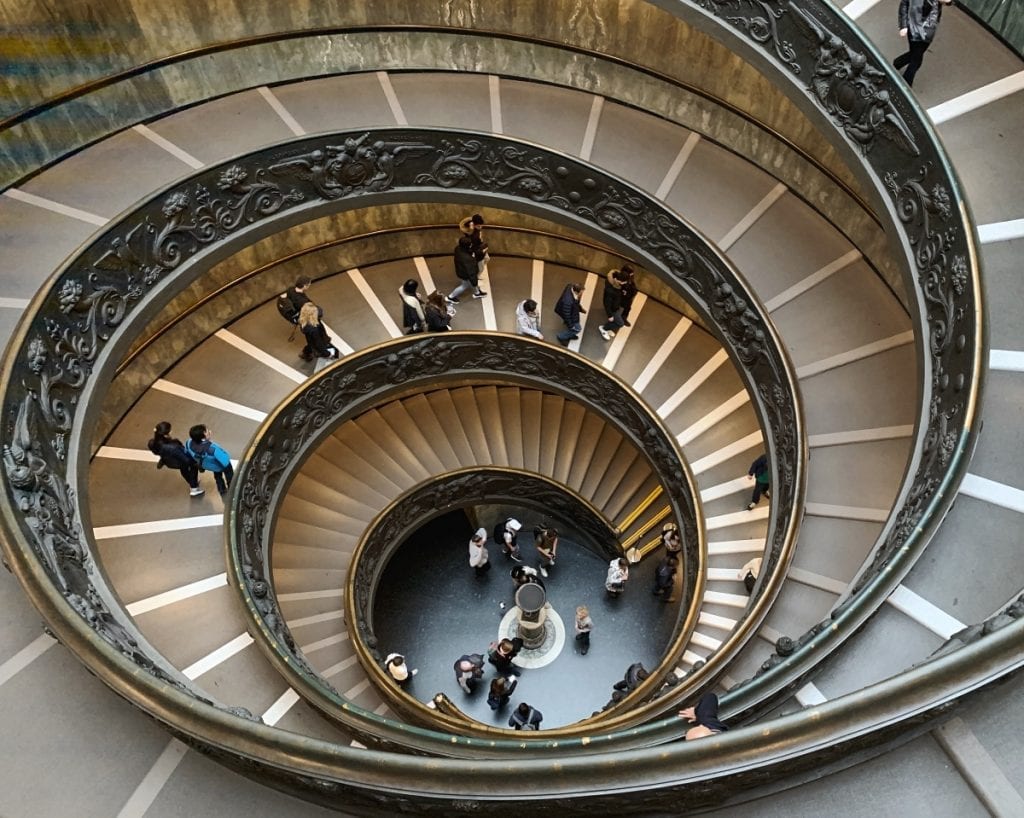 What to see in Vatican City:
Saint Peter's Square ("Piazza San Pietro") 
The square is named after Saint Peter, who's probably the first Pope after Jesus and one of the most important and initial leaders of the Church, as well as one of the twelve Apostles. The square should be entitled after Gian Lorenzo Bernini, who redesigned it with the famous colossal Doric colonnades and created an absolutely overwhelming atmosphere by Basilica San Pietro (San Peter's). From whatever angle, whether the window from Vatican Palace, to where the Pope gives his blessing, the square viewable and admirable by the all those who surround it.
San Peter's Obelisk  ("Obelisco Piazza San Pietro")
The ancient Egyptian obelisk, which was moved to the current location almost 100 years earlier than Bernini's redesigning of San Peter's Square, is located in the center. The origin of this obelisk is said to be from Heliopolis, Egypt and was only moved to Rome from 37AD. Considering this 25-meter tall "giant", we have no idea how it was "crafted" by the ancients or how the Roman empire moved it from Egypt to Rome..?
Fontana del Maderno & Fontana del Bernini 
You will find the twin fountains in the huge square and they are created by Carlo Maderno and Gian Lorenzo Bernini. The names of both fountains are after their creators, and both are considered as the finest fountains in Rome.
Saint Peter's Church "(Basilica San Pietro") 
One of the most well-known and largest churches in the world, obviously, thousands and millions of tourists come from the world to see its great beauty, as a typical masterpiece of the Renaissance. The position of Basilica San Pietro among the Christian World is unique. It is not a church that you see nowadays, as its base is much deeper and covered underground, whereas the original church was is from the time of Constantine the Great from 400AD. It has the magnificent work by the greatest artists like Michelangelo and Bernini, and of course, people come to see Michelangelo's Pieta. It might be where Saint Peter lays as well.
Vatican Museum ("Museo Vaticano")
The museum
is founded by Pope Julius II in the early 16th century, and its collection of Roman sculptures and Renaissance arts are the most important in the world. Among many mini-museums and halls inside it, Michelangelo's
Sistine Chapel
and Raffaello's
Stanze di Raffaello
is highly rated and a must-see. Even when you have to leave the museum, it "shoots" you with its
Bramante Staircase
(spiral staircase) which is fascinating if you just watch it and try to figure out how people on those two staircases wouldn't meet each other!
Castel Sant'Angelo & Ponte Sant'Angelo
Castel Sant'Angelo is also called
Mausoleum of Hadrian
. The time can be dated to 134AD, when Roman emperor Hadrian got his and his family's tomb, which is well connected to the Rome city center by Ponte Sant'Angelo. It was a tomb of Hadrian but also a fortress around 400AD to 500AD when Rome was in great danger and besieged in 537AD. Pope Nicholas III turned it into this fortress with a new bridge directly to Basilica San Pietro in 14th century, and we know his idea is absolutely great, because it really became the refuge of Pope Clement VII during the Sack of Rome in 1527. Nowadays, the reason so many people love to see this Castle and its bridge, is probably because of the great Baroque additions from the Renaissance. Who doesn't love to have a closer look of those vivid "angels"? Now it is also a
museum
to tell its rich story and with even some temporary exhibitions too.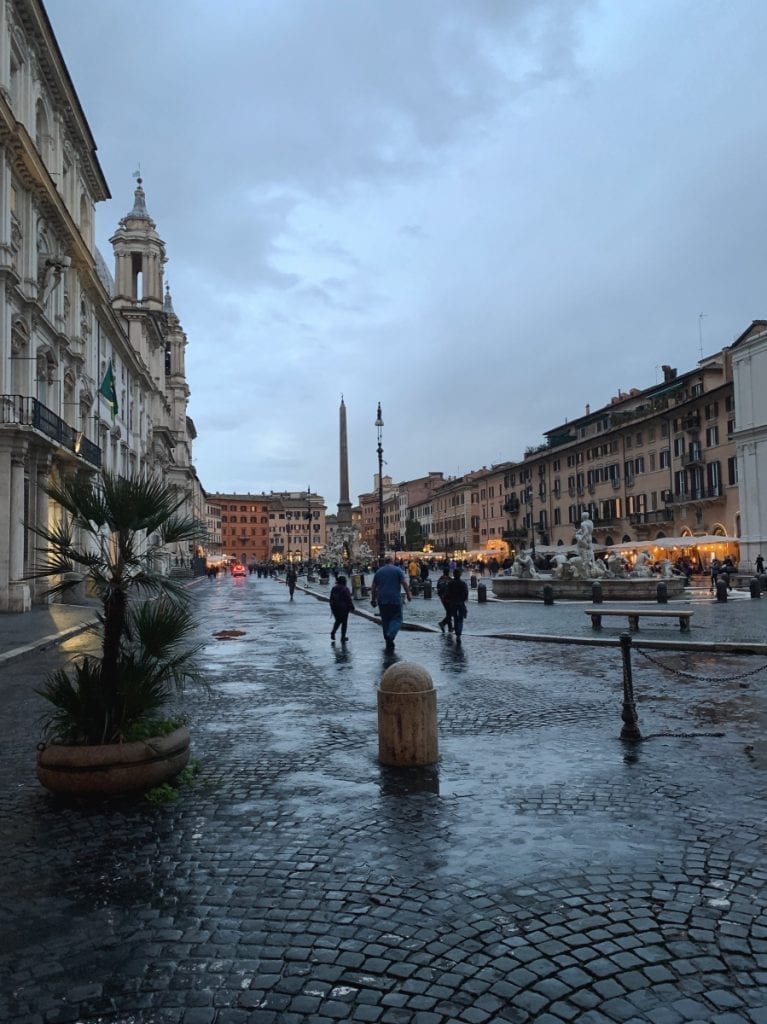 Leaving from Ponte Sant'Angelo, we walked along Via di Panico and entered the typical Rome-cobbled streets which is as known "Sampietrini". You won't get bored in this 10-15 mins walk, as plenty of boutique shops, typical old-Rome residence buildings are along the street. The most interesting one we spotted, is probably the mosaic gallery and workshop. My friend and I, literally, stood outside the window and stared inside!
Piazza Navona was born in the 1st century on the base of Stadium of Domitian, and was the place where the ancient Romans did their favorite game-watching! The game was recorded as "agones" and therefore Romans call this piazza "Circus Agonalis", which, over the time, might be called "avone" or "avona", until modern times, when it eventually became "Navona".
It will be your absolute love if you are a fan of Baroque style. The most famous is in the center of the square where the huge Fountain of Four Rivers (Fontana dei Quattro Fiumi) stands by Gian Lorenzo Bernini. You might also find amazing the matching two small fountains, Fountain of Moro and Fountain of Neptune. The square is also the hosting place of the Obelisk of Domitian. Interestingly, it is even recorded that, Piazza Navona, was flooded intentionally on the weekends of August for nearly 2 centuries, for the celebration of festivals around 17th century, crazy! Is it a coincidence or the "blood of Romans", that no matter how much time has passed, they still have their passion of "celebrating something big in public"? (think about Gladiator fights, Stadium of Domitian for athletic gamings, and even the just-mentioned agones)
Of course, we go to Piazza Navona nowadays, for a different topic. I would like to say, food and drinks is one of the most! If you walk around, you will find plenty of beautiful restaurants or classic bars extending into the square, and in any season, it will always be busy. Walked a bit more into the small streets around the square, we discovered even more! I suggest to stay here, and treat yourself  with a nice coffee-break at
Vivi Bistrot
or enjoy an impressive Italian's aperitivo made by
I Pizzicaroli
at Piazza Navona! Check out my matching
3-day food journey in Rome
.
Day2 : See The Glory of Ancient Rome From Colosseum & More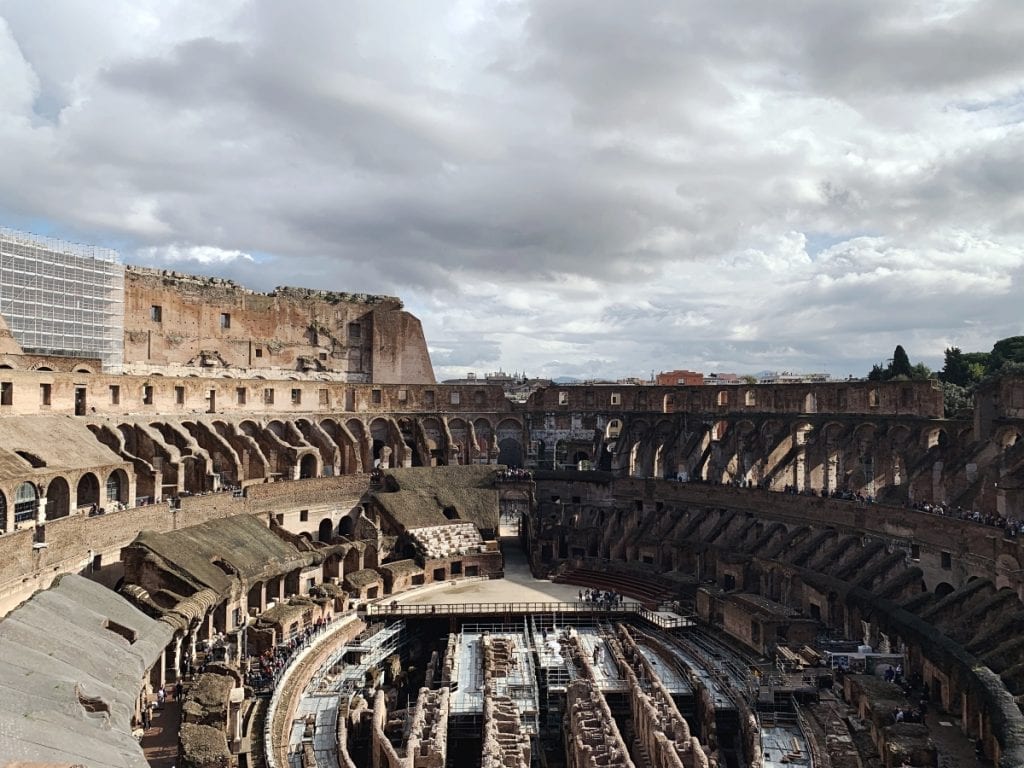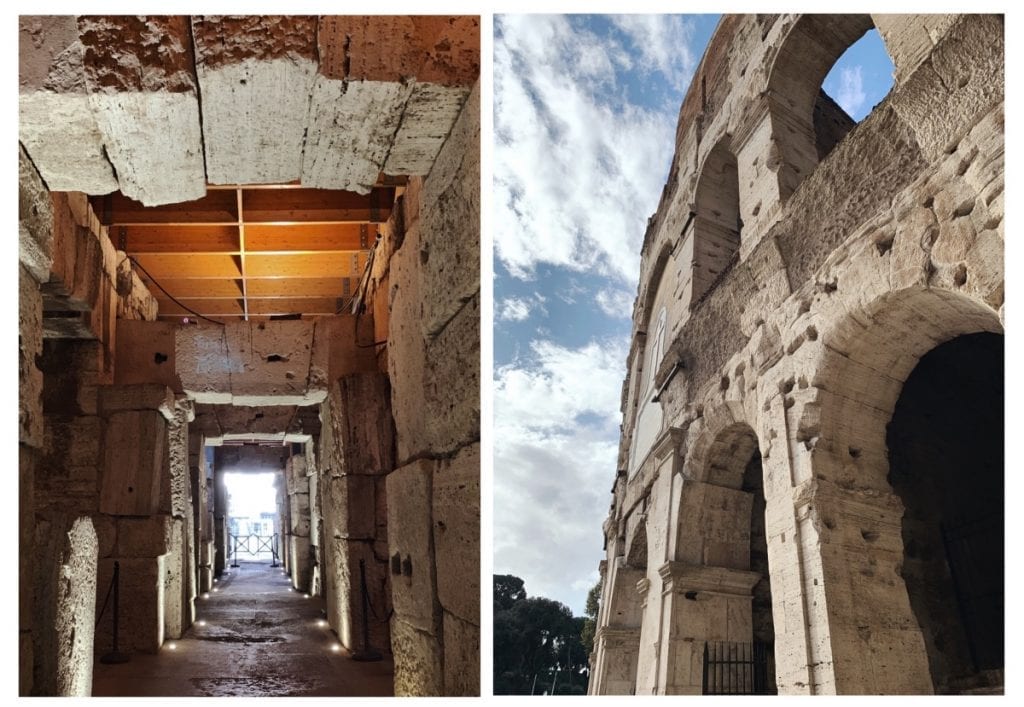 Colosseum (Colosseo)
The day is for Colosseum and yes, as a basic 3-day Rome itinerary, you cannot miss it! To enter Colosseum, I highly recommend
to book online in advance
  if you treat your time and energy seriously!
Coop Culture
is the official booking site for not only Colosseum but a few other major museums and landmarks. As I said, I always prefer taking the official option. You can book a
basic entrance ticket
which costs €18 (price raised since 1st Nov this year and this is including the extra charge for online booking service), or you can book a
tour for underground and level 3
available in different languages, it costs €33 and takes roughly 1.5 hour to complete the whole tour, but of course, you can stay inside (not underground nor level 3) after the tour is done and have a look by yourself. The ticket is always highly demanded, so make sure to
check the availability at least one month ahead
! A bit expensive is the ticket, but let's contribute a bit to preserve this one of the greatest in human history. Colosseum is an approximately 1500-year-old giant and it was damaged from the earthquake and human activities in medieval time and even recently (if you hear the news about tourists left their names on the precious stone inside Colosseum), so it does require a huge amount of preservation care by the professionals and also it opens up with more secret parts to be visited by the world.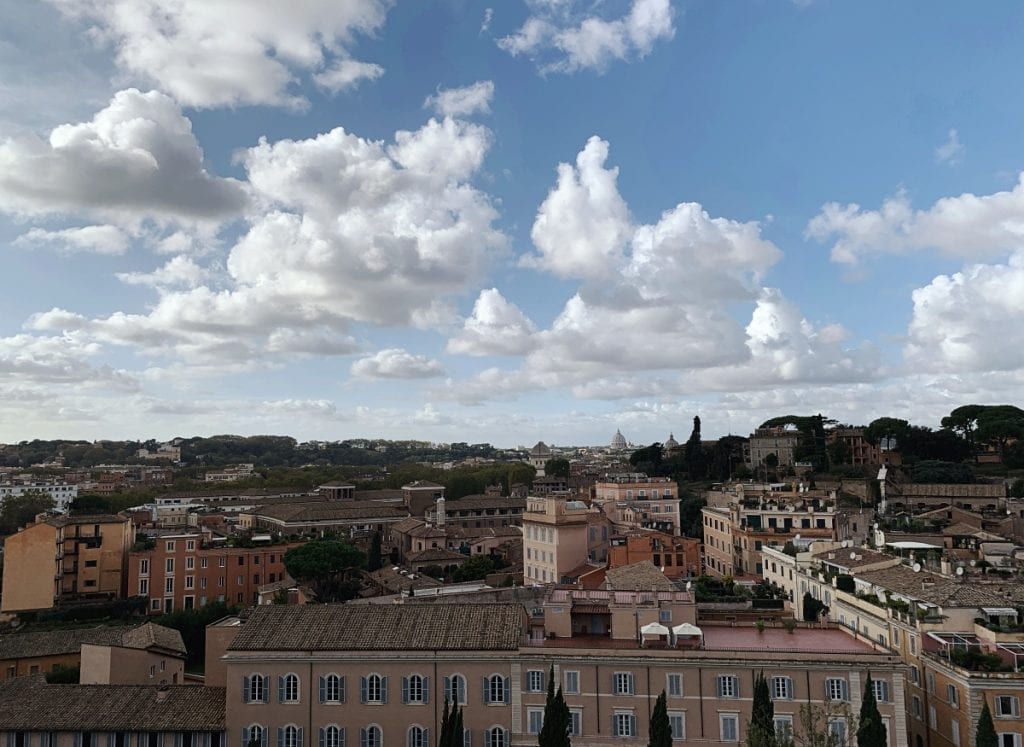 Palatine & Roman Forum (Foro Romano)
Following Colosseum, is the Palatine.
The ticket is already included to the Colosseum entrance ticket
, or if you visit
only Palatine hill with Roman Forum
, it will cost you €16 plus €2  of online booking service charge. I will not recommend to do it separately.
As one of the seven hills in Rome, Palatine could be considered as the most important, because it was the birth of Rome city from the famous brothers, and the residence of Roman Emperors, royal families and Rome's rich class. The great emperors who have built their palace on Palatine are Augustus, Tiberius and Domitian, as recorded so far. Once entering, the hill on the left side is Palatine, where you can find the famous House of Augustus and his wife, Livia. From there, you can reach a few view points to enjoy an unstoppable view of Rome city – even can see Basilica San Pietro.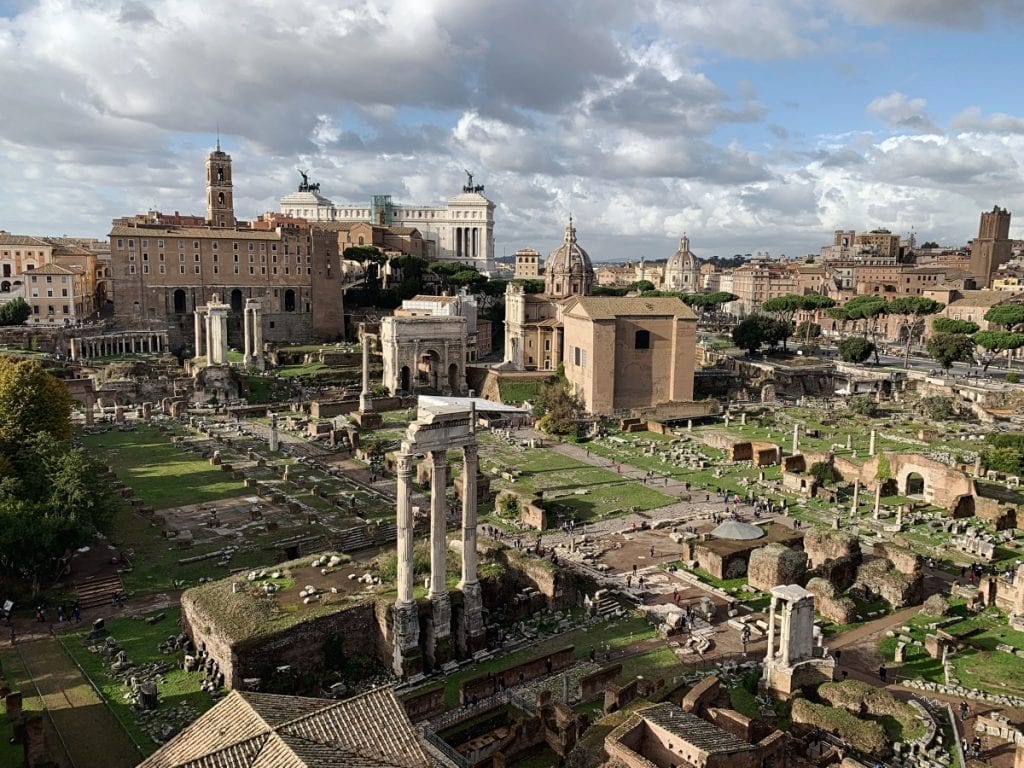 Walking down to the lower land on the right-hand side, there is Roman Forum, where was the day-to-day life of Rome citizens, even including emperor himself, frequently walked there and gave his speech to the public to gain the support and belief in him (the same like nowadays!). It is the residence of many ancient temple, the earliest could be dated to 7th even 8th century BC! However, we have to admit, there are limited pieces left to see the past glory. Probably, Basilica of Maxentius could be a good example, to imagine how magnificent it was, when all were decorated with colorful marble, bronze sculptures and many others!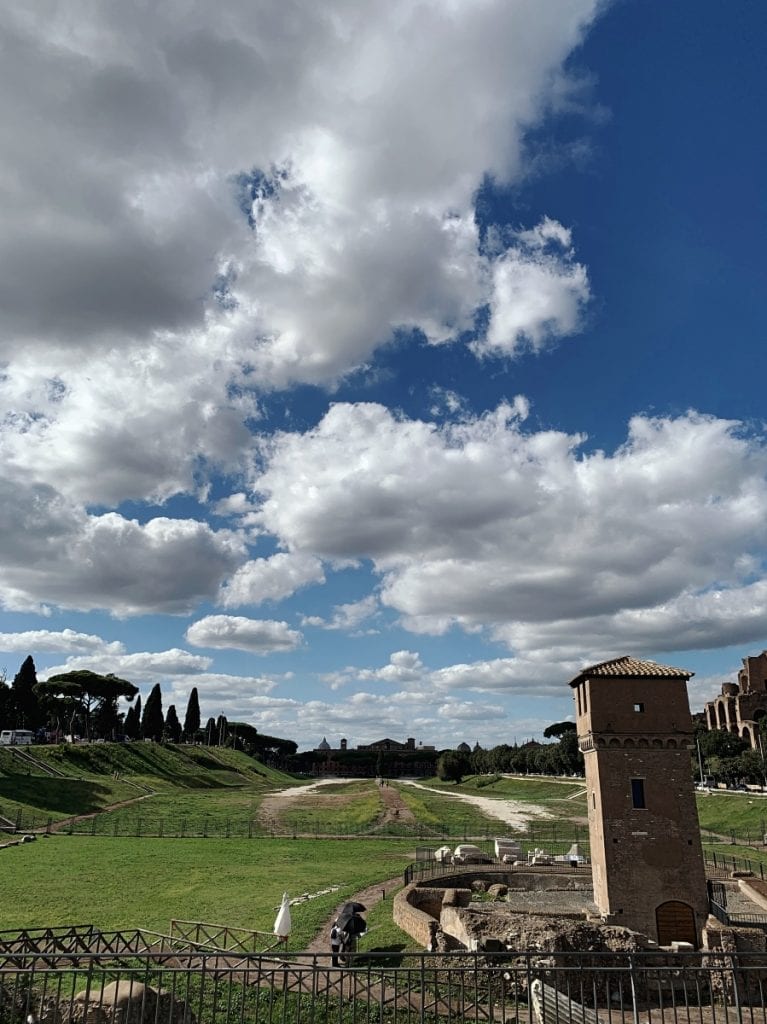 Circus Maximus (Circo Massimo)
Out from Palatine, and pass the great Arch of Constantine which marks the triumph of Emperor Constantine the Great. We walked along the foot of Palatine hill and reached Circus Maximus – free to enter. It stands between the valley of Aventino and Palatine hills and as the first and the largest stadium in the whole ancient Rome history (from 8th century BC until around 5th century AD). It is the perfect expression of how Romans treat their favorite gaming and athletic competition in the life. Before Colosseum was built, the beast fight and gladiator fight were also taken place there.
Now, it is a public park for who wants a relax walk on the sands and enjoys the great ancient Roman heritages from the both sides (Palatine & Aventino hills).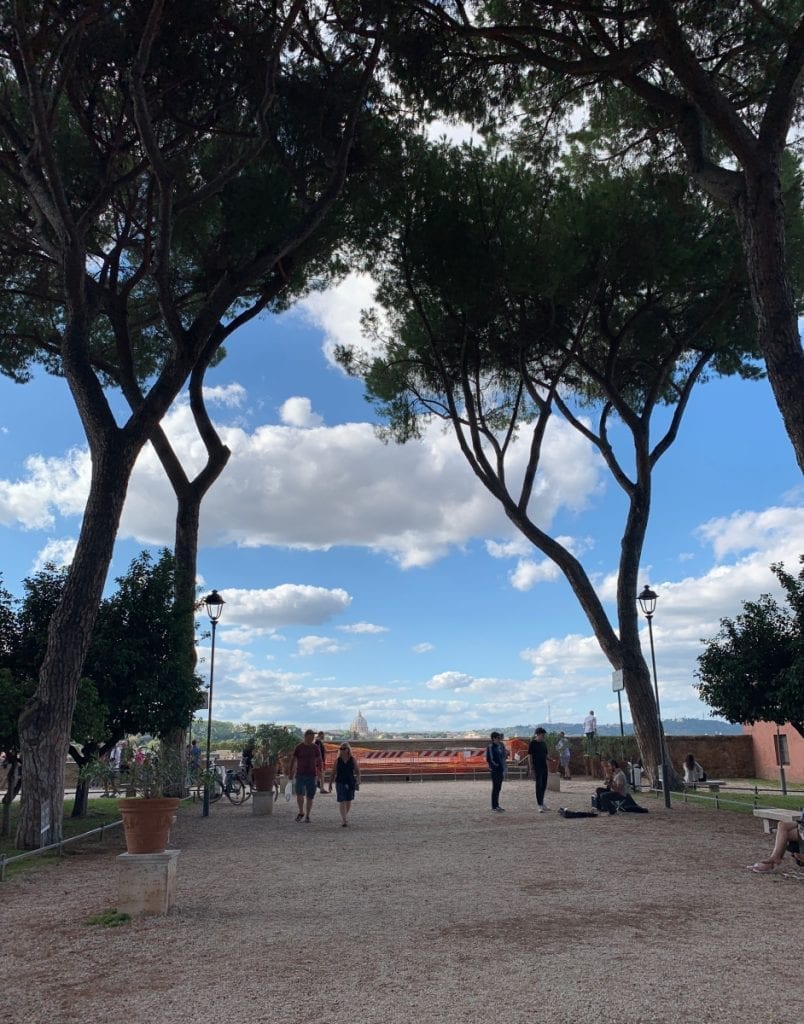 Basilica di Santa Sabina & Giardino Degli Aranci & Giardino Di Sant'Alessio
Continue our walk and "climb" up, we headed to Aventino hill, where we could have a view point from either Giardino Degli Aranci or Giardino Di Sant'Alessio. Both gardens are to the public and offer free entrance. The view point from Giardino Degli Aranci is the best as you can literally "scan" Rome city while smelling the "yummy" orange scent from this garden (also how its name comes)! However, the maintenance is being taken in this year, I will suggest a less magnificent view from Giardino Di Sant'Alessio but with no obstacle.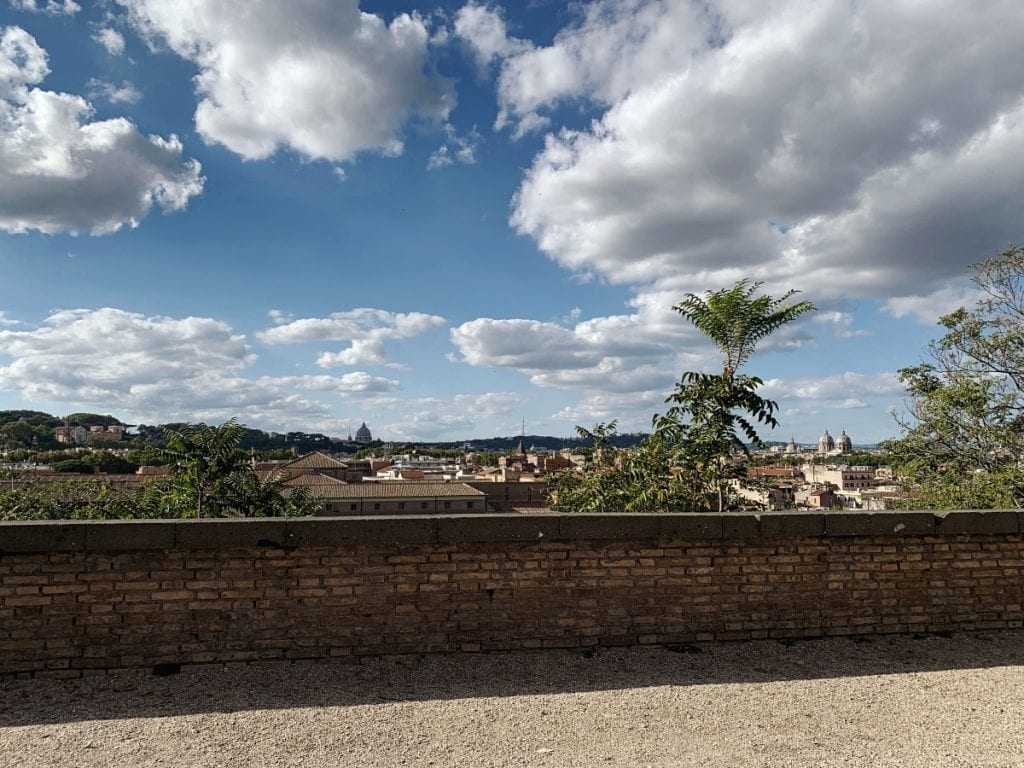 Between the two gardens stand one of the oldest and the well preserved Roman-era church from 4th century AD – Basilica di Sant Sabina. Not like Santa Maria Maggiore, Sant Sabina, remains its Romano beauty with the Roman columns, thick structure and the DOM. The wooden door is also a single precious piece that you cannot miss.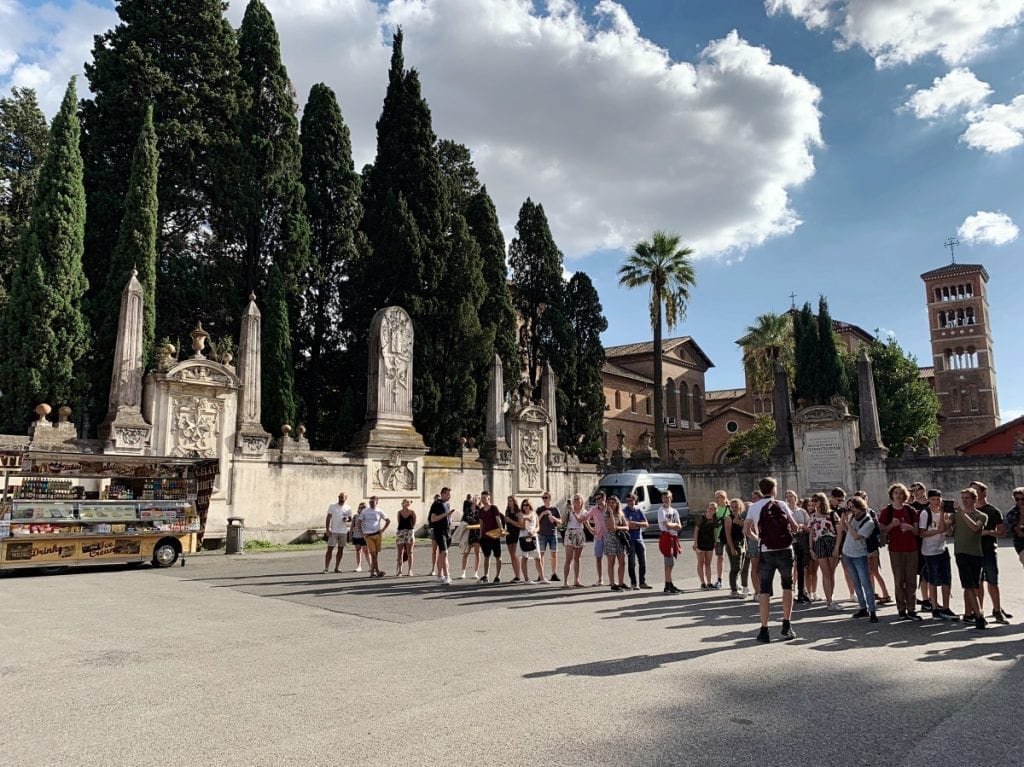 Knights of Malta Keyhole
Further on, you will arrive at
Knights of Malta Keyhole
. The building is actually for, Sovereign Military Order of Malta and Grand Priory of Rome of The Order Of Malta. Long name, I know, and I believe less people really "care" that much about its political organization, however, there is a long line waiting for a glimpse of the famous keyhole. If you are interested in the great heroic story of Knights, specially Malta Knights, you can read my
Malta itinerary
, which I was impressed a lot by the history of Malta Knights.
The Knights of Malta Keyhole was designed to leave a long and shallow see-through to the Basilica San Pietro. Through this little keyhole, your view would be darkened and narrowed along the tiny alley covered in dark green behind the door and then, the center of Roman Catholicism, San Pietro, becomes extremely bright and popped-up.
Forum Boarium & Bocca della Verita (Mouth of Truth)
Retrieving from Aventino, we took an ancient road, Civico di Rocca Savella towards Tiber River and where Forum Boarium is. Believe me, you will recognize immediately by the traffic and impatient complaint from the cars while walking downhill.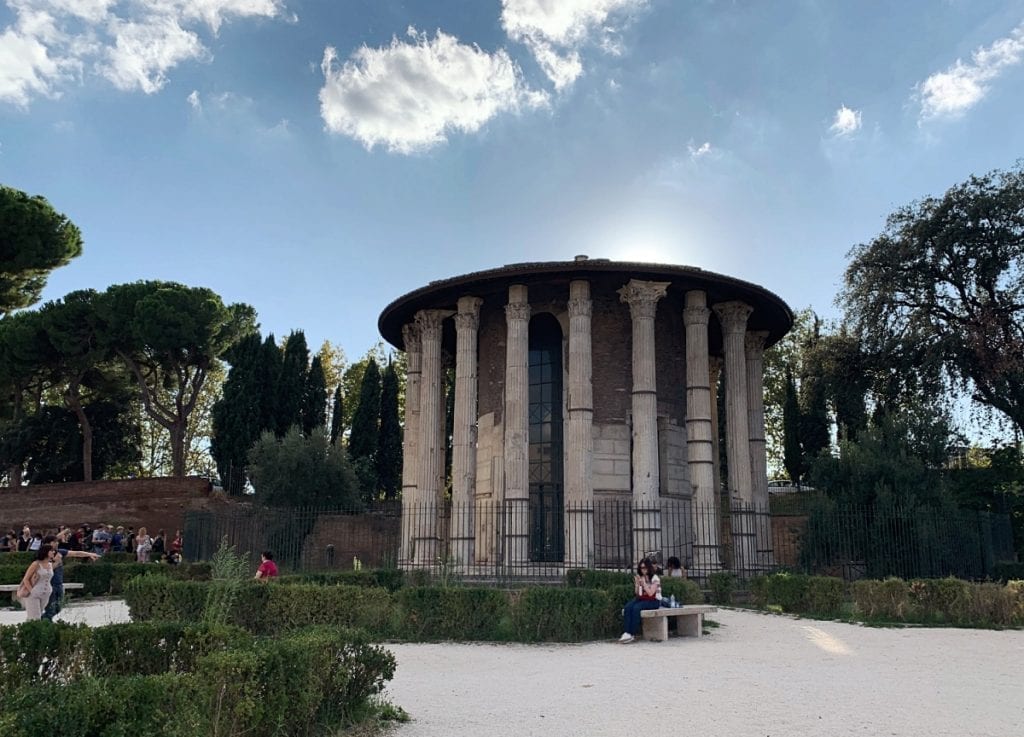 Forum Boarium
Instead of heading to Mouth of Truth, I like to have a quiet moment at Forum Boarium. It is attaching to Tiber and of course it was the busiest and most important commercial place of ancient Rome. As Wikipedia, the first gladiator fight took place there as well, and it was a cattle market too! Temple of Hercules Victor and Temple of Portunus stand there since 2nd century BC.
Basilica Santa Maria in Cosmedin
Crossing the street from Forum Boarium, it is Santa Maria in Cosmedin and the very famous Mouth of Truth, which always attracts the super long queue. The entrance is separated, in case the one goes into the church without having a look at the famous "mouth".
We escaped the line for Mouth of Truth and entered the church straight-away. This church was built around 8th century when Rome was stepping into medieval era, under Byzantine control and influence. The zone where this church is, was with a community of Greek immigrants, and together with its beauty, the Greece-Latino word "Cosmedin" was given, and it means elegant and pure. Don't overlook this little church, as it hosts not only Mouth of Truth outside, but the skull of Saint Valentine inside the Chapel (the Saint, whose name is now celebrated on every 14th February in the world). From the center of the church, you can also visit the mini chamber underground with a little donation.
Bocca della Verita (Mouth of Truth)
The "mouth" is actually just a marble musk with eyes, nostrils and mouth open. It was part of Tempo of Hercules Victor, however, it was moved to the church Santa Maria in Cosmedin in 13th to 17th century. The "lie-teller machine" idea was exaggerated by the film, Roman Holiday, and the film-effect is unbelievably profound even until nowadays!
From here, you will be basically at the crossing point of Capitoline, Palatine and Aventino hills, and just in 5-10 mins relaxing walk, you can reach Circo Massimo Station by Line B, and I suggest to take only 1 stop to
Pyramide
(station) and walk to the popular dining area,
Testaccio
, as the Rome locals. I've got you
the list
of the best dinner places I've been.
Day 3 : See Many Beauties from Renaissance in Rome
The last day, we went for something relaxing and flexible. Starting our day late, we went for brunch directly and followed by a gelato run in Cavour. For foodies, you can read more
here
.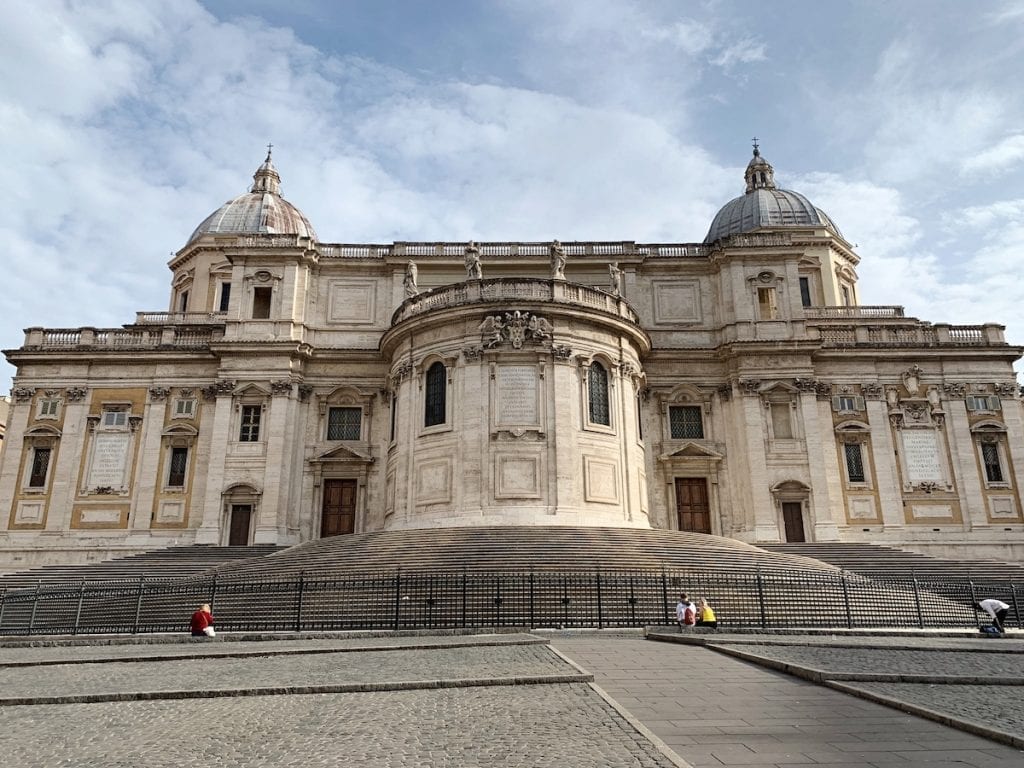 Basilica Santa Maria Maggiore
On the way to Cavour, we passed by Santa Maria Maggiore quickly and I know, we shouldn't pay a "quick" visit, as this church has so rich story. As one of four major Basilica in Rome, it is for Virgin Mary but also a symbol of the early Roman style church in the world. Of course, from outside, it's very typical medieval style as it's rebuilt after the big fire, but once you enter, the columns will show you its Roman origin.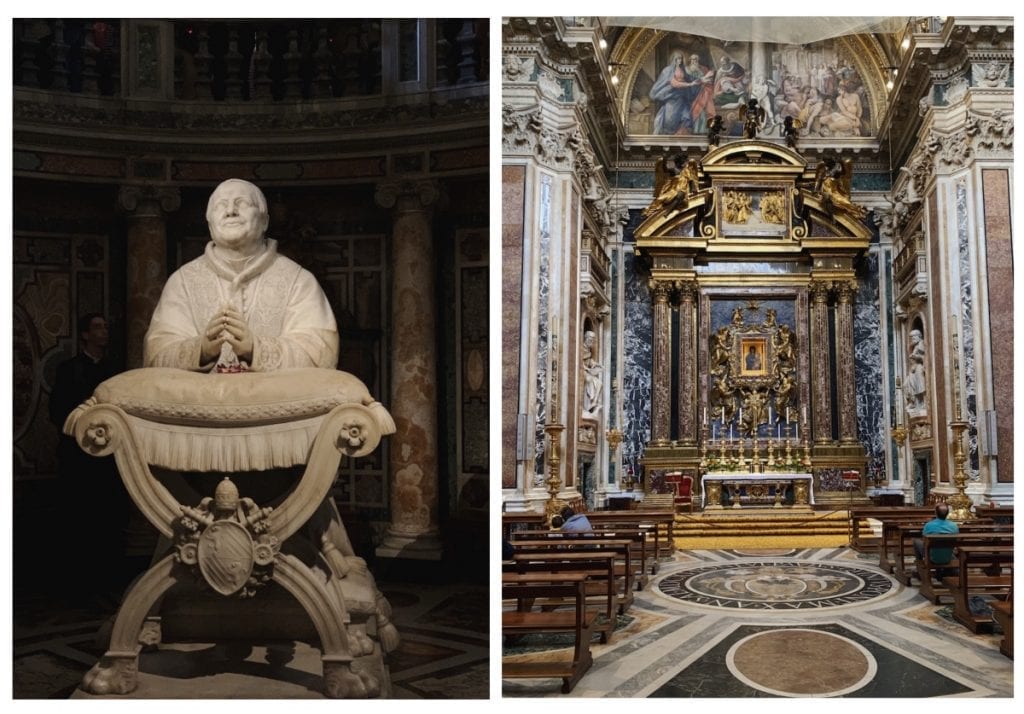 Inside the church, you cannot miss the Sistine Chapel after Pope Sisxtus V (not the Sistine Chapel in Vatican) because it hosts the wood piece from the Holy Crib of the nativity of Jesus, and it is also the place where Saint Jerome rests forever. Saint Jerome is known as who translated Bible to Latin language in 4th century. Outside Sistine Chapel, "lay" Gian Lorenzo Bernini and his family. Further, you will see another huge Chapel, Chapel Borghese, where the most beautiful collection of arts and sculptures can be found there.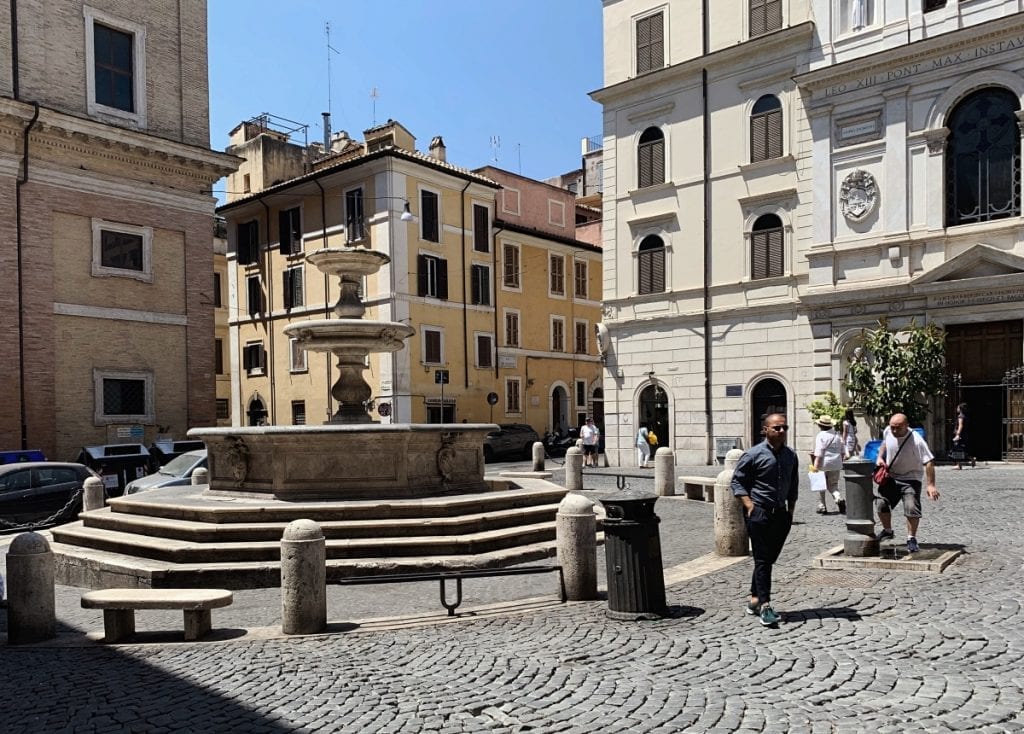 Going through Cavour and Via Baccina
At the back of the church is Via Cavour, and walking along this major street, you can reach Via Urbana in Cavour. This is my favorite cobbled street of Rome, which locates some beautiful restaurants, gelateria, fashion shops, art galleries and mosaic workshops! I can literally spend hours exploring there. When you reach Fountain of Catechumens, Via Baccina would be right in front of you! I highly recommend to walk through this street, which is tiny, cute and beautiful with a special view of Forum Augustus and Arch dei Pantani at the end.
Piazza Venezia
Along Via dei Fori Imperiali, our eyes were just too busy to capture the scene created and left by Roman emperors – Forum Nerva, Forum Augustus, Forum TraJan, Trajan Market and at the end, the Trajan Column to the sky on the right, and Piazza Venezia on the left, sitting on top of Capitoline hill. Piazza Venezia, as the central hub of Rome, I'm pretty sure you won't say, you don't know it! It has the monument of Vittorio Emanuele II, the first King of Italy. There are always some temporary exhibition taking place there.
Pantheon & Church San Luigi dei Francesi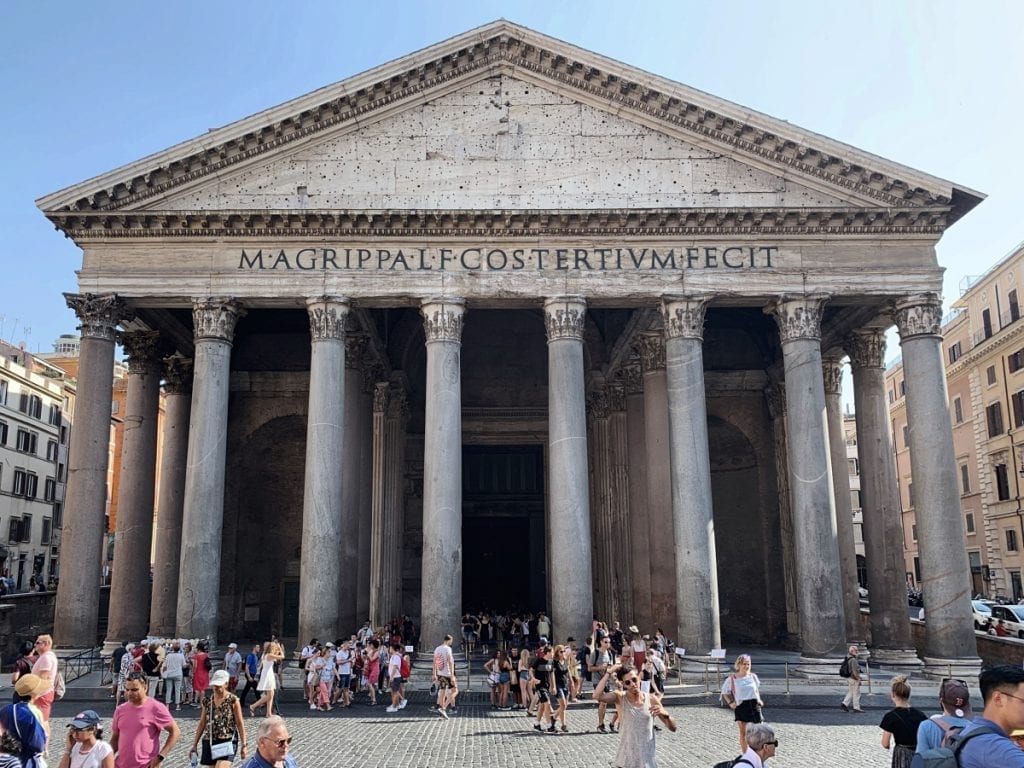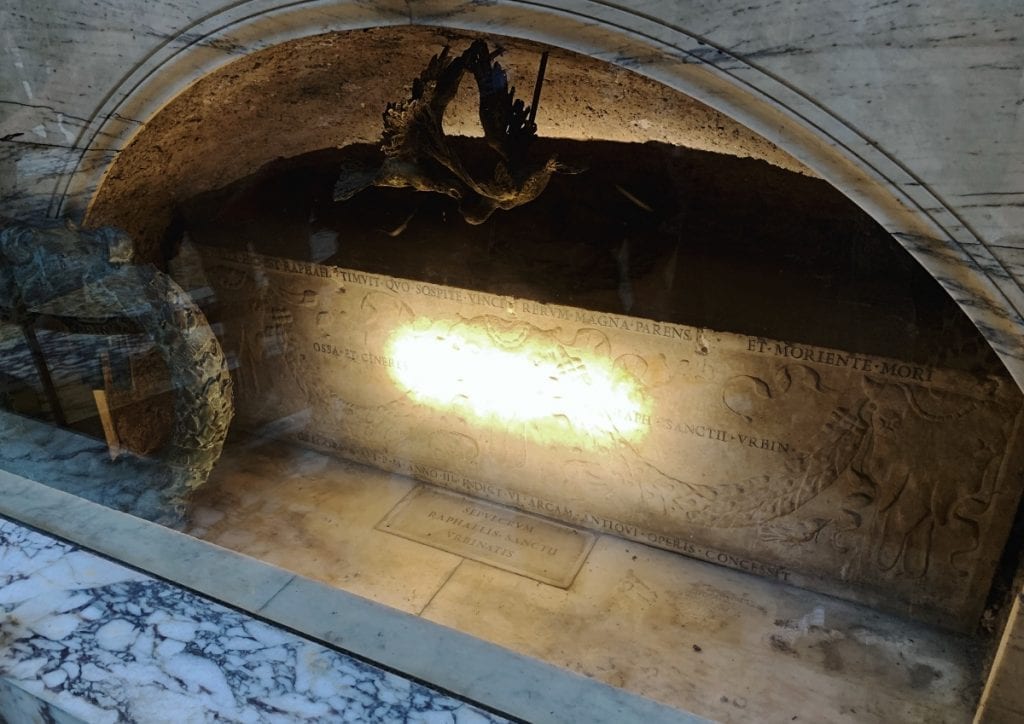 Pantheon
Walking down Via Corso, we went to Pantheon, the great Roman-style temple by Marcus Agrippa, while in reality was built and completed by Emperor Hadrian around 1st century. This great architecture by the ancient Romans, is 43 meters in height (to the oculus – the center opening DOM) and also as the inner diameter. Now it is a church and the R.I.P place for Italian's two Kings, Vittorio Emanuele II and Umberto I with his queen Margherita. Even more, there is the grave of Raphael, one of the 3 biggest names you should know about High Renaissance. The grave has both him and his love, Maria Bibbiena.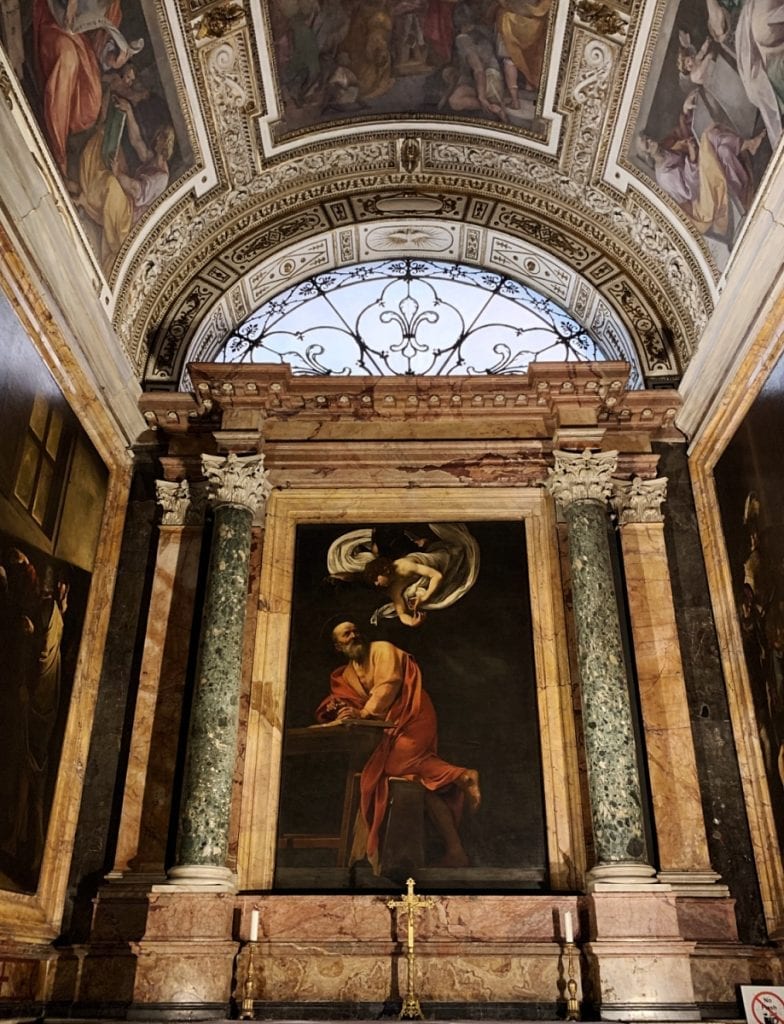 Church of St.Louis of the French (San Luigi dei Francesi)
Just 5 mins walk from Pantheon, there is the national church of French in Rome – San Luigi dei Francesi. The most famous inside, is the works of Caravaggio. The Contarelli Chapel has three huge masterpieces by Caravaggio: The Calling of St.Matthew, The Inspiration of St.Matthew and The Martyrdom of St Matthew. Little tip is, you need to prepare €1 to turn on the spot lights in the Chapel, however, no worries, you can also wait a few minutes for others to do that for you.
Trevi Fountain (Fontana Trevi) & Spanish Steps (Piazza di Spagna)
When Pantheon represents the great left side along Via Corso, Fontana Trevi and then further on Piazza di Spagna would be the great right side.
The worldwide famous fountain is built around 1760s, and it is the largest baroque art as well. This fountain, in history, marked the great Roman water system, aqueduct, which sent the clean water seamlessly into Rome city and supplied to Rome citizens by those many fountains in the city. It is magnificently beautiful, and yes, as the old Roman saying, you can throw coin with your right hand through your left shoulder (quite difficult actually) into the fountain for a "return-to-Rome" or a fortune, however, since July this year, it is not allowed to sit, climb, for sure not go inside of the fountain by Rome Traffic Police.
The last must-see of our short 3-day Rome trip, is Spanish steps and Barcaccia Fountain at Piazza Spagna. The name "Spanish" comes from the Embassy of Spain, but to the Pope (Vatican) instead of Italy. The fountain is sculptured by Pietro Bernini and his son, Gian Lorenzo Bernini, at the beginning of Baroque period. The 135-step staircase is facing to the many small streets spreading forward until Tiber river. The most famous about Spanish Step is, probably, the "eating gelato on the step" like Audrey Hepburn in Roman Holiday, however, again, from this year, it is not allowed to sit on the Spanish Steps, followed by a find of €250 or €400 if dirty or damage is left.
My 3-day Rome itinerary, is only for whom is coming to Rome for the first time with limited time, however, Rome is not built in one day, and Rome has much more than what you can see in 3 days – even a month is not enough! I will keep writing in this blog, where, I hope to give you more insights of this eternal city. If you are interested to know my up-to-date Rome footprint (sometimes also outside Rome if I'm traveling), you can follow my

Instagram

or Facebook Page.
---
Pin It If You Like!