Trastevere, Campo di Fiore, Piazza Navona – they are all the popular Rome neighborhoods and many of you have known them and probably have visited them. However, Rome has much more for us to discover and to enjoy. My favorite Rome neighborhood is Cavour and now I'm going to share with you my Cavour neighborhood guide.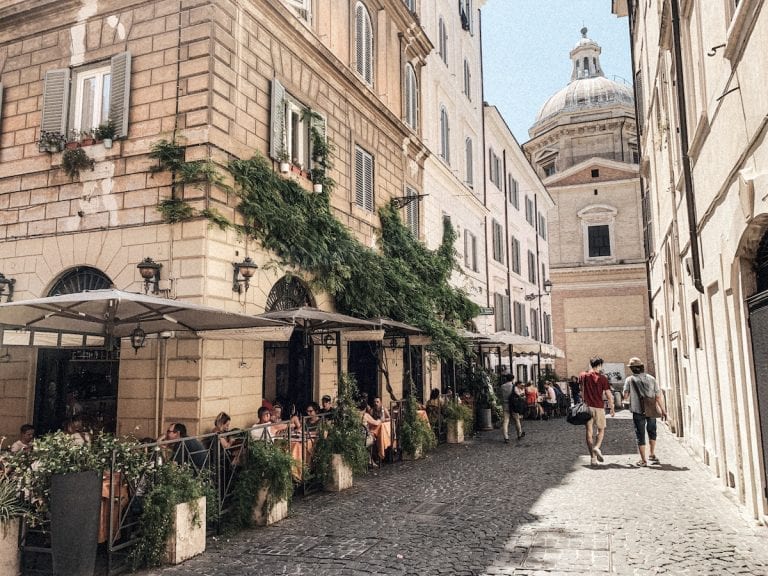 As part of Monti area, Cavour is much more concentrated with many bars, restaurants, shops and workshops to be explored. Instead of tourists, it seems to be more attractive to the locals. It is only a small area among Basilica Santa Maria Maggiore, Via Nazionale and Colosseum and the oldest and the original Rome neighborhood since Roman time. Look at those sampietrini (cobble stone streets)!
Cavour is perfect for those who love vintage and classic things but also always curious to discover new concepts and designs. I love both its vintage shop with a funky American spirit and the French-Italian inspired elegant fashion boutiques. The contemporary furniture shops are well blended with those classic Romanesque antique ones. It's a place encouraging many different ideas and creations.
Another reason that attracts me is my connection to this tiny Rome neighborhood. Here has my very first Rome-living memory. I spent half a year studying Italian in Ciao Italia, which is one of the oldest language schools in Rome and it is in Cavour. Since that, I was a frequent bar visitor. My typical Rome day starts from a cappuccino before the class, followed by an espresso or a macchiato with my classmates in the break. I will not leave for home before checking in one of the cute bistros after class. Luckily, Cavour offers a lot of nice options for a solo diner like me and many others.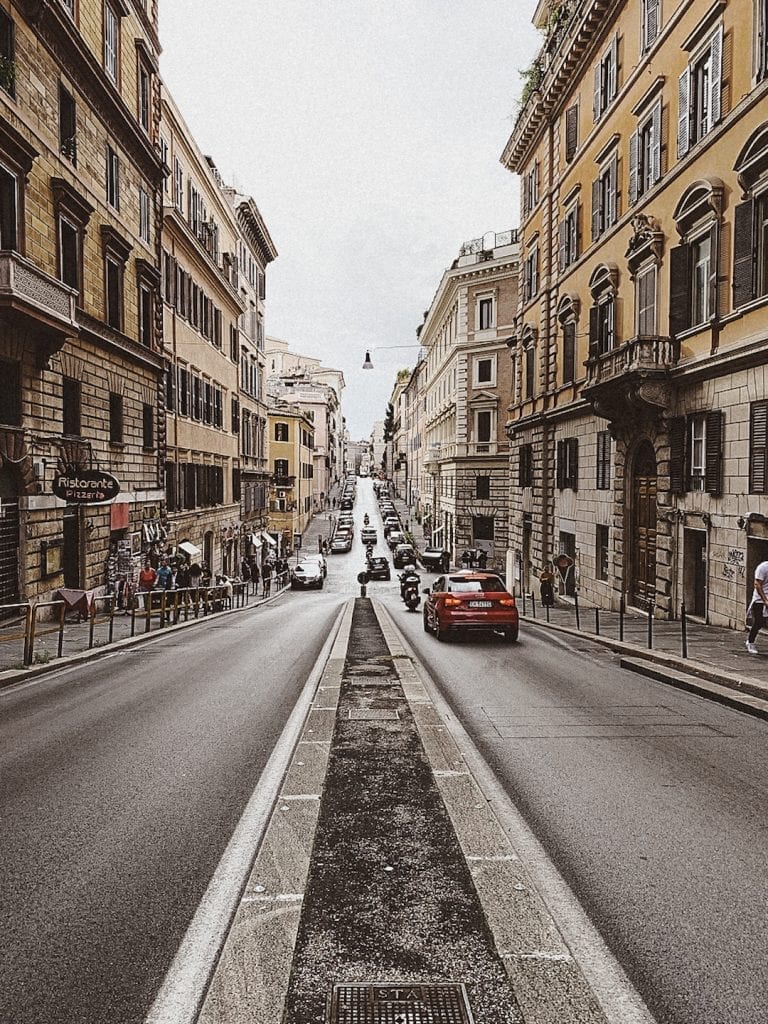 The best way to enter and to exit with a promised view
Allow my little perfection!
I highly recommend entering Cavour area by walking down Via Panisperna either from the side of Santa Maria Maggiore or Chiesa Principale dell' Ordinariato. Why? Geographically, Cavour is in the valley of Palatine, Esquiline, and Viminal hills. Try the street, you will understand perfectly why people say that Rome is on the hills. I imagine it as a roller-coaster ride on foot.
Sometimes I will arrive at Cavour with the metro Line B. The little square in front of the metro station is called "Piazza della Suburra".
"Suburra" is an old name of this typical area which is basically behind the Roman Empire's heart, Roman Forum. The place was where Caesar started his story and where much low-class community of Roman Empire lived. It was once the neighborhood with the highest population density. 
To leave Cavour, I prefer taking Via dei Serpenti, where allows me to take many photos of Colosseum.
In this old Rome neighborhood, there are many things you can do. Eating and drinking are the basic two, however, I preferred hunting old "spirits" in the bookshop,
Libri Necessari
. Italian and French books in politics, history and philosophy are the major collection. If I'm lucky enough to find a good English book, I will search for a comfortable spot at Fountain of the Catechumens for a bit reading and people-watching.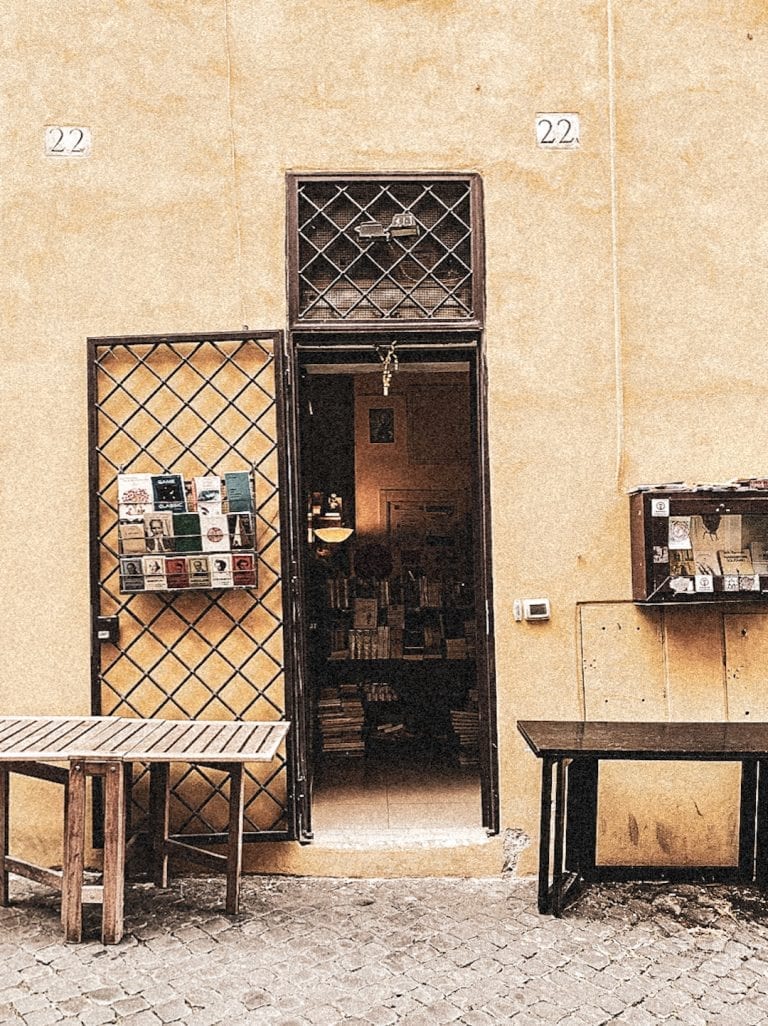 The fountain is at Piazza della Madonna dei Monti. The square is not big but surrounded by restaurants and bars. The most epic moment to enjoy people-watching there is in the summer when the cafes are crowded and the bars are more than just crowded. Night events and little parties take place frequently there. Oh, and also, I'm waiting for those flowers to come back to the walls outside La Bottega del caffe. It is probably the most floral Rome neighborhood!
Talking about flowers, when the spring and the summer come to Rome,
don't miss the chance to buy some beautiful fresh flowers from the street in Cavour
. If, you see a little
Ape
(a three-wheeled light car which you see very often in the countryside of Italy) like
this
.
Try a class and learn a new skill
I've got my eyes on Studio Cassio for a while as they host Mosaics workshops. It can be a very different experience to get closer to the most antique technic and art of Rome.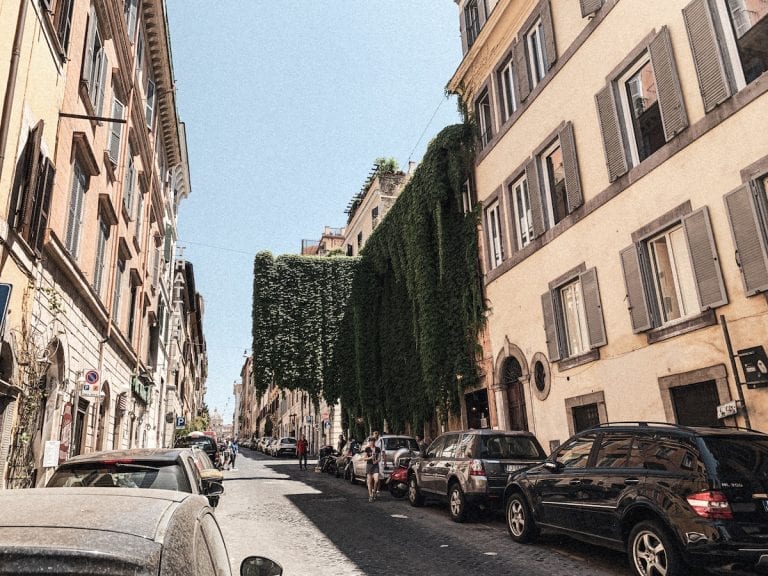 Walk around to discover the human-made arts and the natural beauty
Cavour is not only an antique place but also full of energy in this typical Rome neighborhood!
Have a walk, lift up your chins and look around, I promise you an entertaining journey! There are some interesting and hilarious arts and the amazing beauty sculptured by the nature. Via Urbana is my favorite street to walk as it has the most "overwhelming" plant walls, green in summers and orange in winters. The only one that can compete with it is the plant curtain on Via Panisaperna. Also, you might notice the funny neighbors' talking scene on Via Urbana too.
Another side of Cavour is about its street arts. Near La Bottega del Caffe, you will find a pixel one on the wall. Walk up Via degli Zingari, don't miss the graffiti near the stairs. Walk to the direction towards Arco dei Pantani through Via Baccina, you will find the famous street art by C215. I also talked about the special view of the Roman Forum from Via Baccina 4 months ago.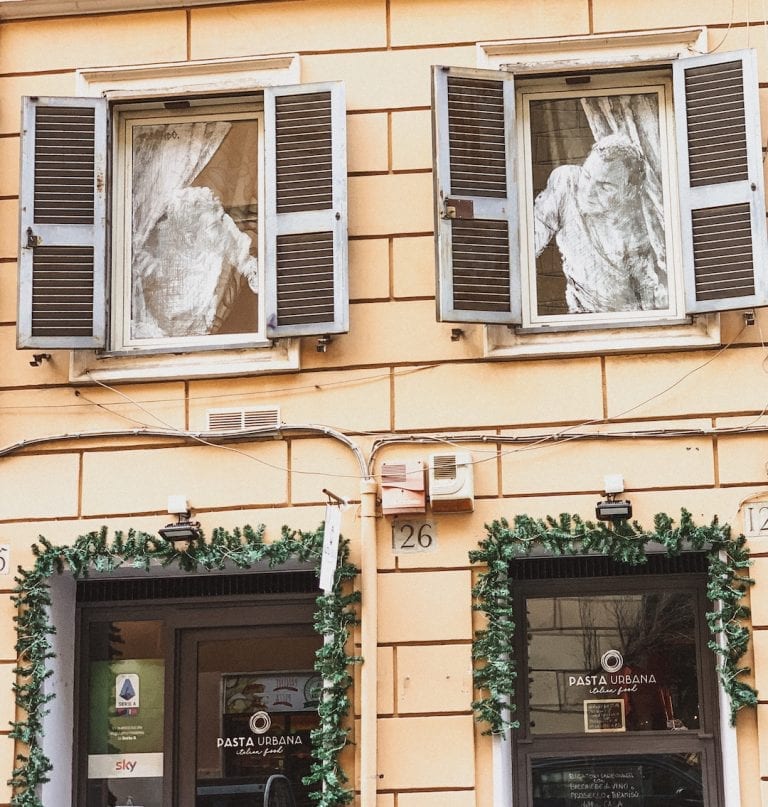 Go for a small-bite self-tour
Cavour is not big but it's the paradise for a solo foodie. I never worry about eating alone in this area because it has plenty of small-bite options. 
Gelateria dell'Angeletto and Fatamorgana is my favorite two places for a refreshing bite. Mari is the new place if you are curious about Rome's famous maritozzi. They've got both salty options with salmon, avocado, meat or more, or a classic sweet cream version will be magnificent too. Sometimes I will grab a slice of pizza-from-the-oven when I pass by Pizzeria Boccaccia or Forno da Milvio. The later one also serves hot dishes in the rush lunch hours. Grezzo Raw Chocolate is another interesting place if you are a dark-chocolate person like me.
Talking about Food & Drink of Cavour, I have too many recommendations. So, I decided to write another post later on.
Bar hovering around sunset hours
The winter night arrives with shades of romantic violet in Cavour. My favorite purple-chasing spot is again Piazza della Madonna dei Monti. Meanwhile, the sunset hours are the best timing to grab a drink and to catch up with friends. The Romans do it, so do we! My frequent hangout place recently is
Civico 4
. Love the speak-easy vibe there with a glass of wine or two. Many people go to
Analemma Cafe
for some cool cocktails. A few steps forward, there is also an Irish pub,
Finnegan Irish Pub
.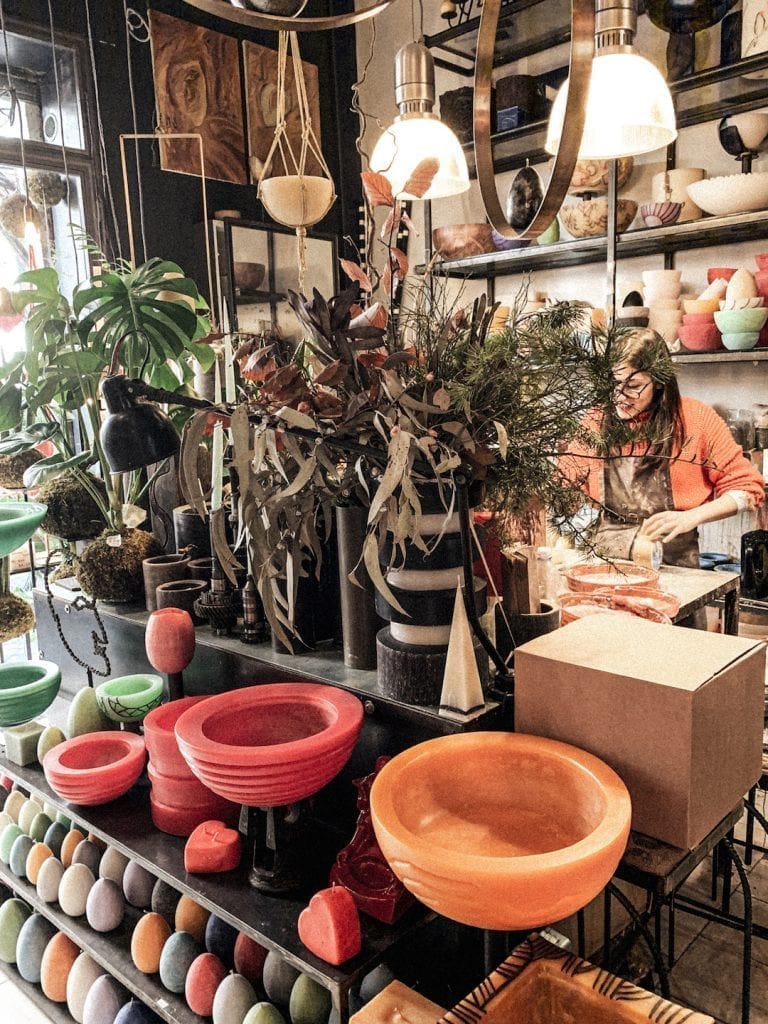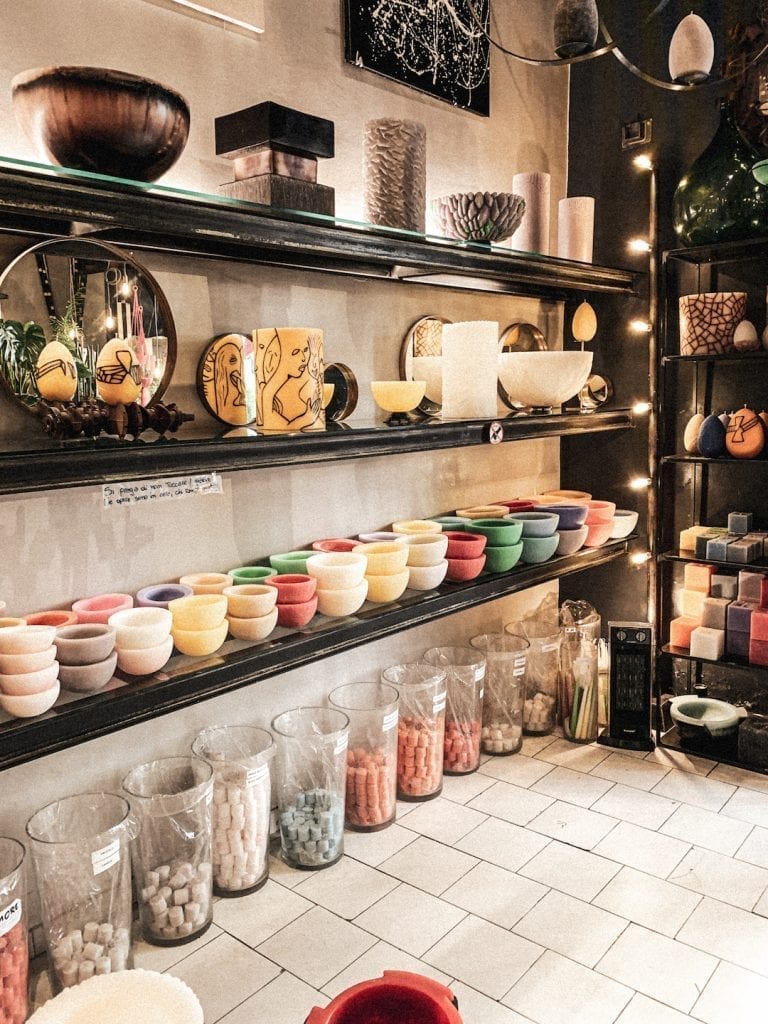 Go shopping and let the credit card cry (I'm joking)
My favorite shops to stop by in Cavour are not only those boutiques for special clothes or pieces of jewelry but also interesting interior concept stores and antique shops. Among them, the most interesting ones are the Candle Store Roma, which I've shared a bit in my weekly note. They sell handmade candles and wax products and the most romantic story about man and woman.
LOL Roma has 3 locations in Cavour and they have the chic and feminine collection all the time. However, SUEDE is on the opposite side. I think they've got 2 locations which one is for women and the other is for men. It's perfect for who wants the fashionable streetwear and IT pieces.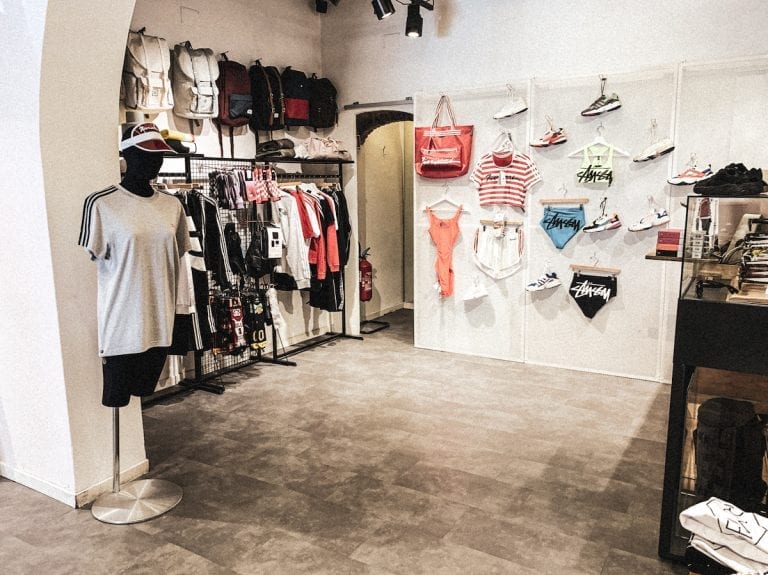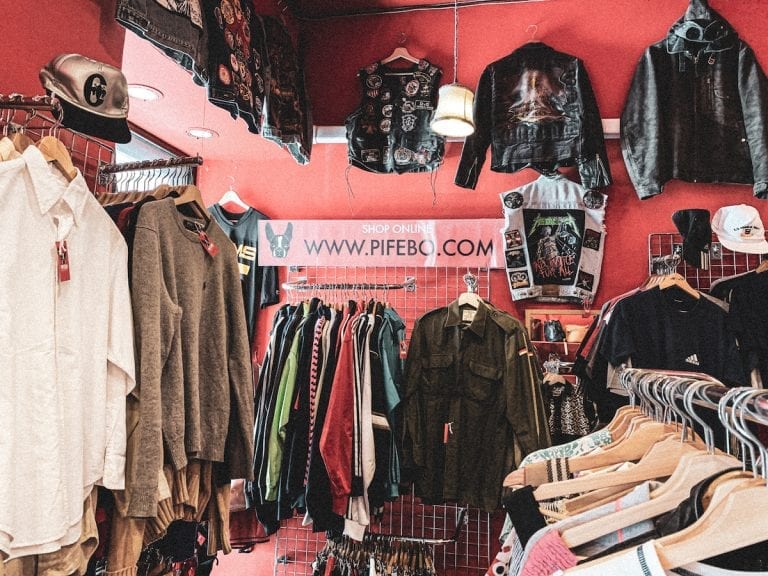 Pifebo Vintage and another few shops without a name on Via Leonina are for those vintage hunters. A pair of vintage Levis, charged as per weight? Sounds fancy!
There are many jewelry boutiques and special furniture shops on Via Urbana and Via del Boschetto, however many of them have "weird" open hours. My tips are to avoid the long lunch break which could start from 1 pm till 4 pm. Probably when you can see both the golden shades of sunset and the purple shades of 5 pm sunsetting hours, you are at the right timing to check out those hidden boutiques.
Pin It To Your Rome Guide Book