Angeletto offers way too much interesting flavors than those classics. When I asked for a "chocolate" flavor, I was asked "which chocolate?" Quickly counting, realized, they've got actually 5 different chocolate flavors…
Gelateria dell'Angeletto
Address: Via dell'Angeletto 15, Roma
Taste: ♥♥♥♥♥
Service: ♥♥♥
Price: €
Payment: Cash / Credit Card
We've just passed the middle August, supposedly Italian's summer is going to the end and the temperature is going to drop, however, it seems that this year maintains "a strong performance". Well, at least, it does give everyone, whatever locals or tourists, a perfect excuse to continue our slogan "A Gelato A Day, Keep Doctor Away".
In Rome, you probably have heart "Giolitti". That one is deadly good but there is plenty of others. They are artisan, just on the corner, offering everything from Italian classics to unique specials. Importantly, there are much shorter waiting line or even no line, with a matched "shortened" price tag, so why border yourself under 40 degree's Mediterranean sun?
Gelateria dell'Angeletto is on the way to metro stop Cavour – a perfect reason that I cannot miss it. It is also a rare place with vegan and gluten free options.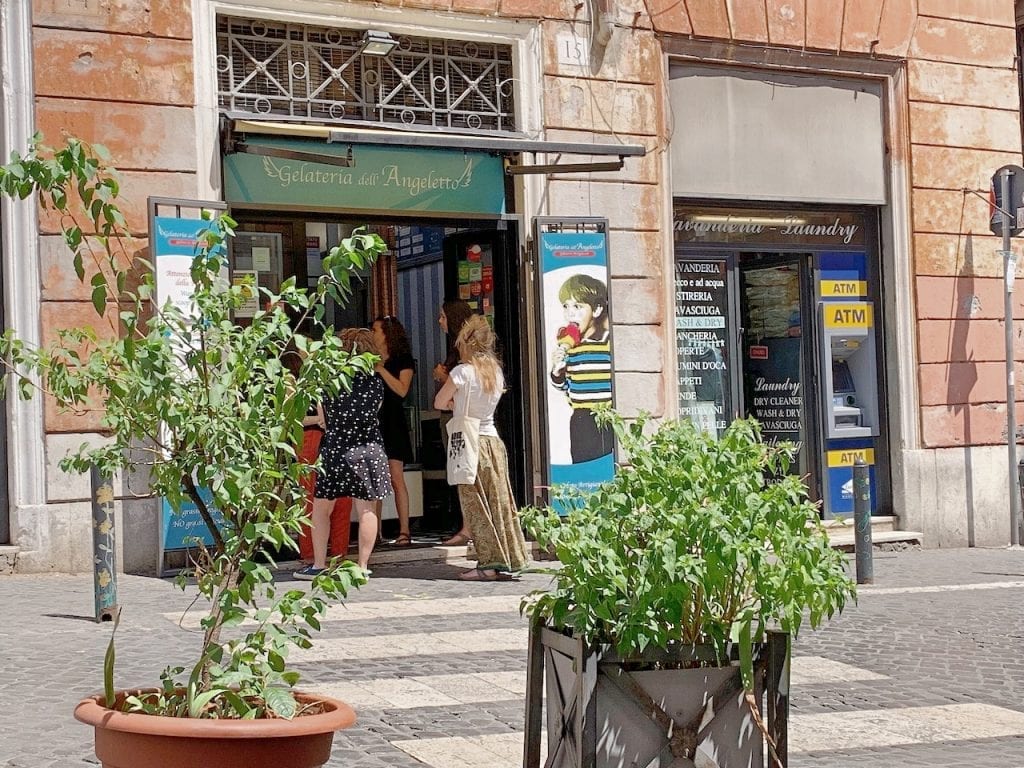 Normally I intentionally had a light lunch so that I can save my stomach for the bigger, darker and crispier cone topped with 3 gelato balls (€ 3.5 is what you will pay or go for a smaller normal cone with € 2.5 but you will still have 3 gelato balls)!
Absolutely, creamy type of gelato is my go-to, even it's in the hottest days. Nocciola (hazelnut), cioccolato (chocolate), stracciatella (milk with chocolate breaks), pistacchio (pistachio), café (coffee), vanilla are the common Italian gelato flavors, in a non-tourist gelateria (try to find an artisan one), you won't go wrong with any of them. Angeletto offers way too much interesting flavors than those classics. When I asked for a "chocolate" flavor, I was asked "which chocolate?" Quickly counting, realized, they've got actually 5 different chocolate flavors…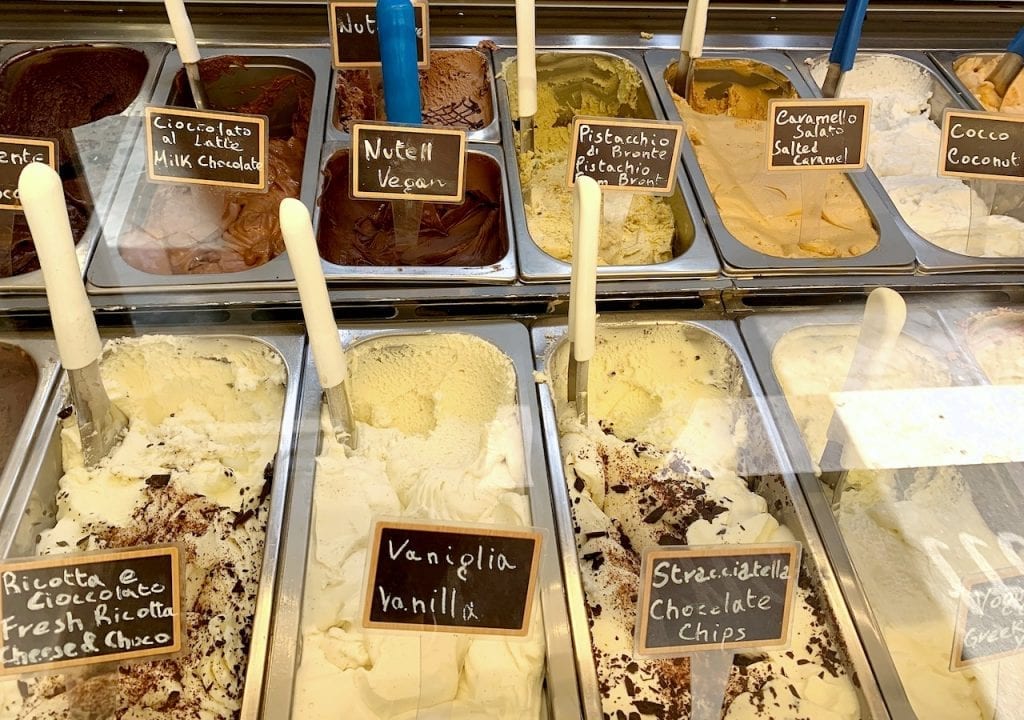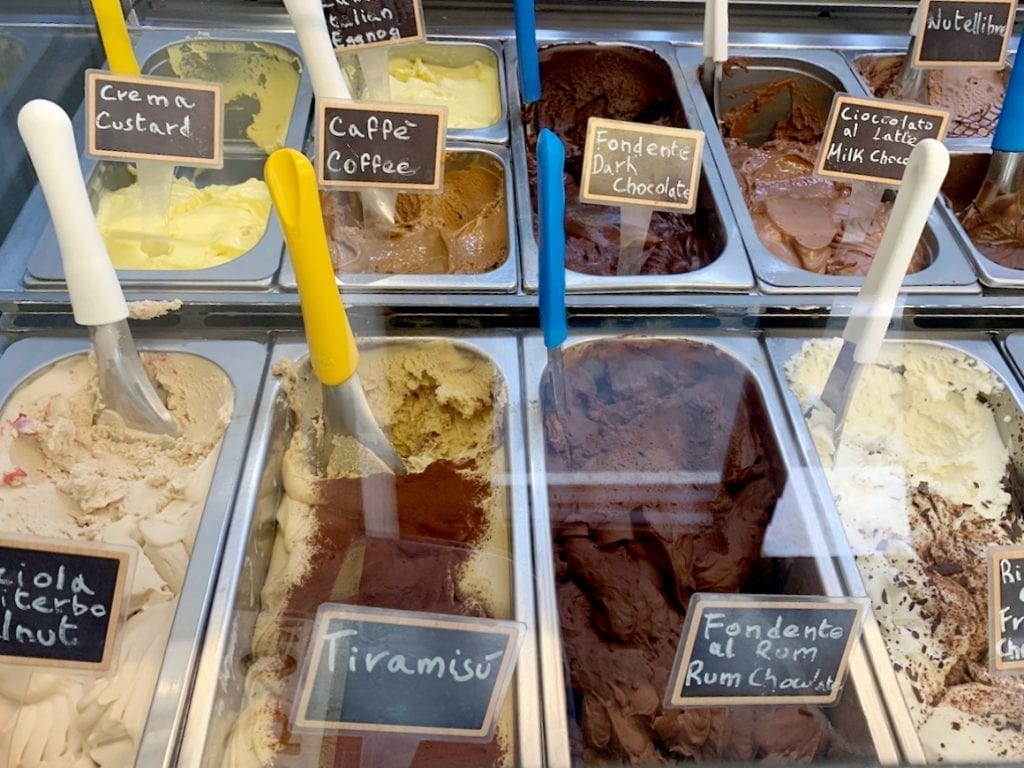 My favorites and definitely wanting to recommend are:
Nutella vegan, before you try, think twice!
Why? Coz, it's really 100% Nutella – I mean it's texture is the same as the Nutella spread from the jar. Of course, it will tastes extremely evil and heavy, even a bit warmer than a gelato should be. Plus it is vegan!
Fontante
Is dark chocolate. Don't know which percentage it is, but by tasting, I give a 70% plus.
Nocciola
I know, it's probably a highest-hit, but they are made with hazelnut from Viterbo! That city is famous of hazelnut cultivation, probably after Piedmont area. I cannot tell much difference… maybe a bit more nutty? Same as a city from Lazio region, I was thinking why not give a try?
Pistacchio
Another popular flavor, and theirs is from Bronte. Emm… similar to Nocciola, it's another claiming of original ingredient. It tastes really good, I have to say, and even the color proves my thought. "If you see a pistachio gelato with a very greenish color, be caution, it might not be made from natural ingredients".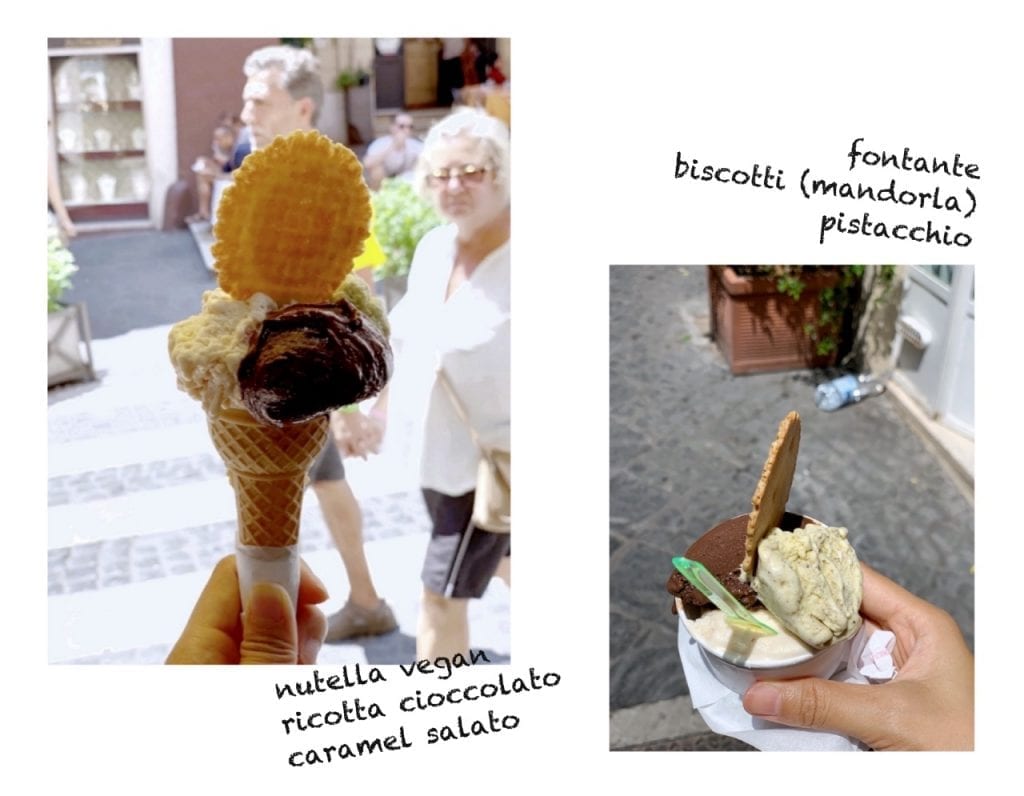 Ricotta cioccolato
Is mixed with ricotta cheese and chocolate. Creamy and milky, un upgraded version to the normal worldwide milk chocolate. Just a bit sweeter if your tolerance to sweet is so-so.
Caramel salato
Salty caramel, a worldwide popular gelato flavor but rarely seen in Italy (don't ask me why…), so I told myself, I have to try, and it tasted wonderful!
Opps, I am probably listing all their creamy gelato flavors. Anyways, I love them all and I still miss the last few haven't tried.