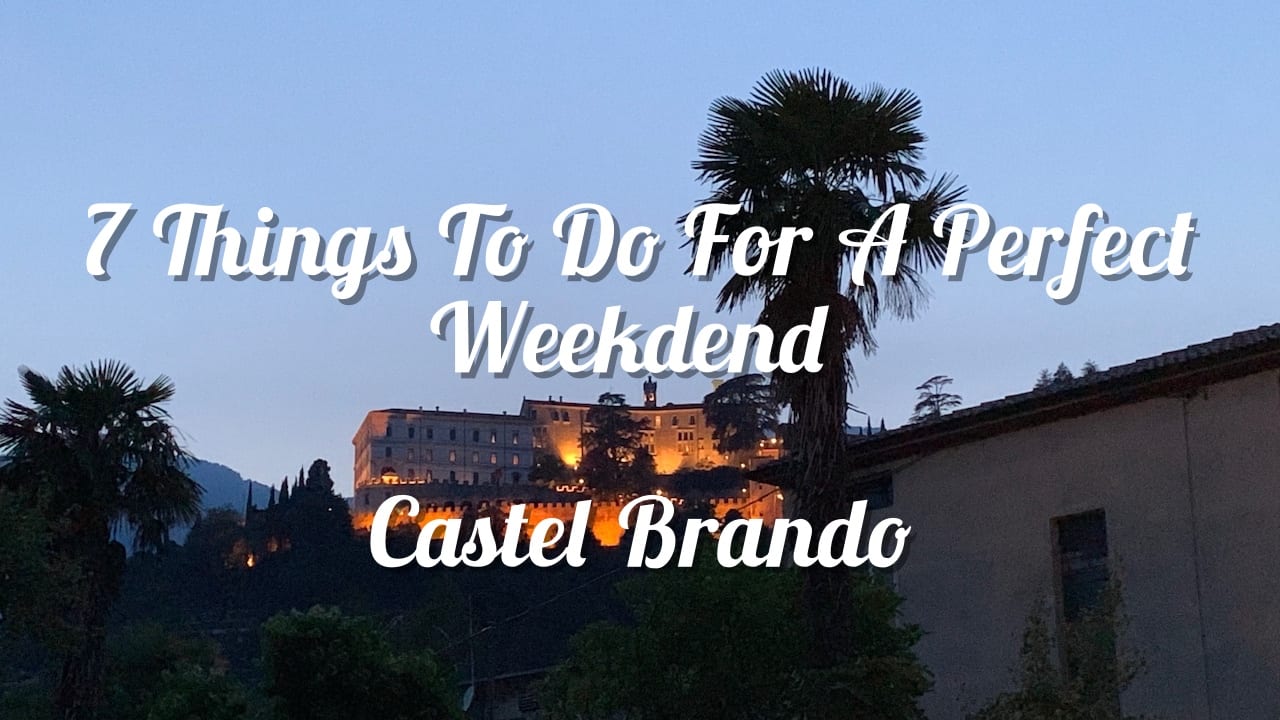 We have only 2 nights there and to be honest with the summer heat, we didn't make a big plan but just relax and explore what we can discover in this hotel, filling up our mind and stomach.
Hotel Castel Brando (website)
Address: Via B. Brandolini, 29, 31030 Cison di Valmarino (TV) ITALIA
Worth To Visit: ♥♥♥♥
Price: €€
Service: ♥♥♥
Special Activities: ♥♥♥♥
A few weeks ago, we had one short weekend holiday with our German friends in the north Italian region, Treviso. That area is not unfamiliar to us, because we were just visiting and started to know more about Treviso for our tourism project. With two German family with their baby family members, we've decided to stay with Hotel Castel Brando. It is family-friendly with a list of different in-hotel activities (perfect for the busy moms and dads to stay on hands with their princes but also possibly for the busy parents to have a small private-self-moment). Reversely, the hotel offers us enough cultural spots to check out even I and my boyfriend don't have any babe-duties.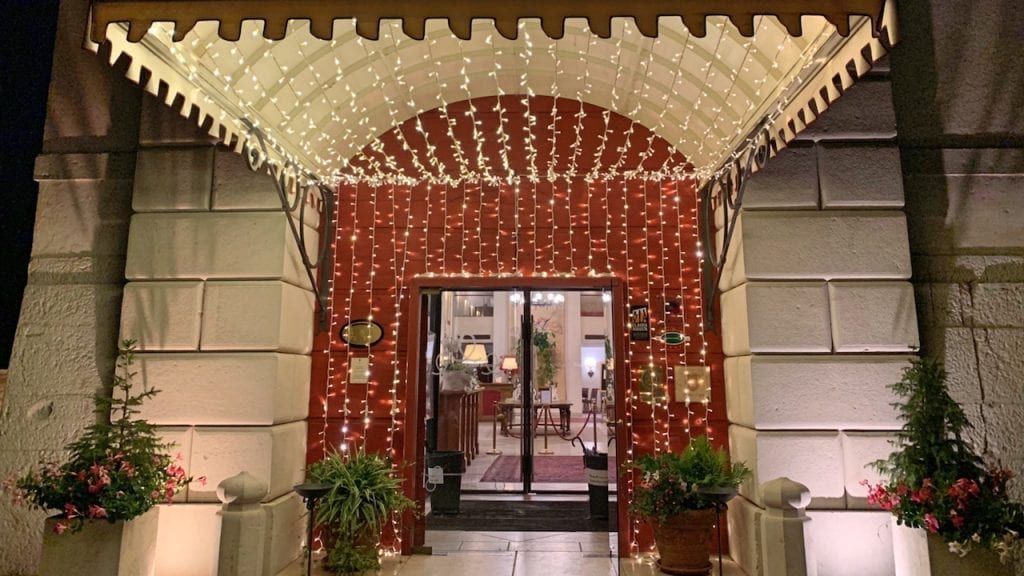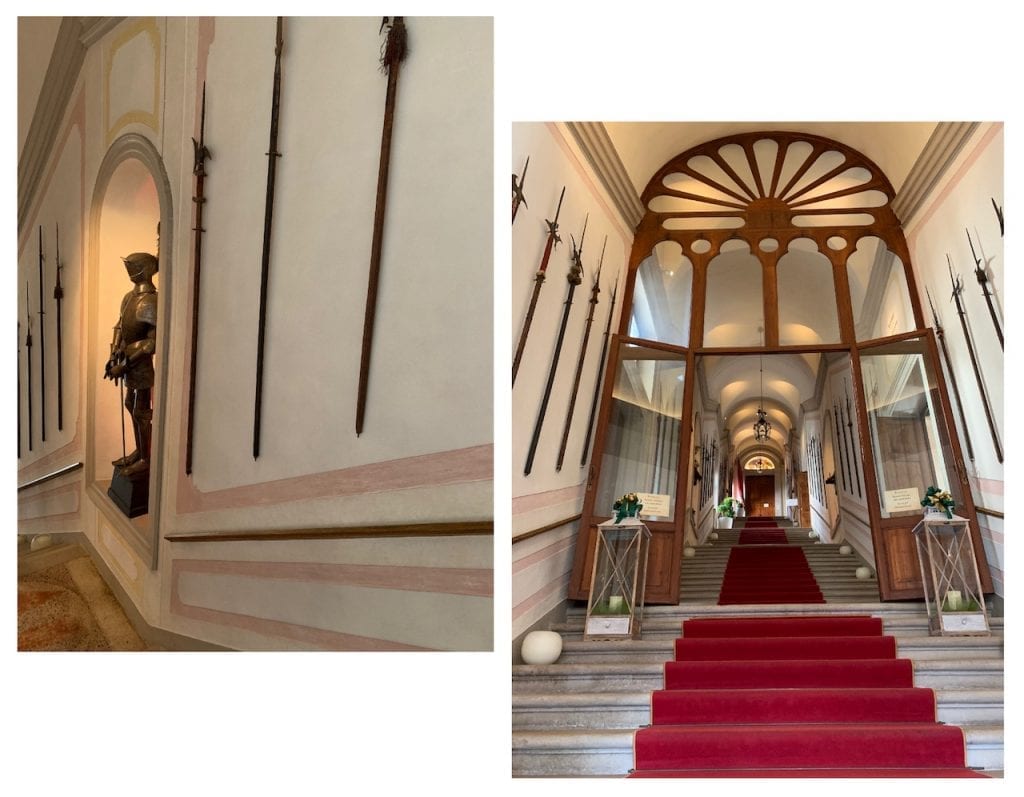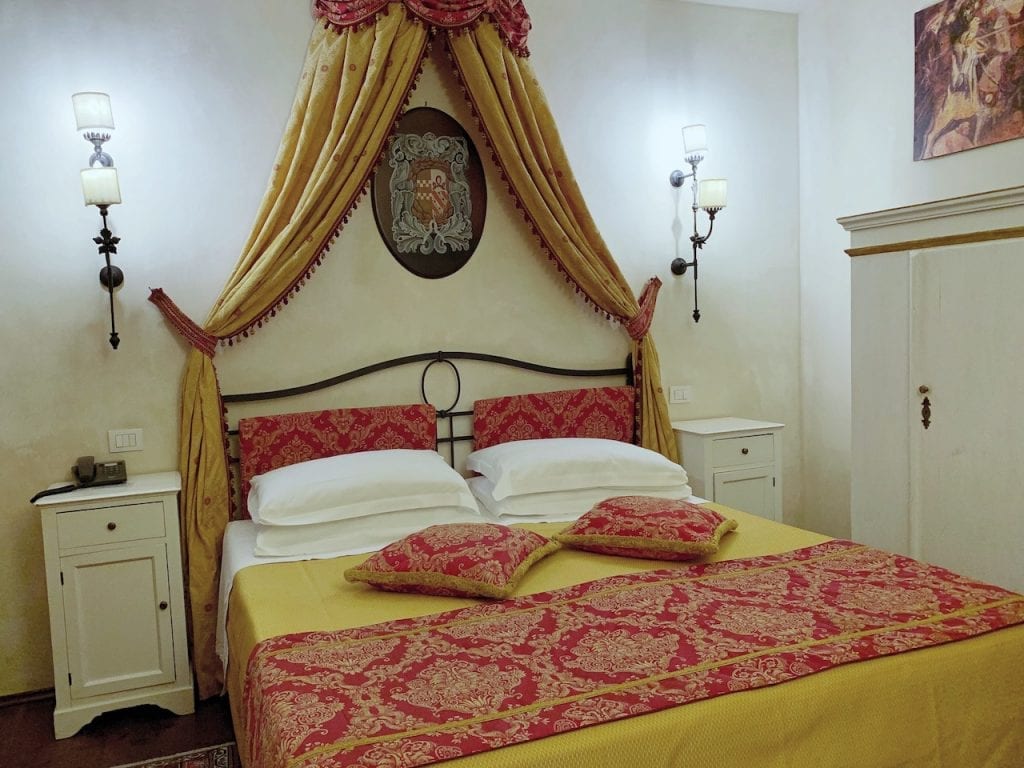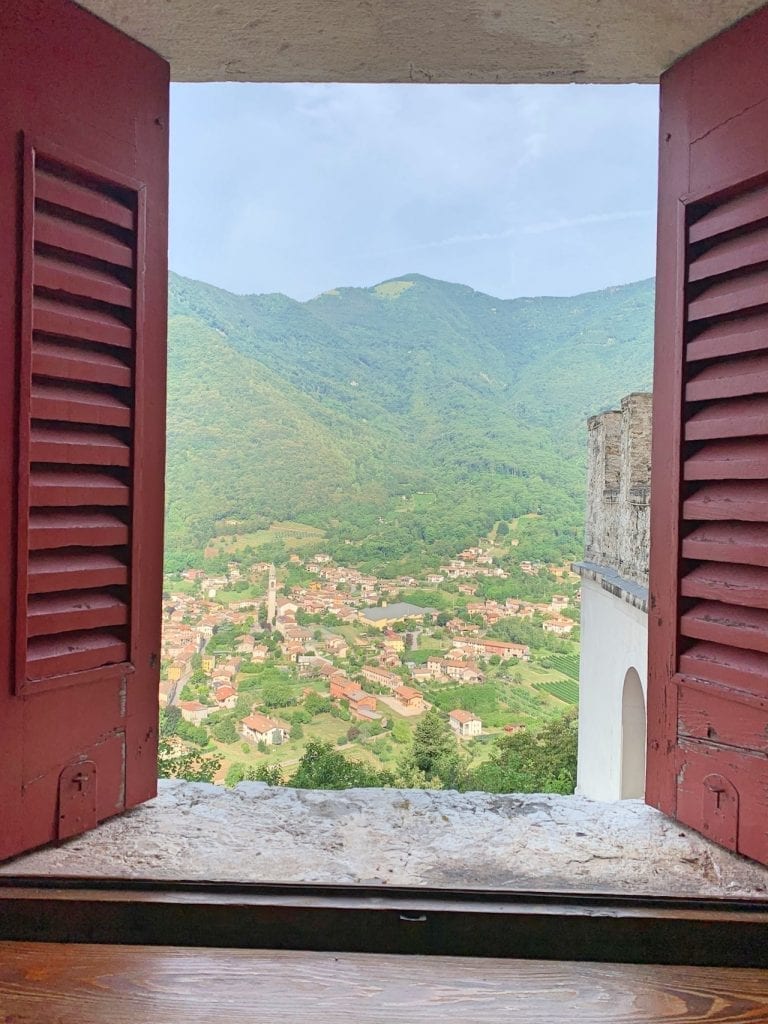 To reach the hotel reception is suggested by car (if you are travelling in that area) or by the hotel-managed cable car. We've entered directly through the medieval style door in the late night while enjoying the royal view of the castle from far to right in front of our feet. This nearly 2000-year old hotel  is renovated into a boutique hotel which hosts normal visitors like us but also super important guests from politicians to celebrities. We've got ourselves a normal room with basic settings, not big (to be honest) but seriously decorated as back to the cold-medieval age, especially I've found a war-scene painting in our room. The typical window is my favorite. It gives the beautiful bird-view of the town below from morning to night.
We have only 2 nights there and to be honest with the summer heat, we didn't make a big plan but just relax and explore what we can discover in this hotel, filling up our mind and stomach. I've got 7 interesting must-dos for you:

Go Back To Medieval Time: Visit Private Museum and Ancient Galleria
They've got 2 mini museums inside the castle, yes inside – when we asked for entrance, the guy just opened up the gate for us in reception hall – what a friendly excess. The main one is more mild (considering the bloody level, spiritually) with a general display of castle's collection of armors and weapons, while kids, even adults found super amusing in the little chamber of music instruments because the introduction was with sound tracks! The other museum is more hidden. If you are the guest on 7th floor, you will find it just on the corner. I called it "bloody cell" because it demonstrated the laws and the punishment in medieval time. I believe the stories of how cruel and bloody the punishment was in medieval time, is no stranger to the world.
Each museum costs around 30 minutes to 1 hour if you are a big fan to read every single word there. They are all free!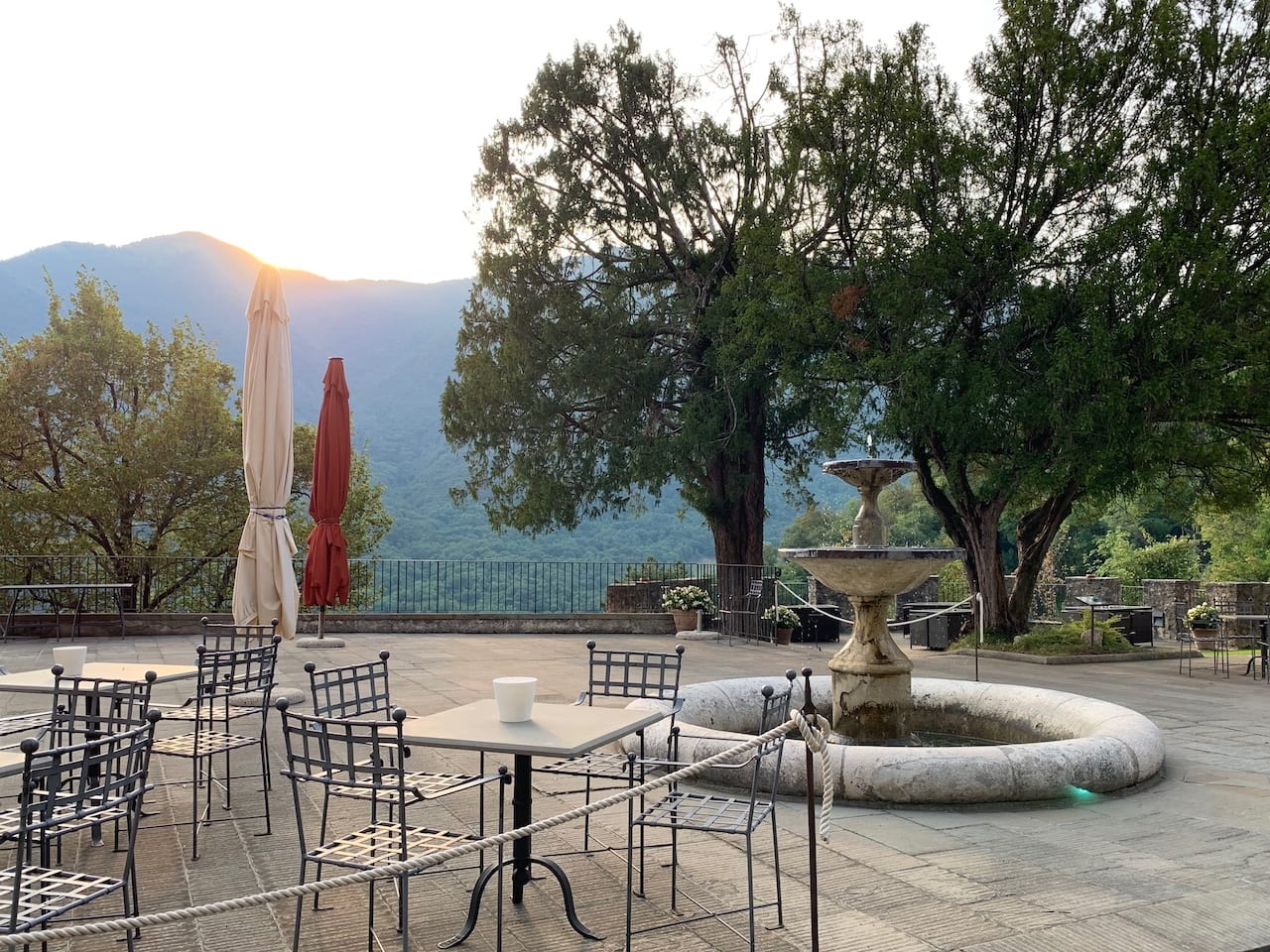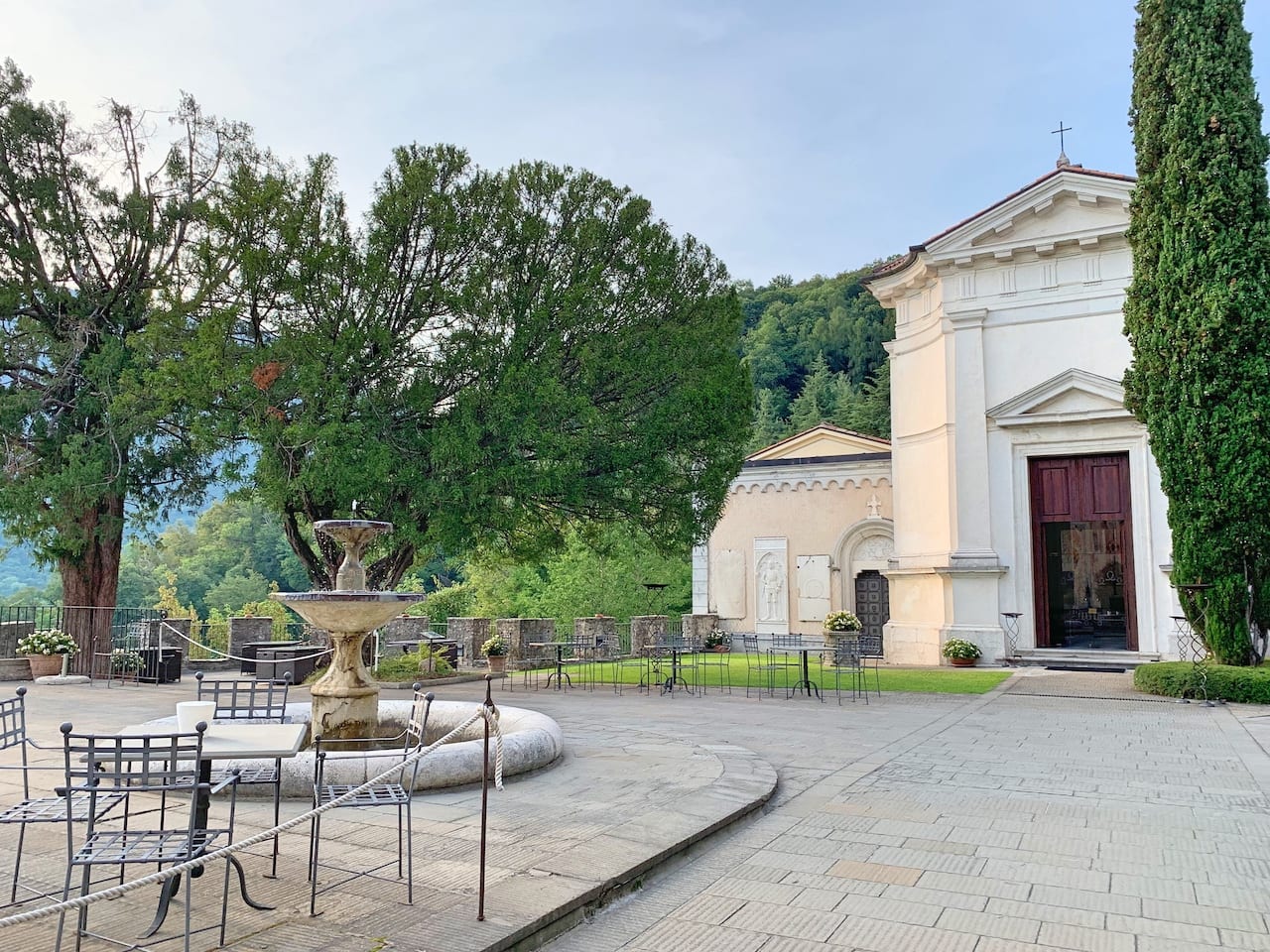 It's All About Exploring: Try A "Blind" Walk In The Castle
Our "blind" walk unfolded some problems of this castle hotel. The hotel guests can walk around in this castle, take lifts and cable cars with a single swap of their room card. However, by chance, we discovered that our room card can lead us to some "prohibited" corridors and rooms where no people is there and obviously no business is going on either. We wondered from a gallery to the spider-web occupied little iron door, got stopped for sure, and we tried our card to enter another private room which is connected to the theatre and also the pizzeria's back door. While we entered the pizzeria in the off-hours, we've got no light, no people, 100% free for us to do anything if we want. And when we tried to leave from the front door of pizzeria, it locked us up, so we went back and left from where we started.
After this, we grew braver and just tried to swap our card once there is a door, even to cross an iron fence to a private terrace garden, we managed to show up, at the end, in front of our own room. What a magic!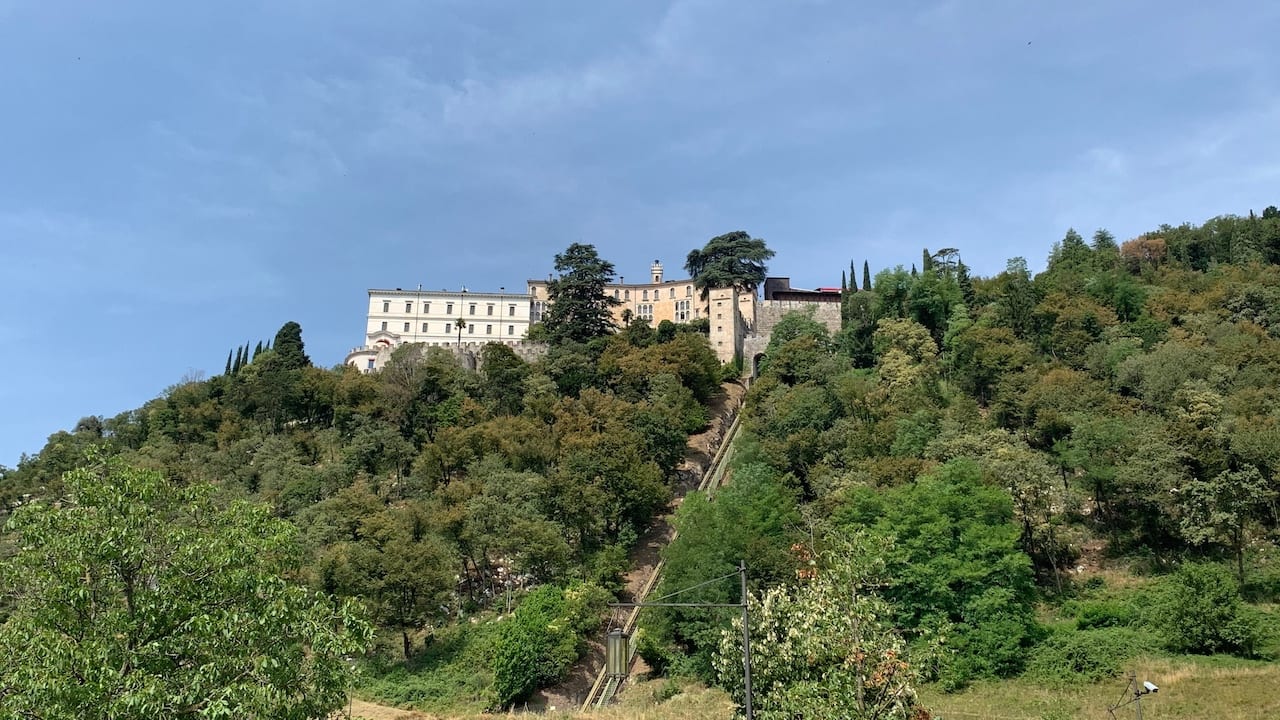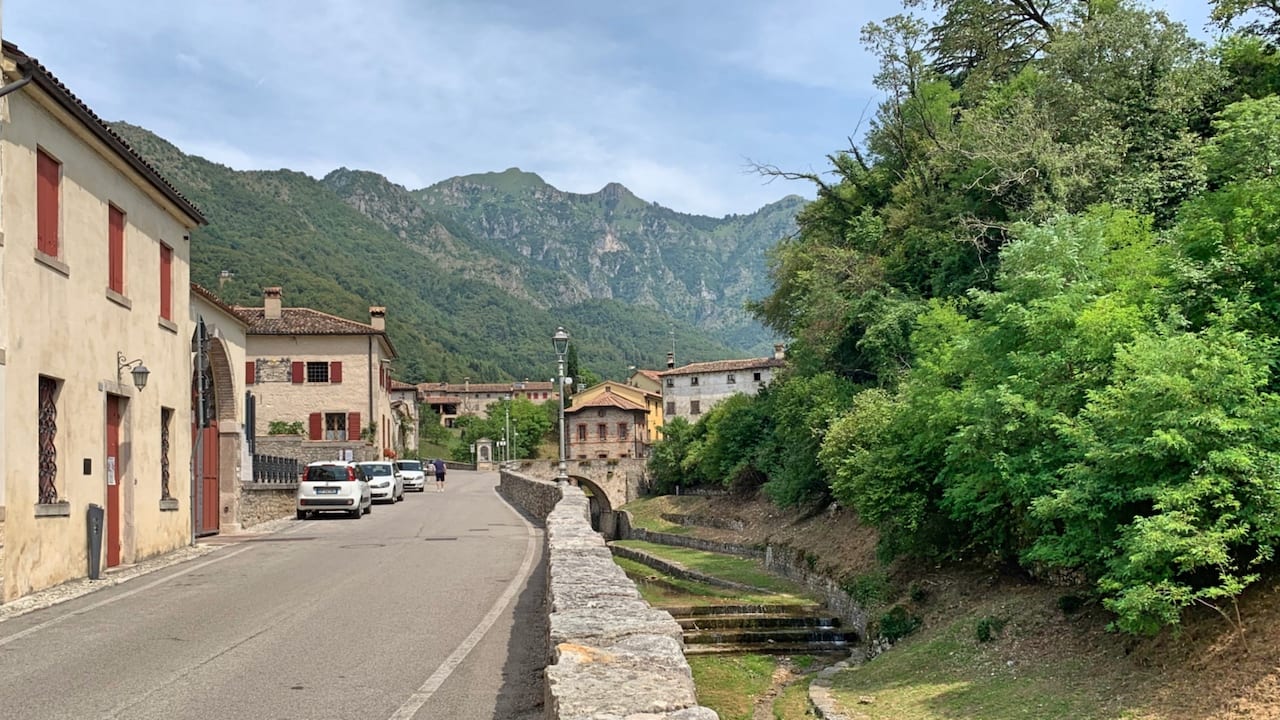 5 Minute Time Travel: Take Their Cable Car To The Town
Well, just mentioned the cable car, here you are! The cable car is open to hotel guests and normal visitors with the only difference of free or not. The cable car actually is on a steep slope. When we were inside, a 360 degree view of the town below is exciting, along with a fairly not-too-slow travel speed. There is a souvenir shop and a bike shop at the station down-hill, and I have no doubt you will find the "ugly" magnet.
The little town is interesting to pay a walk, especially the lovely central plaza, with a few cute bars and some old buildings (church). There is a way along the spring. We walked a bit farther to almost the end of the town, where stands a cute mouth of spring. In this summer weather, a splash of ice-cold mountain spring is absolutely life-saving!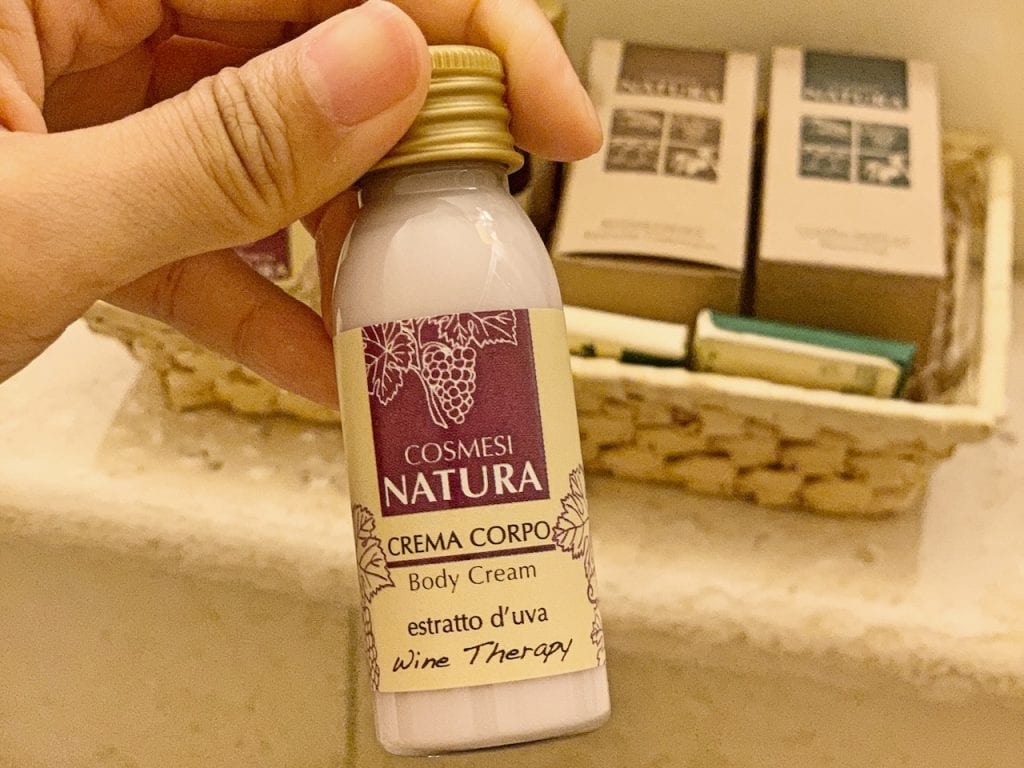 Be A Roman: Go To Their SPA
The SPA is absolutely a must-go. It is almost all day open with a basic entrance package priced from € 22/person. Of course, any extra treatment requires an advanced booking and extra cost. We went there in the late afternoon, got equipped with robe, towel, flipflop and even a shower cap for ladies. Their terrace is absolutely beautiful, not because they line up the perfect sun-bath setting, but the jacucci! If a glass of local prosecco could be served while we took our group jacucci time under the late afternoon sun… One floor down – yes, in this castle you go underground as frequently as you go upstairs – we tried sauna, Turkish sauna with lavender scent. We rested ("passed out") on the lounge chair and we walked in muscle compress pool (warm and cold water for blood circulation). There is even a small swimming pool. Instead of swimming, we had enjoyed a lot the massage by the strong stream of water there. Indeed, a holiday cannot be without a SPA afternoon like this!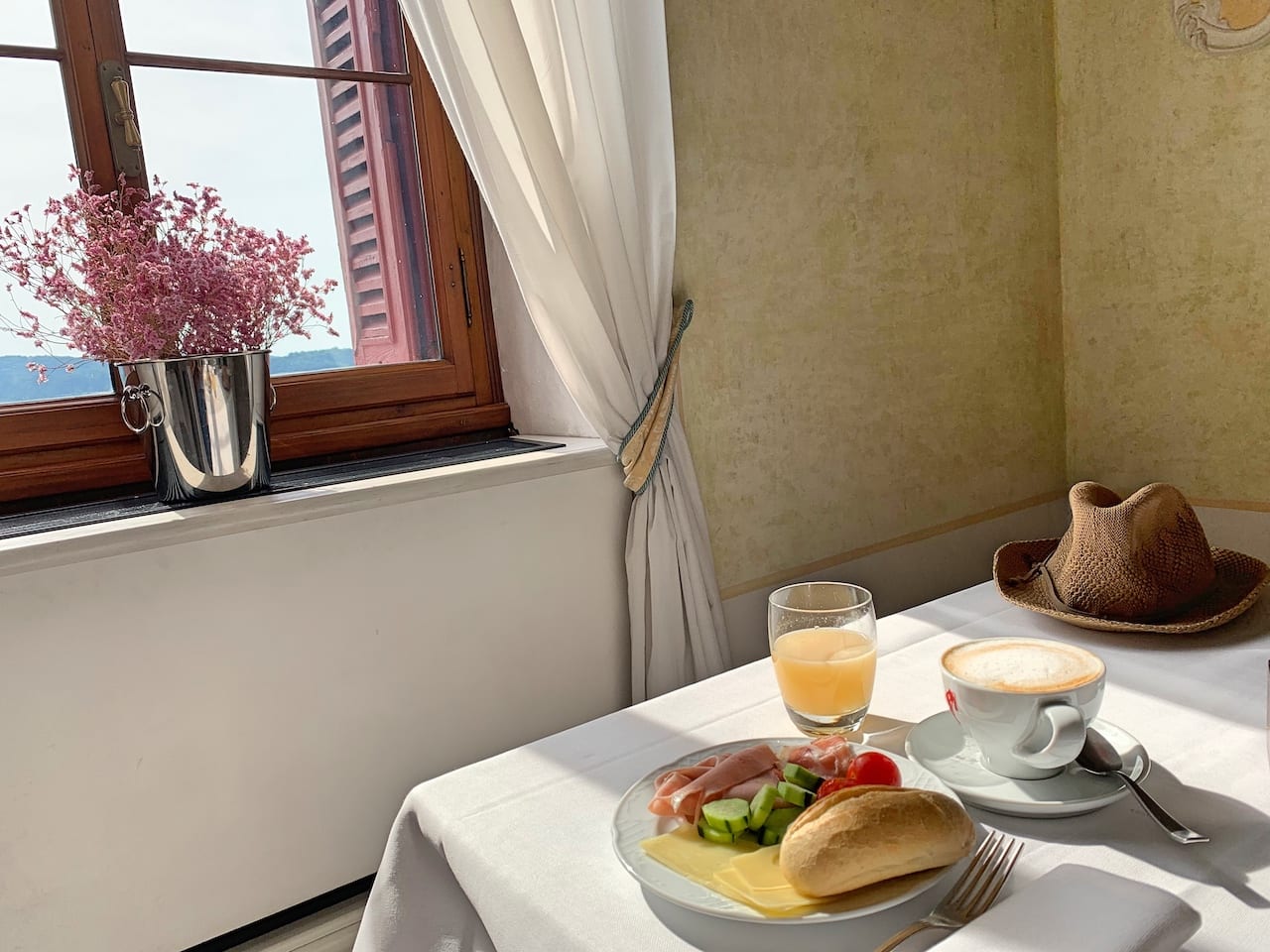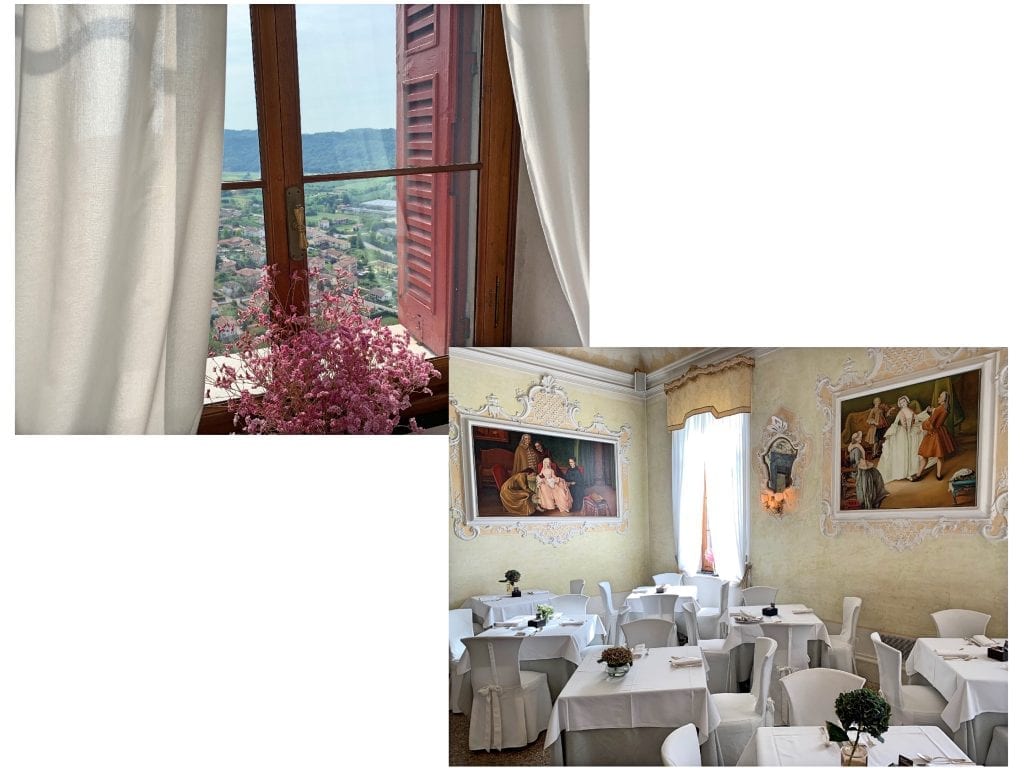 Sleep Till You Wake Up For Breakfast: A Light But Decent Italian Breakfast
Italian breakfast is normally on the sweet side, while at least they have offered some salty bites too. Beautifully, even the breakfast opens until 10am, all can take their breakfast easy as long as you enter before 10. I was more happier with the morning lights onto our table, with the white settings, entertaining paintings, the flowers near the window and the stunning view outside the windows.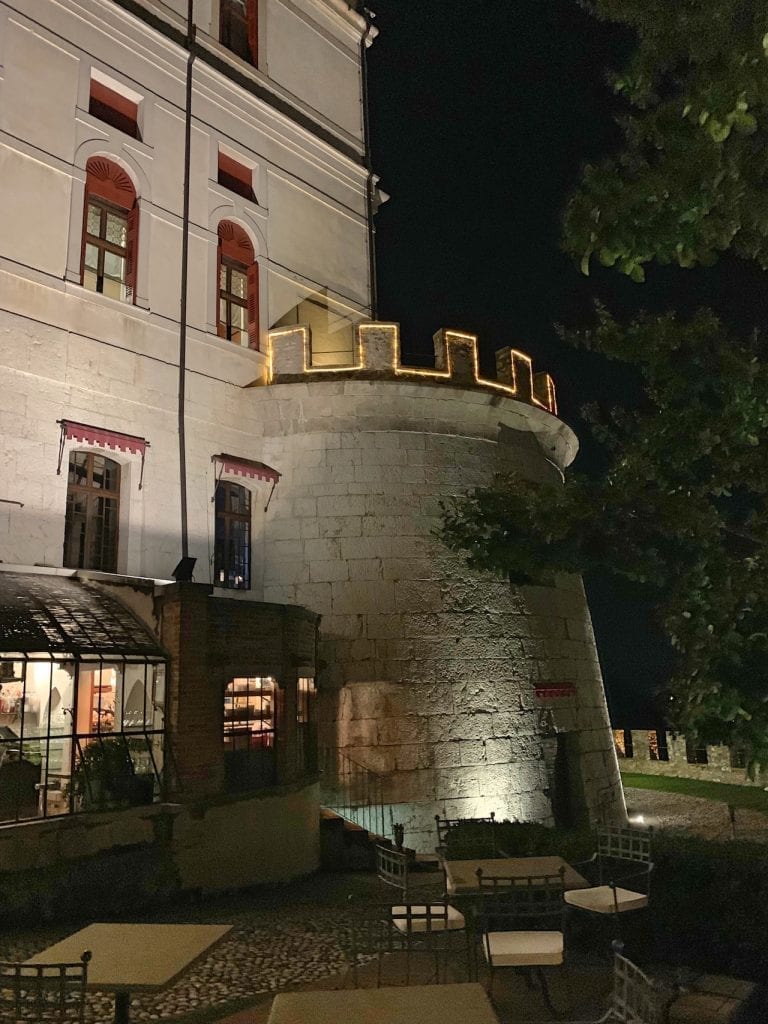 It's All About Prosecco: A Late Night Drink In The Gardens
Honestly, we did more than once! Not sure whether we've been the first group of drinking guests to "annoy" the hotel staffs, anyways, we managed to get the wine glasses and the bottle opener and do our late-late night wine run, by ourselves, after the bar hours, with our own wines. The first night happened in the charming garden, except to resist to mosquito, everything there was perfect. There is a fountain, a fancy bar serving very limited wine options (closed after midnight), a breathtaking night view of the castle and the town below. The second night, thanks to the super lovely reception guys, we made it in a secret terrace garden (where we discovered in our daytime adventure). There, we had the view of the forest and the mountains. A perfect place for your excuse to get drunk!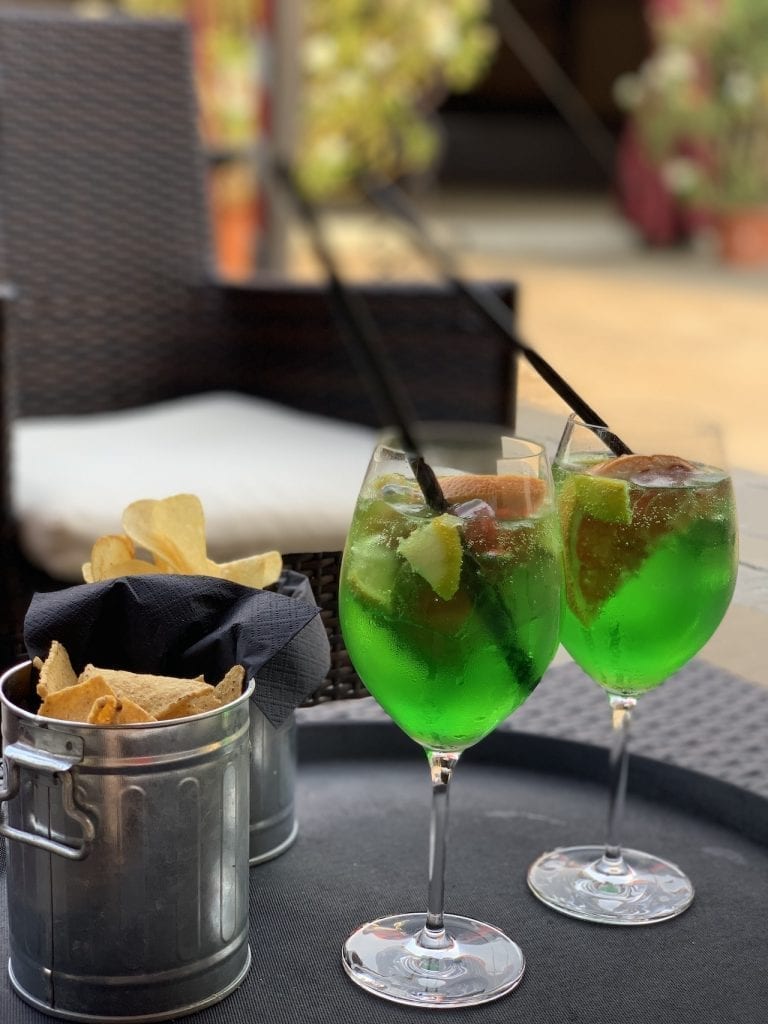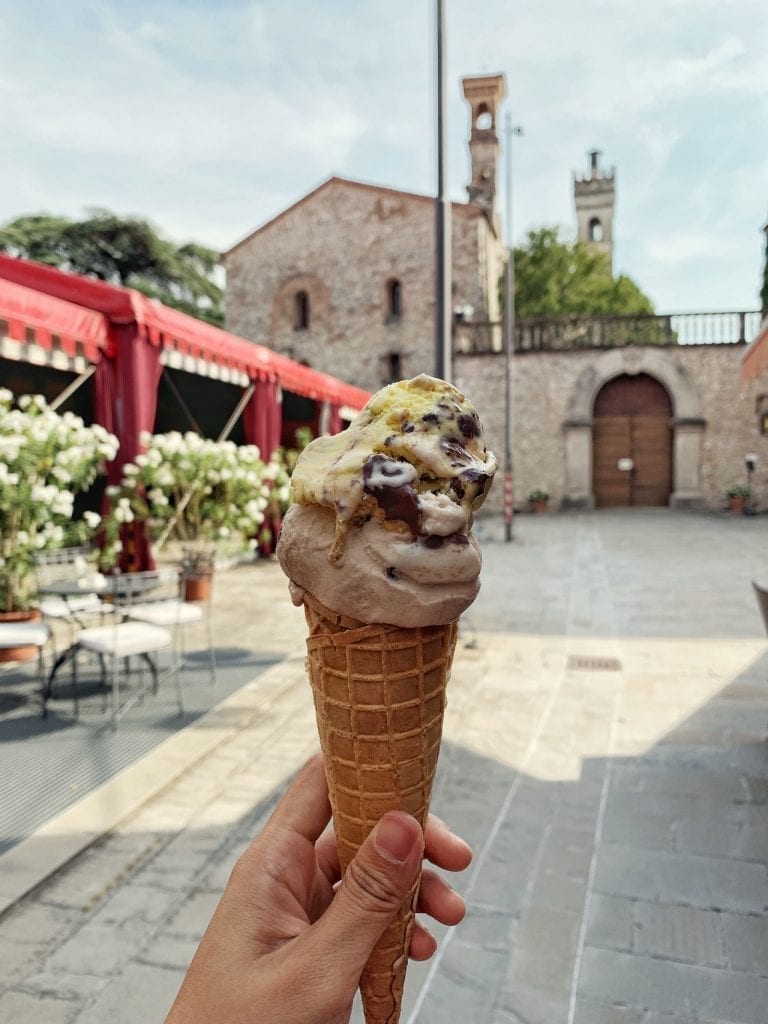 Backyard Yummy Secret: Afternoon Gelato Run & Aperitivo With Green Spritz
There are several restaurants inside the hotel, however, we were keen to the local-recommended ones, however, we were seriously exciting to find out that they have a gelateria. It's in the backyard of castle where we took lift to the station of cable car. It is a gelateria but also a bar with a few outdoor chairs. I didn't find any special gelato options there, so took the safest flavors, biscotti (biscuit) and nocciola (hazelnut). Not bad and with a fair price of € 2.5. However, I did find something special – Green Spritz – is actually made with a special liquor called P31 and instead of orange, they've put grapefruit. It tasted more Campari than Aperol, stronger sense of herbs, and of course, amaro (bitter) than usual, but not bad idea for the "cooked" summer afternoon in Italy (even it's in the very north Italy).