I've told that the locals are fond of their Prosecco and white wine, goat cheese and mutton dishes. Here, they've plenty of the hills, the forest, the snake-crawling roads. This place's name is Treviso, a beautiful region in the northern Italy. I'm so happy with our group road trip in Treviso, and I want to inspire you by our Treviso weekend itinerary.
Please note that this post contains affiliate links and any sales made through such links will reward me a small commission – at no extra cost for you. That's just the beauty of affiliate marketing and you can always drop me an email for further information or simply refer to Privacy Policy terms here.
We spent a relax weekend in Treviso with our German friends last summer. Here I mean the northern Italian region "Treviso". We've visited the small towns like Conegliano and Valdobbiadene, and drove through a few more others that I don't even know the names.
This is a region of a perfect balanced life. Practically, it is the famous Prosecco production region in Italy. But, the locals are proud of their mutton dishes and goat cheeses too.
However, we seldom find the local out of shape. The secret is mountain cycling. In Treviso, there are plenty of hills and the snake-crawling roads. It is quite common to see those Italians cycling in an unbelievable speed in a sunny day.
As tourists, we took the lazy path by castle-ing and feasting.
Day 1 + ½   Prosecco, 2000-year-old Castle and SPA
We've "drunk ourselves out" on arrival at
Castel Brando
's lovely garden. The lazy late breakfast was full of food and sun-light.
Skipping the lunch, we went for a blind walk in the castle. It was such an adventure as we tried to open all the secret doors and found out those hidden gardens and terraces.
What did we find?
An "abandoned" bar on the terrace, a locked gallery, a secret path to the theatre's backstage and the pizzeria, a private terrace with a mountain view, a half-floor museum and a short cut to our hotel room!
That was my kids-fun since a long while. Adulthood was brought back by a late afternoon SPA. We went from the outdoor Jacuzzi to the underground Turkish sauna, followed with a glass of unusual green spritz in the backyard gelateria while "sunset show" was ready.
The morning was my kids-fun since a long while. Adulthood was brought back by a late afternoon SPA.
We dipped ourselves into the outdoor Jacuzzi first. Then, we explored the underground Turkish sauna with some essential oil.
Later that afternoon, we "hang out" to the backyard of the castle for a glass of unusual green Spritz. That was exactly when the summer sunset was taking place.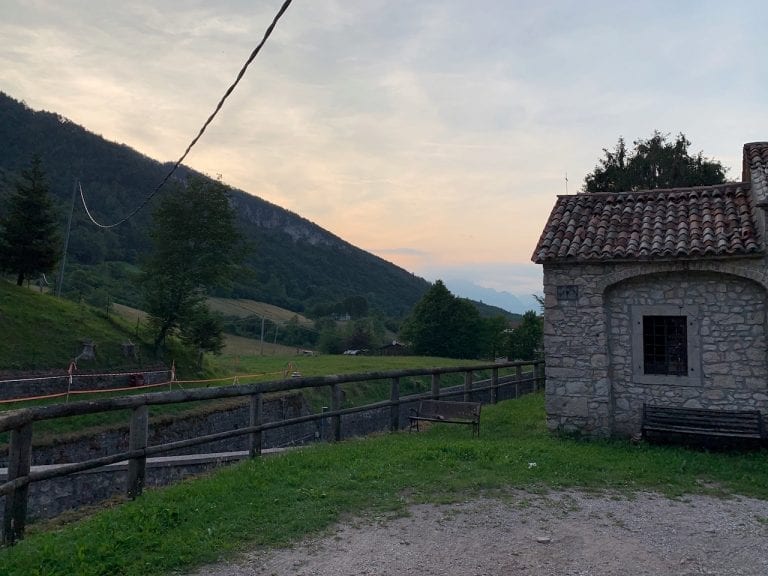 This particular night, we drove through the famous 18-Uturn-tunnel Passo San Baldo (SP635), to the recommended local restaurant.
If you are a "fast & furious" lover, I highly recommend to have a try of this SP635 mountain road! It has a traffic light, because there is only one lane for both directions. When it was our turn, we held our breath for the non-stop turns on the extra challenging slope. A few times, we thought the car would hit the walls!
The hidden restaurant, Osteria La Muda, is lovely and worth to our ride!
That is a place where you would warm up by the vibe and be amazed by the local dish like polenta with cheese as well as the creative dishes by the couple chefs.
Day 2 - ½   It's all about Valdobbiadene
Before our 6 hour drive back to Rome, we stopped by Valdobbiadene Prosecco area for the Instagram-famous Osteria Senz' Oste.
The place was just like its name. It has tables and chairs, stunning view of the wineyards, even a stock of fine Prosecco wines and local foods in the fridge, but, no host! I don't think those cute goats locked in the farm house are our hosts.
It is 100% self-service. Take a seat or sit on the ground as you like, grab a bottle and leave some cash at the cashier.
Our lunch takes place at Salis, a random restaurant we found nearby and turned out to be awesome.
Most beautiful places in Europe (not only in Italy) are hidden from the convenient public transportation. My suggestion for Treviso is renting a car with a spacious back-storage. Consider some gasoline-saving models, and don't forget to buy the car-renting insurance!
Castel Brando
is absolutely for a luxury but affordable weekend vacation in Treviso!
We slept, explored, did our SPA and museum visits there. I've written about this 2000-year-old castle hotel. You can click
here
to read more.
B&B Four Winds
is an independent house on the top of the hill in Follina. It is in a "forest". The B&B is run by a lovely couple and protected by their huge ginger cat.
The couple lives in the same house with the guests. Their collection is the most impressive to me. Paintings and vintage furnitures are so beautiful.
They've got a lovely terrace, where we spent our breakfast hours. From there you can see the whole Follina town below.
In the morning, the owner will prepare the whole table with croissants, biscuits, yogurts ,and many more. A cup of cappuccino or hot tea is always there. What an Italian morning!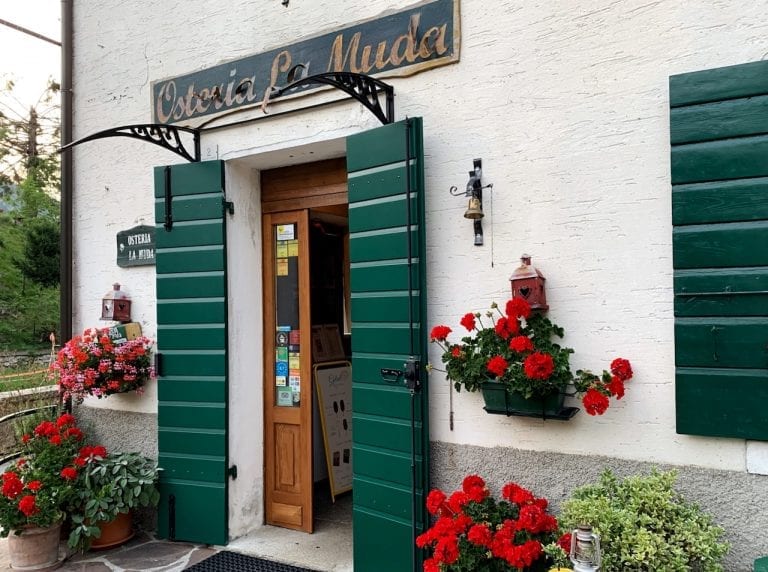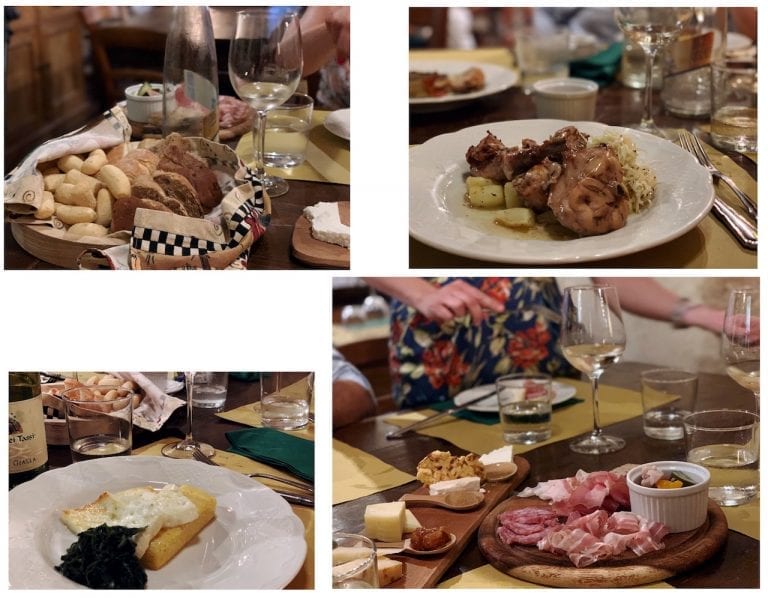 Osteria La Muda
is a family-run, hidden-gem,  and traditional restaurant. In short, it is a must-visit!
It has a long nickname, "L'Osteria piu antica del Veneto, a Passo San Baldo dal 1470". The place has a long history since 1470. The Osteria was born to offer meals to the people who have to pass Passo San Baldo frequently. The young couple took over this old place and continued their restaurant dream.
We've found some creative dishes which are quite contrary to their home-like dining room. The room even had a fireplace, to warm your feet in the winter while eating or drinking?!
That night, we tasted the "strange" cappuccino made from sea bass, and drunk "countless" red and white, and Prosecco!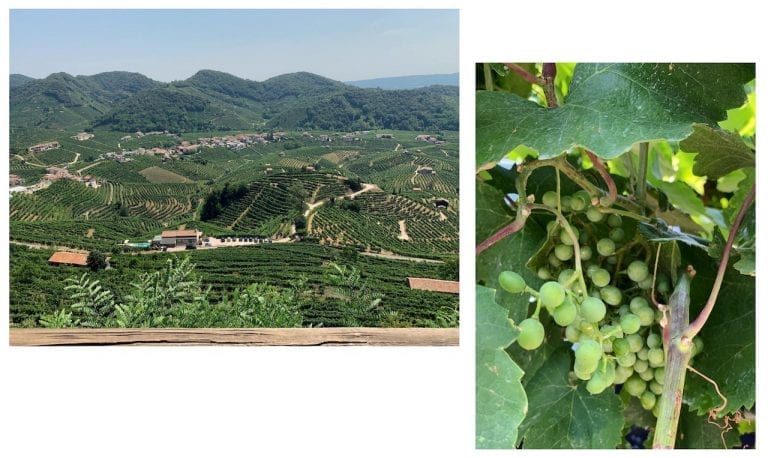 Osteria Senz' Oste
is a crazy idea. Probably this is
the only one 24-hour running Osteria in Italy or even in Europe. It doesn't have a host!
It is on the top of hill among many others in Valdobbiadene. From there, we find plenty of vineyards, a farm house which is the home of a few goats as well.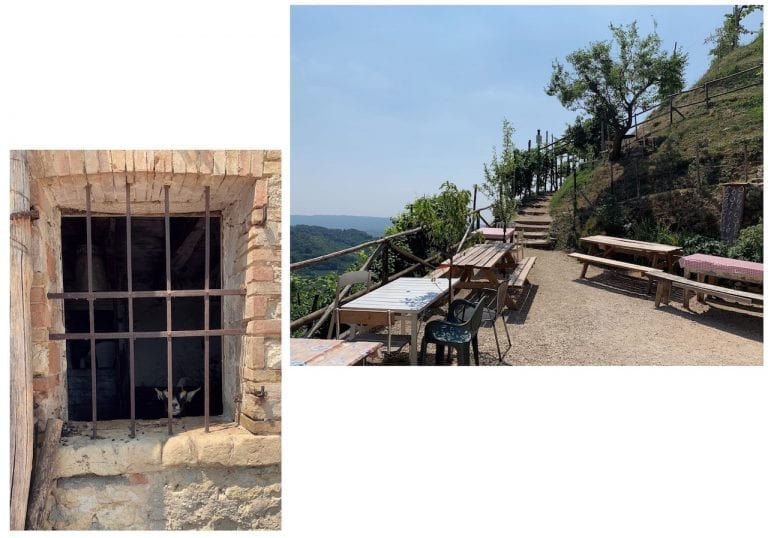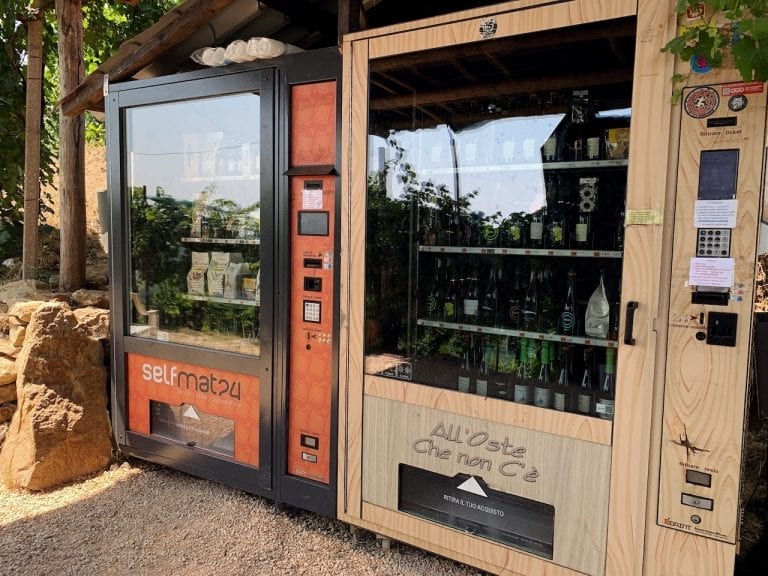 There are nice wooden benches, the colorful outdoor chairs and tables around the area. You can find some on the terrace, in the gardens, on the hills, even hidden in the well-grown vineyards.
Tourists come and leave with their maximum freedom. Leave a message on the wall (on a paper pad, not write on the wall directly!) or buy a bottle of Prosecco and some local cheese and salami. No worries! Everything is in the fridge, and there are disposable forks and knives too. It's not free. A paper next to the fridge tells whatever you wish to leave at the cashier, would be ok, just please cash only!
Walked up a bit, we found more ideal picnic locations, and the vending machines for Prosecco selling!? What an Osteria!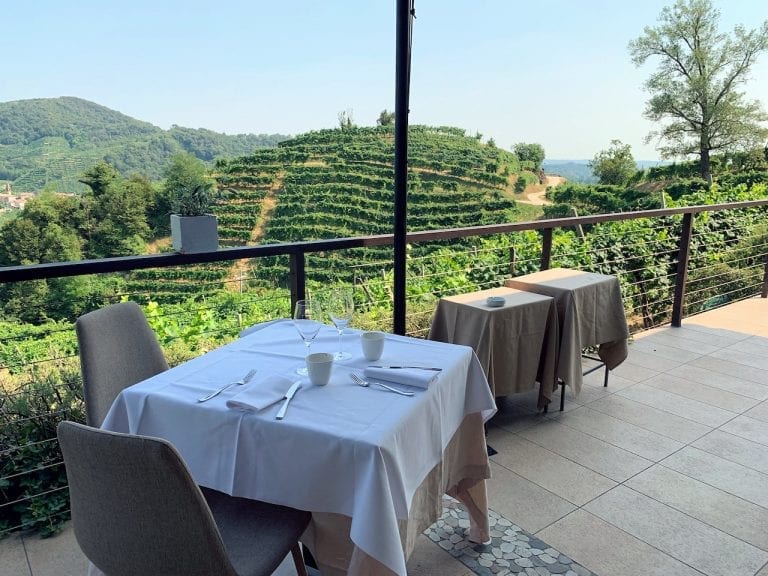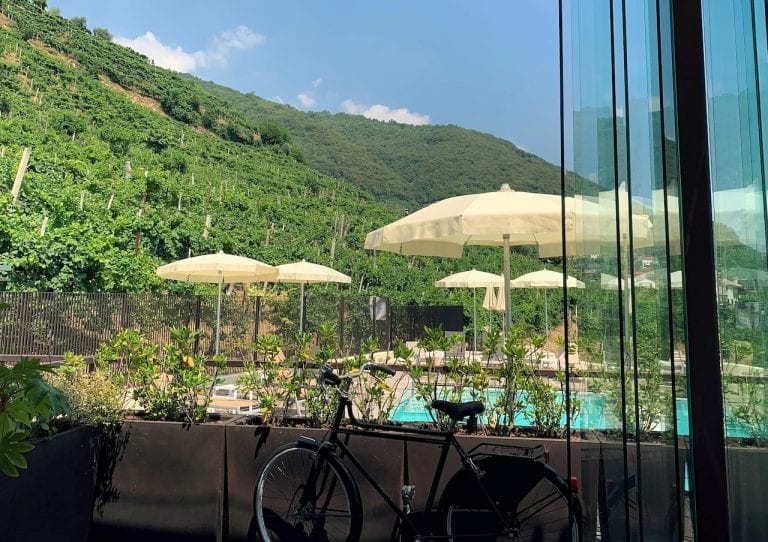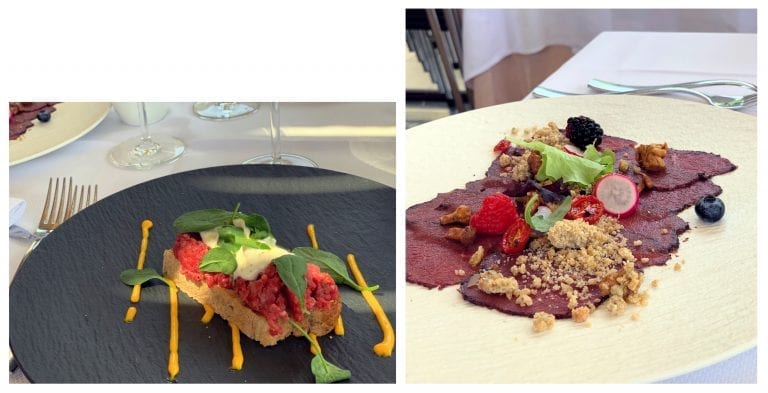 An open view of the Valdobbiadene vineyards, and a cute pool make their outdoor terrace 5 stars. They serve local cuisine in the painted way.
My favorite was the Deer Carpaccio with fresh berries and nuts. That was the perfect match to a bottle of Valdobbiadene Prosecco.
Fresh, fresh, and fresh – nothing more you need for this hot summer days!