Ciao! I'm back to you with one of our late "summer" vacations – Malta! That was in September, 2 weeks after our weekend-escape in Tuscany seaside. It was also my first time to Malta. Before the trip, I did make a little research and planning, because we only have 3 full days there and it's way too little for a Malta adventure. So,
I made the decision to only focus on Sliema, Valletta plus a day trip to Gozo & Blue Lagoon. If you are an expert of Malta, you probably know that I'm going to share something "too-tourist", but I think it's great for someone like me, to "Test Malta's Water" with a couple of handy inspiration and tips.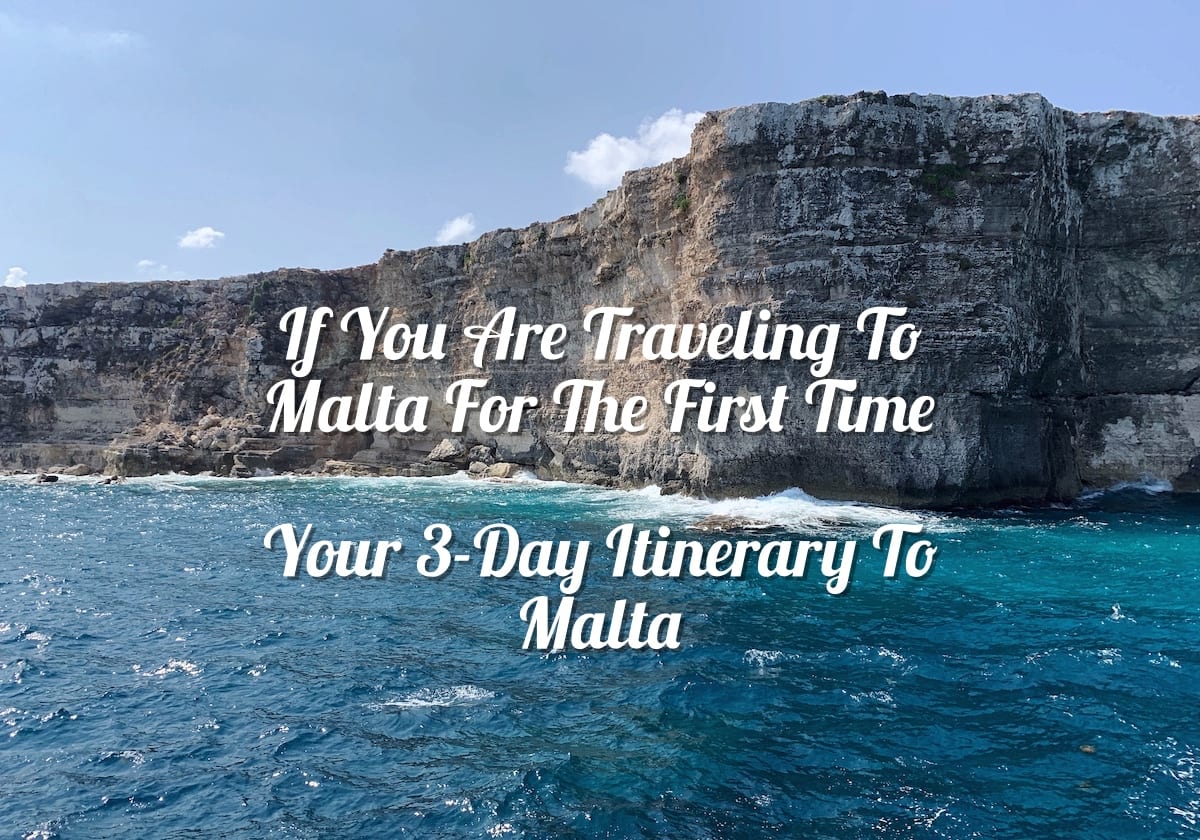 DAY 1: VALLETTA
9.30am
Sliema Ferry
First thing after airport is to check-in our hotel. I felt so happy that Luigi selected the best hotel, Hotel 1926, not only the super convenient connection but also the hotel itself – I will talk about it mainly on Day 2.
5 minutes on feet, we were at Sliema Ferry. Between Sliema and Valletta, bus and ferry are both easy options, but most of people including us, do prefer a romantic ferry ride. It's frequently running, only €5 for a return trip, of course you can buy single ticket too, and most lovely, it offers the best sun-bath in the 10 mins ride and the most romantic sunset of Malta harbours.
10am
Brunch At Kingsway Bar & Café
After our 5am pre-breakfast, the first thing we want in Malta is a nice brunch, to refresh everything. I found this café, Kingsway Bar & Café, through some Malta-based influencers on Instagram, and it turned out to be a debatable choice.
I love it – my eggs on the sweet corn purée and my iced coffee in a non-Italian way (You know I love my Rome life, but sometimes I will miss the Australian style coffee shop so much, that no one "judges" you when you want a cup of cappuccino only in the afternoon and sit in the sun for 2 hours. Also, you might have options of flat white and matcha latte). Luigi was too hungry since 5am and he claimed unsatisfied after his avocado toast after I stopped him from being greedy and over-ordering in one place.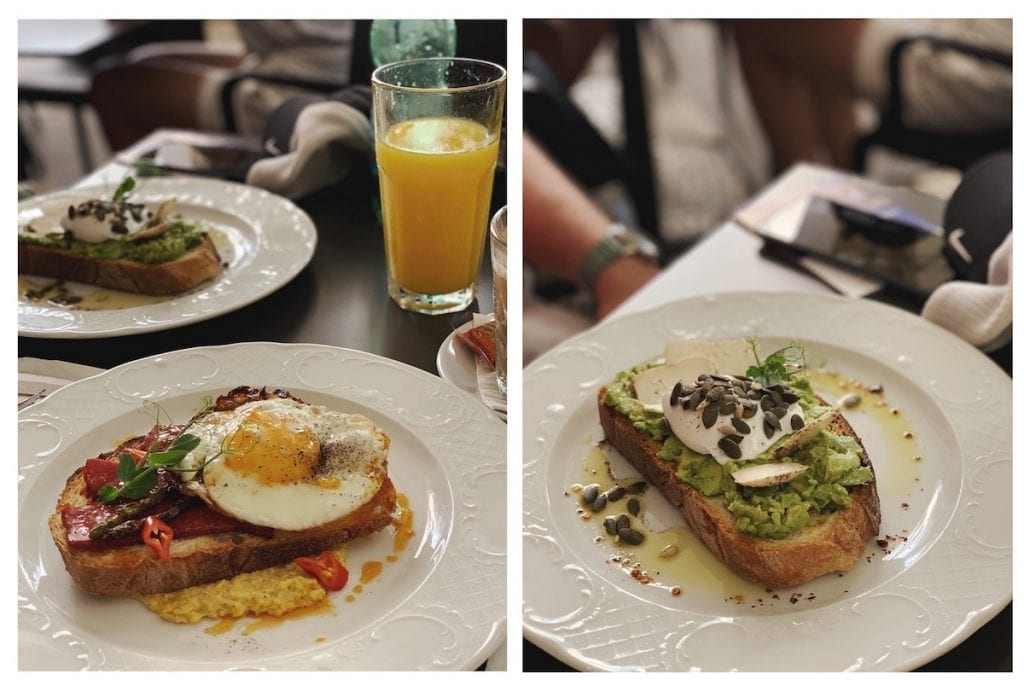 Kingsway Bar & Café
Address: 57 Republic St, Valletta, Malta
11am
Walking In Valletta City
From the famous Republic Street, we walked all the way to our final destination, Fort St.Elmo. Palace Armoury (President's Palace), Casa Rocca Piccola are all the optional checkpoints on the way. The typical Valletta houses were so beautiful and different with the strong "miss-matching" of Sicilian buildings and British balconies. So different, but merged into one building style of Malta, it is probably the best reflection of Malta's history and mixed culture – a bit Italian and Greece, Middle-East but also British (We've visited museum and some history-related tour later that day, which perfectly answered our question about how those buildings turn out to be like that).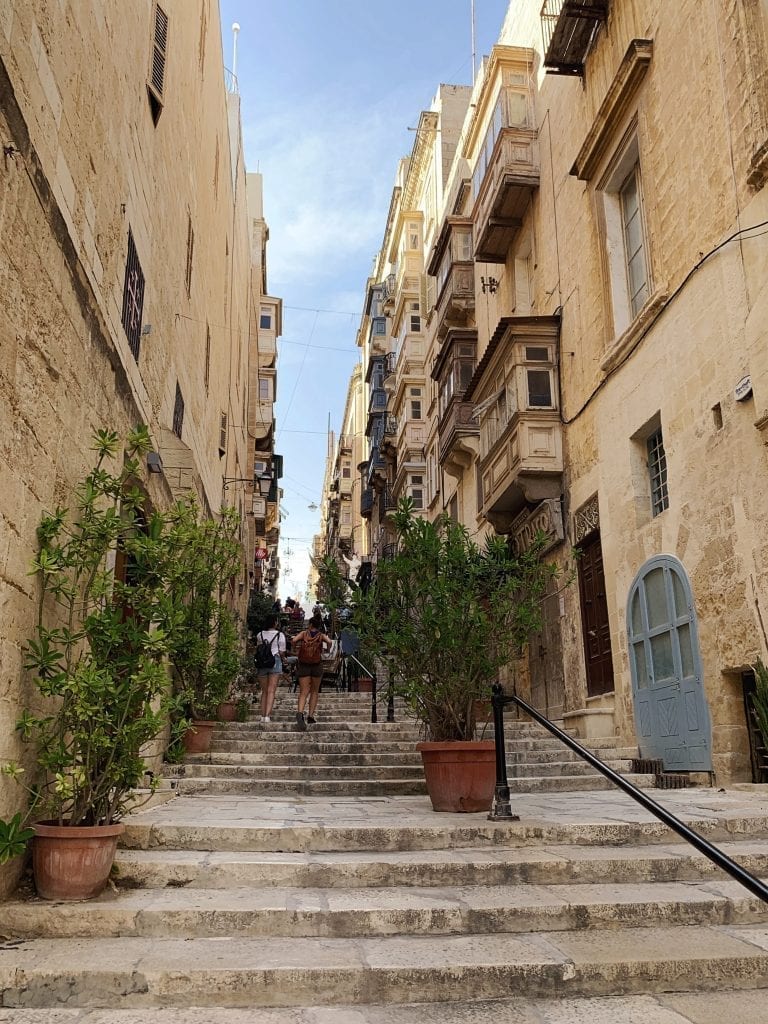 We stopped by Lower Barrakka Gardens and Siege Bell War Memorial, for a fresh breath of Malta sea, well more, we learned later that this Bell was the heavy memory of Maltese who fought bravely and survived in the second world war.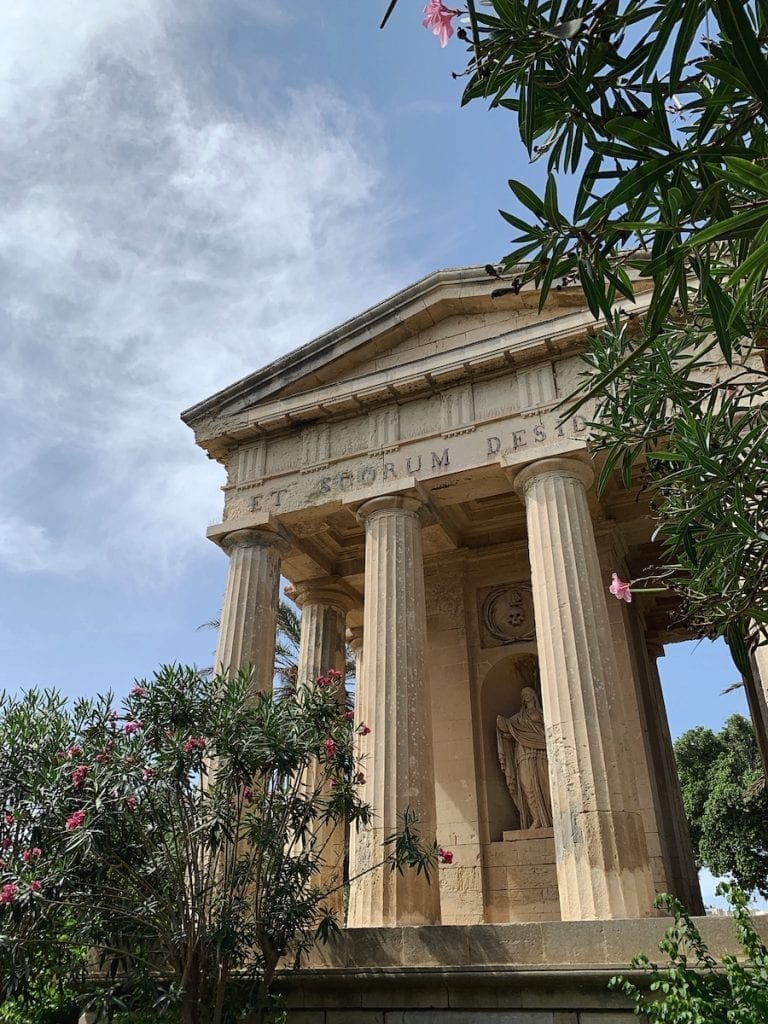 Lower Barrakka Gardens
Address: Quarry Wharf, Valletta, Malta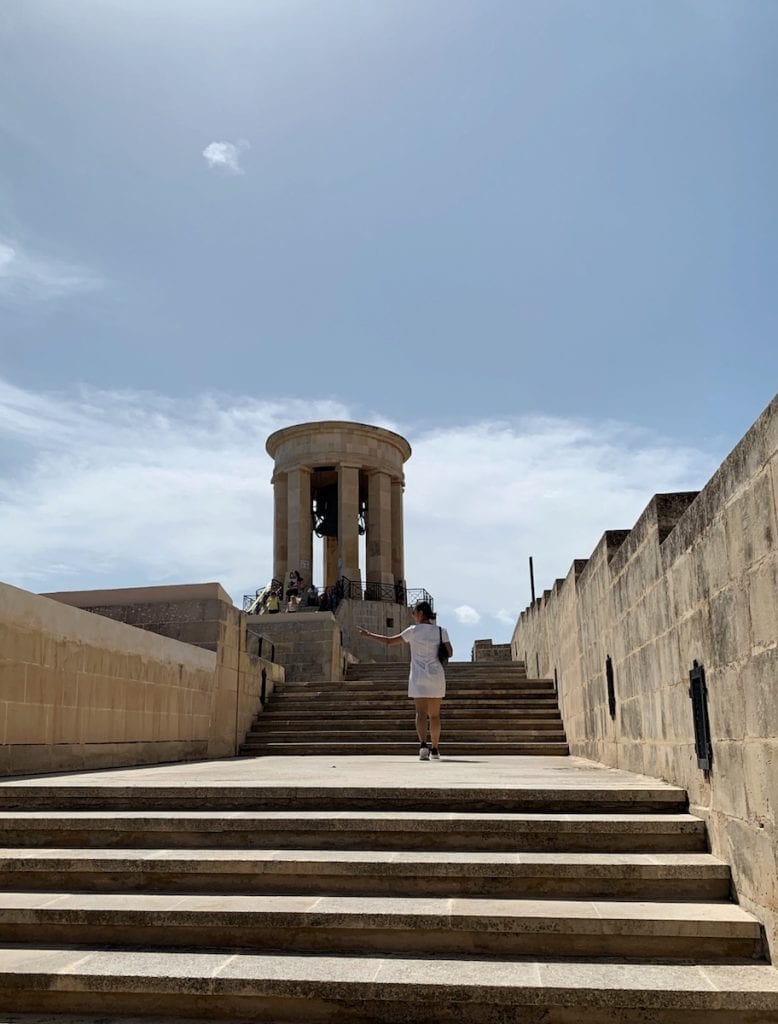 Siege bell War Memorial
Address: 2 Lvant, Il-Belt Valletta, Malta
12.30pm
Visit The Malta Experience & National War Museum At Fort St.Elmo
Luigi cannot stop talking about Malta Experience since he saw the brochure from our hotel, well, we recognized it was just next to Fort St.Elmo when checking on Google map. We bought a bundle ticket for both the cinema experience, a short guided tour of knight's hospitality (the Knights Hospitaller) at Mediterranean Conference Centre and the access tickets of National War Museum. The cinema experience and the guided tour were excellent for who knows nothing about Malta (like us) and thanked for that, we felt much easier and more interested to dig deeper in the National War Museum.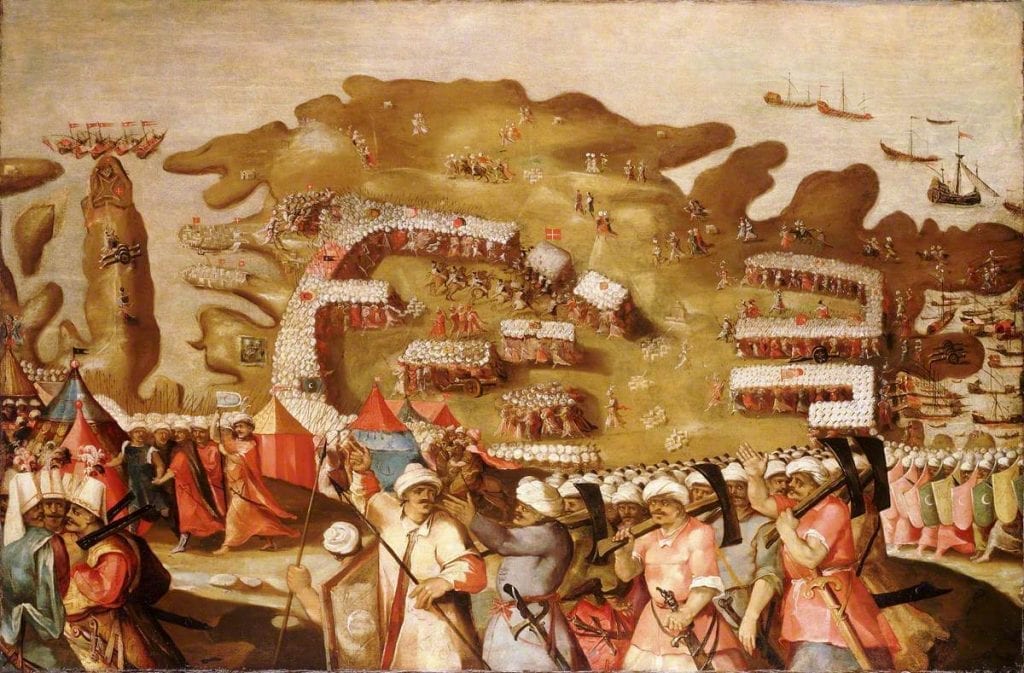 The National War Museum at Fort St. Elmo was the most energy-consuming, which is not expected at all! My favorite part is the story of Great Siege Of Malta.
In 1565, the Knights under the lead of Jean de Vallette, defended the island from the Turks (the Ottoman Empire), for more than 3 months. It was "mission-impossible". The number of the Knights with the fighting Maltese are only 6000 something, while was overwhelmed absolutely by the other side of almost 40,000!
Whether you have noticed, Valletta, as the name of this capital city of Malta, comes from this great Knight's name as well?
The Knights, the bloody fight, the heroic victory after the big sacrifice and Malta's Throne Room (in Palace Armoury) to record this Great Siege –  No wonder, Game Of Throne made a few screens in this miracle country!
The museum perfectly cut the Malta history into several sectors, and the story-telling was always with a parallel timeline showing the milestones of the world's history. We walked every corner, read and watched each word and video clip, until our feet and back felt enough stress to call for help.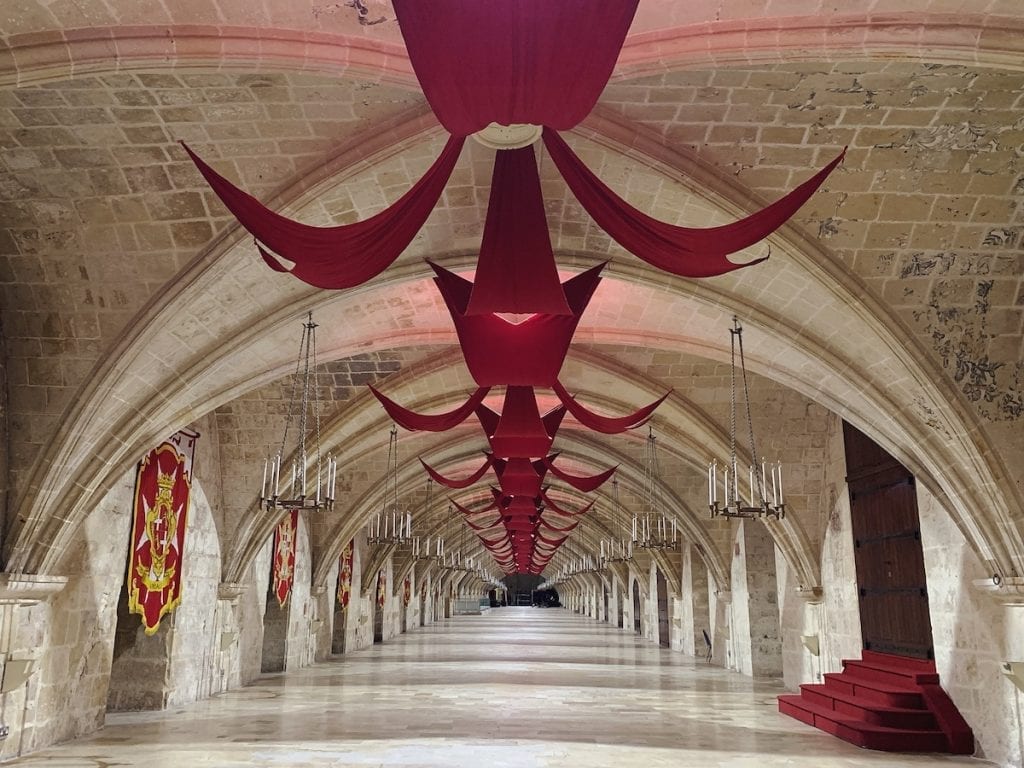 The Malta Experience (website)
Address: 6 North Street, Il-Belt Valletta, Malta
National War Museum (Fort St.Elmo)
Address: Fort St Elmo, Valletta VLT 1741, Malta
4pm
Find Valletta's Hidden Swing
We didn't plan for it, but just aimed for a closer view of St.Elmo Lighthouse, while, this turned out to be unexpectedly fruitful, because we found this very crafted wooden swing, in the big rock extended to the harbour, with the unbeatable view – watching over Wuestenwinds beach on the right and St.Elmo Breakwater & Lighthouse on the left! It's definitely a must-go and camera-killing, however, I don't suggest a high expectation towards the comfortable level of the swing itself. Oops, the hidden entrance is the stairs next to the café of The Malta Experience.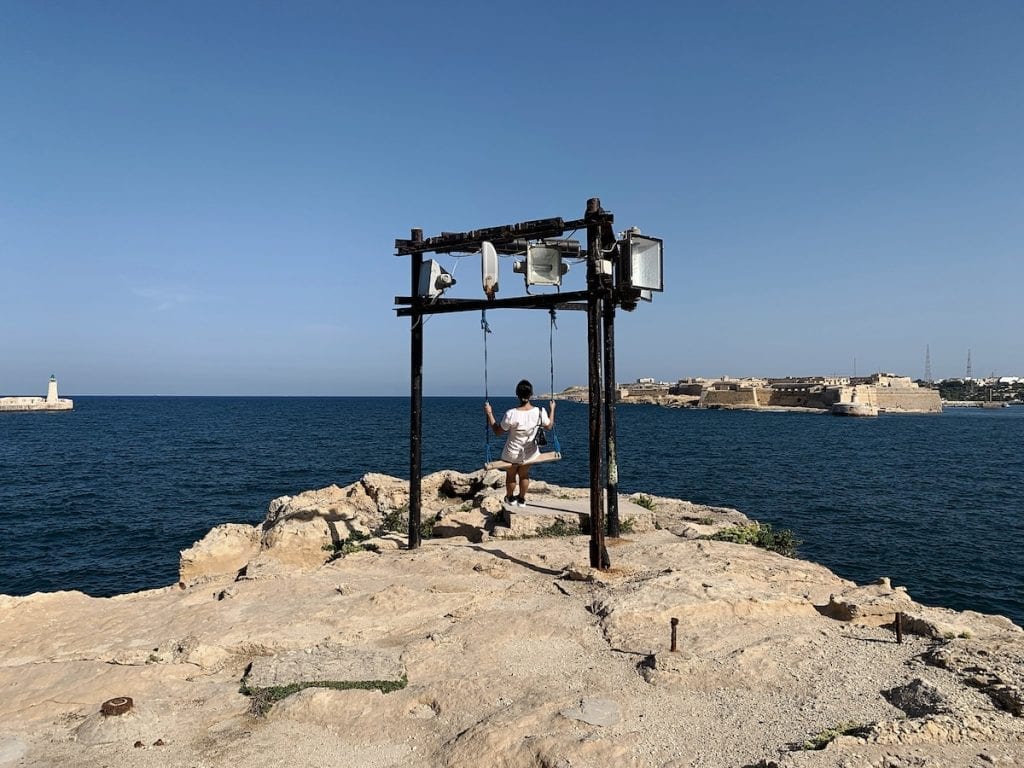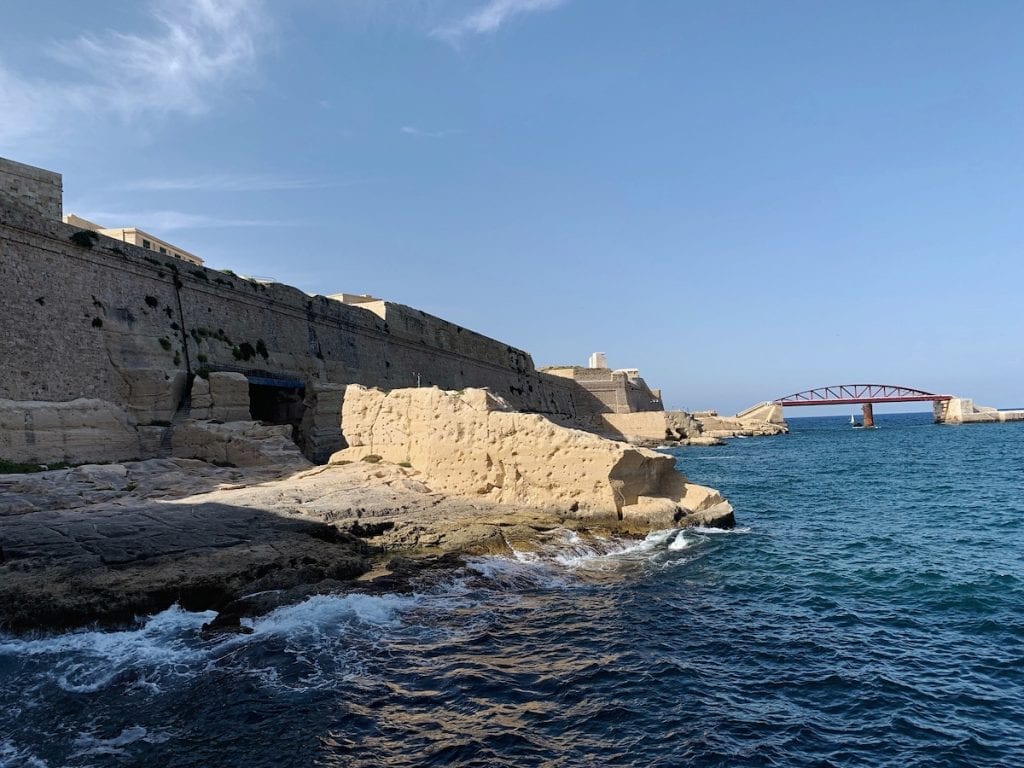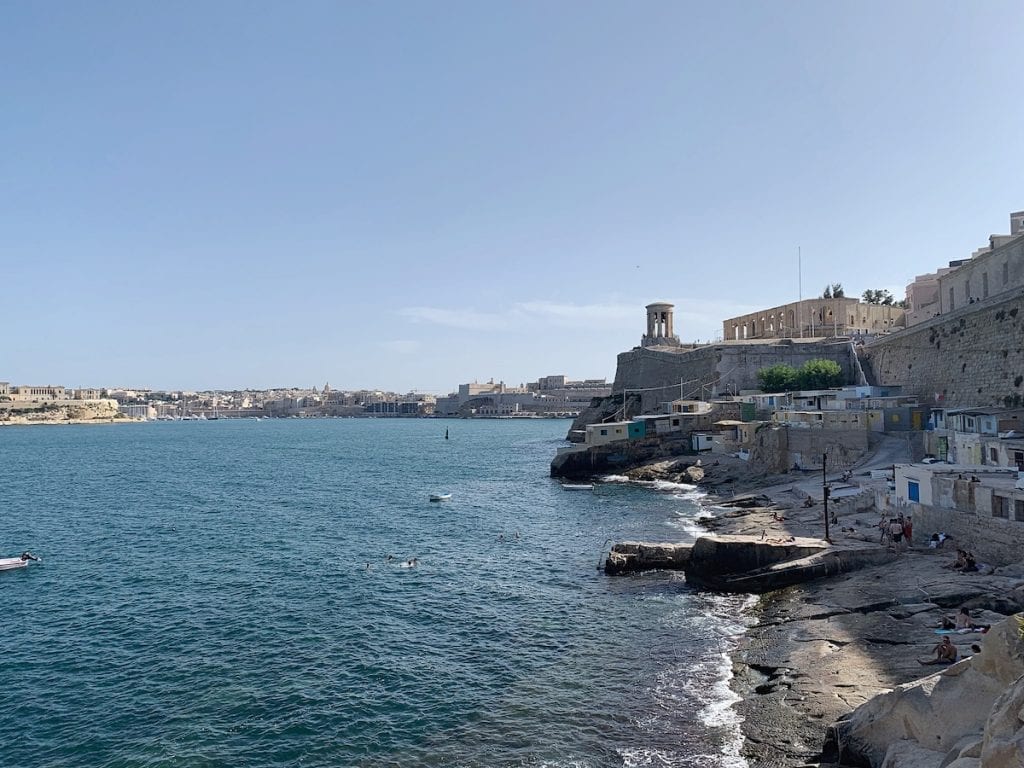 6pm
Pass By Upper Barrakka Gardens & Tritons Fountain
Malta's sunset comes unexpectedly earlier. We closed our crazy walk day from the beautiful Upper Barrakka garden, the nation's symbol of cannon platform, after that, we walked down to the city gate where the city's symbol, Tritons' Fountain is.
Before taking our ferry back to Sliema, some local beer were what we definitely want to recommend! Enjoy a sip under the beautiful sunset, changing the white city to the orange.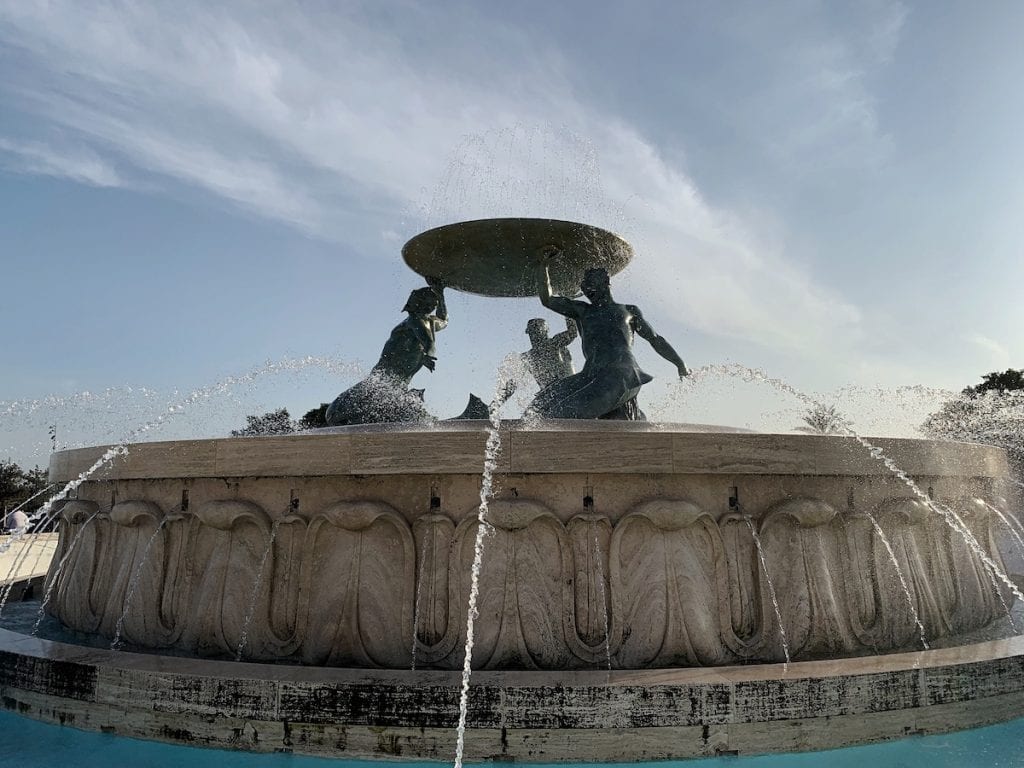 Upper Barrakka Gardens
Address: 292 Triq Sant' Orsla, Il-Belt Valletta, Malta
Tritons Fountain
Address: Vjal Nelson, Il-Belt Valletta, Malta
9pm
Local Deli In Sliema
While we travel, we always try our best to eat at the local restaurant, no matter it's a bistro or a fine-dining, also, neither of us likes to plan eating-spot very much straightly, we tend to keep our mind open and do as the timing allows us.
Here we are, two naive "kids", rejected by the always-full local famous, Ta' Kris, we switched to a second choice a few streets away. Il-Merill, the family run restaurant – sounds just that familiar like Italian dining – we were so amused the whole night, eating, drinking, laughing and the happiest, counting the clocks on the wall! I think we've agreed on a final number of 12 or 11? I don't remember now.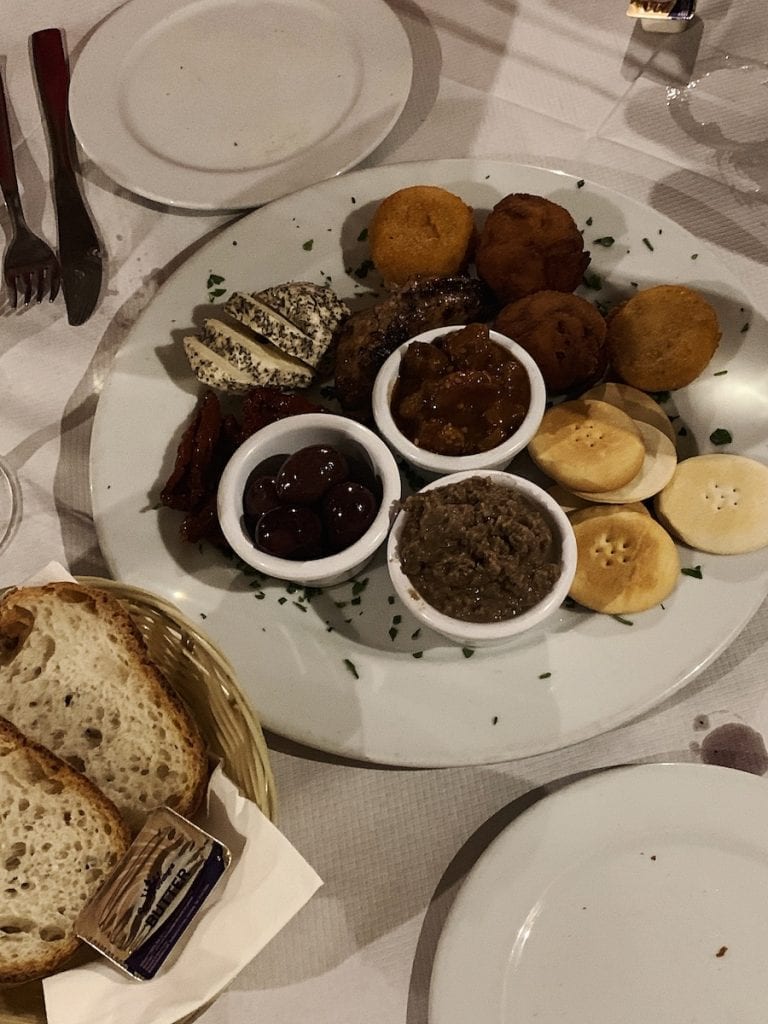 The food was really good with a generous potion – finally Luigi got satisfied, and probably way too much. We loved the typical Maltese starter mix the most. Not only because it's new to us, but truly we appreciate their Gozo goat cheese and "mailendese" (well-cooked eggplants and veggies) a lot. With this platter, I could just pair with a glass of fresh Maltese white wine or two for the whole night! Meat dishes were impressive, when Luigi took his grilled fish of the day, I "attacked" slowly on my local rabbit stew (Rabbit seems a common traditional dish in Malta. When we travelled around, we saw this dish almost in every restaurant's menu, especially some restaurants would highlight their rabbit as "local origin"). It's richly cooked – stew as you can understand – with carrots, onions and other malted vegetable that I cannot tell. I guess red wine was there also. The meat was so tender with low fat consistency. I have to highlight the big dish size, as I really couldn't finish this amazing main course at the end, and this time, even Luigi couldn't help me.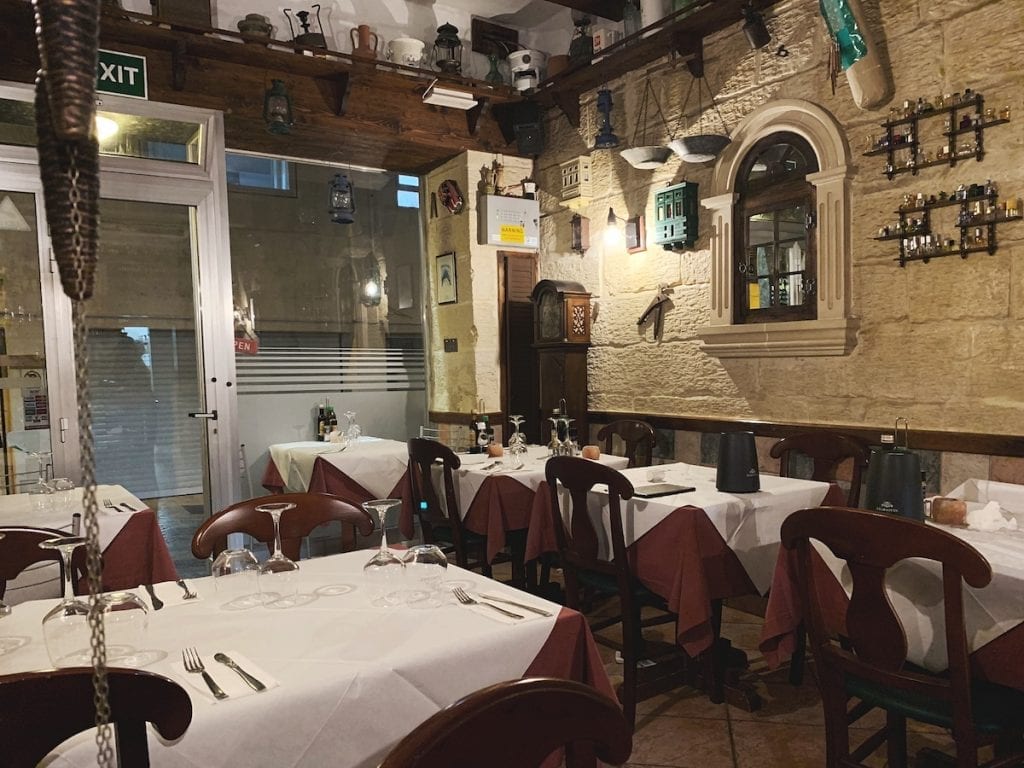 Il-Merill
Address: St Vincent Alley, Sliema, Malta
DAY 2: SLIEMA & MARSAXLOKK
9am
Lie Down At 1926 Hotel Beach Club
After the first long day (almost 18 hours), we've been half destroyed and Luigi insisted a relax morning with big breakfast in our hotel and kept relaxing in our unique hotel beach club.
I have to say, this was a great idea! Otherwise we would definitely missed one of our best morning memories. We had a chance to enjoy this tiny but interesting hotel, from its lobby lounge to the restaurant where we had our everyday big breakfast. Love their cute interior design also – full of inspiration. We also enjoyed almost the whole morning under our umbrellas, the strong beating sound of the waves towards the rocks, the salty and wet smell air from the sea just in front of us, and this pool with circulated sea water. I even wouldn't be willing to leave this place.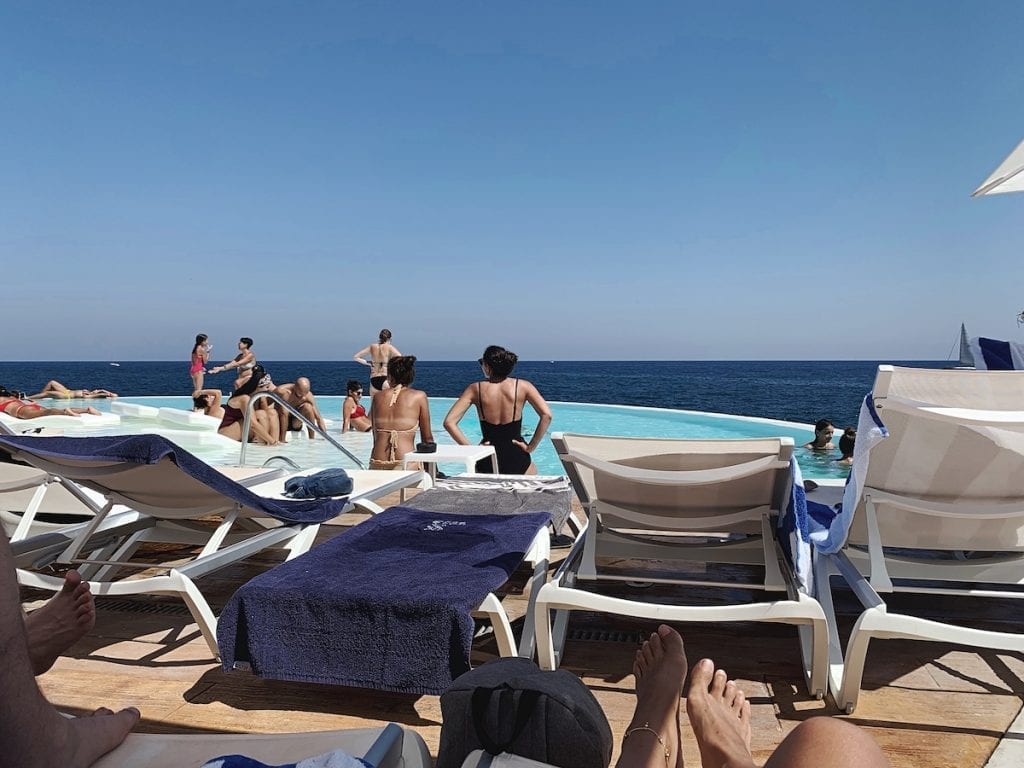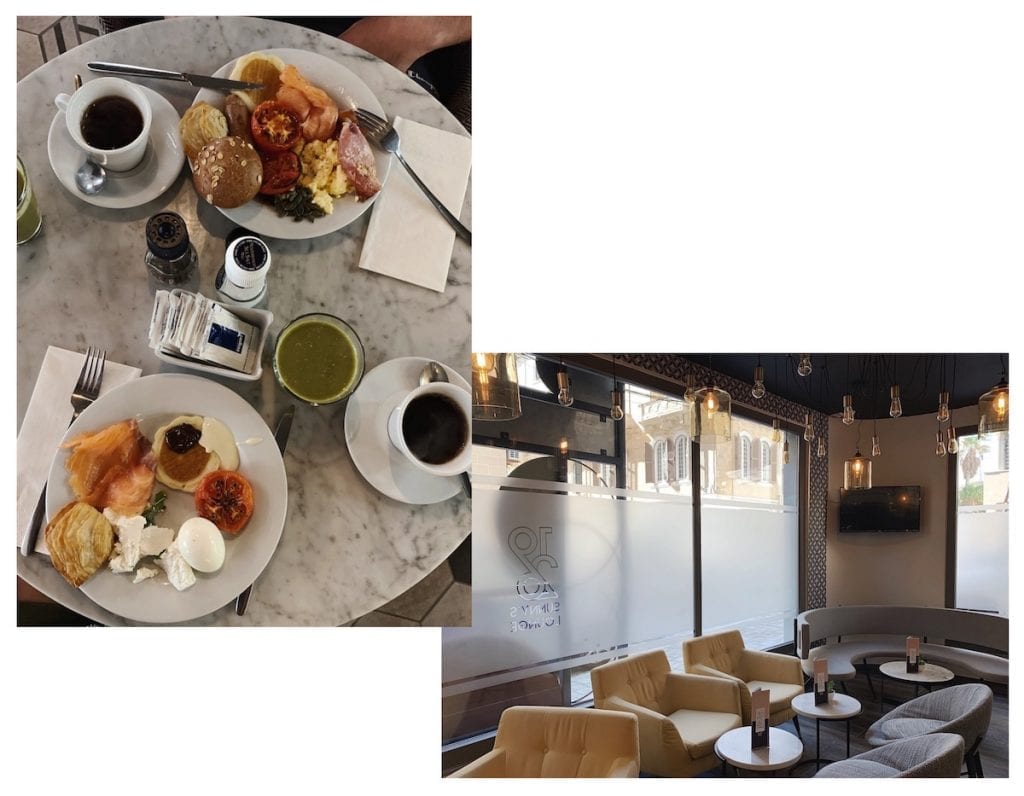 P.S. We were really happy with our hotel this time. Spacious and modern design with a cute balcony that we can see a bit of the sea in the morning. Huge bathroom is absolutely important for us, especially when we go for a seaside vacation. The hotel guys are very friendly and helpful! 
Hotel 1926 & 1926 Beach Club
Address: Thornton, Tas-Sliema SLM3143, Malta
12pm
Dip Into Victorian Era Baths at Font Ghadir
We headed to another planned checkout point finally, and it turned out to be stunning too! Walked along the long bay, we reached the baths near Font Ghadir. Just with a few steps, we were right there in front of those "artificial" baths, which even nowadays, would be highly appreciated as a luxury pool-in-the-sea style (famous fellow: Sydney Ocean Pool). We searched the story of those baths, they were called "Roman Bath" too. Reality is, it's built when the English arrive. The story is actually quite interesting (assuming it's true):
in the Victoria time, the Maltese women thought it improper to bath in public while bathing in the sea was still a traditional joy. To solve the problem, the bath was built, with those natural rocks, with the higher bars around the small pool, and even a few steps to allow people walk in easier.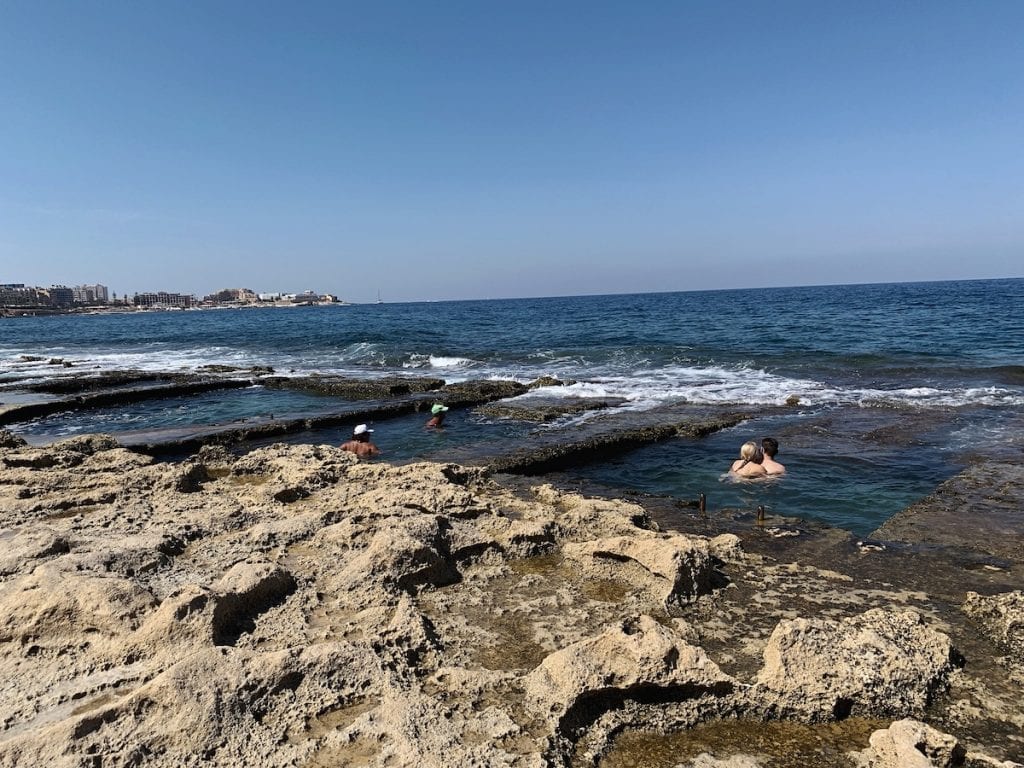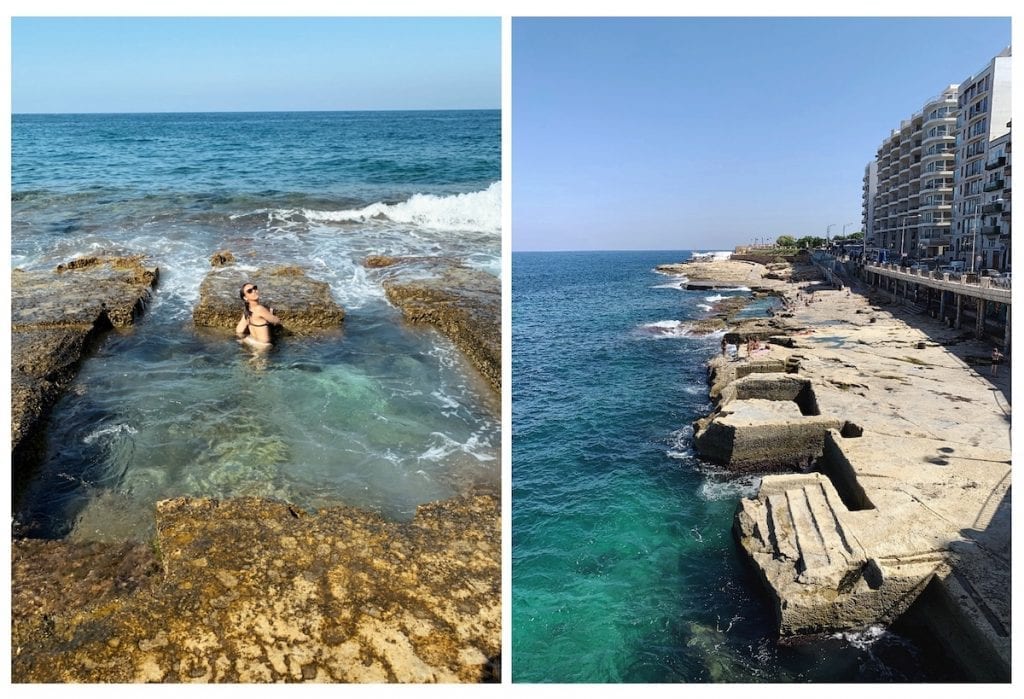 Victorian Era Baths
Just simply go to the location near Font Ghadir or even walk along the harbour, you will see similar ones
4pm
Heading To St.Peter's Pool & Marsaxlokk
After the whole morning's do-nothing, finally, we moved to a "far" destination – Marsaxlokk, where the very famous St.Peter's Pool is. Off the taxi, we walked up the off-road till suddenly the natural bay showed up. The sight was breathtaking, with milk-white huge rocks making up almost the whole bay, the deep blue waves petting powerfully, and the softened late afternoon sun in the far end!
There are many young people there, trying out their jumps, even some girls! In some spots with smoother angle to the sea, there are stairs for an assistance. Later on, so luckily, we even shared a show – balancing on the rope – with all others! ?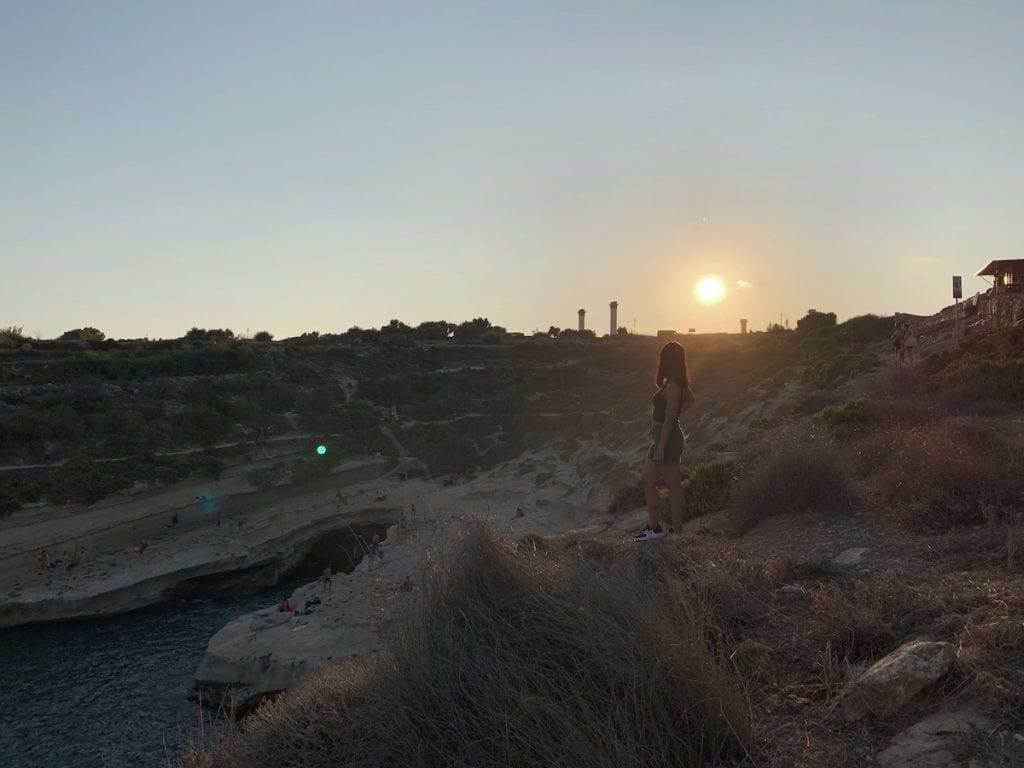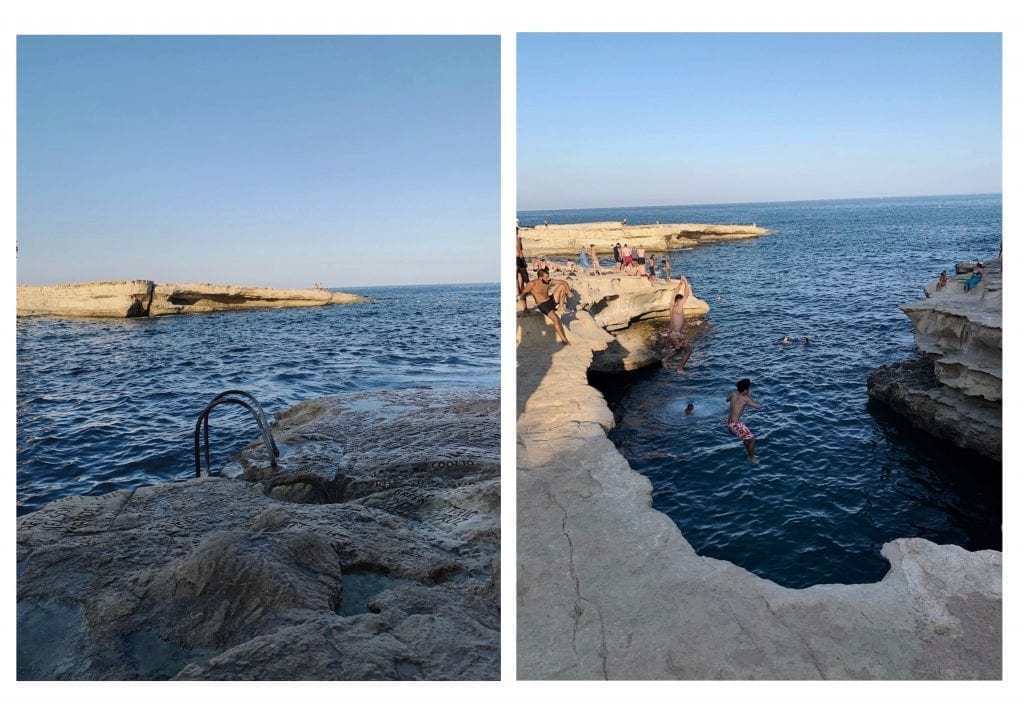 St. Peter's Pool
Again, I'm not able to give you an exact address, coz it doesn't have! Simply search it on the map, you will get it.
7pm
Seafood Dinner At Marsaxlokk
Coming to Marsaxlokk, this little fishing bay, how can we leave without a full seafood dinner! There are a line of seafood restaurants if you walked down the harbour, and we picked one by using our instinct to presume it's less tourism but more authentic. Luckily again, we got that right!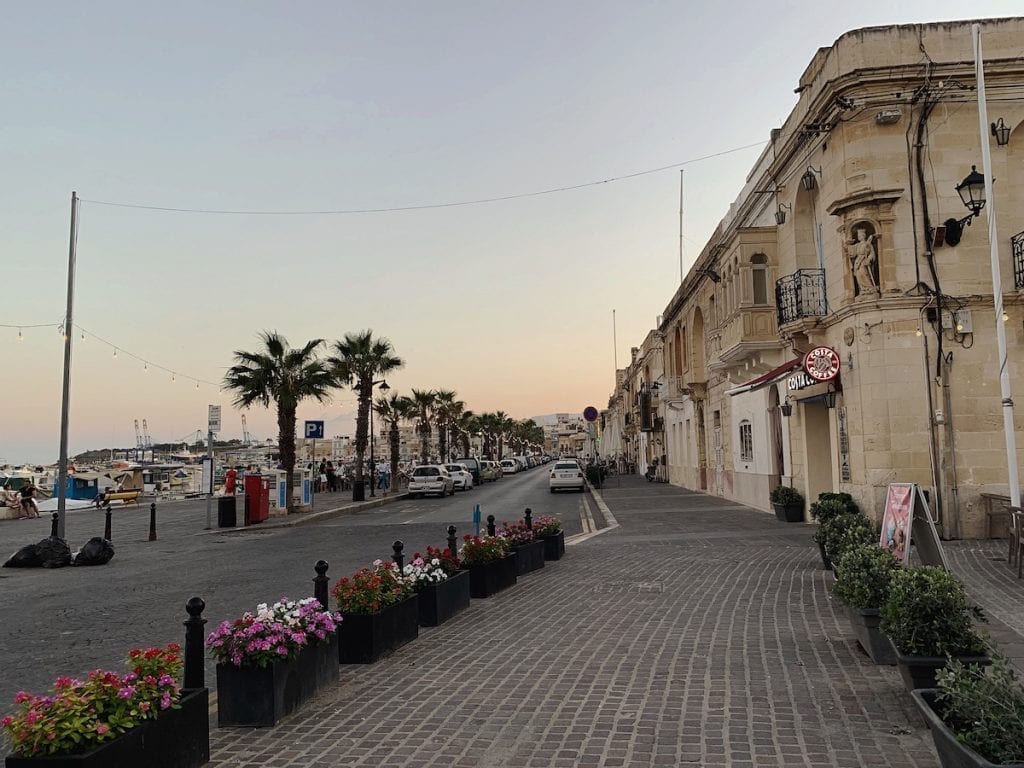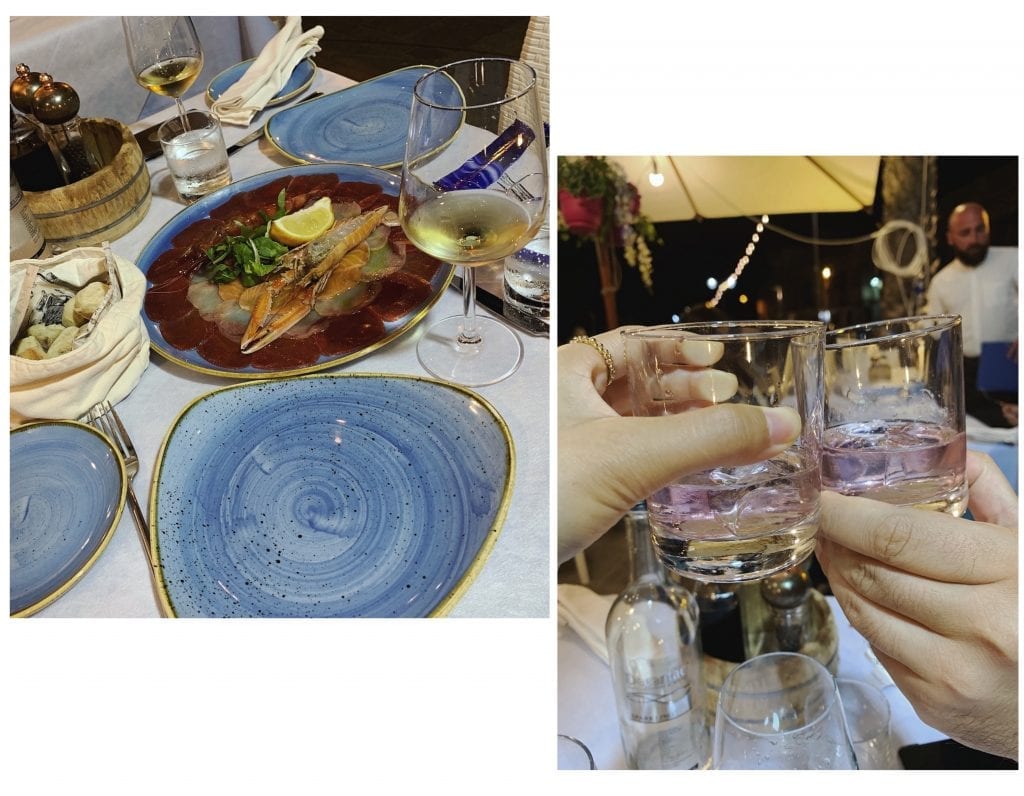 Capo Mulini, has a very nice restaurant manager, who loves Italian culture and loves to speak Italians with us. We had, seriously, a full table of all different fresh fishes – Fish carpaccio as the starter (like in Japan), baked fish under salt (the very traditional cuisine in Mediterranean areas. A small glass of very sweet and floral Malta sweet wine (made with fichi d'india) was the best way to close our Day 2.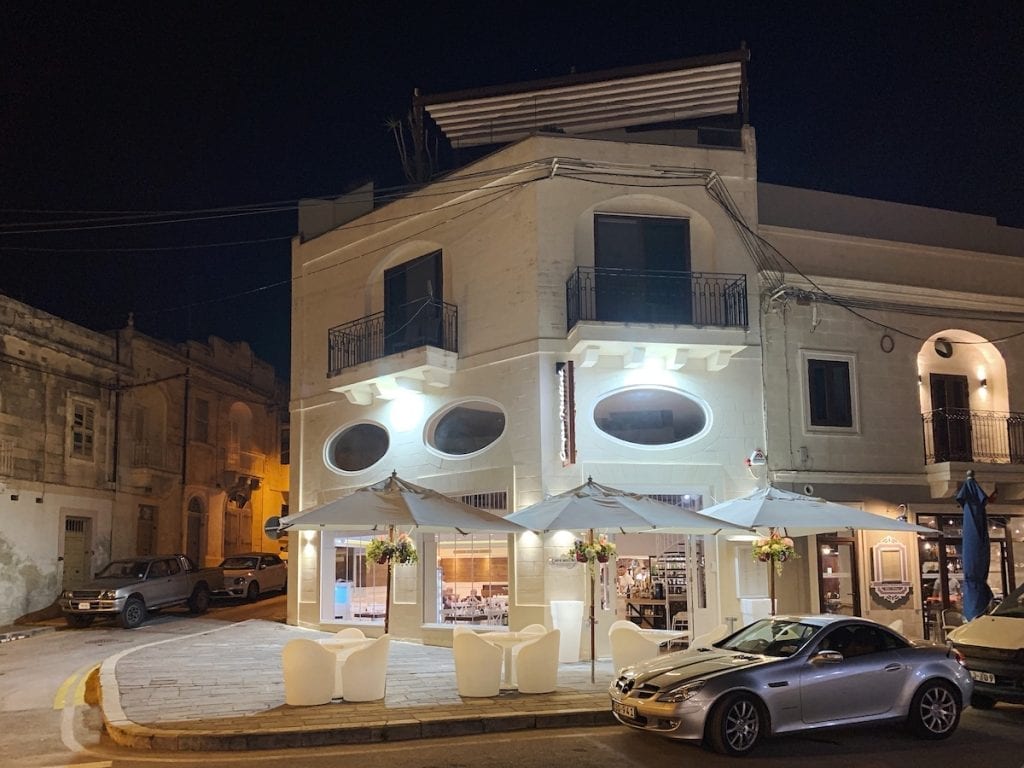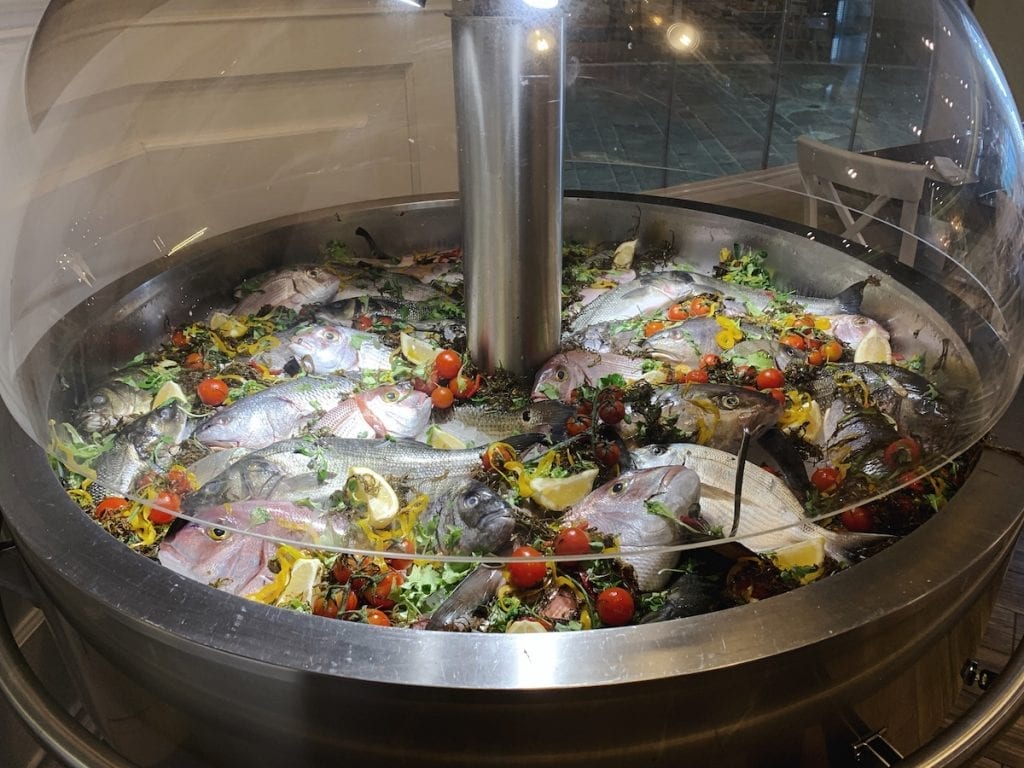 Capo Mulini Ristorante
Address: xatt is-sajjieda Marsaxlokk MKX, Marsaxlokk 1301, Malta
DAY 3: GOZO CITY & BLUE LAGOON
When we searched for Malta information, Blue Lagoon and the killing sea near Comino island were kept jumping up from the screen. So we booked a day trip there. Just to test the water, our tour was with half-day on hop-on-hop-off bus from the ferry centre to Gozo old city, Victoria. A ride with plenty of sun and winds, gave us the first understanding of how different Gozo is, to the main land of Malta, way more lay-back, and we felt Gozo could offer more earthy adventure. Another half-day, we dipped into blue lagoon, without phone. Not a lot of photos to share, but it's a nice dip for who prefer a relaxing sea experience.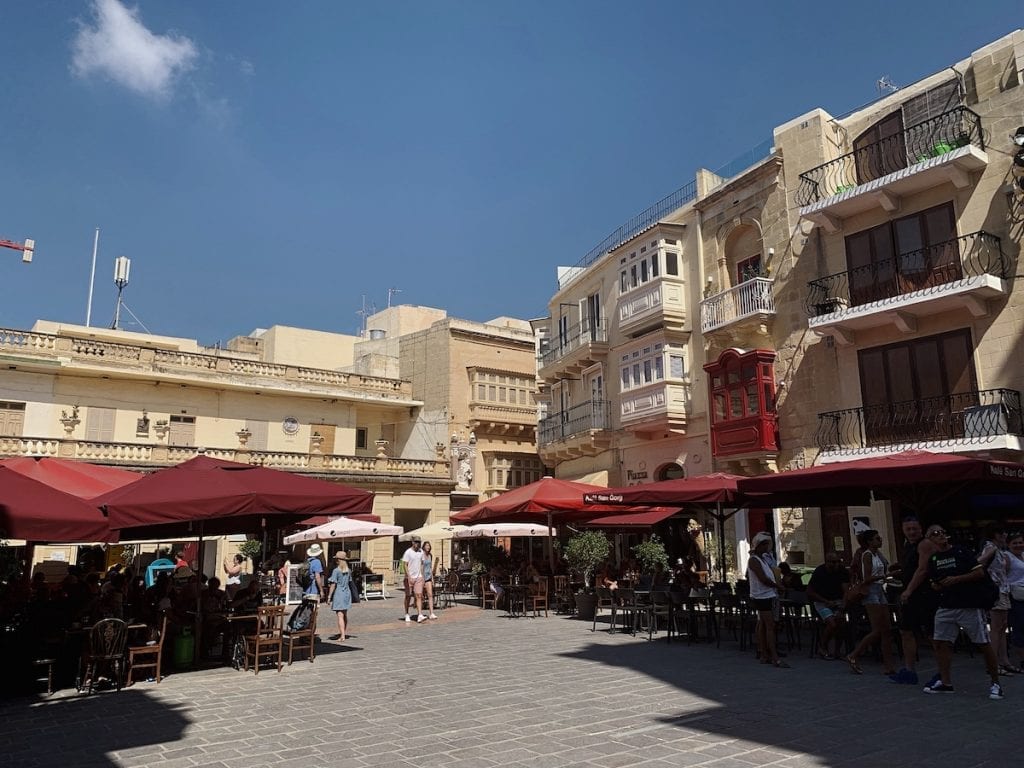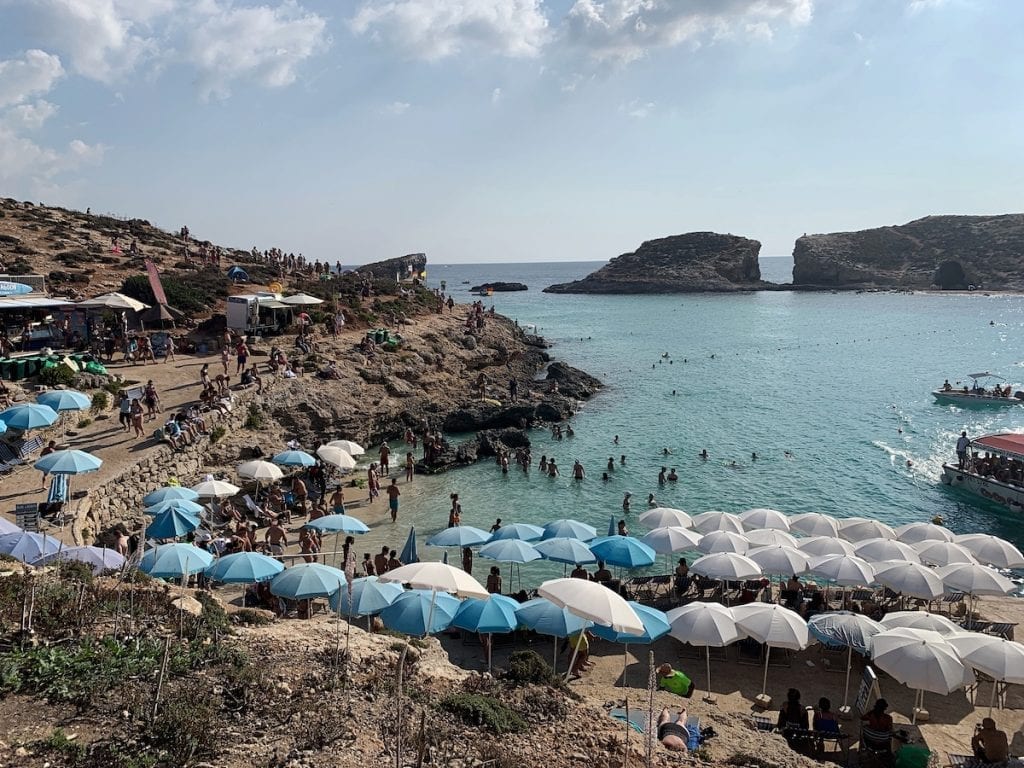 The fun part, probably, is what we paid extra for. It's a 20mins speedboat ride directly from Gozo ferry to Blue lagoon. Bumping on the sea water with the midnight-club music extremely loud next to your ears, woop! We got a few beautiful photos of Malta's caves and cliffs, shared with you below.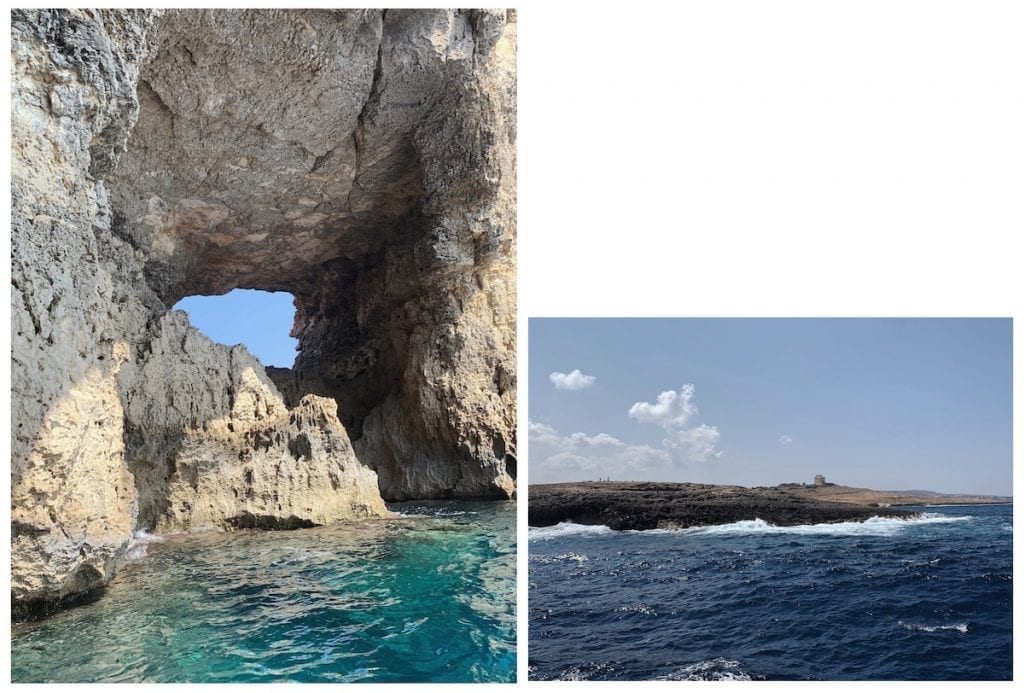 To be honest, the last day was a bit disappointing to me, as I don't really appreciate our tour route which had a lot of time wasted. If you would have a better experience, I would suggest to rent a smaller private boat or water-taxi for a full day, negotiate a package price and go! At the end, I don't think it will be too much than a so-so general day tour.
3 days are toooooo short for Malta!
We crossed over a few famous spots, spent a lot of time to learn Malta's history, tested out a few local-loved restaurants, but I don't even feel to speak loudly that, we have travelled in Malta, coz this place is so rich of nature and adventure, culture and history. For sure, I would visit Malta not only again, but more times! If you've been to Malta, and you know some hidden-gem of Malta, leave in the comments below and I would be happy to take them all in my notes!