It's been a long while since I paused my writing here. There are many reasons, but I guess my mood and goals were just affected by the work and the current life in Italy. Over the weekend, the news said from around the end of April, restaurants, and bars would reopen in yellow and orange zones in Italy. From 1st of June, maybe, we can go to our gym finally. Italy is setting up its "usual" summer season. I am considering the idea of summer vacations.
 Do you believe while you are growing older, you tend to let go of the idea of perfect travel planning?
 When I was in my early 20s, I had to book all flight connections, hotels/hostels and made the perfect daily checkpoints and routes. However, looking back to the trips lately, I unconsciously kept an open plan. Especially the city visits, I simply enjoy what I call, "the blind walking".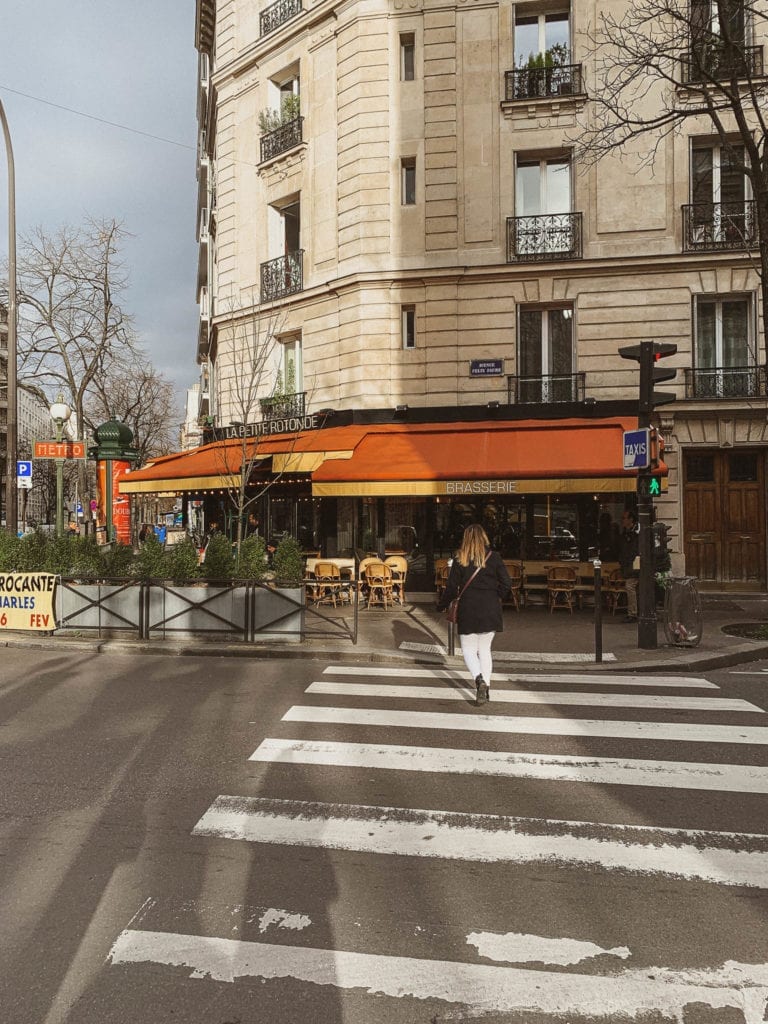 About city walks, I'm seriously missing Paris. It was such a fun story how I ended there around one year ago. If you are interested to know this little story, here you go.
I meant to revisit Paris in 2019's winter but had to give up due to my VISA issue in Italy. Again, I rebooked the trip for a girls' Valentine, and you know what happened in Jan 2020. My friend couldn't make it from China, so I persuaded Luigi and made it a real Valentine trip. Can you imagine this is the first and the only romantic Valentine for two non-romantic persons like us?!
Both of us have been to Paris. So, we knew what exactly we wanted. We made a no-plan plan with no Louvre, no Eiffel Tower, and no Versailles. We wanted to enjoy the random city walks and let the city surprise us.
Well, the only thing is, I confessed that I booked the ticket to Arc de Tromphe. I never went up there.
I have a few "Paris surprises" to share with you today. But, there will be no big museums and no shopping.
Just a few walks to its lovely neighborhoods
There are no specific routes or goals in these zones. Except for Montmartre, we all explored randomly during our city walks. I hope you enjoy it.
Montmartre and Sacré-Cœur
It is a tourist place, right? But it doesn't mean you can't get the best part out of it.
My tip is to walk into the less-crowded streets and corners. Indeed, Montmartre is very special in Paris. Just like a home-tour video I've watched recently, Montmartre is like an island, a countryside in Paris.
Instead of Square Louise Michel, we entered Montmartre from Square Suzanne Buisson. There is a tiny square-shaped park, some shops and a lot of street art surprises. Comparing to the commercial and tourism feeling, there felt quieter and more artisan.
You can visit Sacré-Cœur, climbing up or down to the underground. Place du Tertre with artists, bistros and souvenir shops. You can easily spend half day there. If you like modern art, Halle Saint-Pierre is on the side of Square Louise Michel. They might have different exhibitions or have a cup of coffee, or check out their mini bookshop.
The Pletzl is the Jewish neighborhood in Paris's city center. We passed by after our morning visit to Cognacq-Jay Museum.
Cognacq-Jay Museum is one of the many free museums in Paris. I promised a real museum-visiting experience there. We enjoyed such a quiet, self-paced, and in-depth visit that day. I actually must thank one of my Instagram followers. She's a local and it's she provided us this great suggestion. She also suggested Deyrolle, but unfortunately, we couldn't make it.
The fashion boutiques and other shops line up in the Pletzl. It offered us a very different city "smell". It was so vivid, crowded and maybe, a bit noisy. You see many young people as well as families and old gentlemen. Comparing to Parisian minimalism, there, you see more colors and funky things.
These two are not typically a neighborhood. They are more commercial like a zone to hang out on weekends or nights. Shakespeare and Company Bookshop was right there if you are a vintage bookworm. Sadly, we were stopped from the long queue. Close to Monnaie, there are a few streets that made me think about the concept of little Italy. Again, any Paris expert who is reading my writing right now, please tell me.
Typically, I shouldn't call it a zone. It is just a street but with a view of the Eiffel Tower. Maybe because it is close to Eiffel Tower and a few museums and gardens, the zone has only low-rise buildings. It is perfect to walk around there, and you will find some very nice bistros and restaurants.
I have to mention Boucicaut especially because our hotel is there. It belongs to 15th Arr in Paris. Honestly, if you want the typical look of the Parisian housing, to see what the locals do after their day jobs. Hanging out there is a good idea. It hosts a very normal neighborhood bakery, fresh fish store, and flower store. There are quite a number of restaurants, bistros, and bars around. To me, you can have a better photo of a you-sitting-in-a-Parisian-café-and-drinking-coffee style than others in the city center. P.S.We had two Spritz like most of the locals did the other night.
To eat, if you are a non-serious foodie like us
We love food and trying different cuisines. However, Luigi is not keen on restaurant-hunting while traveling. He wants good but not famous ones. Two reasons. No queued up and no fancy things. I am, somehow, "neutral". I always want to try out those everyone-is-talking-about-online ones, but I know there is a 50/50 chance I could get disappointed. So, here is our list of where to eat in Paris. A combination of random picks and well-researched ones.
Starting your morning with a croissant and a cappuccino, or if your day starts from mid-day?
Boulangerie Roulleau Mouzouri is a small bakery near our hotel on 15th ARR. When I was scrolling greedily in the boutique, two French girls had rushed in and out in the typical baguette-under-your-armpit Parisian style. IT'S REAL, NOT ONLY ON INSTAGRAM!!! Nothing very fancy there, but you could have a taste like a local who bought their breakfast and coffee and ate it straight away on the go.
Fragments is the everybody-is-talking-about one. We were lucky to be able to walk in after a few minutes of waiting outside. The tiny, crowded café made you feel extra warm for its red-and-orange lights, knee-to-knee tables, and strong air conditioning. The space was vintage, playful, and hearty. I missed those fresh juice, avocado toast with poached eggs, and carrot cake. In Rome, we don't have that always.
Café de Flore is too famous to mention. We had lovely hot chocolate and juice while sitting outside like many other tourists and locals. The only difference was we don't smoke, didn't order a glass of champagne, and we dressed down. Don't misunderstand me. The place is nice, but just not our type.
Crepe Suzette is the random one on the corner. We rushed in during the lunch break peak time, but we were so happy that the atmosphere there was so friendly and relax. It is a Crepe restaurant. I guess no one will skip a Crepe when in Paris, right?
Odette Notre Dame is kind of famous for its cute little pastries – mini puffs and macaroons. We stopped by during our city walks. It is a perfect "fuel-up station" with beautiful and yummy treats.
Let's talk about the important meals in a day
We stayed flexible for our lunches. Probably the only one I want to recommend is the famous pink house, Le Maison Rose. It was such a tiny house located in Montmartre. We were led to the second floor where you felt so much the flowers, the daylights, and the countryside. Interestingly, they incorporated a menu of French dishes and Italian food. You couldn't skip their dessert!
Café Ella is a chic boutique near our hotel. It runs like a café in the day and a bistro in the night. We had our first dinner after arriving and experienced the very French dishes. I mean the Pate, the chocolate mousse, and the melted cheese. Luigi wasn't used to it with his Italian stomach while I appreciated it a lot. When you are in a place, be a local.
Aller Retour Marais is a steak house and you must book it. Many talk about how French people eat and stay slim. Seriously? If you look at that steak, you won't believe those sayings. That was such a "seducing" space mimicking a feeling of getting into a secret French salon with their heavy red velvet door curtains. Again, it was a knee-to-knee space. Poor Luigi's non-stretchable legs, as well as many other gentlemen's as I could see. Our medium-rare steak was face size, no joke. We also ordered the French shoestring fries which I seriously missed as it is not common here. Escargot, the French snails, yes, we tried as well. I loved it except I had to deal with my non-garlic-friendly stomach.