If you have your eyes on Italy, probably, you have heard the news about the €1 house in Italy. Discussion around the abandoned Italian villas for sale never ends. I and Luigi set our feet on the way towards being a house owner. I can never imagine there are so many things to learn before even starting the house-hunting. Meanwhile, I turn to admire the small ideas of how to own and live in a small house in Italy. I mean the countryside of Italy.
We started our house hunting probably from early spring this year. Both I and Luigi have a flexible working style, so we know a stand-alone house with a manageable garden in the small town in Italy would be perfect for us. 
Ideally, we want a location not in the old city center (I will tell you why later), but not too far away from "civilization". More importantly, it must have easy access to the motorway to all-important Italian cities. We love the easy access to nature, either seaside and mountain. And it must not be too far away from Luigi's family. You know how strong the family bondage here in Italy.
After all the above concerns, we decided on the idea of settling in Montefiascone. It is the same town of Luigi's parents and many relatives live. Also, I love this hidden-gem Italian town soooooo much. It has the most lovely people, the beautiful legend and historical heritages, and I can drive to Bolsena lake in 10 minutes!
Why look for an abandoned Italian villa in the old city center is a big no-no?
First of all, I have a big obsession with how the Italians resist the "modern revolution" and maintain those cute medieval-time stone houses.
Most of the small towns in the countryside of Italy have medieval-style houses. Or, I shall call them "apartments" instead of houses. They are crowded inside the ancient city wall (the old city center). In many cases, they line up the rings from the major pizza to the city wall. If you have been to Siena, you will know what I mean.
The old houses are normally tiny and narrow inside with thick walls. It is cozy in a way, but super inflexible in another way. Most walls are not able to be torn down. Also, each city or region has its regulation about how the houses should look in the historic city center. The regulation ranges from the color of the outside walls to the numbers and the sizes of the windows you can build. 
It is not ideal for those who have a modern house renovation plan in mind. For example, I love the traditional brick houses in Italy, but I do want bigger windows for a lot of natural lights in the day. I also prefer an open-space design inside the house. It looks like on the opposite side of what a traditional Italian house in the city center would be.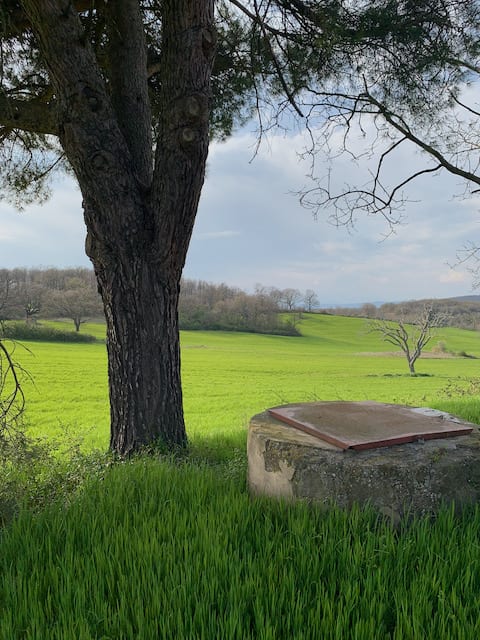 You might consider a truly "abandoned" Italian villa twice
We have visited several "abandoned" houses since we start our first hunt in the area. Some of them are well maintained, even furnished, others are not. Some are located in the city, others you can say they are from nowhere!
We did love an abandoned farmhouse outside the city. It probably takes only 10 minutes to drive from the town there. Around this farmhouse, you can find only green-land but nothing. Its view and atmosphere are the perfect "Italian Countryside Life" you see from a TV show. It even has a big well!
The problem is!
Not considering the huge renovation work to give this farmhouse a second life, but just the access to the basic living supplies make us withdraw. Heating or gas system can be replaced by solar energy or underground energy system. A chimney can help too. There is no electricity or no Internet cable. The farmhouse originally doesn't have toilets, which means there is no water drainage system.
We did consult our friend who is managing many house projects. The conclusion is, you can always do what you want, but it only matters about the budget. Putting up the overall systems from the digging step – that sounds too much, right?
The myth of the abandoned Italian villa
I call it "the myth".
Because you know one euro is just a way of saying. The abandoned Italian villa might cost only one euro for real. However, surely, it won't cost only one euro to make it liveable.
There are documentation and taxes first. Then, your renovation plan must align with all the local regulations. A house in the city center or outside the town has both pros and cons.
Why we come out the idea of buying an abandoned Italian villa?
If you are living or considering owning a country house in Italy, this might be useful.
We got the news that since COVID, the Italian government set up an encouraging policy for those who buy an abandoned house in Italy and renovates it by achieving improved environment-friendly goals. A certain amount of government incentives are offered to support this kind of renovation project.
It is not benefiting directly as a "cash-back", but something related to tax credits. Since the house renovation project must involve a professional company. These incentives become instantly redeemable to the individuals.
Italy is a country which has much more beauty hidden in its small towns than its big cities. However, we often see many abandoned villas and farmhouses when we drive around. There are many reasons. Maybe the new generation prefers big cities. Indeed, big cities can offer more opportunities and excitement.
But, I realize, COVID might have a positive impact. More people work from home, and more companies might consider a home-office policy in the future. Moving back to the small towns means a closer access to nature and the Italian lifestyle.
I can imagine living in an "abandoned" Italian villa means a total change of my lifestyle. Even I have been very chilled since moving to Italy. There could be more gardening, more cooking, more outdoor activities to the lakes or just in the garden. Life could be less modern but who knows what kind of new things I can discover from there.
City or small town? Do you like the idea of an abandoned Italian villa?