Last weekend we've spent both mornings on our rooftop, drunk a bit, did some yoga, and got some tan. I specially made a glass of Aperol Spritz for myself, because it's just a perfect Italian cocktail for a perfect day! Heavily influenced by the Italians, Spritz has become my first choice if I'm not drinking wine. I normally order Aperol Spritz for Aperitivo or an outdoor chilling over the weekend. Also, I prefer Aperol Spritz as it is less bitter than other varieties. I'm so obsessed with it that I made some research on it. I put all my findings and our private Aperol Spritz recipe below. Cheers!
Why We Love Aperol Spritz?
We all have an Orange Fever
We all have an "Orange Fever" when drinking Aperol Spritz. Somehow, this orange shade brings the sunshine and the energy into us, deeply. To the Italians, this color of Aperol Spritz is also very much "sunsetting". As we all know, a big glass of Italian's Aperol Spritz won't get away with the signature Italian Aperitivo, which happens almost every day near sunset.
It's a perfect drink for summer. First, it's full of ice, and truly a lot of ice! The colors and the icy taste make it perfect for a beach afternoon or a pool party. Even many make and drink it in their backyard's weekend party with family and friends. 
Aperol is an Italian liquor with bitter and sweet taste. It never leave you a sticky mouth or overwhelming feeling after drinking it. The modern Aperol Spritz recipe is using the dry Italian Prosecco as well. Even there exist a few new twisted Aperol Spritz recipes with grapefruit or other bitter-taste fruits. If you are used to bitter-taste cocktail and want your Spritz stronger and bitter, you can try Campari Spritz. Campari is another famous Italian bitter spritz, and there are many famous Italian cocktails are based on Campari. 
Who doesn't love bubbles?
Aperol Spritz has a lot of bubbles. I mean, who doesn't love bubbles? Cin Cin!
Say NO to dangerous-drinking
If you follow the suggested recipe of Aperol Spritz from the Aperol brand website. You will find it super easy to make, talking about the requested ingredients and the way of making. The general alcohol content of this cocktail is very low as well. Probably those are the true reason why Aperol Spritz is so popular?
I've talked about the stories of the most classic Italian cocktails and their cities in my blog. Aperol Spritz is one of them. 
So, what is Aperol Spritz? In short, Aperol was born in 1919 in Padova, which is a city in the northern Italy. Spritz showed up almost 100 years ago in the Veneto region of Italy. Originally, it means to add some sparkling water into the strong Italian local wine. However, as time going, the Venetians mixed the idea of Spritz with Aperol, and made this orange-ish drink super popular nowadays. The main modern Aperol Spritz ingredients are Aperol, dry Prosecco, soda or sparkling water, and a lot of ice or a slice of orange.
There Are Some Fun Facts About Aperol Spritz
Aperol is more than 100 years old
Aperol is 101 years old this year. In 2019, to celebrate its 100-year-old birthday, the Italians made a Guinness World Record by doing the "largest Aperol Spritz toast" in Venice. More than 2600 people showed up with a glass of Aperol Spritz on Piazza San Marco. 
A difficult start, Aperol Spritz is the key
Aperol was born in 1919, but it only started to be popular from 1950s. Thanks to the creative Venetians who mixed it with their white wine and soda, which means the birth of Aperol Spritz.
The perfect drink for social occasions
Aperol is now a part of Campari group. It has a title of the popular Italian Aperitivo drink, but the Campari Group also defines it as "the perfect drink for social occasions". It is indeed a marketing message, however, I admit drinking Aperol Spritz is a necessary part of an Italian gathering. Maybe, it is the same to the world?
Please note that this post contains affiliate links and any sales made through such links will reward me a small commission – at no extra cost for you. That's just the beauty of affiliate marketing and you can always drop me an email for further information or simply refer to Privacy Policy terms here.
Aperol Spritz has its book? A comic one!
What you need for our Aperol Spritz ingredients:
1 big orange or blood orange

1 big wine glass

Aperol

Prosecco or any dry sparkling wine

Ice
How to make Aperol Spritz?
Cut the orange into slice with medium thickness and put aside for use later

Put many ice into your wine glass. It would be better to reach at least ½ of glass

Pour 1/3 to ½ glass of Aperol

Fill the glass with Prosecco or dry sparkling wine

Decorate with a slice the orange
You won't find soda water (club soda) in our recipe, because we are simply "alcoholic" persons. Joking! We did experiment with sparkling water, but unfortunately, we are more satisfied with a stronger taste. Just in case that you want to add soda water, make sure it's from the fridge straight-away.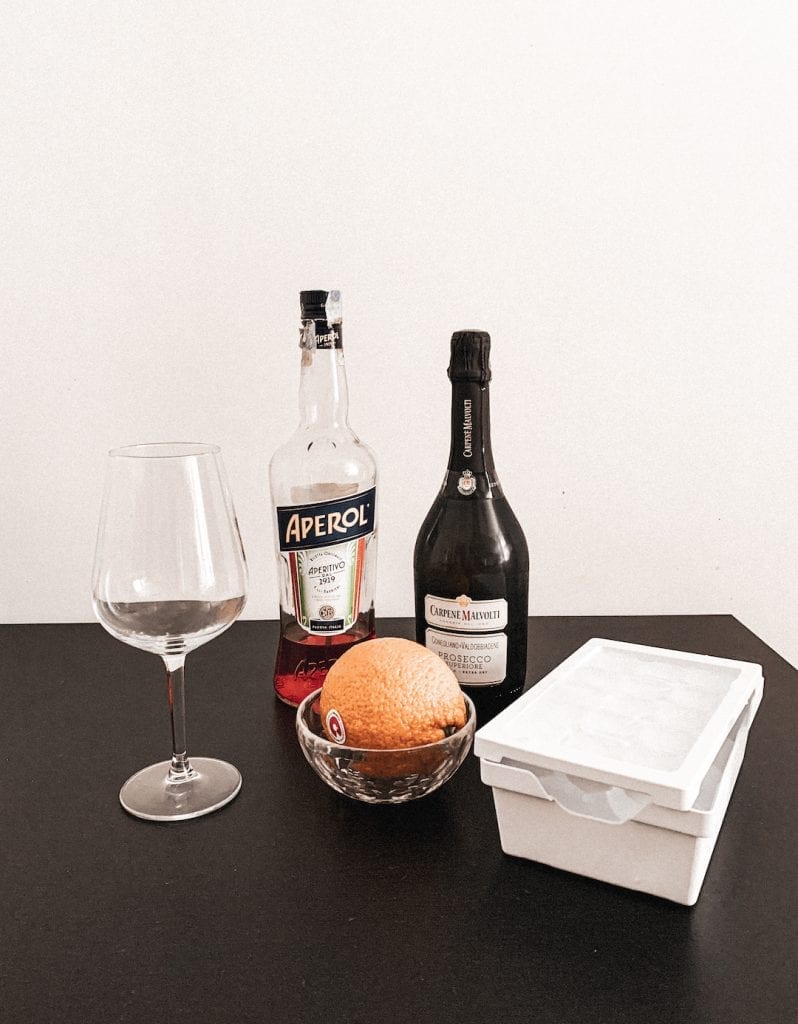 What To Eat While Drinking Aperol Spritz
Chips and nachos: Any brand as long as you love
Nuts: I prefer peanuts, however, any slightly salted or plain nuts would go fine with the drink. 
Olives: Highly recommend the sweet olives (big green ones) or the spicy ones. They will give such a contrast taste on your pallet. It is like a strong pull-back from the bitter-sweet cocktail.
Bruschetta: A classic Italian Aperitivo dish goes well with a classic Italian cocktail. I like the bruschetta with the fresh cherry tomato, olive oil, a pinch of salt, and basil leaves if you have. But you can just make the simplest version with the olive oil and salt on a cracker or a small piece of grilled bread. A more luxury version is the half-melted goat cheese with honey and walnuts!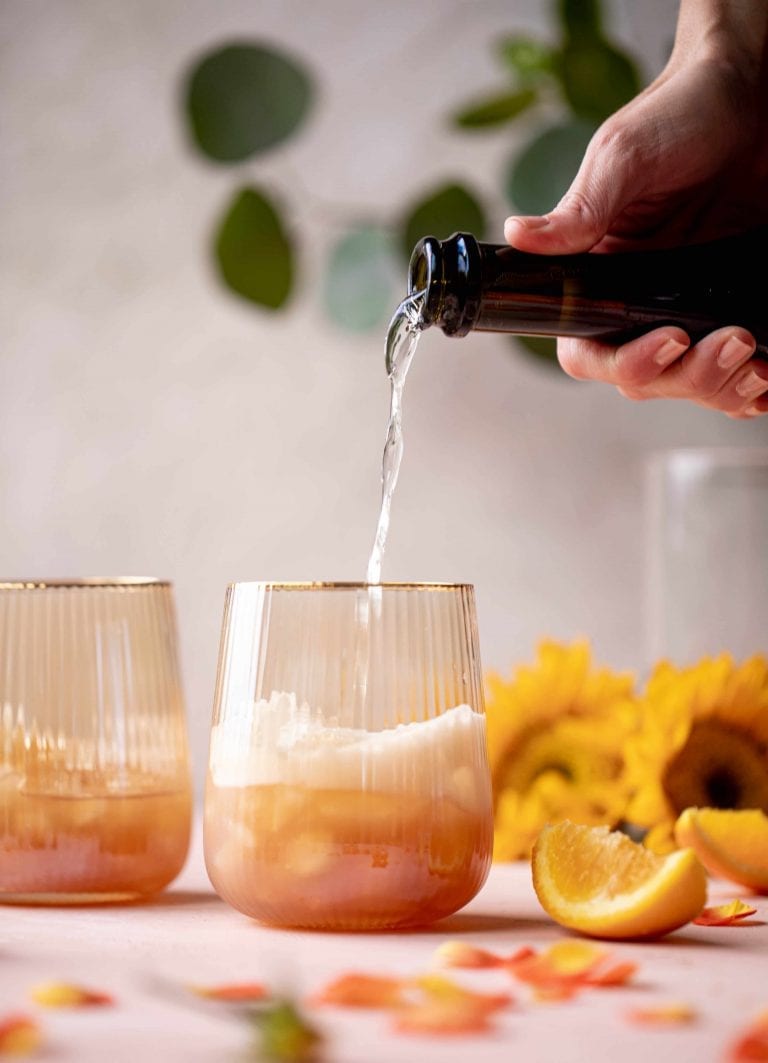 Just in case you might get bored of the traditional Aperol Spritz after drinking too much, I've searched a few twisted recipes. They are sooooooooo beautiful!
Blood Orange Aperol Spritz by Krazy Kitchen Mom: Similar to the traditional one but with blood orange with bitter and fresher taste.
Rose Aperol Spritz by Lemons and Anchovies: Instead of Prosecco, she uses Rose. No doubt, it is a fancier pinky Aperol Spritz. 
Apple Cider Prosecco Spritz by How Sweet Eats: Well, she said it was an autumn drink, but a chilled apple cider to replace the soda water for summer, why not? It sounds healthier. Joking!
Tropical Rose Aperol Spritz by Pineapple and Coconut: This is another luxury Rose recipe, but it has tropical fruit too. So, on the opposite side of being bitter, this gonna be sweeter?
Aperol Froze by Foodie Explorers: This is actually pretty amusing. It is similar to universal-famous cocktail, Margarita, with frozen consistency. However, there is an Italian word "forza" which means strength, power and strong, is very similar to this "Forze". So, will it taste stronger?
Limoncello Spritz by Sip and Feast: OMG! This is such a genius idea! Let's combine the Aperitivo with Post-dinner digestion time. (Limencello is another famous Italian spirit, which is famous for after-dinner consumption. It is also a very sweet digestion alcohol.) 
If you are really a big fan of the Italian cocktails, especially those Aperitivo drinks, check out those two books.