40 hours in Porto city center, probably it is 36, instead, as we crashed on our hotel bed like a baby on the only full day. I must specify the term "Porto city center" because I'm pretty sure the city has much more to offer for a tourist. Walking up-and-down in Porto, turning right, you find a modern-chic bar, while turning left, you can be stunned by a demolish-ing old building. Porto has such a strong contrast of both new and old, fashionable and "ugly", international and traditional. This is more Europe than Rome, than Paris. Porto does not shine to show her "struggle".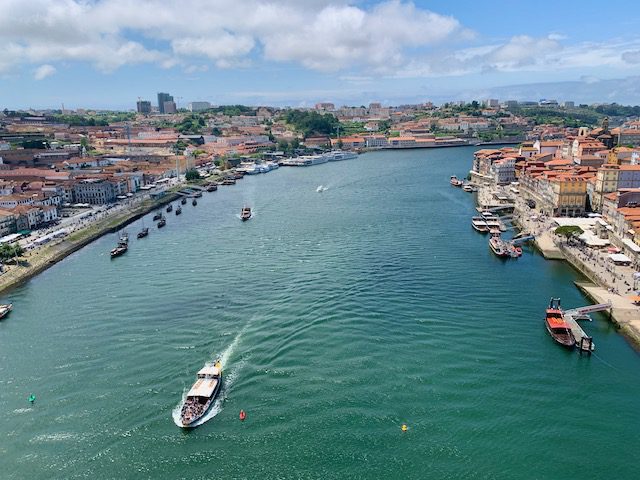 We arrived in Porto city center straight from our last winery visit in Douro valley. The time is quite late, around 10pm maybe. But, I was quite "over-excited" after getting all the must-visit suggestions from the cutest taxi driver in our 10-min ride. We chose a new hotel, only one street away from the riverside. After we took a you-gonna-do-it-first-of-all mirror selfie in our hotel room, we go straightly to the famous night-life river side of Porto.
I always believe Portugal is a hot country, and Porto should be somehow hotter than Rome. Instead, it gives me a chilled and slightly windy welcome night. Oops. But, like many freshly arriving tourists, we managed to walk too much until the other side of Ponte Luis I.
Our Porto city center walk is planned out around food and wine, and then some stops of churches and landmarks. Blame us as a boring foodie or not, I really believe the best way to know a place and get a hint of how the locals live is through their gourmet culture. Porto, as the hub of Port wine trade center in the past and still nowadays, I think my argument stands firmly.
If you wonder where to go, what to see, and of course, my recommendations of yummy places, I have you well covered with a list. I promise you can even manage a 3hr nap, just like what we did!
Places to visit (even without getting in) in Porto city center
Se do Porto, Igreja dos Clerigos, Igreja dos Carmelitas, Igreja Monument of St.Francis
Churches are somewhere you don't dare to miss in a European city. Se do Porto (Porto Cathedral), together with Monument to Bishop Pedro Pitoes, Igreja dos Clerigos, Igreja dos Carmelitas, and Igreja Monument of St.Francis are forming up roughly a triangle route in Porto city center. If you have limited time in Porto like us, pick two among them. I recommend the Cathedral for its obvious important role for Porto and the stunning city view from the top of the tower. The white-and-blue ceramic work is truly beautiful there. St.Francis is typically lovely although it is no longer the original one after Portugal's civil war. The woodwork there is jaw-dropping.
R. dos Flores, Luis I Bridge, Mosteiro da Serra do Pilar
R. dos Flores opens up a complicated and busy street network in the Porto city center. There are endless street arts, shops, and bars where people sip Port wine morning-and-night. Interestingly, Porto city center doesn't belong to tourists only, but fluffy friends. A black cat walked his proud cat-walk without responding to any admiring looks or calls from humans. He lives like a king.
Luis I Bridge probably doesn't need my special mentioning. You will pass it multiple times, both from the upper and lower parts. Clicking a selfie when the tram passes, and grab your phone/camera firmly when making a bird-view photo for Porto. The lower part, humm… probably it won't offer anything until the construction work is done. The same situation happens to Mosteiro da Serra do Pilar. Except for a mouthful of wind, some photos of the right bank, and a minimal part of the Mosteiro open to the public, it has nothing more. Though, I did enjoy a local beer from the weekend market at Jardim do Morro.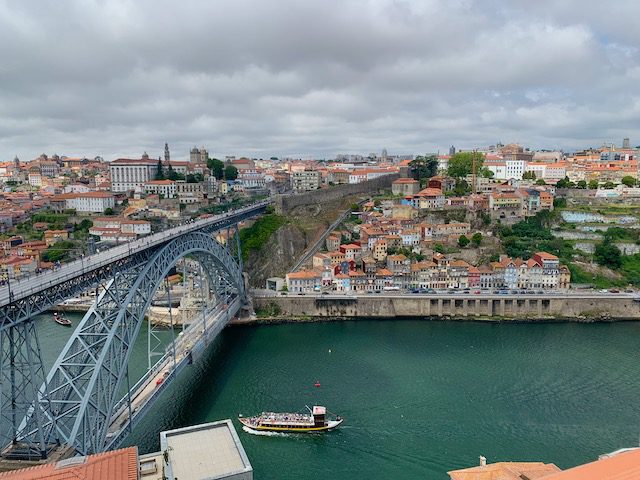 Gaia and Vila Nova de Gaia is the name of Porto's left bank. It is where Port wine undergoes fermentation and ageing process, and also leaves for the world. Talking about Gaia would be closely related to the experience of Port wine in Porto. So, I will cover it later on.
Places to YUM (morning-till-late) in Porto city center
I'm not sure Porto is a city without sleeping, but as long as I'm awake, it looks quite vivid with modern bistros, Irish bars, and of course, wine bars. There are a few must-eat dishes in Porto and you must put away your calorie calculator if you want to taste them all.
Breakfast/Streetfood: Egg tart, Francesinha, Baccara
Egg tarts (both Portuguese and Brazilian styles), croissants, sandwiches, Francesinha, and fried Baccara, are on our checklist. We got them mostly in our breakfast-and-brunch sites. It is interesting that the pastries (bread) are much yellowish and more like brioche there. Francesinha is something I consider insane! It is historically a remake of French toast but of course, much meatier, cheesier, and heavier. It has layers of chipolata (spicy sausage), beef burger, ham, cheese, and egg on top of that poor slice of toast, and is covered totally in the orange-and-yellow-jelly-like sauce, and it comes with French fries. Calories? Let's start from 1000. 
I was very happy with the unique Brazilian egg tart from Confeteria Sao Domingos, and the traditional Portuguese one from Padaria Rieiro. You can find Francesinha in many restaurants in the Porto city center or riverside, but I did my try at Padaria Rieiro. For fried Baccara, I prefer getting them in the restaurant, but you can also get a very luxury one from Casa Portuguesa do Pastel de Bacalhau on the Gaia riverside. If you cannot find a nice after-dinner dessert, check out Fabrica da Nata in the city center. They offer a lovely set of egg tarts with your choice of (sweet) wine, for example, a LBV Port (what is a LBV Port?).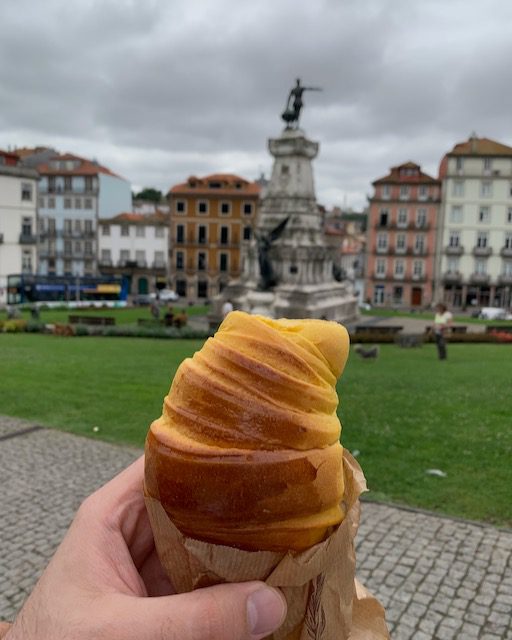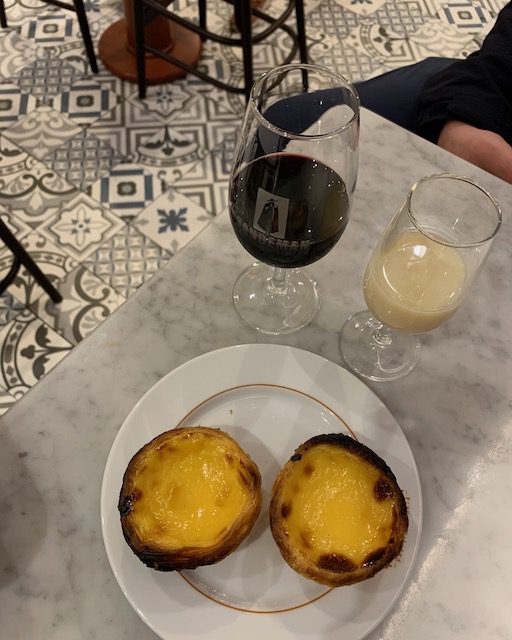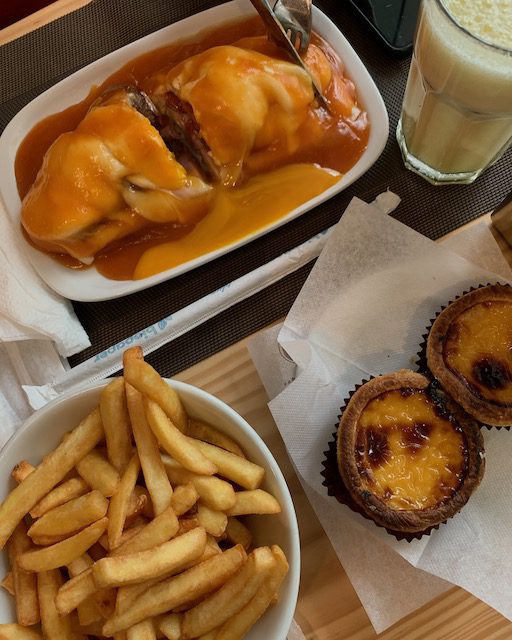 Lunch/Dinner: Frangos (chicken), Octopus, Baccara
Literally, we have only one night with dinner in Porto. We dedicate it to a local restaurant because we believe the way of city exploring includes "eating like a local". Pedro dos Frangos, a chicken place like the name "Frangos". We love it! Just like dining at a Roman traditional trattoria, this place is absolutely local. The locals yum at the bar, even two on feet. Dishes come with 20-year-ago stain steel plates which are the living vintages. The menu is quite simple and occasionally, you were told some dishes are not available. The best part is you can order 1/2 potion for almost all dishes and nothing will be left behind on the table!!! T&C Gastronomy Restaurant is a kind of random luck. We got the name in our wine Masterclass in Gaia. It is quite a fine dining restaurant, and the best experience is to get a table in one of their huge wine barrels. There, more sophisticated Porto dishes are served, and don't miss their Octopus and Baccara.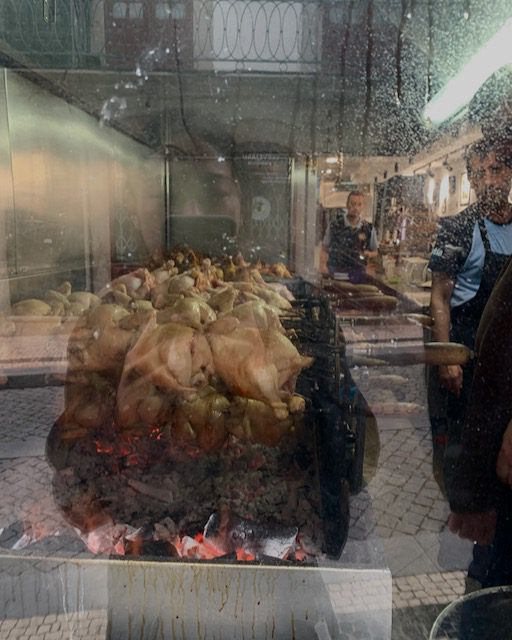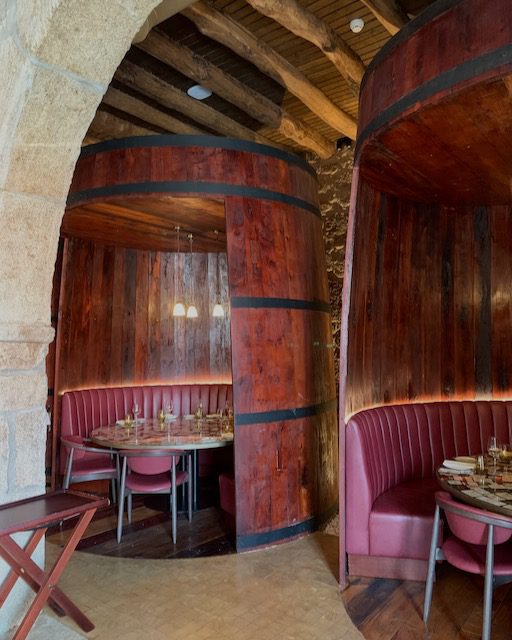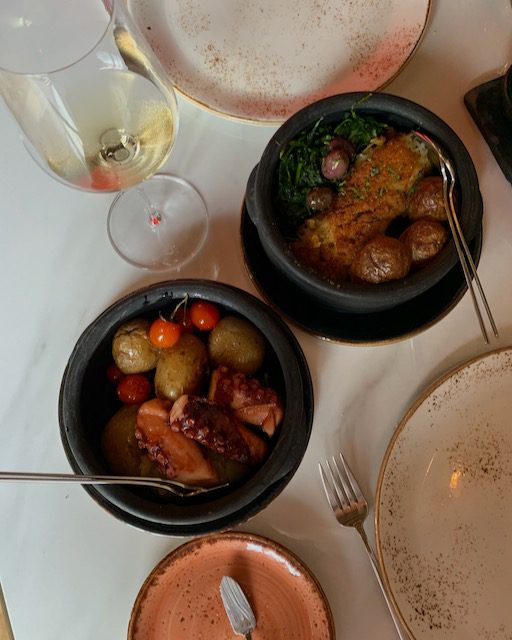 Wine! Wine! Wine! in Porto city center
I will say, except for bar/pub/club crawl when the night falls in Porto city center, sipping a glass of small and regional Portuguese producers in a chic wine bar, with a nice dish of local cheese, is highly recommended. Prova wine bar is the place, even beloved by the locals. The owner, together with his well-trained boys can give you a really authentic recommendation of Portuguese wine and Port wine by the glass, made by authentic small producers. Wine lovers, don't be shine to throw questions at them. There, I found the aged white Port for my personal collection.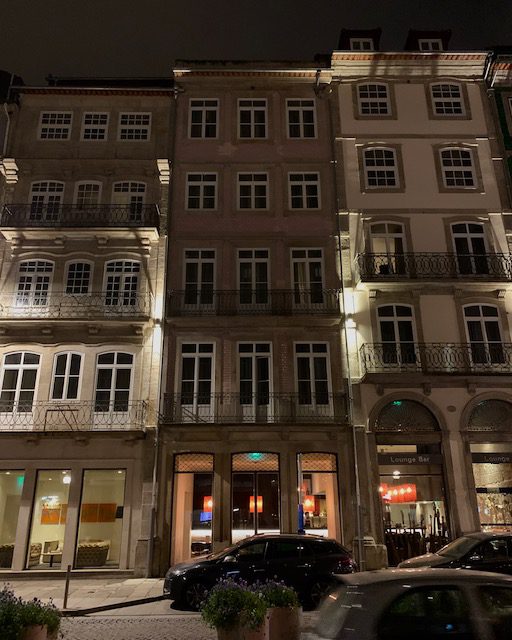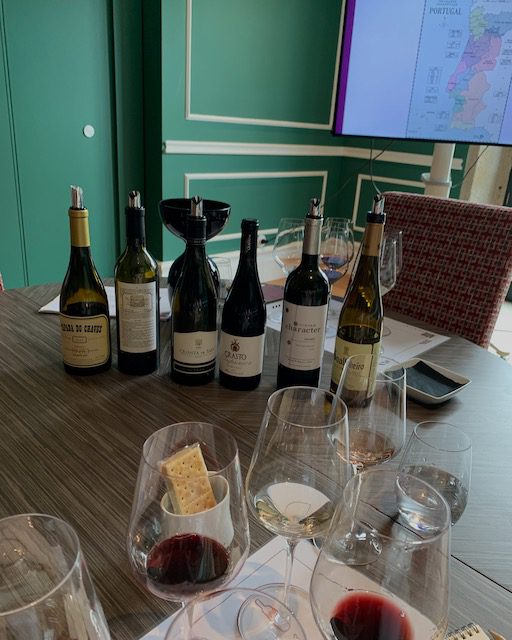 You cannot leave Porto without a Port wine tasting.
In Porto city center or Gaia riverside area, you can go easily drunk if you seriously hunt for the Port wine tasting experience by every single brand.
However, I discovered WOW culture district, just behind the Gaia riverside. It is a cultural hub with different museums, restaurants, coffee bars, and even a wine school. I booked a Portugal regional wine masterclass which was super serious. In 2 hours, we learned about 5 important wine regions, tasted 5 regional wines accordingly, and had a pretty profound professional chat about Portugal wine and industry. That's for wine professionals, but easy workshops are offered too, even Port wine and chocolate pairing, for who is curious.