Ciao Tutti!
I've completed my Italian course, and I've finally "achieved" my goal of speaking 2 bad foreign languages, mixing them up badly, and even speak my mother language badly… So, if you see I'm typing something weird in English, in Italian (shouldn't show any Chinese, I wonder), please just laugh but not take it seriously, oh and, if you have time, correct me by leaving me a few comments. Well, that's probably all the language students' struggle.
I've decided to start a new sector in my blog – Mood Of The Week. For what purpose? Simplest ever, just to share everything happened in THE week, but still, my instinct of blah blah blah, never goes too far from eating, drinking, hanging out in sun, in rain, in storm, and in Rome! Also, my sharing here may not be restricted to positive things. If I tell you I don't have a single negative moment to share, probably, you will click that CLOSE button now! I want to share my life in Rome and the world, its beauty and unique lifestyle, however, the reality is, it is always bundled with a couple of negative dark sides. Of course, you can leave comments below, to let me know you appreciate this idea or not?
Let's start!
As currently moving to Rome, it takes like FOREVER! Yes, it's the second time of moving since I moved to Italy, now I'm still living in the small town near Rome, but crossing fingers, I would be officially a "Romano" in 2 weeks. As usual, my very-straight boyfriend, Luigi, doesn't appreciate my too-many ideas of "how to decorate our new apartment", but I would not be rush THIS TIME, inspired by an influencer on Instagram that I started to follow about her skincare, lifestyle and her home recently. Here you are her IG account, and her blog post "Making A Home" and quoted her saying "I knew I didn't want to rush to get every single thing immediately as I found even just  being and living in the space for a couple weeks I understand more what I need and where, and what styles would work with what I've already got."
The Week 40 is a turn-point of mine, as just said to move to Rome, and also just completed my Italian course, I'm seriously taking time to re-think how to manage my blog, my Instagram, my Facebook page – What I would to tell? What I want to achieve? How I want them to be part of my new life in Rome, in Italy? Currently not have a clear mind, but I did get some inspiring from a couple of research and training materials offered from fellow successfully social influencers. I'm still learning, so I would do my A/B tests all the time to find out my right way.
The Week "I don't remember the number" to the Week 40 in Italy, I've walked a bit in Rome's narrow streets and was slowly picking up my positive and negative feeling about Rome's restaurants, cafes, different people working in the catering industry or simply office-runner every 9-5. I would like to share something about my Gelato experience, a typical me-pissed-off moment (probably my first seriously bad experience in Rome) and my personal opinion towards Rome's cafes – A mix of good and bad!
***
Gelato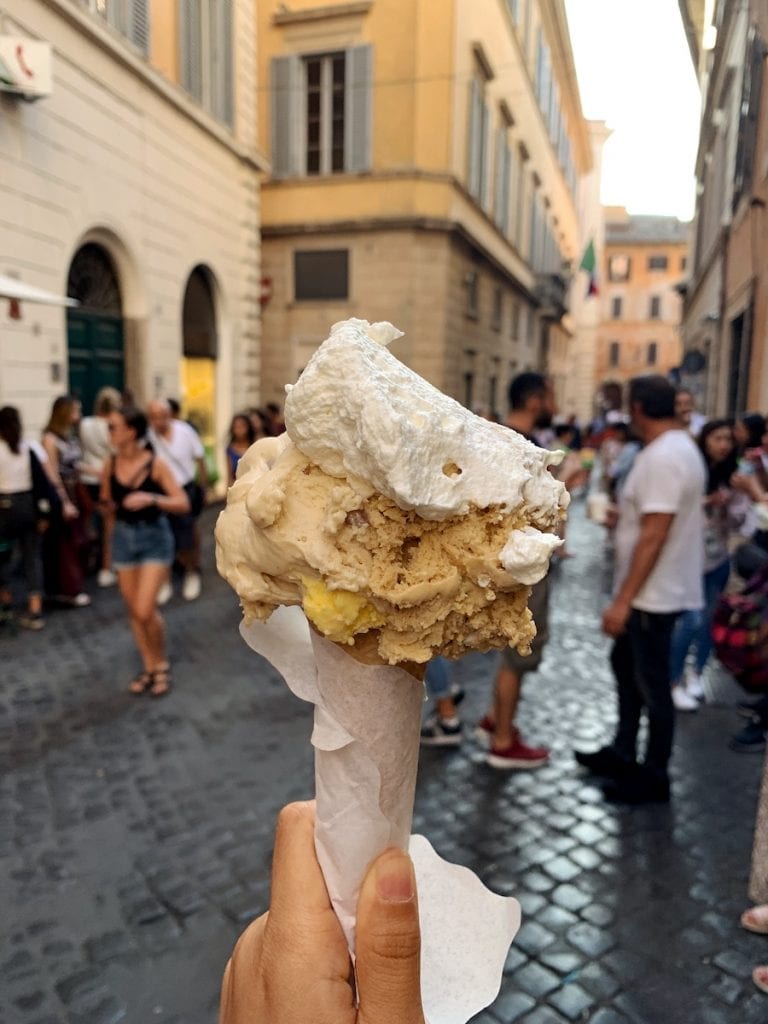 If you ask me THE ONE to be recommended Gelateria in Rome, I will probably point out Giolitti, as many other people have already known or been told. Giolitti, is famous, opens everyday 7-1(AM), summer and winter, but its long line never disappears. "Antica Gelateria Pasticceria dal 1900", seriously not a joke. Buy your ticket in cashier, and squeeze inside the human-wall in front of the gelato counter and shout out what you want while wishing the gentleman there won't take your English wrongly. Well, their gelato is absolutely beautiful! 3 points of mine, and I think they can be applied to any other Gelateria.
Rich selection

from fruity to creamy, plus seasonal limitation (tried Champagne once and recently chestnut), I never get bored and they always taste so rich and bloody good that you forget the calories!

Love their also-artisan cone

– I seldom choose a cup. I do think the cone is the key, as I find most of the gelato shops give a McDonald standard cone, while if you want a thicker, crispier, tastier cone, you gonna give probably €0.5 more. The excellent gelato shops, happen to eliminate a cheaper-standard cone directly.

They give you their home-made fresh cream on top for free

. Free cream for gelato is not abnormal in Italy (it's their tradition), but a home-made plus probably everyday fresh-made cream, you taste the difference in an instant from those industrial machine-made ones.
Luigi loves Giolitti a lot and he brought me there for the first time, afterwards, only if I was passing by, I would stop for Giolitti, the only reason is very simple – I'm not a queue person. I am collecting my favorite Gelateria, so here you are, a few old and new those I would recommend, especially if you are new to my blog.
Fatamorgana Monti – It's a famous one among Monti area (kind of everyone knows) and I love to eat my gelato in the small antique square in front of their shop, where you have a mini fountain, place to sit and to chill, and a great view to enjoy Monti (Cavour) – one of the oldest neighbourhoods in Rome. They've got all traditional flavors plus a few interesting ones like,
Matcha (brave choice to get out of Italian's conform zone)
Thumbelina & Pollicina, both are a mixed of nuts and flowers like Rose and Viola
Prince (I forget to write down the recipe, just have to try)
Address: Piazza degli Zingari, 5, 00184 Roma RM
Gelateria Dell'Angeletto, oops, they use normal cone… but I love their Vegan Nutella  (the link)
Glauco Gelati Monti, gelato is good, macaroon depends on you (the link)
***
Bad Experience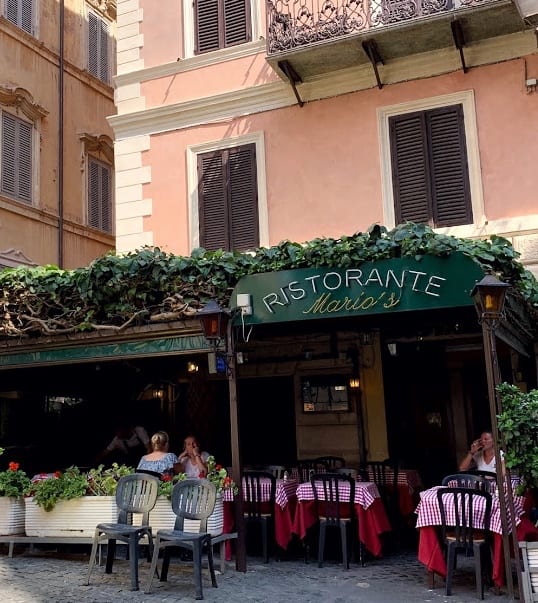 City like Rome, I expect people with passion and hospitality, however, this is my first bad experience. Spontaneously I showed up in a traditional Roman-style restaurant on my hanging-around moment. Seated well, served ok, and belly was ok with a simple dish of typical Roman's Bucatini all'Amatriciana. Everything is fine, until a young Asian couple with a babe trolley approached to the lady-in-charge (I guess she is the restaurant manager slash daughter or relatives of the owner while I read from Tripadvisor that she might be the current owner!) for an enquiry of a table. Time, 1.30PM around, the restaurant is almost empty except me and another table of a single lady, the family were literally "thrown out" by the lady's saying "Sorry, it's closed" in a very cold unfriendly tone. 2 minutes later, two young girls (dressing fashionable) approached with the same question to their waiter, and directly, they were lead to a street-view (even there's no view) table. I was a face of "So what?!"
When it was my turn to leave, I asked for the bill and as usual, politely asked for the possibility of paying by credit card, to the waiter. He gave me a direct YES without thinking, however, just when he's going to take the machine, the same lady shouted, literally, to the air, in Italian (oops, thanks to my teacher and school, I understood everything), "We don't accept credit card payment for small bill" and in English "Cash Only". Guess my bill? €12.5, yes, it's a small bill but falls into an average lunch pricing per person in Italy. I never have this trouble in Rome with a bill like this, or maybe only once I was asked for a bill over €5 to be settled by credit card. Indeed, I don't mind to pay in cash, as I know credit card is not widely welcomed here, however, I felt really bad and also sorry about that waiter who gave me "a true answer" by instinct.
There is no conclusion from me through sharing this experience, and I think in every tourism city, there are more or less this kind of cases. Just, as writing and sharing restaurant reviews, working in Food & Beverage industry and facing to clients almost every day like me, I was speechless, and I felt a "must" to share my experience to the people who might visit Rome.
The restaurant, you SHOULDN'T go:
Ristorante Mario's
Address: Piazza del Grillo, 5, 00184 Roma RM
***
Cafe
If you love café culture – be careful, I mean café, not coffee, you might not be used to Italian's way of café, or let's call it, BAR. Bar is the place, where Italians catch up from morning to night, with friends, with their newspapers (or now with phones), with coffee, breakfast and aperitivo. Here, the coffee, means and only means, espresso in Italian way! Luigi "prohibits" me from taking cappuccino after lunch in a day and I learnt from long time ago by ordering a "latte" and get a hot milk with milk foam… Italians take their coffee as we take tequila shot, – standing and one shot (maximum two sips). The cappuccino is only a morning thing, with conetto (croissant) or something sweet normally, and I love it! My never-change combination of breakfast-in-the-bar is, cappuccino & conetto with Nutella, or cappuccino & conetto with pistachio (not every bar serves it). I didn't give up searching for international café style in Rome either, and I did find a few speak-easy, seated-with-comfort, and very importantly, stress-free-to-stay. I want to talk about my recent favorite breakfast spot and a good discovery of café-to-stay in Rome centre.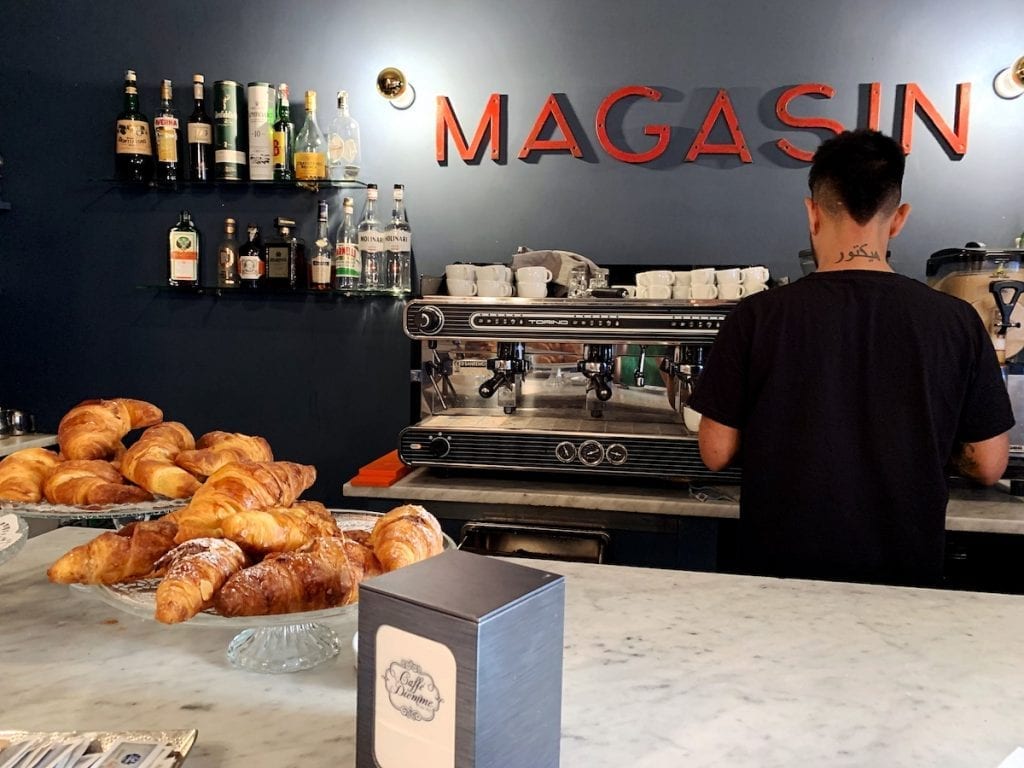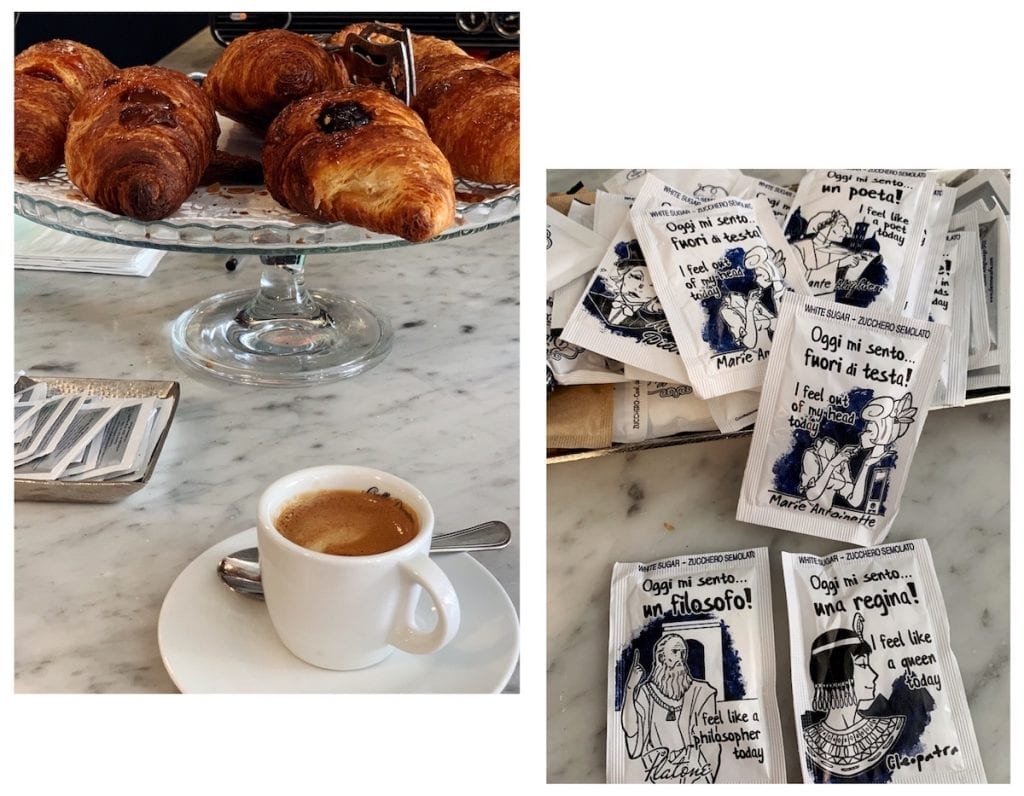 Magasin – lovely lovely lovely! It's a bit French, or at least mixed European style with very chic selected decoration and furniture. I loved it from the first random visit in one of my school mornings. Simply cappuccino and conetto pistachio, is my fixed menu there. I should have tried others, but somehow, their cute "green" croissant just cannot let me go. They serve light lunch and turn to a cocktail lounge in the night – I would definitely revisit them once I move to Rome.
Address: Via dei Serpenti, 108, 00184 Roma RM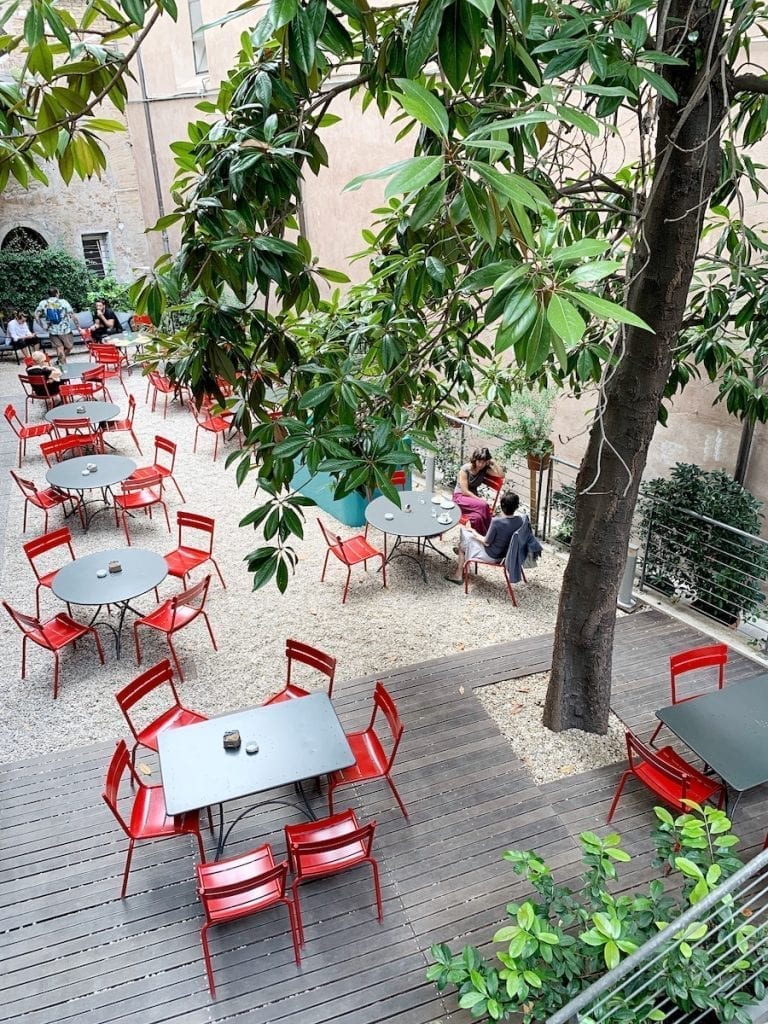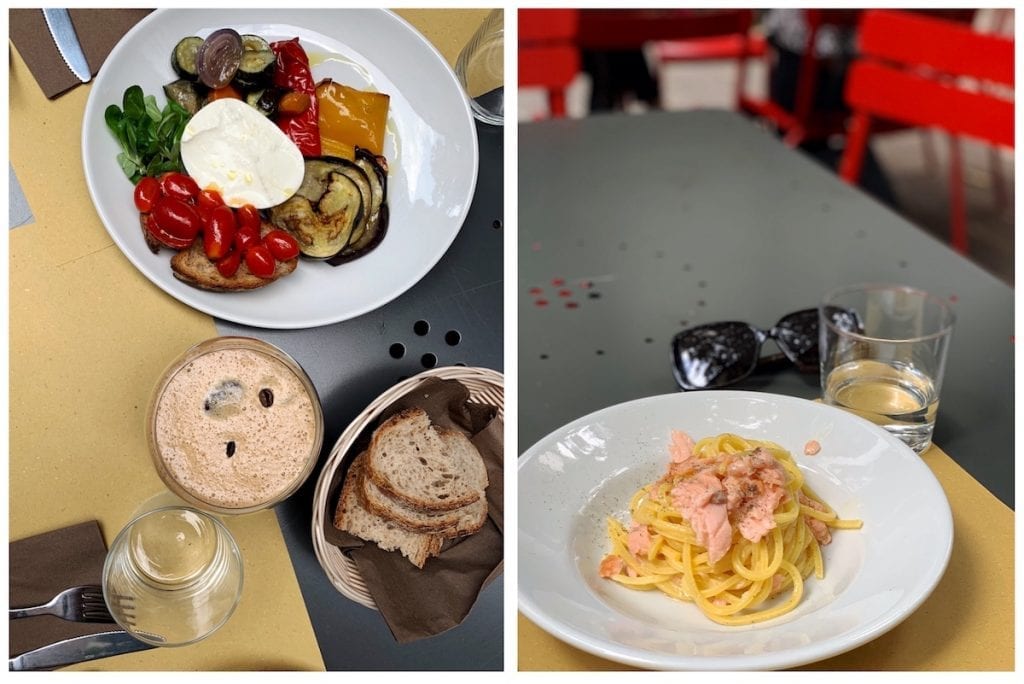 Caffe Delle Esposizioni – I discovered this place when their little blue poster impresses me every time I walk down on Via Nazionale and pass by Palazzo delle Esposizioni. The café is attached to the museum, on the underground floor, through the hidden entrance on the side where leads you to the iron stairs. Their little garden and the intimate atmosphere given by this special location and the trees around, are perfect for people who wants to take a simple meal or a coffee and work with his laptop for the whole afternoon. Their menu offer light simple dishes and the dishes are presented in a modern way. I've tried a bit grilled vegetables and their fresh egg pasta with salmon and butter – simple, tasty, right to the point!
Address: Via Nazionale, 194A, 00184 Roma RM
Here I have to stop writing (which is not easy for me), and this is all about my Week 40. See you in next week.
Ciao!