I feel my one week is as short as just one night!
Here I am for the updates of week 41 and I've prepared some to share with you, about my first grape harvest experience and my casual afternoon walk in Rome!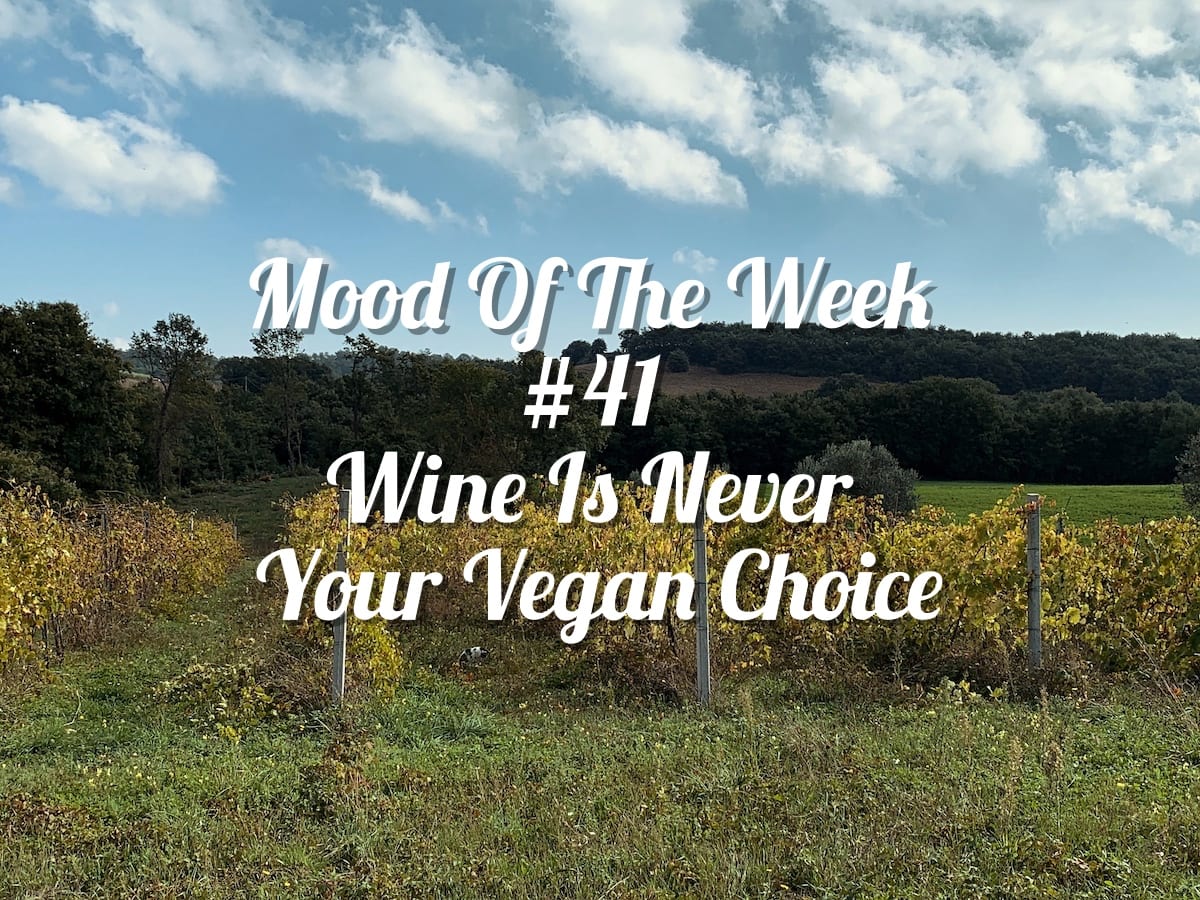 Family Grape Harvest
Saturday we went back to Montefiascone (a town of around 1.5 hour driving from Rome) to help a late grape harvest for family wine making. I've never imagined to have an experience like that (as a city girl all my life), with totally wrong shoes and trousers.
The grapes were so heavy and "pumped"! We get all the healthy ones, whatever white or red, whatever grape types, we all mix them for producing one wine for the family. It's absolutely a new thing for me, as someone can talk a lot about technical stuff when selling the wines…. Some of the red grapes, unfortunately, were consumed, rotten, or full of mold (pretty nasty) – we have to throw. Most of the white are healthy. This hand harvest can let you cut or throw the bad parts, but you can never get rid of those "littles ones", climbing, hiding, crawling around or inside the grapes – spiders, ants, colorful insects, names I can recall or not!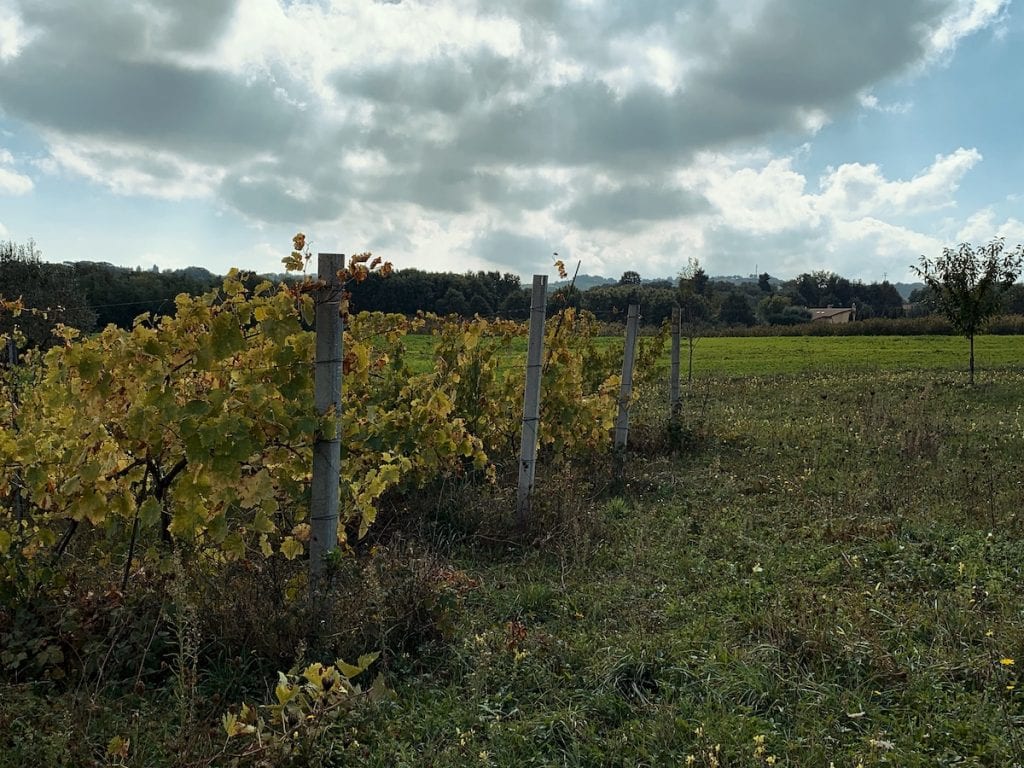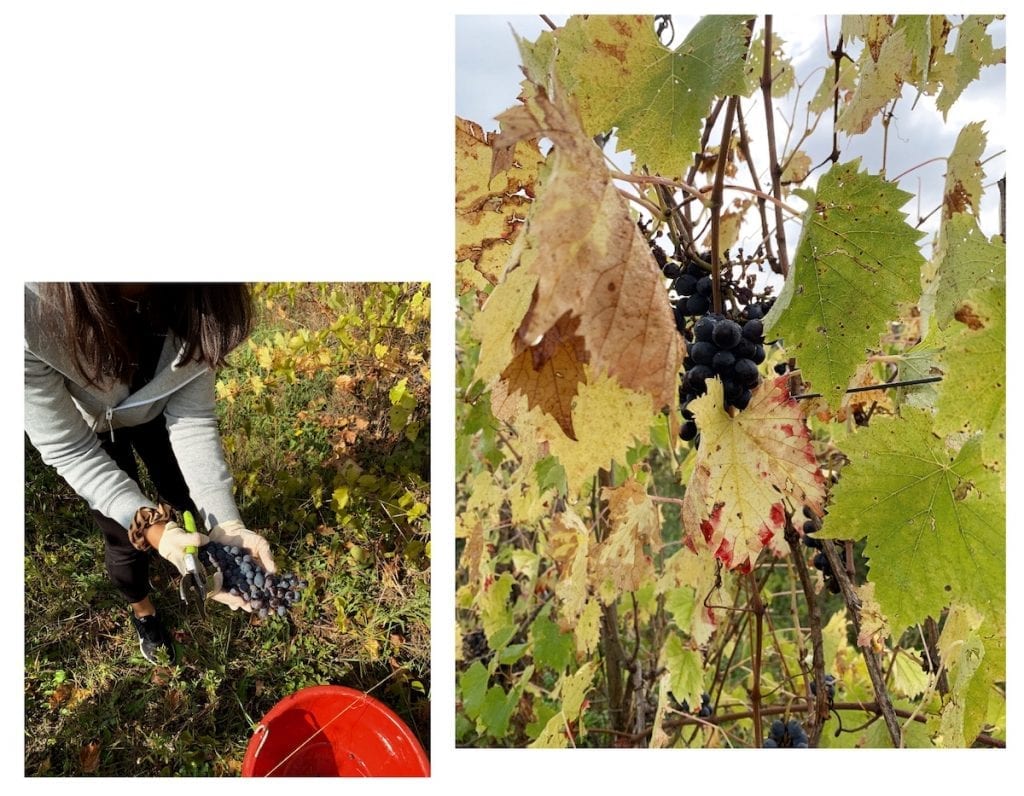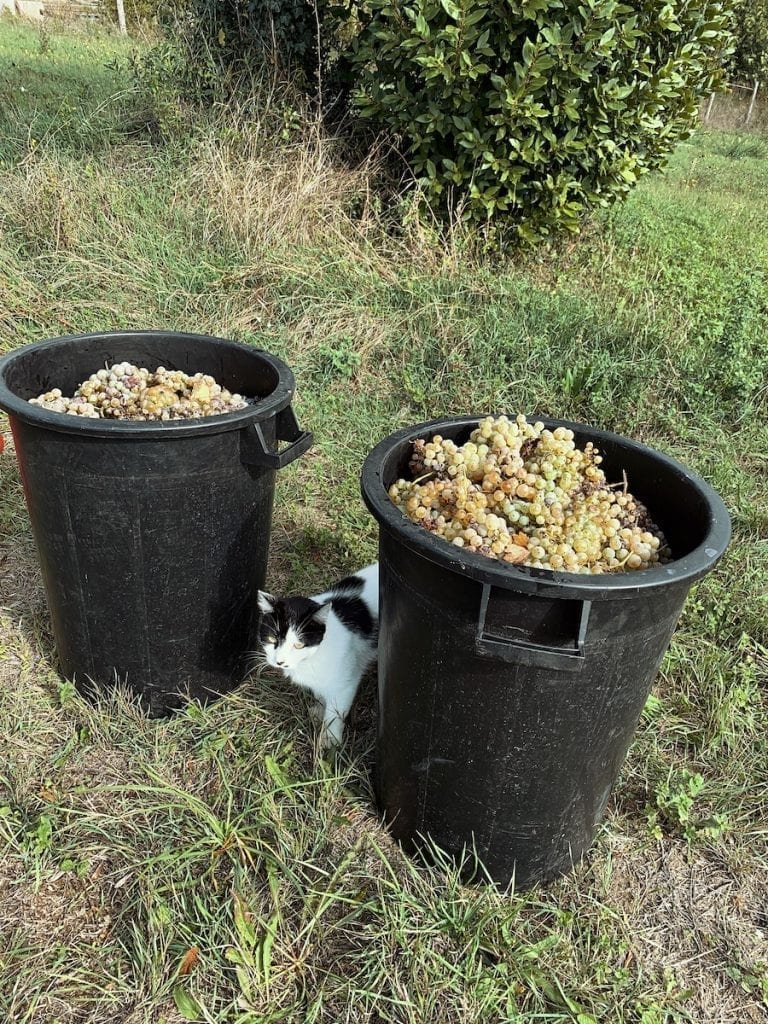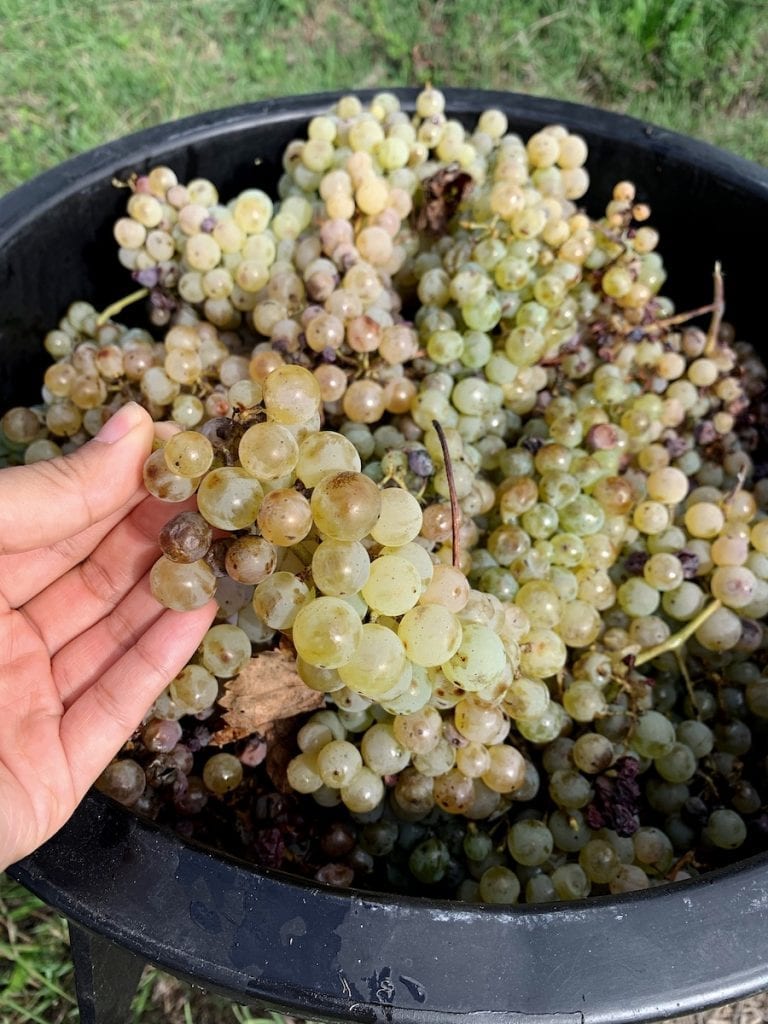 With 5 big buckets, we went home for first pressing, with the manual press machine – the simplest ever, that "break" my fantasy about wine-making.
Wait stop, you recognize right? Yes, there's no washing, no filtering, "rudely" crashed everything including those "little ones" – I even saw some poor spiders with their lines to struggle. All the crashed grapes with juice were moved to bigger bucket, inside the cellar. They will rest there for another week, before the second pressing.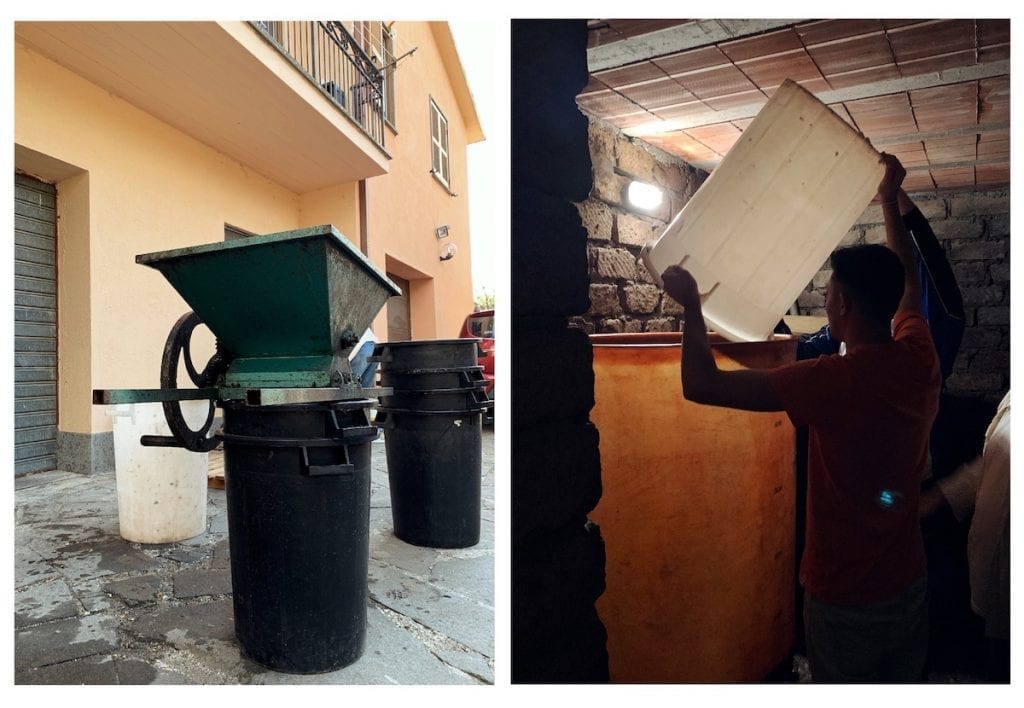 I love the morning in the nature, and to be in the harvest and the pressing for the first time, and very importantly, I clearly recognize now, the wine is never a choice for people who go for vegan!
Do You Know: Montefiascone and its wine?
If you've been familiar with Lazio wine, you might know the story of Est!Est!!Est!!! di Montefiascone. Yes, it's a local white wine (as seeing the average white wine grapes stay much stronger than the reds, I don't have doubt). The basic two white wine grapes are Trebbiano and Malvasia Bianca, and since 1966, Est!Est!!Est!!! has been qualified for DOC.
The name came from a German bishop, in 12th century, who travels to Vatican for a meeting with the Pope. The bishop, is a wine-lover. He sent his servant to travel ahead of him and marked the villages with the best wines. Without a phone – the servant marked "Est" (in Latin language means "There is") on the door of the places where later on, the bishop could follow and found the best wine. Here you are the guessing, Montefiascone's no-name white wine won 3 "Est". When the bishop arrived and tried Montefiascone's white wine, he was so in love with it that he totally forgot the mission of "shake hands" with Papa! There he drunk and drunk, until the last day of his life. In the end, it is a tale, and we cannot 100% certain about it, however, the name and its story continue till nowadays.
You can also find this wine in Rome city easily, so if you are amused, why not have a try?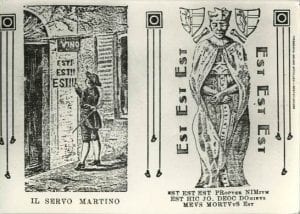 Picture from www.viterboincartolina.it
Read more: Montefiascone Travel Guide: Hidden Gem of Italy Near Rome
***
Via Baccina & Arco Dei Pantani
The other days, unfortunately, I was still busy with different appointments of our Rome apartment. Only one afternoon, successfully escaped for a few hours to continue my wandering in Rome's narrow streets. Starting, always, from Monti, this time was Via Baccina. I went there with a purpose to find Arco Dei Pantani – the famous hidden gem in Rome. It was at the back of Foro dei Augusto, and walking down the cobble street, you can have a time-machine view, where the 2000-year ago columns squeezing modern Rome's neighborhood apart!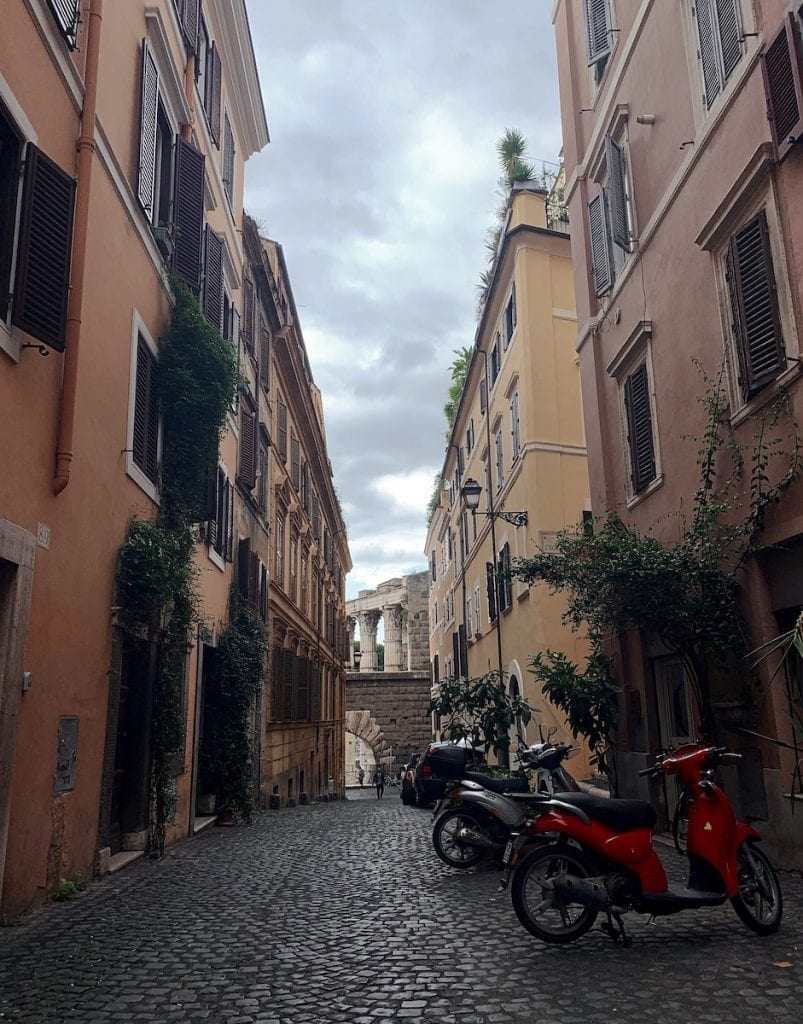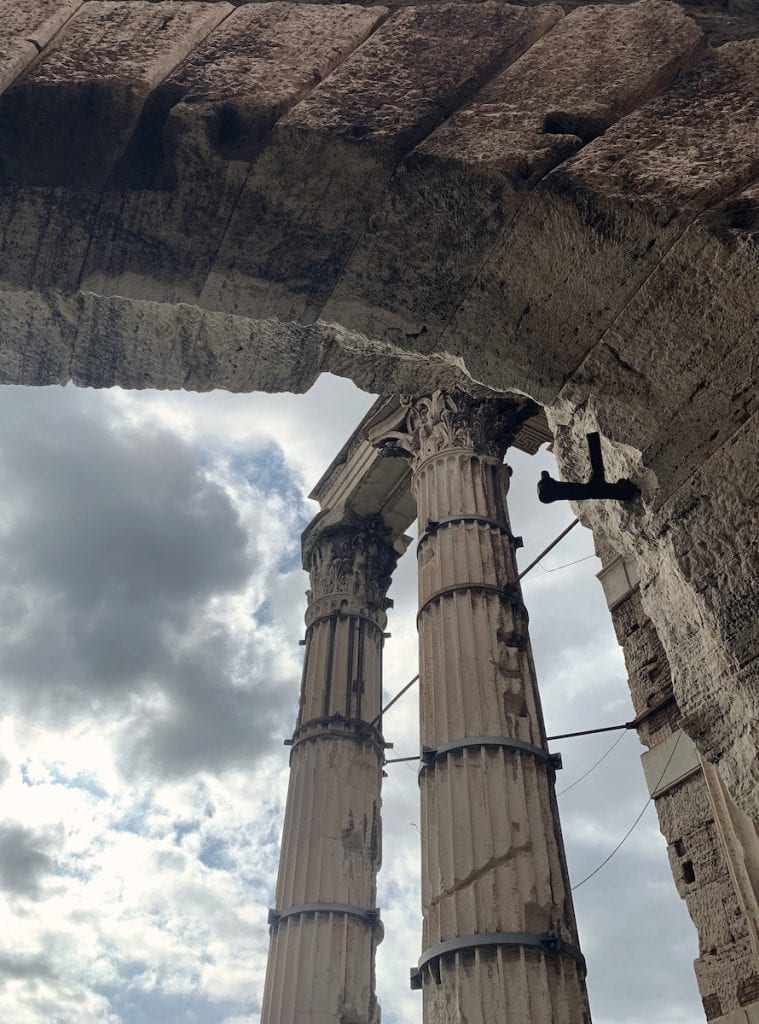 I even discovered another hidden gem on my way! It is by C215 – a French street art artist – who left his work. Where to find Street art in Rome? Easiest ever! Just look out from the train windows. When you're passing Rome Termini, you're literally passing a graffiti gallery – try it, you'll know what I mean! However, not all of them are good enough to be called art, as we shall always find something skillful and meaningful – we can read the artist's mind through their works. I've been following Maupal on Instagram – another street artist left a couple of very interesting works in Rome narrow streets, especially those ones related to the current Italy situation. If you are interested, check it out.
Do You Know: The Wall separates Suburra & Foro?
Nowadays, we admire the beauty of Rome, this eternal city, however, probably 2000 years ago, in the same place where I see Arco del Pantani, people won't have the same opinion.
Why?
The god-like tempos and forums (eg. Foro dei Augusto) were separated from the Suburra (The area near Cavour, you can still see this name everything in the area now!) by the wall, or we say "protected from". Suburra, in Roma Empire time, was the home of lower-class, crowded, complicated, and so dangerous to pass the disaster to Empire's most important "palace", especially when the fire happened. The Great Fire of Rome was recorded in 64AD, and it consumed the whole Rome in 3 days – we also know, Rome was not burned by the great fire for only once time.
The wall, protected, but also left the residence in Suburra, to face everything by themselves.
Read more: My Favorite Rome Neighborhood: Things To Do In Cavour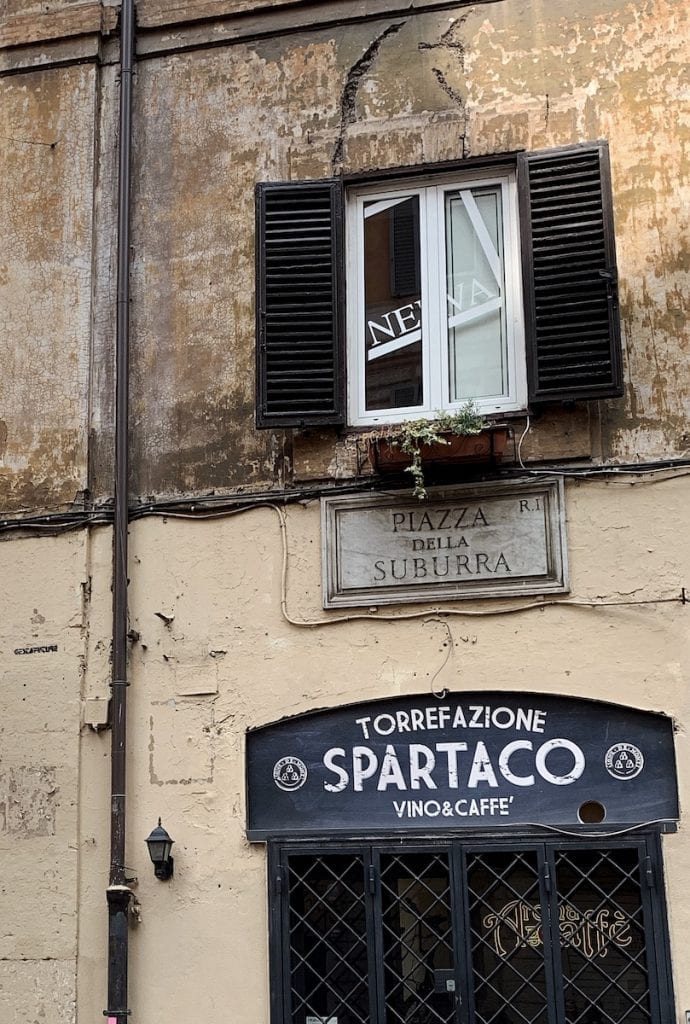 ***
This week's update will end here, I didn't talk about the places to eat or to drink, but more on the culture and personal experience, leave your comment or simply DM me on my IG or FB, let me know whether you would like to read more sharing like this, see you next week!