We went to Ariccia, not for sightseeing, nor for meeting with friends, but for eating and drinking only! You know what?! This is exactly one of the thousand things the Romans love doing in summer. They call it, "Fraschetta Roma" or "Ariccia Fraschette".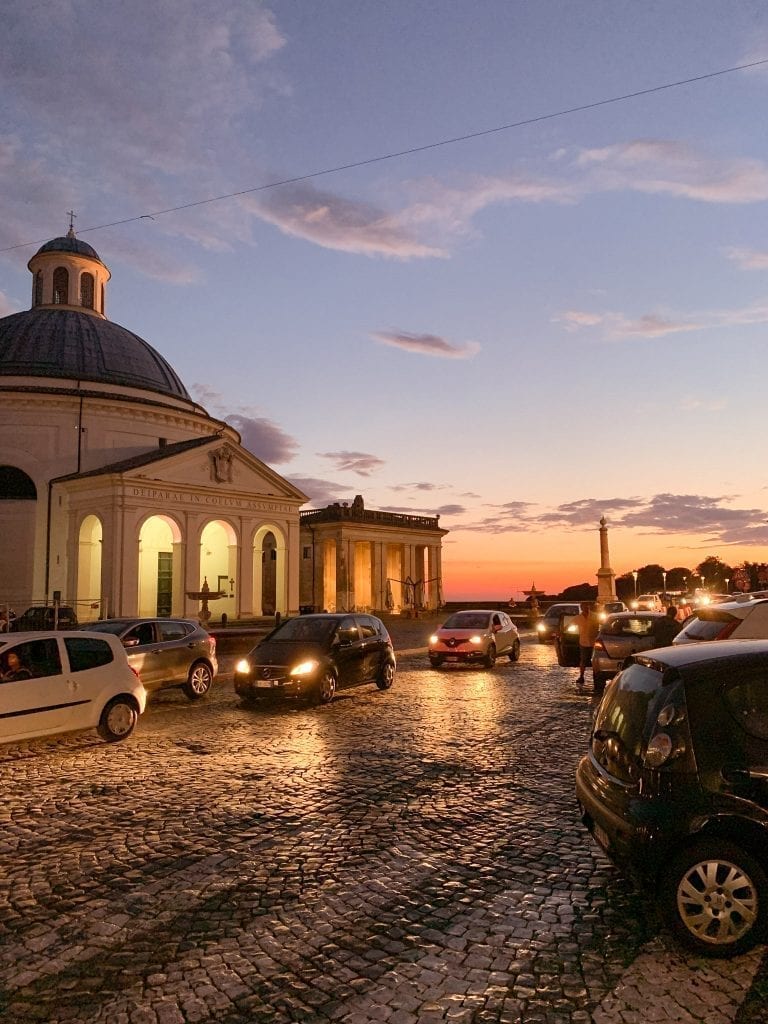 It's my first summer in Rome, before we always spent our summer in Montefisacone, hiding in the Italian's green mountains and along the lake. We moved to Rome last autumn, and finally, I've the chance to try and share with you how the Romans spend their unbearable hot summer days. Escaping the city on a Friday night is always a good idea for the Romans. There's a train running every hour till 9-ish from Roma Termini to Ariccia, and it costs only 2 euros!!! Unbelievable cheap, right? We have NO excuse not to go.
Ariccia is one of the small towns of Castelli Romani. That is the famous Roman "backyard" all year round. Believe me, not only foreigners like me, the Italians, even the Romans are obsessed with the medieval towns, great food, wine, and the chilling countryside lifestyle. Just, they know much better than us, about where to have a good deal.
In summer, Castelli Romani becomes extra popular as it's fresher than Rome city., Even the Pope has his summer house in the area. Castello Gandolfo is the name you should markdown.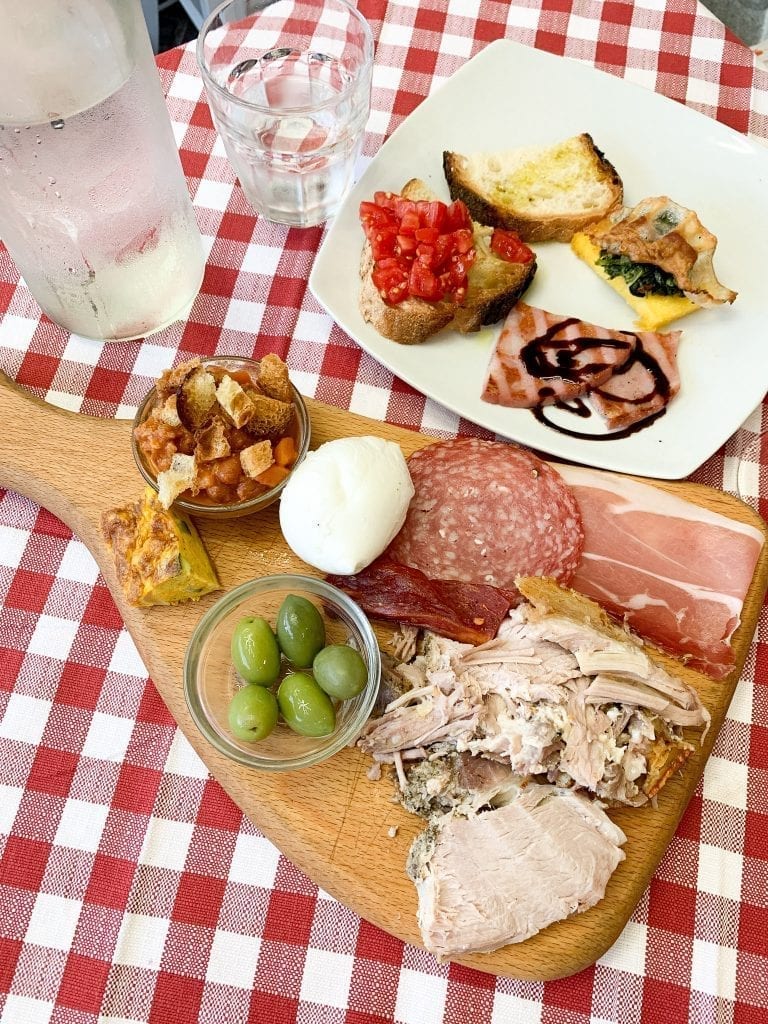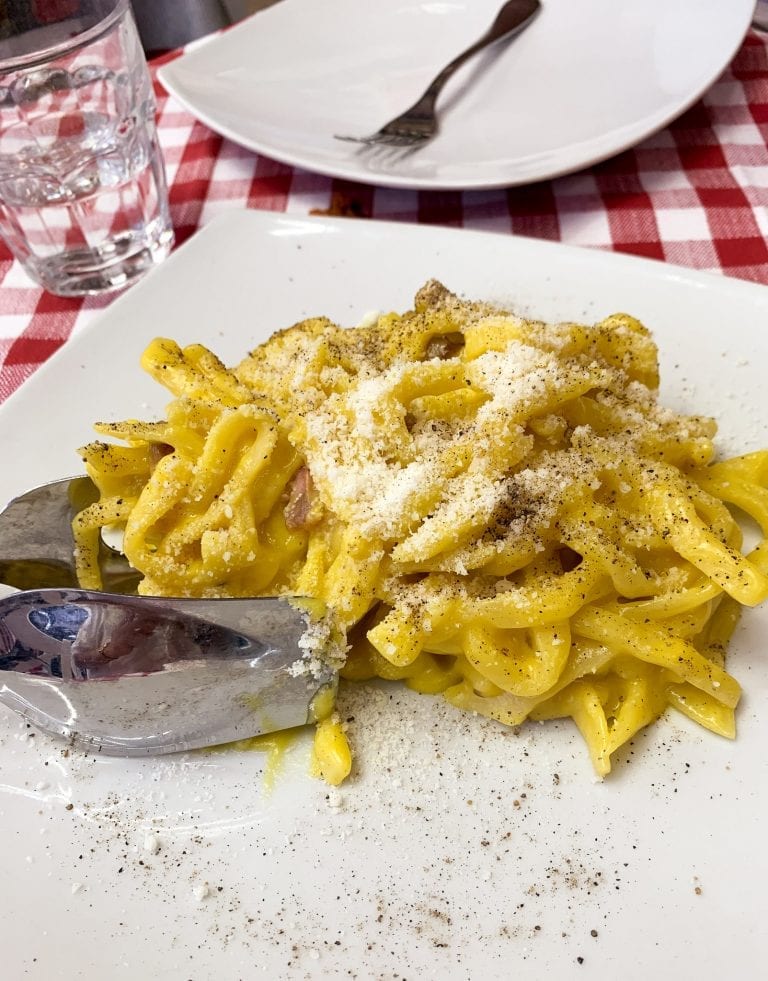 We chose Ariccia because of her reputation of porchetta and fraschette.
Porchetta is the Italian way of doing the suckling pig. In Ariccia, I find their porchetta very similar to the one of Montefisacone. It's prepared with more herbs, more spices, and of course, becomes tastier!
Fraschette is a typical term for a dining style around the Ariccia area. It's similar to Aperitivo, but instead of Spritz, you get wine. Mostly you get red wine, as the basic wine-food-pairing rule of "Meat goes with red, and fish goes with white". We've got green olives, cheese, freshly-made bruschetta, cold cuts, and porchetta for our Ariccia Fraschette night. In most of Aperitivo bars in Rome city center, there might be only cocktails and some chips.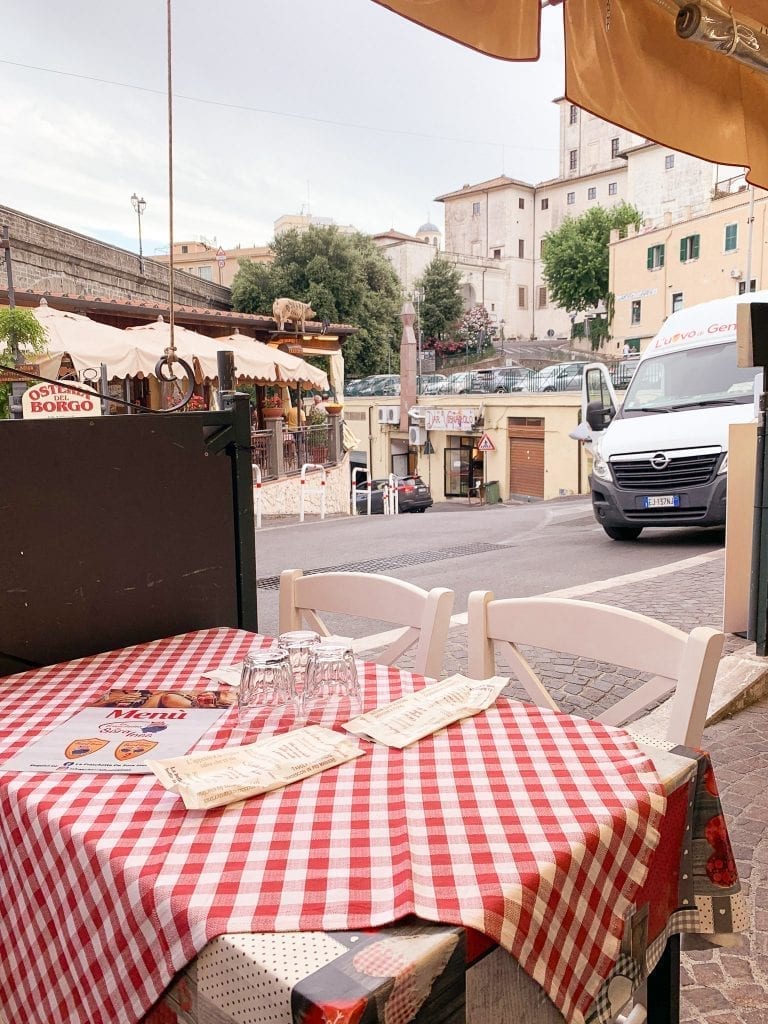 Sitting down at the table with a view through the stone arc, we ate, drunk, and witnessed the epic summer sunset. We love testing different "Vino a Casa" in Italy, which is the basic table wine that comes with at least half-liter size. Our "Vino Rosso" came in a chiller temperature. Lovely! My only experience of the chilled red wine was in Piacenza where a type of sparkling red wine (not Prosecco Rose) is served chilled. Unexpectedly, we were gifted with one of the most beautiful sunsets I've seen in Italy, after our feast. 
The love of late-weekend-night is too obvious in this country! Even sunset in Italy's summer days is as late as 9 or 9.30, by looking at that night's traffic, I doubt Ariccia Fraschette was just started. Hanging out in Ariccia with a private car would make your night more exciting, as you won't be like us, heading back a bit earlier (than the Italians) to catch the last train.
I simply want to plant a memory of Ariccia in your memory in case you are around Rome and want to experience something different. Here is some basic information as well:
The direct train departs from Roma Termini, runs every hour until 9:21 in the night. It costs 2.1 euro only and takes 54 minutes to arrive. The nearest station to Ariccia is, Albano Laziale.
Once getting out of the mini train station, take the stairs to reach up to the little town and Ariccia is on the direction of your right-hand side. Once passing a long bridge, that is Ariccia. The walking takes roughly 15 minutes.
In case, you are not familiar with Roma Termini, here's my guide.
Once passing the bridge, you will see the church and the main square, Palazzo Chigi, of Ariccia. That's the best place for an Italian espresso with a view if you arrive too early. At the back of the square, there's a beautiful small stone street. It leads your view directly to the valley. There, grab a casual drink, if you wish.
Via Borgo S.Rocco is where you will go for Ariccia Fraschette. There's a line of restaurants. Fraschetta Osteria Dar Vignarolo and Osteria n°1 are good, but others are not bad either. The other street to explore is Via dell'Uccelliera, however, due to the pandemic, some restaurants are closed, and you won't find it out on Google. So, go and check is the best way.
Good luck, guys, and I do not doubt that you will find me posting Ariccia on my Instagram story very soon again.