Christmas on 25 December,
Christmas Eve on 24 December,
is almost an every-one-know big thing in a year, not only in western countries, and even become more and more popular in Asian countries which don't have Christmas originally.
Moving to Rome, which is the birth place of Christian society nowadays, I don't have a doubt about the theory that Christmas is born in Rome, however, when I made my little research about Rome and Christmas, it turns out to be really interesting and that I decided to share with you here.
When talking about Christmas and Rome, who comes the first?
Answer is Rome! (Actually very easy to understand)
When the time travels back few hundreds AD, ancient Romans cherished Saturn (to God who fathered Jupiter, or maybe you know his another Greece name, Zeus) as a god of plenty , agriculture, wealth and liberation. As the mythology stories, the time of Saturn was described as Golden Age of plenty and peace.
Romans set their festival for Saturn around 17 December, but as the Julian Calendar, which means, it is held some days around 23 December! (Why? Because the biggest difference between Julian Calendar and our modern Calendar now is that, Julian's doesn't have 366-days-a-year thing every 4 year – They don't have a leap year!)
And they called it, Saturnalia.
On this typically "happy" day, apart from the crazy feast and celebration activities in the whole city such as gambling and non-stop eating and drinking, the slaves were freed and treated as a normal freeman by their masters, for the celebration of liberty! People held their carnival and feast after the ceremony at the Tempo of Saturn, which now is still, partially standing on Roman Forum.
If you want to enjoy Christmas like an ancient Roman, Tempo of Saturn on Roman Forum is where you shall go first.
About the entrance and the ticket of Roman Forum, the simplest way is to combine a trip with Colosseum, check out my last coverage of Colosseum, Palatine, Roman Forum ticket, in my
3 Day Rome Itinerary.
If you are curious about how Saturn looks like, plan a visit to Musei Capitolini, where this marble piece is restored, and it can be dated to the 2nd century AD.
Of course, in Musei Capitolini, there are far more much precious artwork of early Roman era to be explored, taking the example of the story of Rome's birth and the original bronze statue of the Lupa and twin brothers, which I talked a bit about it in my previous writing about
Rome's secret symbols
those you cannot miss out!
Musei Capitolini
Piazza del Campidoglio, 1, 00186 Roma
A Festival For Sacred Worship
As time moves forward, I think it should be the time when finally Christmas appears as a public date, well, again, I was held by another story filling in the period of Roman Empire until the establishment of Christianity by Constantine the Great, who is also the first Roman Emperor to Christianity.
"Mithras" is a God "traveled" all the way from Persian to Greek, and then to Roman Empire. The word "Mithras" was transferred from "Mithra" in Persian, to "Mithras" in Greek and later in Rome. The God "Mithras" is in charge of sun and light as mythology study, but more commonly known is the scene when Mithras killed the sacred bull as one of the signature symbol of Mithraeum, which is also called "Tauroctony". In some art works, Mithras also was assisted by a snake and a dog. Romans believe in this sacrifice as the way to bring out the strength and fertility from the sacred animal (the bull, in this case). Until nowadays, nearly hundreds of the secret underground Mithras temples were discovered in Italy and other cities in Europe, even in London.
So, in Rome, where to make our modern "worship"?
No worries, I've got you a little research and here are 3 easiest options.
The mosaics and frescos are the must-see in this stunning church, however, you probably don't know it is actually a 3-level church which its each level "tells" its time and story. The current church represents Medieval Christian power by Pope Clement I. The medium one was the house of a Roman aristocracy. The last, and the deepest underground level was where the 4th century church with the ancient temple dedicated to Mithras.
Basilica San Clemente
Via Labicana, 95, 00184 Roma
The Bath
(Terme as Italian language) once in Roman Empire for thousands of Roman citizens for free once is the symbol of the great power and intelligent of Aquaduct, now is the church and the museum.
It's an entry-level museum in Rome and it is part of the Rome National Museums which shares a very good deal for the visiting tickets. Check out my previous writing about
Baths of Diocletian.
Baths of Diocletian
Via delle Terme di Diocleziano, 00185 Roma
I have no doubt about the fact that Vatican Museum hold one piece of marble sculpture for Mithras. I just wrote about Vatican Museum and actually, a little guide about Vatican city in my
3 Day Rome Itinerary
.
Vatican Museum
Viale Vaticano, 00165 Roma
A Festival For Christianity and Jesus, Finally!!!
When Emperor Constantine decided to leverage Christianity to himself and the whole Roman empire, finally, the Christmas that everyone knows nowadays, settled on 25 December.
We know, it is the day to celebrate Jesus's birth originally by the many Christians. About the stories about Jesus's birth by Mary, and how the family managed to escape from the baby-hunting from King Herod made by the Romans in 40BC, I don't talk about them here, but I listed out a few locations about Jesus and Maria for who's interested to visit for a different Christmas!
Visit the most beautiful churches about Jesus and Maria in Rome
The Basilica of Santa Maria Maggiore
Santa Maria Maggiore, is one of the main and the most important churches in Rome, and also one of the oldest.
Its interior structure shows its Roman-era "character" while from the square in front of the entrance, it is the perfect example of Medieval architecture. The church nowadays hosts precious paintings, mosaics, and holy relics in its different Chapels, for example, the wood piece of Jesus's birth bed (it is said and believed).
Personally, I visited it quite often as its perfect location between Cavour and Roma Termini, you are welcomed to read my another Rome Itinerary which covers the daytime walk there in Day 3.
Basilica Santa Maria Maggiore
Piazza di S. Maria Maggiore, 42, Roma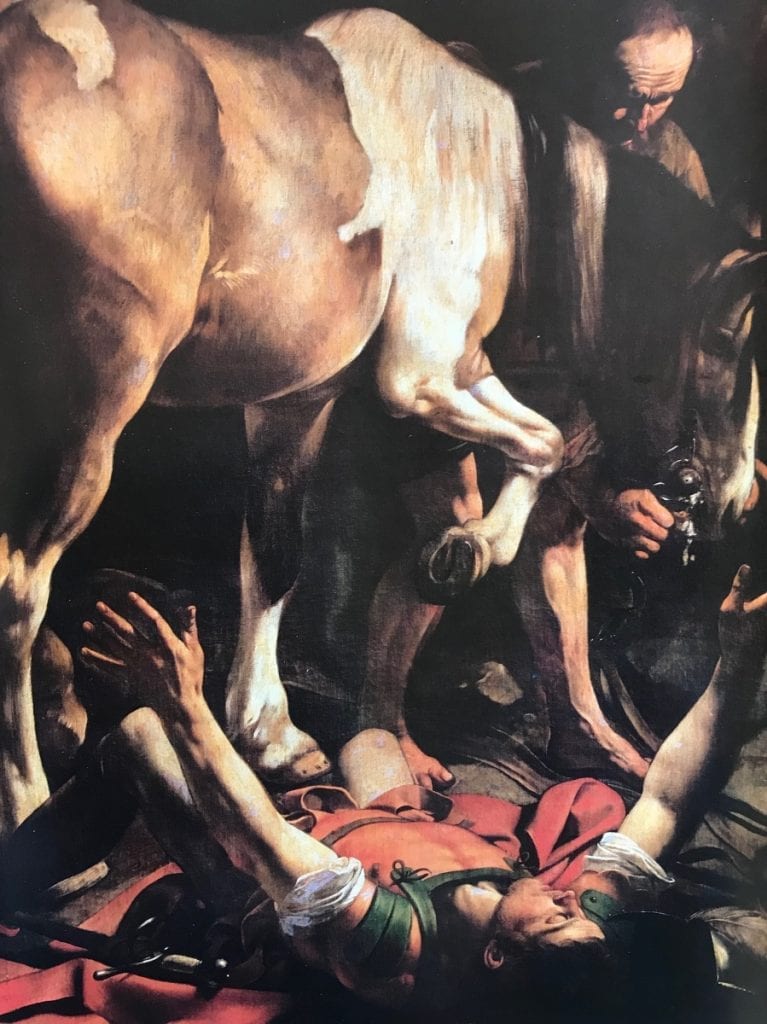 Basilica of Santa Maria de Popolo
Santa Maria de Popolo, is dedicated to Maria and it is hosting a rich collection Renaissance art, including the masterpieces by Caravaggio, Bernini, and Raphael.
Basilica Santa Maria de Popolo
Piazza del Popolo 12, 00187 Roma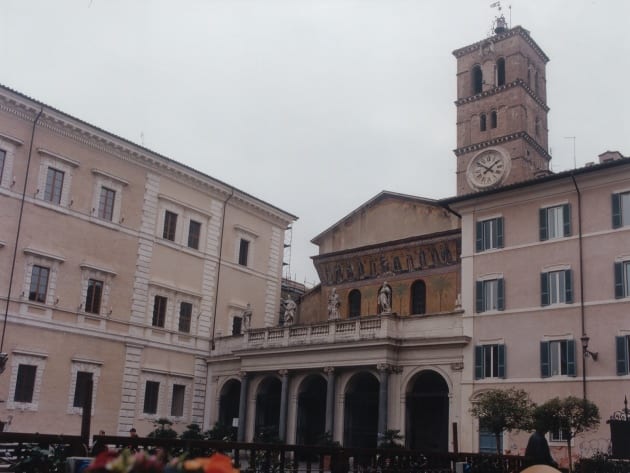 Santa Maria in Trastevere
Santa Maria in Trastevere
, is one of the oldest churches in Rome. The time of its first record can be traced to around 220AD, while, its floor and basic structure was done around 340AD, which was almost 100 years later.
Inside the church, its mosaics and Romanesque columns are highly rated. The ionic capitals from the nave was said to be taken from the nearby Baths of Caracalla.
Santa Maria in Trastevere
Piazza di Santa Maria in Trastevere, 00153 Roma
Santa Maria in Aracoeli,
is right on the peak of Capitoline Hill, where you can combine a walk with the "neighbour" Musei Capitolini.
Before reaching the entrance of the church, you need to climb that 124-step staircases to experience the holy way to the heaven, while the stunning collection and interior part of the church are the best reward to your effort! The most famous in the church is the Santo Bambino of Aracoeli, which is a wooden statue of baby Jesus. It is carved in 15th century with the olive wood coming from Jerusalem.
Santa Maria in Aracoeli
Scala dell'Arce Capitolina, 12, 00186 Roma