Renaissance arts,
Michelangelo and David,
Leather goods,
Golden jewelry...

What are the best keywords for Florence can you list?

Hummm... I'm thinking about boutique shops in Florence.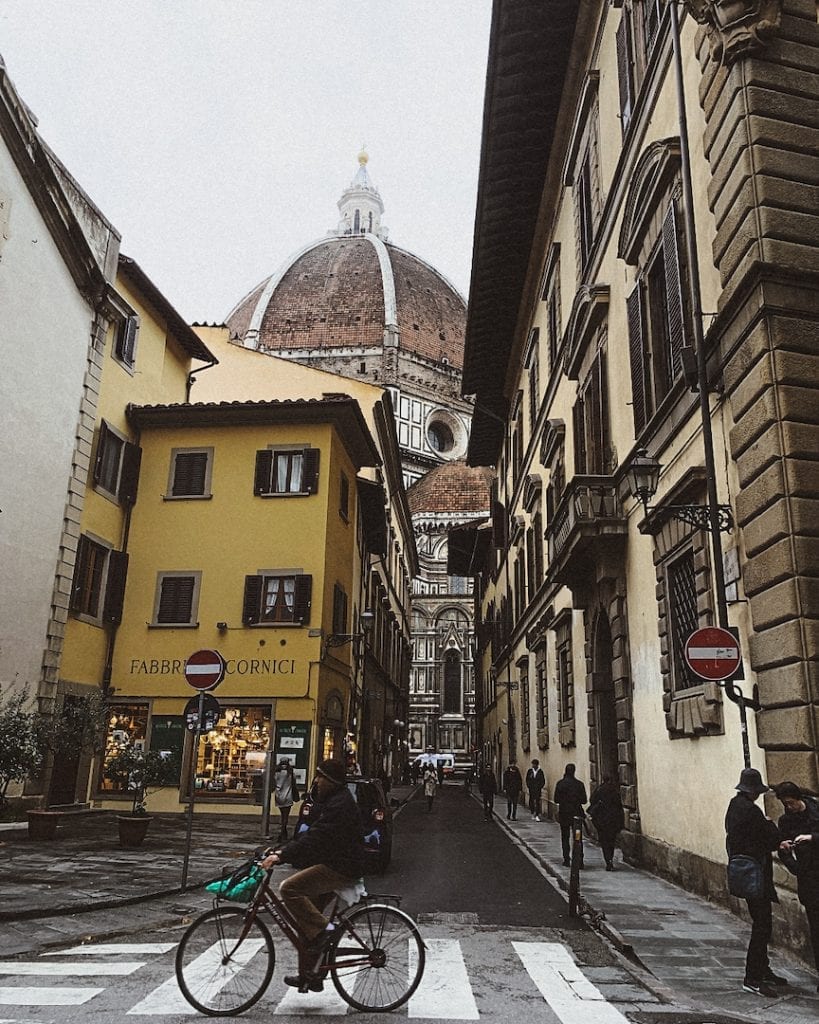 How are you? It's a short break after Christmas and soon we need to prepare for the New Year. Have you bought or received the best festival gifts this year? Today we talk about "Shopping". I've been so impressed by Florence on my last short trip. I consider it the best shopping destination for the fashion lovers, vintage hunters, and handcraft fans. Today I would like to share my favorite boutique shops in Florence with you. 
For all the new readers here, I am writing here with my passion for
history and culture
while connecting my Rome lifestyle and the trips I've been taking over time. As usual, I would like to insert a short cultural part related to the topic. I hope you would enjoy reading this extra part and feel happy to bring this knowledge away.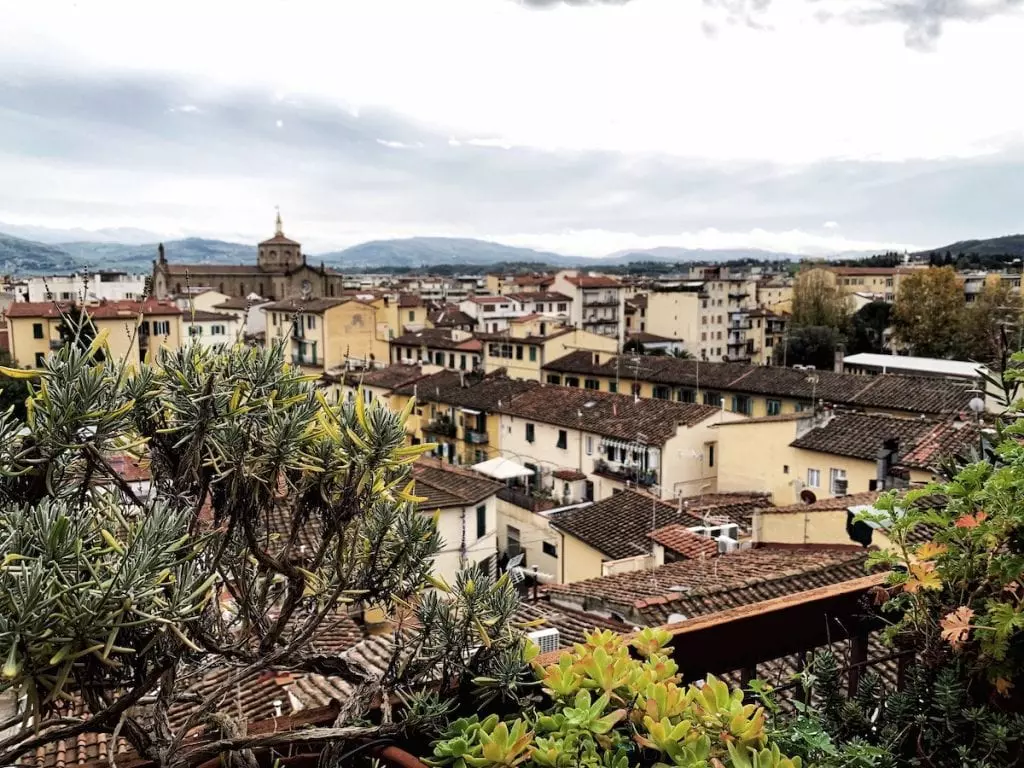 Florence, was once the capital city of Italy, the richest city in Europe, and the beginning of the Renaissance. Its influence is not only the fine art we know today, but the banking and finance industry development, high fashion and handcrafts. Walking around in the city center, you will not feel surprised when a boutique shop pops up at the corner.
Ponte Vecchio, is the "shining gold" above the river Arno. Because it is a famous location where you can find the finest and the most traditional goldsmiths and jewelry? Instead, it is because Ponte Vecchio is the historic symbol of Florence turning into an extremely elegant and rich city. In the 16th century, Ponte Vecchio was officially nominated for the exclusive place for fine handcraft business including goldsmiths, of course, for the reason to push away the butcher business which actually occupied the riverside area for 200 years. The situation is a bit similar to the famous Forum Boario in Rome, where once was occupied by the meat market and the lower-class.
"Florence, A Boutique Paradise"
 I and my friend (who is definitely a "horrible" shopaholic) took our short Florence trip in late November. Yes, we've encountered pouring-style rain on our arrival day. However, as an ideal shopping destination, Florence offered us the perfect rain-escape with The Mall which is the ultimate high-fashion outlet. You can find Gucci, Prada, Ferragamo, Chloe, YSL, Givenchy and so many others I cannot recall now.
Personally, I am a one-special-piece hunter rather than a brand-shopper. I know, this must be a "debatable" thing for most of you. Shopping brands doesn't mean a bad thing, as long as the collections are truly for you!
My love for a specific high-fashion brand is mostly for its promised quality, epic design, and cutting, and the
 designer's 
concept hid in the textile. But we all know, not a brand has one designer forever, and not a designer remains his concept unchanged. The 10-years-old me is totally different version of me right now, why? Because, we change every day, as we are growing, collecting experience, adapting to different environments. That's why I always prefer to search for a perfect piece, which how much it suits me would be 10 times more important than it is from which fashion house.
For who is on the same page as me, I have the list of the best boutique shops in Florence for you!
Street Doing Vintage Couture
"...all the tiny "gaps" are surely stuffed by something from 60s to 90s made-in-Italy, which probably came from grandma's personal collection!"​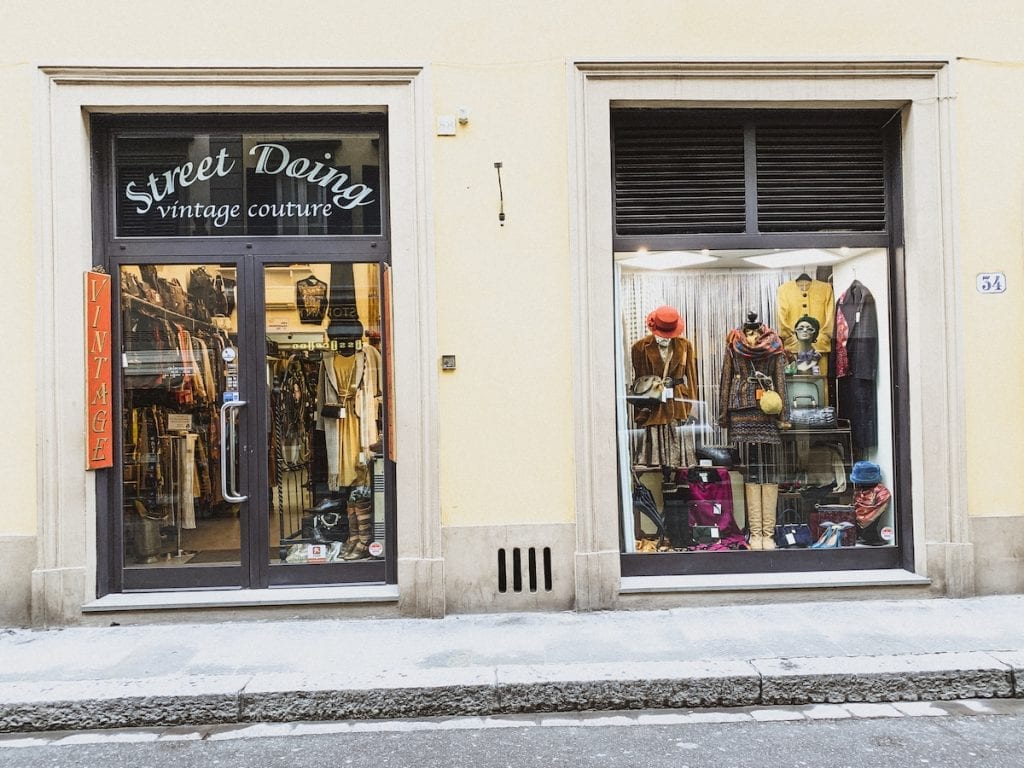 My favorite vintage shopping location in this trip is Street Doing Vintage Couture, where we probably spent more than one hour there.
As most of Italian boutiques, you would be surprised when discovering a spacious vintage "jungle" after entering from the "piccola" door. This "jungle" vertically expands from the finest and the most special collection of the leather goods and the winter clothes, to a space decorated by the cute Prada cat heels of 90s, the royal dresses of 80s. Then you look up, there is the owner's favorite Louis Vuitton collection. Of course, all the tiny "gaps" are surely stuffed by something from 60s to 90s made-in-Italy, which probably came from grandma's wardrobe! So, if you are a vintage lover or you want something special, this needs to be on your radar of the best boutique shops in Florence!
The girls in the shop were as lovely as the owner. The only tip I can give you is planning some time to search as a gold-hunter. Don't forget to enjoy a bargain with the owner.
Street Doing Vintage Couture
Address: Via dei Servi, 88/r, 50122 Florence
"Femininity and romantic nature is where I find..."
Femininity and romantic nature is where I find in Nadine.
The first time I discovered them was a few years ago, in a summer mid-day hour. When I walked along the Arno, the elegant shop attracted me immediately. This was the short moment how "we" encountered.
The biggest love of Nadine is their cute jewellery, from necklaces to rings. They also keep a good collection of fine cotton and silk based clothes.  If you search "boutique shops in Florence" on Google, probably you will come across this one.
Boutique Nadine
Address: Lungarno degli Acciaiuoli, 22/red, 50123 Florence
"The owner is typical Italian man, and probably Tuscany man style, which means, don't get offended if he makes a bad joke with you..."
Crossing Ponte Vecchio, there is a small zone famous of leather goods before reaching Piazza Pitti. Among them, we found Rive Gauche, a leather shoe maker from 1976.
The whole shop is a showroom of red-brownish leather shoes which makes it stand out easily in the area. I definitely recommend this shop if you are searching for a pair of fine Italian leather shoes, which is classic but not old-fashion and with a long-lasting quality. It is for both ladies and gentlemen, so boutique shops in Florence slash shoes hunting? Check out this one!
The owner is a typical Italian man, and probably a classic Tuscany man too. It means, don't get offended if he makes a bad joke with you. The only downside of this shop is they don't offer any tax-refund service. 
Rive Gauche
Address: Via de' Guicciardini, 31/R, 50125 Florence
"Beautiful! Beautiful! Handcrafted boutique gave us an illusion of Wonderland!..."
Beautiful! Beautiful! Handcrafted boutique gave us an illusion of Wonderland!
Stationeries for kids and adults, leather-cover notebooks and crafted postcards, the most precious hand-painted ancient maps of Italian cities, and many more, were all what we find super attracting. Comparing to the gift and souvenir stands in the crowded city centre, I would prefer this one as my go-to option. 
It is not a place where you can find one euro souvenir, however, as I mentioned from the beginning, quality and something pleasing would definitely weight more for me. 
Signum Shops
L.no Archibusieri 14/R, Florence
B.go de Greci 40r
Via de Benci, 29/r-31/r