Hey, it's the Week 3 of Quarantine in Rome here. How are you? I've been taking a break to think about the topics for my blog. If you are following a couple of bloggers/travel bloggers, you might have noticed the big change of the topics recently. Now, we are seeing more home productivity and self-care topics instead of travel bucketlists or travel itineraries. Guys, believe me, I have tons of books, movies, home workout recommendations for you. Plus, I always want to talk more about Rome and local culture and history. But, today I just want to talk about girl's stuff – The Italian Lifestyle! Let's talk about Italian beauty. How do Italian women dress up? What is the female Italian style? How to dress like an Italian beauty?
If you are doing home de-clustering, wardrobe refreshing, or making a travel plan to Italy (hoping we will be all safe to go around again!), you might consider a quick read of today's sharing. Just like I've talked about
how to drink coffee like Italians
, we could also have fun while dressing like an Italian woman in Italy.
Please note that this post contains affiliate links and any sales made through such links will reward me a small commission – at no extra cost for you. That's just the beauty of affiliate marketing and you can always drop me an email for further information or simply refer to Privacy Policy terms here.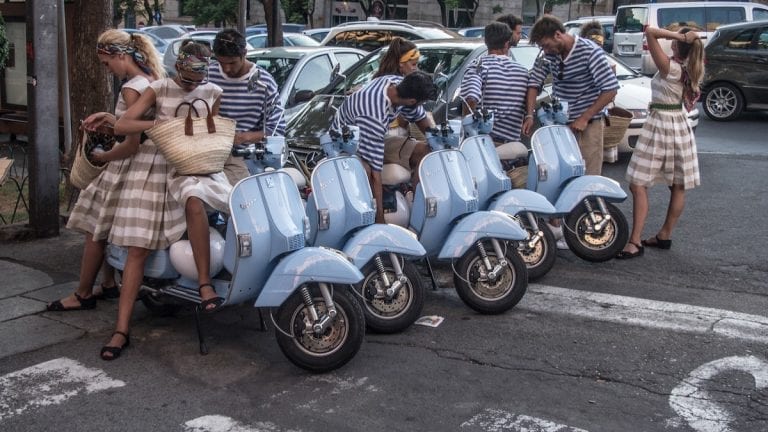 There is a saying in Italian, "La Bella Figure"
"La Bella Figure" literally means  "a beautiful style".
You might notice that the Italian girls dress quite differently from their neighbors, eg. the famous French girls. In short, I think the Italian beauties dress up by sticking (or respecting) to 3 basic "rules".
"Sexy" might be a sensitive word for many cultures, but for the Italians, it's a pretty positive word.
Instead of beautiful ("Bella" in the Italian language), I also hear a lot of compliments from the word "sexy". It doesn't mean over-sexy, but only means a way to show a woman's self-confidence and natural beauty. I remember an old Italian movie by Sophia Loren,
Yesterday, Today and Tomorrow
. Part 2 of the movie, which is about a short story of the wife of a rich man from Milan and her lover. The movie scene shows exactly the Italian way of being sexy. Or, if you are looking for an example closer to our time?
Malena
is the one, and I believe many of you have known this famous movie already. It's such a perfect movie mixing with sex, love but something so powerful but unspeakable. Considering it's a story set on Sicily, you can also consider a Malena-style when traveling to Sicily (where I really plan to go this summer with two couples' weddings on a raw. Finger cross, we all can make it).
When I first moved to Italy, I've been very impressed by the way how the Italian women dress. Most of them wear in black, but they are never shy of putting on something "big". They like solid and sharp colors, for example, red, pink and yellow. Monochrome is not that popular here, as they mix up different colors or use a lot of pattern prints. The other dramatic way, the Italian women love to play around, is the fabric and the cutting to highlight their S-shape (again we come back to the "sexy" point).
I just mentioned the fabric and the cutting above, and actually, I think those two are also
the way how the Italian women announce their feminism power
. I still remember that last winter when I went shopping with Luigi's mom in
Montefiascone
. The girl in the shop wore a pair of black wide-leg trousers with very straight and flawless texture. It looked super professional, sleek and stylish on her, especially when she walked around. She told me it was a vintage find. I also notice many Italian women love their very traditional camicie (Italian shirts). That type of shirts are made of cotton with tailor cutting, and normally they are really fit and less-stretchable. To be honest, you won't feel super comfortable in these shirts.
So, how to dress like an Italian beauty?
I'm following a few Italian fashion influencers, bloggers, YouTubers. So, I simply go to their pages and search for inspiration. My finds are interesting!
1. You can be simple, monochrome, minimalism, but they like it very fit.
Take the Italian fashion editor, Giovanna Engelbert's recent outfit. She wears a nude monochrome casual outfit (Left), but she's got her long legs secretly highlighted by that pair of wide-leg jeans.
That's not enough! She's got herself another matching belt, so that the lower-body looks even longer! She played the same trick over and over again, especially when she puts on a simple monochrome outfit (Right). She always "tightens up" her waist line.  The "fit" here means not only fitting design, but also adjust little details to show the female shape! 
The way of looking sexy can be very "creative". The queen of the sexy style I've found is this one (Left). It is with some pink inside the black, transparent, and shows the perfect female S-shape. Moreover, the model has a typical Italian women's clear hair style with a bun and she wears a pair of black sun glasses with the cat-eye design! The Italian women love something semi-transparent with drama-like design. I found an example (Middle) from Nicole Ballaridin's
Instagram
. Body suit (Right) and tights are also two tools the Italian women use a lot to create the sexy look. 
However, how much "sexy" do you look, is always the key. They don't want too much. One very simple tip is, showing your favorite body part with full confidence, but never showing too much.
3. Never be afraid of playing with strong colors
I like this look by
Eleonora Carisi
a lot
(saved in

my Instgram

and pinned to my Pinterest)
. That shade of strong and bright red (Left) is so much eye-catching, right?
When it is the vacation situation, they will even pull on more colors
. Normally, they are bright yellow, navy blue, red, orange, pink and all floral colors those you can find in Italian's countryside. Clara Nanut, the founder of
Gourmode
, showed a good example of summer vacation outfit (Middle). Even when they dress to work, a shade of pink (Right) is what they do choose. 
4. Use patterns and prints to create drama
Well, personally, I love the Hawaii-style floral prints, especially I go to a sea vacation. Giovanna has a short floral shirt (Left) matching to my imagination exactly! They play with the game of patterns and prints more often while traveling. Stripe, square, leopard? (Middle & Right) Which one you like? 
5. "Luxury" textile to form up a girlboss power look
I find this look from Eleonora (Left) interesting. If we imagine it's all in black and with normal suite texture, she must look like a girl working in the bank (except the dress length would be longer till the knees). However, the suite she had are made with silky textile which looks very luxury and sheer. I give a thumb-up definitely. Being "bossy" is not a compromise of being fashionable and feminine like how Giovanna did (Right).
6. Adding a little special effect into your "boring" basics
Their wardrobe always has one or two pieces of canival-like items. They are either very shiny in colors or with special textures, or with the very unqiue designs like those from the back stage. Normally, the Italian women will only wear sexy cocktail dresses or those stage-effect pieces in the nights or to the special parties, but some of them do the impressive experiments in the day time. Like Giovanna, her looks (Left) is very interesting and inspiring. Clara's fringe (Right) under her blazer is definitely amazing (just I doubt I would do the same). Indeed, this last point is more inspiring than practicing. I feel extremely difficult to experiment something too shiny. 
I think this is so far, what I observed and believe. Of course, I am not a fashion blogger, not have seen how all Italian women dress up, considering different ages, professionals, and regions-of-staying. However, I hope you enjoy this post, and I'm glad to discuss on this topic if you would leave a comment below.