"Pasta-Pizza, Pizza-Pasta", this is the "slogan" of everyone who's visiting Rome. I've asked in

my Instagram

stories about "what in Rome do you want to read from my blog?". There is a majority of food-related requests. A few days ago, when I was searching for the famous Italian actress Sophia Loren's famous quotes, I came across one of her quotes about Spaghetti and pasta-attitude, and this interesting black-and-white photo with a topic about "
6 Things Italian Women Can Teach Us About Food
". I find both of them very inspiring and profound. So I decided to share "how Italians eat pasta everyday" with you, and a short list of light pasta dishes for you to keep a light pasta diet in Rome.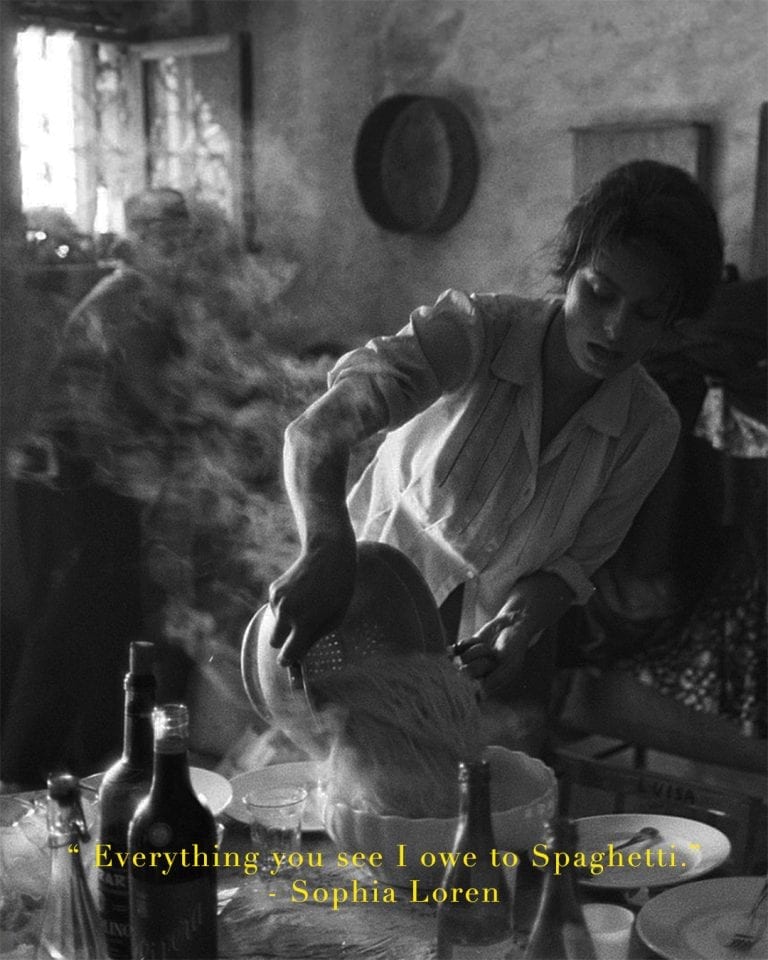 Sophia Loren said, "Everything you see I owe to Spaghetti".
Yes, pasta is really a necessary part of every Italians' daily life.
I've lived in Italy for more than one year. The one-year includes living with the most traditional Italian family (Luigi's family) in the hill-town near Rome (Montefiascone) for a couple of months and traveling from south to north of Italy many times. I've met so many different Italians (believe me, they could be very different, city by city) but I can always find a common fact of them – Eating Pasta!
In Luigi's family, we have a simple pasta dish made by his mom for every lunch. His mom goes to buy fresh ingredients every morning for the pasta, and she also loves making her own ragu sauce. Normally she cooks and prepares those better-than-restaurant ragu in the afternoon hours. It can take hours. Then she stores them in the glass jars and seals the jars completely by cooking them in the boiling water. That's a very traditional way to make your pasta sauce with a comparatively long shelf-life at home by an Italian mama.
Go big or go home? No. It's "Go fresh, local and simple"!
Pasta is Italian's nature being. They don't think about the carb when eating pasta. On the opposite side, they will surely feel empty without pasta in a day.  
However, we might have a little misunderstanding about Italian pasta before we travel to Italy. Or even, when we are in the Italian tourist cities, there is still a chance for us to mistake the Italian concept of pasta, simply because we are tourists!
The Italians don't have the attitude of "Go big or go home" towards their pasta. Instead, I summarize the proper Italian's pasta-attitude as "Go fresh, local and simple". And that is exactly the secret how they can eat pasta everyday, and how we can keep a light pasta diet in Rome!
When I visited different regions or even small towns in Italy, I found that different regions have their own pasta types and pasta recipes. 
The Italians make their pasta dish only based on what they grow and harvest from their lands.
 Fresh and seasonable ingredients decide what pasta we will see from a menu.
Have you ever tried Tagliatelle with ragu sauce and Spaghetti with seafood in Rome? What if I tell you neither of them are the original dishes of Rome?
Yes, in the big cities of Italy, you might not find "local" food easily, however, there is an absolute advantage. All dishes whatever local or non-local, are made with all locally-sourced ingredients in Italy. Simply because the Italians "stubbornly" refuse to breach an original recipe of a pasta dish. To cook a certain pasta dish, they have to use those traditional ingredients as stated in their oldest and most traditional recipe "bible"! The "Go big or go home" attitude can be applied perfectly here.
One time, when I tried to substitute a big tomato to a cherry tomato for our pasta-making, Luigi banned me without a question. :3
"Less is more". All Italians believe in it. So do I.
In Rome, you might find many pasta dishes with a heavy sauce, but it is only because those are the most famous ones and highly ranked by the tourists. However, the locals love the simple pasta dishes like Spaghetti with oil and garlic or Spaghetti with fresh tomato and basil.
Also, many Italians eat pasta for lunch only, and when it is a pasta day, they skip starter and second dish. It's just pasta and a glass of wine. What can be more simple than that?
My favorite go-to pasta types in Rome
Following the rule of "Go fresh, local and simple", my favorite go-to pasta types in Rome is mainly about Spaghetti and Tonnarelli with different ingredients. I'm really not a short-pasta person…
So, if you want to have a light pasta diet in Rome, search those names on the menus:
Spaghetti ai Frutti di Mare (Mixed seafood): mixed of small seafood (clams, mussels, shrimps, etc) cooked in the tomato sauce lightly.
Spaghetti Aglio e Olio (Garlic and Olive oil): You are not allergic to garlic (I am, but I cannot resist this dish, maybe once a few months), it is the simplest pasta dish ever! Sometimes, the chefs put little Italian chili flakes to spice up the taste. You will not disappoint.
Spaghetti alle Vongole (Clams): Spaghetti is cooked with clams and a little white wine. This is a dish literally from the Italian sea!
Spaghetti al Pomodoro Fresco e Basilico (Fresh tomato and basil): There are two versions of this pasta dish. Some restaurants make it with more red sauce (tomato sauce), others have an almost-white version (very little sauce). Personally, if you want to go light, I suggest the later version.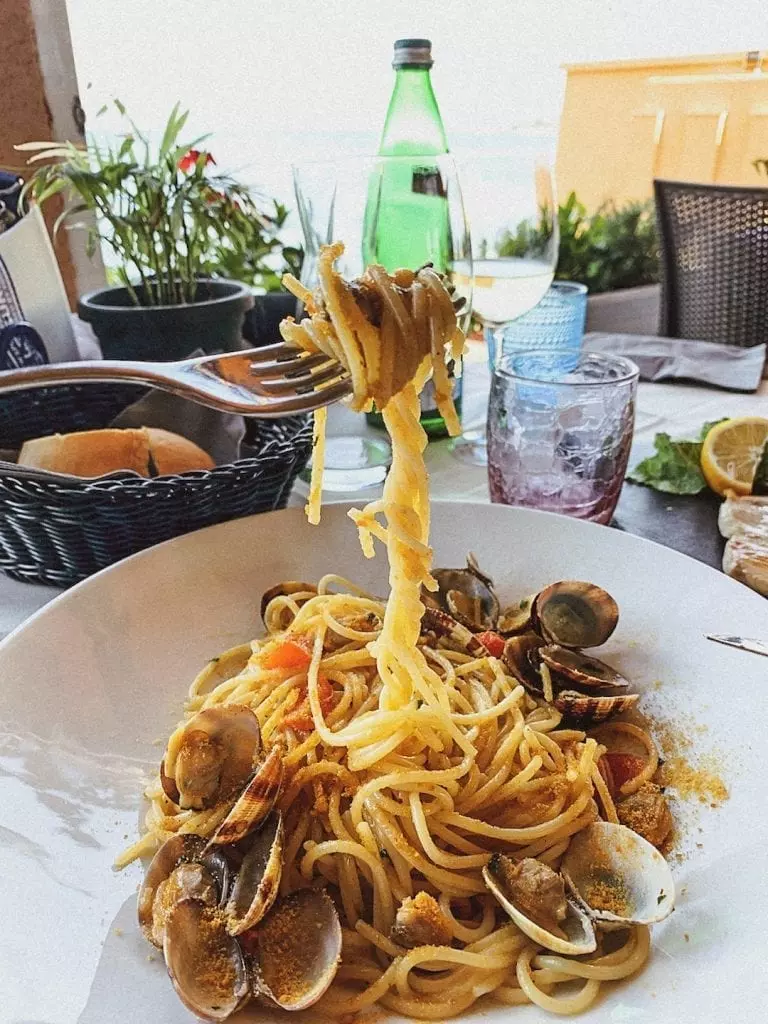 Approved by me, the go-to pasta restaurants in Rome
I don't have the chance to hunt down those Rome restaurants on my wish list now, however, I do have some to recommend. It is good for a simple lunch with a pasta dish, plus an appetizer or a small dessert. Or, if you are visiting Rome solo, these restaurants are great for you.
Tagliatelle con Ragu di Polpo by Civico 4
It's one ever-green pasta dish on their daily menu. Civico 4 is in Cavour neighborhood, and they offer light lunch (4 or 5 options on the daily menu), all-day coffee and cute apperitivo.
Tagliatelle is a type of thin, wide, egg pasta. It is originally from the Piedmont region in Italy. However, they make a twist with seafood-inspired sauce. Polpo means octopus, and this octopus sauce is definitely an idea from Rome's neighbor, Naples.
The pasta is simple with basically two ingredients: octopus and tomato (sauce). Egg pasta is always fresh and with more chewy. I love it.
Gnocchetti Sardi con Pancetta e Menta by Civico 4
Yes, I really love this bistro. You got it!
Gnocchetti has a shell-like cute shape and it's originally a Sardinia pasta. It's like partially open so it can hold the sauce and therefore tastes good. Pancetta is bacon and menta is mint. They create a delicious balance in this pasta dish by those two ingredients without add any other sauce.
Tonnarelli Al Ragu di Coniglio e Porcini by Gli Angeletti
Tonnarelli is a common pasta in Rome because we have Carbonara and Cacio e Pepe with this pasta type too. If it's not a super-hot day in Rome, I recommend this version with the ragu of minced rabbit meat (Coniglio) and porcini mushrooms. It's a very earthy dish. Believe me, once you have porcini mushroom, you have a great dish!
I found it in Gli Angeletti in Cavour. In the spring and summer seasons, they are the best place to enjoy this beautiful floral neighborhood in Rome.
Spaghetti con Salmone by Caffe delle Esposizioni
This is a fresh daily pasta by Caffe delle Esposizioni, which is a secret garden bistro and café inside the Palazzo and Museum Esposizioni.
Originally, the recipe for this pasta dish is from Milan or north Italy. Instead of using olive oil to prepare the dish, they use butter. So, there are only three major ingredients which are salmon, butter and black pepper. This was another simplest and yummiest dish I've tried in Rome so far, considering a situation of being solo and eating light.