Last autumn, we caught a weekend and "escaped" to Hamburg. We've checked out a couple of major landmarks of Hamburg and its busy and vivid city center. Of course, we didn't miss the typical Hamburg and German food. We even managed to enjoy a rainy day with our virgin chocolate museum experience. However, the most impressive experience was on our arrival night, when we checked in 25Hours Hotel in Hamburg (25Hours Number One Hamburg). Today, I'm going to share our home-away stay in this cool hotel with you.
Please note that this post contains affiliate links and any sales made through such links will reward me a small commission – at no extra cost for you. That's just the beauty of affiliate marketing and you can always drop me an email for further information or simply refer to Privacy Policy terms here.
Location-wise, it was not "convenient", but we love it! Out from S-Bahn Station Bahrenfeld, we walked for about 10-15 minutes to reach it. On the way, we had the chance to glimpse the real neighborhood of Hamburg. We saw lovely small houses, clean streets covered with the rain-socked autumn leaves. I especially enjoyed the little cobble-stone road in front of the train station. The leaves and the fallen chestnut made such a natural feeling in this modern industrialized German city.
It's not a traditional hotel
Founded with a new concept, 25Hours hotel group is surely not going in a traditional way. The Hamburg one we've stayed is 25Hours Number One Hamburg. Why Number One? Because it is truly the first hotel of this successful cool hotel group.
Once entered the hotel lobby, I immediately locked my eyes on their souvenir corner which had many interesting fun designs. Home decoration, Hamburg souvenir, personal care products, designed maps… I cannot name them all. Fun, design, and community were probably the key messages this hotel wanted to share.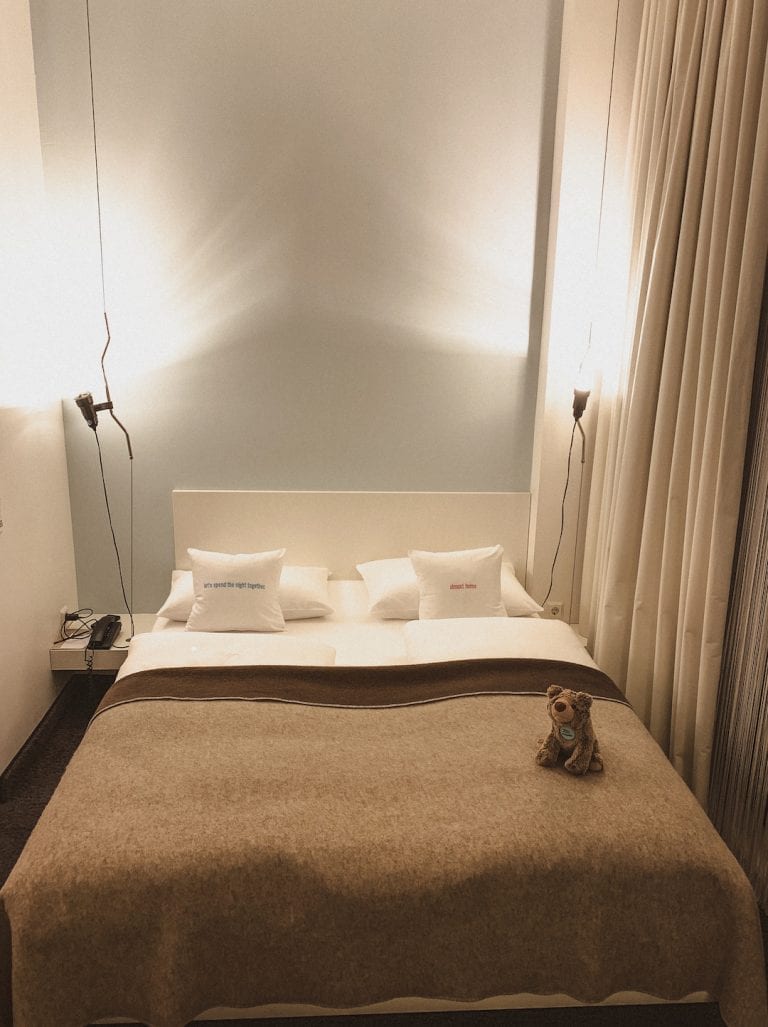 Our Room was not traditionally big, but it had a very lovely view from our balcony. Actually, the balcony was connected to other rooms. So, hi neighbors.
From there, we can have a view of the whole neighborhood and at early night, spotted a few seconds of the normal German family's dinner.
The balcony was also a perfect spot to sit around. When the typical Hamburg rainy weather was absent, I took the chance to sit there with their Companion (I will talk about it later).
Most of the European hotels don't offer toilettes but 25Hours does, and they do in a different way. "Stop the water while using me" – surely I did. I even checked out this brand's Instagram to learn more about its concept. Interestingly, I found them also in the little gift shop corner at the hotel lobby.
It's not a fashionable bag, but I wouldn't bother to use it as the concept was really cool. It was a Freitag cross-body bag, hanging on the wall in our hotel room. I guess not many hotels offer free bags nowadays? Somehow, it gave me a home-stay feeling.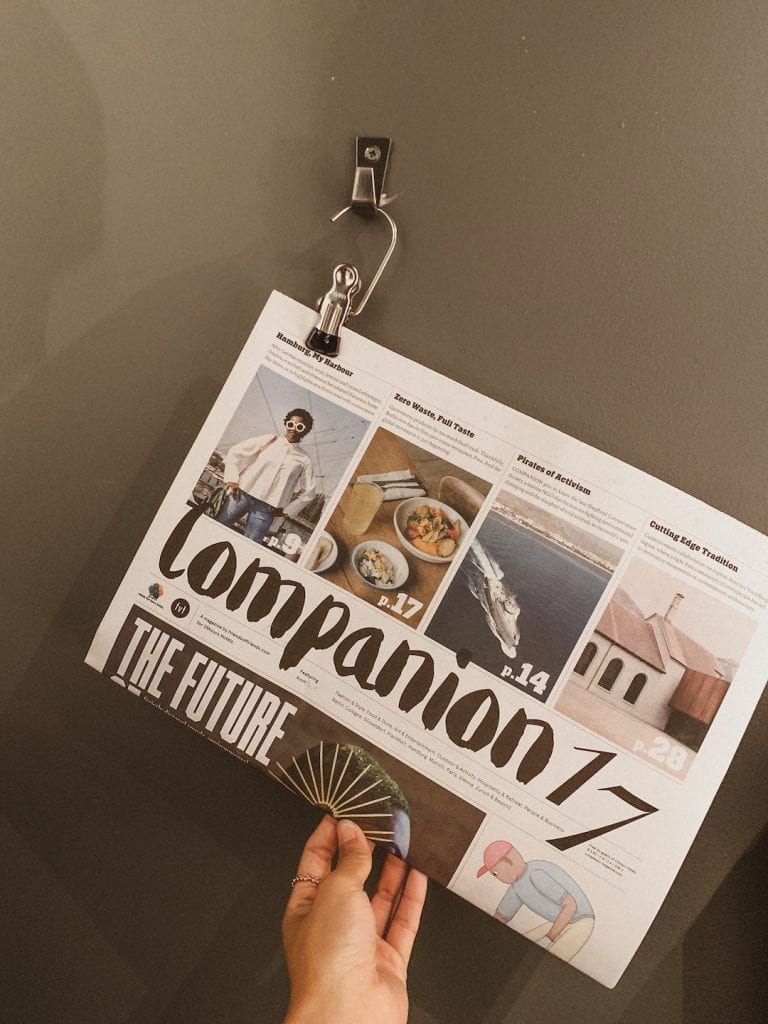 This was probably my favorite. They've got their printed newspaper on our hotel room's wall! As the name, it was really a nice "companion" as we did need some local information and insights. The topics are mostly about contemporary arts, designs, new brands, and concepts by the young community-based in Hamburg, Germany, or Europe. I have to say, in terms of value-added service and local community-support, 25 Hours does a really good job! 
Love it.
BTW, I'm always a curious person loving digging more information and recommending to others. So, what did I do? I found out "Companion" is actually a real companion-concept by 25Hours Hotel in Hamburg. They've put up all their past printed Companion newspaper in the website, you can find here. And, I discovered a soundtrack as well!
Love it x2.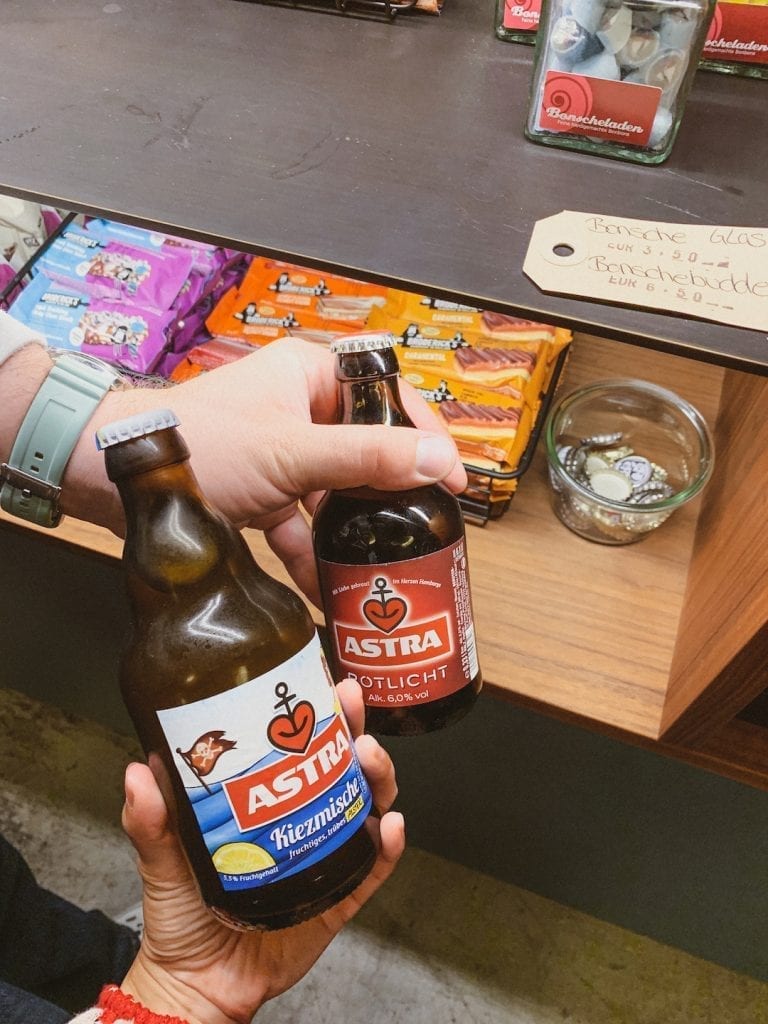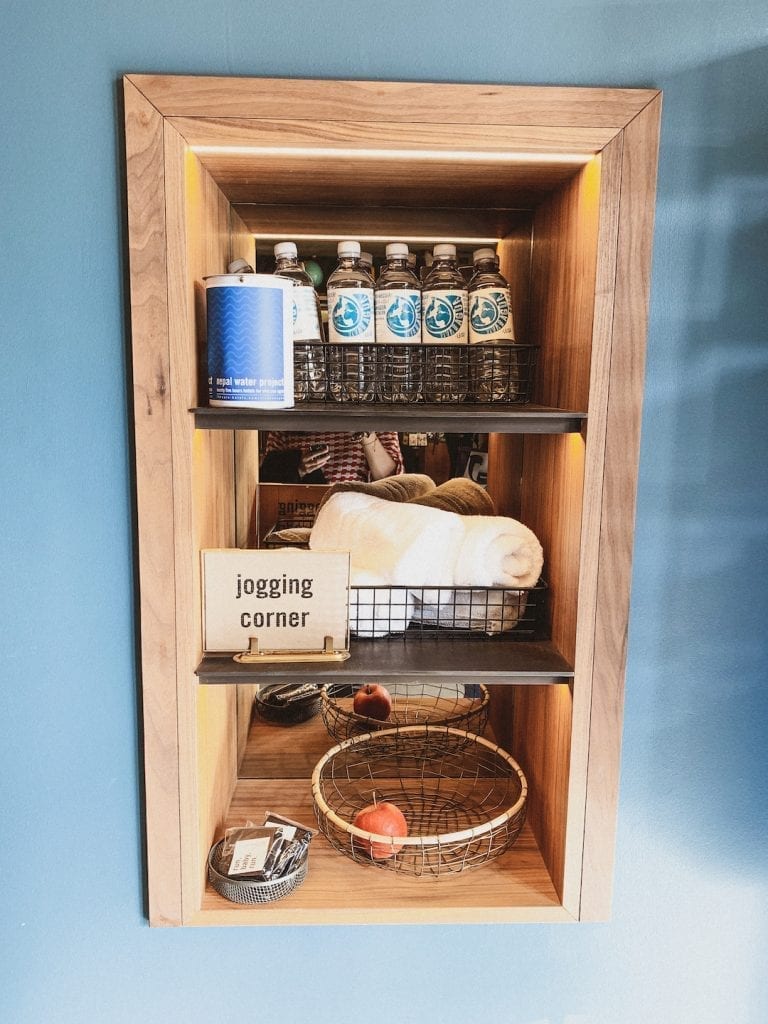 Upon our arrival, we were offered a small welcome drink, straight from their wall-mounted fridge in the lobby. Guess what we chose? Typical Hamburg beers and apple cider. This was our first Hamburg local experience.
They've used their wall space pretty well. Next to the wall-mounted fridge, it was a cabinet inside the wall and it was called "jogging corner". They've got towels, tissue paper, and water bottles from special sustainability or environment-related projects. Surely, we didn't make our sweat in Hamburg, but what an idea!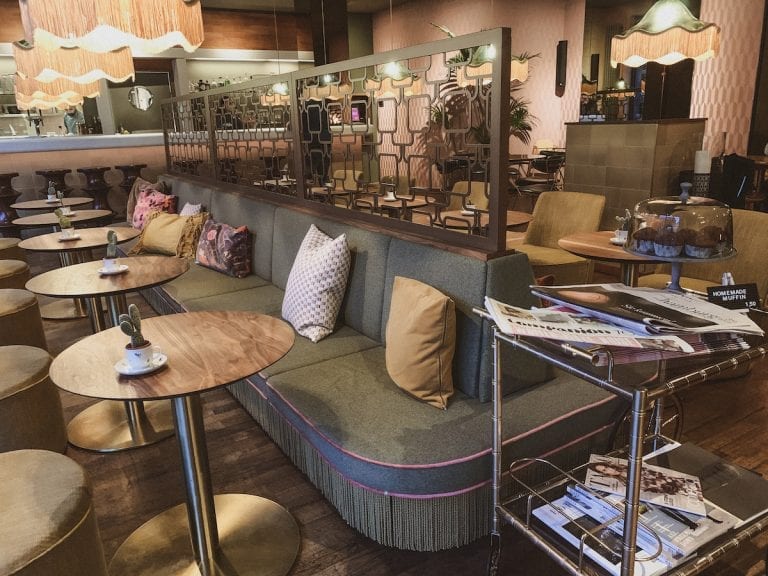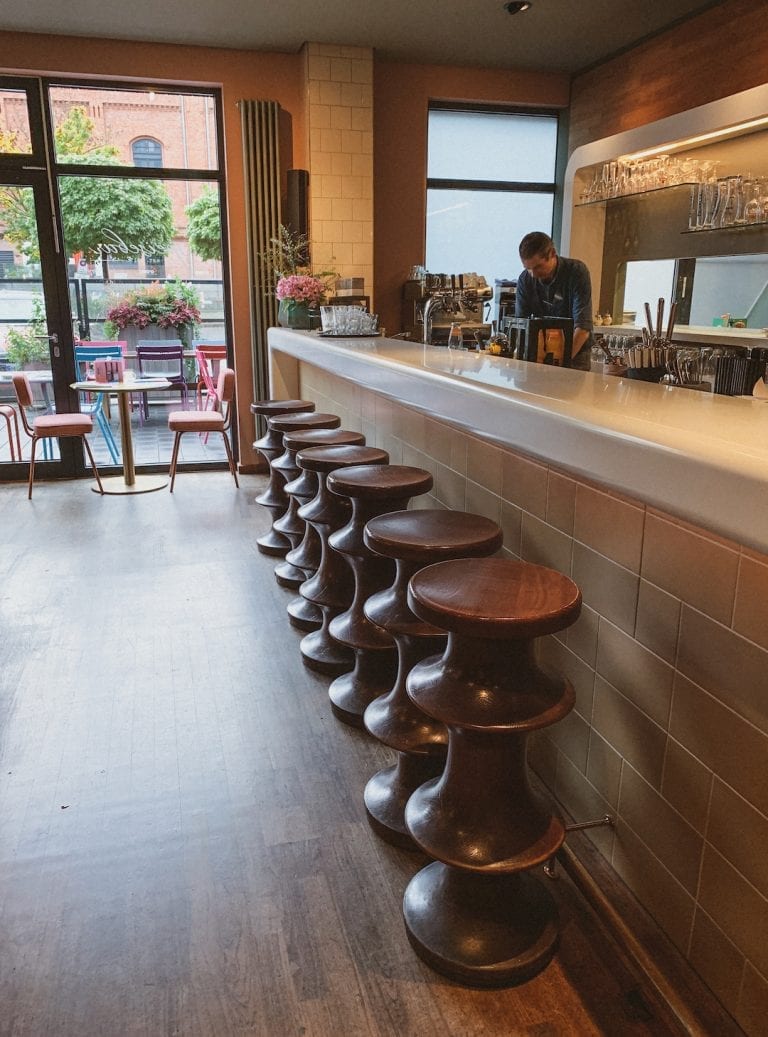 25Hours Number One Hamburg, has a classic pinky restaurant and a golden-and-woody bar area. However, I didn't notice the extra larger space hidden behind the restaurant. It was actually to the backdoor and the huge common area, like the space of a hostel. There was a modern-designed fireplace! Unfortunately, I only discovered this "wonderland" exactly when we were leaving for Rome. 
I hope you like my little sharing of this home-away weekend stay at 25Hours Hotel in Hamburg.