Apart from other cities and the countryside of Italy, Germany is, probably, the most frequent weekend-escape country destination for us. Throwback a weekend last autumn, we flew to
Hamburg
for Ariana Grande's concert (I'm really a fan of her songs). Unexpectedly, we discovered
CHOCOVERSUM – the unique Hamburg Chocolate Museum
in the city center. It turned out to be a perfect experience to share with you today.
What is this Hamburg Chocolate Museum & Who is CHOCOVERSUM ?

CHOCOVERSUM is actually a one-stop chocolate experience site by Hachez
. Hachez is the premium German chocolate manufacturer based in Bremen. Inside CHOCOVERSUM, there is
a chocolate gift shop
with nothing but chocolate (I will talk about it later) and the
"

walking tour

" in the museum space
where hosts a few vintage chocolate-making machines by Hachez.
How was the chocolate museum experience?
Introduction & Welcome Bite
It was roughly a 90-minute tour and we were in a group of around 15 people. Our tour guide was a lovely lady who was really passionate about chocolate-making. She told us that most of the tour guides were at her age. They all worked in the chocolate manufacturing for their whole life. Now they came back and volunteered for the chocolate education after the retirement.
Before starting everything, she led us to the chocolate fountain. It was not only visually attractive but also attractive by all sensations, especially the smell! Everyone got a small waffle cracker and tasted the running chocolate as our welcome gift.
Some history and background of Chocolate
Further on, the story started with a small presentation of the origin of chocolate – Cacao. We learned about cacao trees and seeds. How the Europeans discovered cacao and created the luxury product (eg. hot chocolate drink) from it for the upper-class. Later on, she led us to a mini container, which showed exactly how the cacao was shipped and traded. It was surprising how little potion of the good cacao could be used for chocolate-making.
The real chocolate-making by touching, seeing, smelling and tasting
Then, we moved to a small chocolate bar where she "served" us the cacao nibs (in Germany, Kakaonibs) which were the crushed cacao beans. It was the raw ingredient for the chocolate-making. However, it is also a new superfood with health benefits. The reason why she gave us cacao nibs was to let us experience how cacao truly tasted. Later on, we could compare it to how chocolate, even dark chocolate, would taste like.
There were a few big transparent tubes with cacao, sugar, and butter (fat), and milk (powder) in the room. They helped to visualize the proportion of different ingredients in the chocolate-making process. The most "horrified" tube was the white chocolate. I barely saw cacao but only sugar and butter.
After that, we started to observe the real production line of the chocolate-making by those bronze vintage machines by Hachez. We were able to taste the warm chocolate liquid which was from those vintage machines. Also, we tried both the normal milk chocolate and the dark chocolate so that we could really realize the difference on our tongue.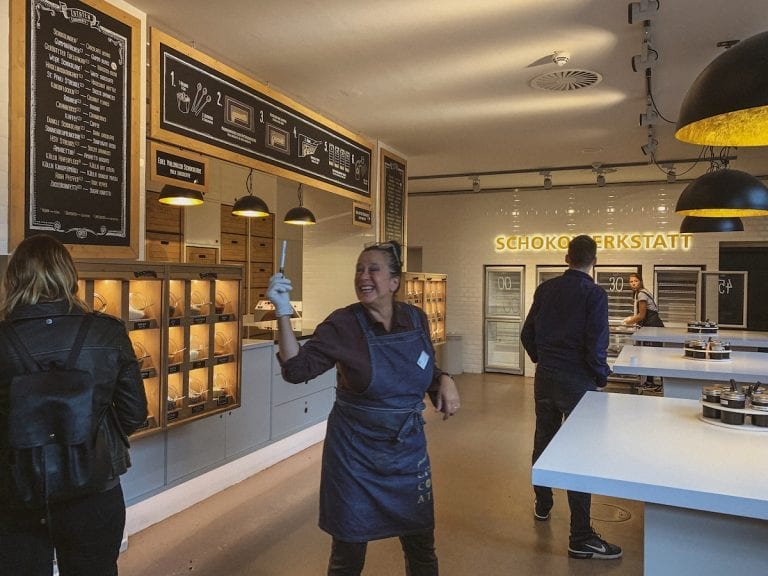 This Hamburg chocolate museum has a highlight which turned every one to a kid!
I didn't mention the little chocolate-making workshop above. Actually, before going to the chocolate "bar" area, we went to a kitchen-like room with a wall-mounted fridge. There were over 20 types of sweet ingredients and large working tables. Our task there was to make our own chocolate bar. We could choose either milk chocolate or dark chocolate on a plastic mold. The chocolate was "running" and we could decorate it freely with those 20 plus sweets. I took chill pepper powder, pink pepper, M&M and extra crushed dark chocolate for my "sexy-hot" chocolate bar. Luigi's was more tropical with coconut flakes, coffee beans, and others.
The workshop turned every one to a kid!
Everyone wanted to "load" more than one chocolate bar could handle
Anyone in a white shirt or dress had to face a washing challenge afterward
After the whole tour, everyone got their own chocolate bar with a name tag at the back! I have to confess that, my hot chocolate bar tasted a bit too sexy-hot…oops
Our experience was "extended"
Well, obviously, we won't be able to leave CHOCOVERSUM straightaways. Once we were out, we dived into their chocolate gift shop.
It was actually more than just chocolate. When we saw the chocolate rubber duck, we were like "wow". Wait a moment, then Luigi found a chocolate condom, excuse me?! We didn't take it, so I'm not able to share with you the secret of that. They have Harry Potter chocolate products including the famous chocolate frogs and wands. For alcohol lovers, I almost landed my fingers on those chocolate liquor and chocolate-infused craft beers. Unfortunately, we flew back with Ryan Air without check-in luggage.
How did we find CHOCOVERSUM?
Well, it was very coincident. After the big concert night, we want something only chilled and Hamburg showed us the most typical face from the morning – RAINY & WINDY! It was autumn when we still wore shorts in Rome, but in Hamburg, it was winter. So, we searched on Google Map, Viator and GetYourGuide. We found CHOCOVERSUM chocolate museum tour because its ranking was pretty high.
The other reason we decided on it immediately was because of its super convenient location. It was inside the city center and right next to the metro station.
It would be always good to book in advance. Even that was a rainy and windy day and our booked section was near lunch hours, it was a full-house situation.
I think everyone knows that the Germans are straight to their time schedule. So, arrive 10 to 15 minutes earlier is always good.
I hope this little sharing could inspire your next Hamburg short trip.
Of course, Hamburg has much more to offer, for example, the beautiful port area and famous HafenCity, the classic city center, and the Baroque churches.