We are hitting one month since the global traveling activities were decreasing to almost zero. My dear travelers, you are probably like me, missing the good feelings of walking outside, visiting the new places, meeting the different people, and experiencing different cultures and events. Actually, traveling is a way to understand our world and a journey of self-education. We can also do it at home easily! For example these days, I find a rabbit-hole on Youtube for the history and the secrets of ancient Rome! Literally, I am a Rome virtual tourist now! Guys, there are so many virtual resources online, and more excitingly, they are absolutely free (let's not count the cost of the Internet and electricity)! Just in case you want to take the chance to learn more about Rome, I've made a list of all free virtual resources to which we can have easy access from our sofa or bed!
Short stories from the Instagram accounts
@romeismore is my all-time favorite. Why? Her account feeds are beautifully designed and curated, but more importantly, I love her very hilarious interpretation for each old Roman word or slang. Probably, I've been entertained more than been educated by her content.
@romeguides is the first Instagram account I've followed to dig the Rome secrets. They are running Rome culture and art tours as a business, but also sharing many Rome stories and secrets in relation to history and art. Each day a short piece of Rome-related knowledge, not bad at all.
@museiincommuneiroma is the official Instagram account for a network of Rome museums. I mainly get inspirations from their photos to plan out which museum or what artworks to visit next. Since it's an official portal, you can also take it as a notice board for the latest events and announcements in your future Rome trips.
I've only listed three Instagram accounts above because I think they are typical enough to give you an idea of what you can learn about Rome in different ways. Personally, I use Instagram daily to get inspirations and sometimes, knowledge as well. I'm following much more than I've shared here, so if you are also frequent Insta-user, head to my Instagram Accounts To Follow For Rome for more suggestions.
In-depth reading in the blogs and local media websites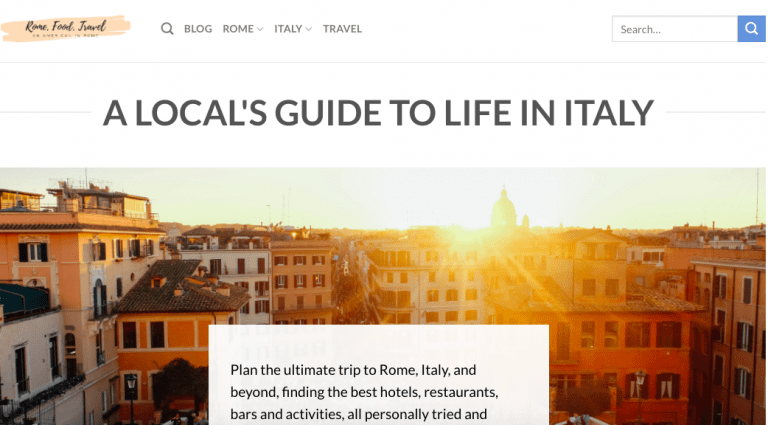 Blog: An American In Rome
If you search Rome local information or Rome blog on Google, you will probably see Natalie's blog, An American In Rome. She's awesome! She's blogging about nearly everything about Rome, and plus some about Italy, from art to food, from history to city secrets. And she's really hard-working. Her blog is closely following the latest news in Rome and Italy. My recent learn from her is about the origin of the word "Quarantine", if you are interested, have a look from here.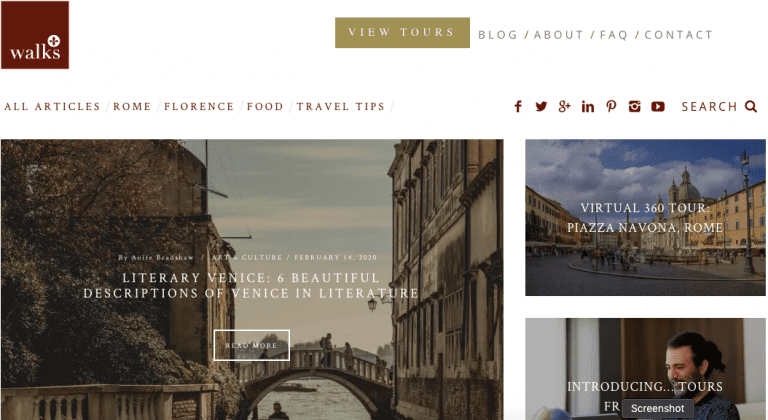 Tour website/Blog: Walks of Italy
For art and history lovers, I highly recommend Walks of Italy. Yes, it's about Italy, but you will find a good amount of topics covering Rome. They are running tours in the major Italian cities, but you can get very professional insights from their blog section. I love to read theirs when they are talking about history, art, and religion.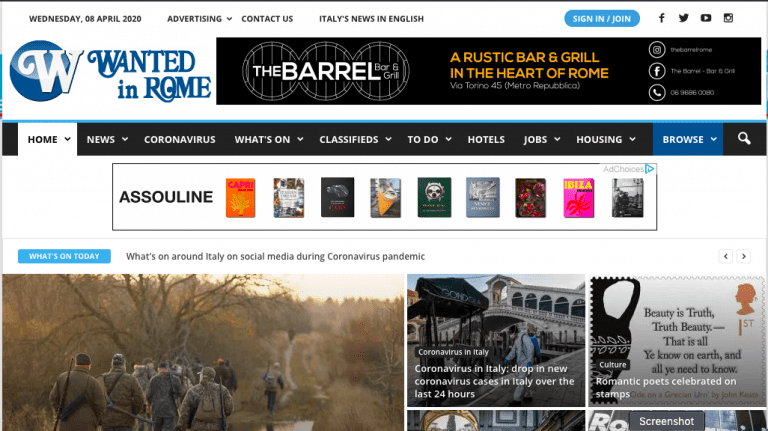 Magazines: Romeing & Wanted in Rome
Romeing and Wanted in Rome are two local magazines in English, as the valuable resources for the Rome expats, so they are perfect for us to find the local information. They have physical magazines, but I find their online presence easier to follow. These two are more suitable when I need some local news and get myself updated about what's going on in my city. If you are looking for suggestions about what to do in Rome, what's the current events and exhibitions in Rome, or even which restaurants are good to try.
Entertaining and also educating time on Youtube
I know many people are staying with Netflix now, and of course, there are great documentaries and history-inspired movies.
But, what about a totally free episode? Youtube is a rabbit-hole for me. I don't go there for movies or TV series but only documentaries or some nice lifestyle-related videos from the Youtubers. I've come across a few nice documentary channels recently, and have watched those about ancient Romans.
Meet the Romans with Mary Beard
Currently, I'm in Episode 3 of "
Meet the Romans with Mary Beard
". She's also the writer of the famous book,

SPQR

– a symbol that you can see everywhere in Rome even nowadays. It's a 3-episode documentary. I guess it's produced by BBC or firstly landed on BBC. Anyways, I love the way how she presents "her Rome". She's not telling us when Rome starts, who're those famous Emperors and what are the milestones in Roman history. Instead, she chats about the normal lifestyle of the ancient Roman citizens, and she presents a very different angle for us to understand ancient Rome and therefore, to relate to modern Rome today. Have a doubt of what I mean? Head to Episode 2, 25 minutes and 36 seconds, so far it is my favorite and the most entertaining while impressive part.
Also, I recommend the 4 episodes of Tony Robinson's Romans by Timeline if you want to know about those key persons in the great Roman history. It covers Julius Caesar, Nero, and Caligula. The interesting thing that I like this documentary is, it not only shows the most important parts of ancient Rome history but also tried to analyze these three Roman Emperors in both good and bad ways. My favorite part is Nero's story because he's the key person related to my discussion on the Colosseum secrets. Before I only knew the negative stories about this last Emperor of the Julius Caesar line. However, after watching this documentary, I started to know Nero as an artist with the passion, an actually smart young Emperor capable to manage the whole Empire, and probably a good Emperor to risk his life in the Great Fire of Rome in 59AD, instead of making this fire as the rumor.
Rome: The World's First Superpower
If you just start to learn about ancient Rome, I suggest to start with Rome: The World's First Superpower by Reel Truth History Documentaries on Youtube. It gives a high-level picture of the development history of Rome. The story starts from before Rome had its name until almost the end of the Roman Empire's glory days. It's all in total 4 episodes as well and after watching it, you will have a general idea of what is Rome, how it becomes a city from nowhere, and a couple of the greatest events in the ancient Rome history (and so "gossip" too).
Multi-task-friendly Podcast