I always want to share our very normal Italian home-kitchen with you. Thinking the beauty of this blog is not only showing you beautiful places in Rome and Italy but also sending you practical ideas of living like an Italian. So, I came along with this idea – 7 Italian summer recipes. They are exactly for a week – no repeating, super simple, and fast to prepare at home. All ingredients are common in both the Italian market and the general international market. There are zero luxury additionals. Also, if you are living in a city as hot as where I am (I am in Rome), good news for you! My recipes are almost non-cooking required. You probably only need to boil the water in a few cases.
Italy is such a country rich in agriculture, we do have the privilege of access to the sweetest tomatoes and salads, and plenty of many other food ingredients
Talking about cooking at home VS. dine-out. I and Luigi always go to our market for fresh vegetables and fruits, then cook and eat at home. We do adore Italian's dine-out culture, especially the Roman traditional dishes like Carbonara or Amatriciana which require extra skills for a home chef. However, Italy is such a country rich in agriculture, we do have the privilege of access to the sweetest tomatoes and salads, and plenty of many other food ingredients. Plus, Luigi's dad has been managing his not-that-small farm near Montefiascone city since his retirement, and we always get the freshest vegetable supply in summer.
I love the concept of the Mediterranean diet with a twist of delicious Italian culinary touch. Especially in the hottest sticky summer days in Rome, I can live on just tomatoes, olives, salads, fruits, and maybe tuna and salmon.
Smoked Salmon with Italian Salad (for 2 persons)
Smoked salmon in slices are the most common food you can find in an Italian supermarket. The locals make this dish when they don't know what to make. Or, when they are going to throw a luxury Aperitivo, they will make the salmon topping with cheese or Philadelphia.
Italian Salad is a general term for different green leaves. The most common one is lettuce, but normally there are 3-4 different types of pre-packed salad in the supermarket. All bags contain 2-3 different leaves.
1 pack smoked salmon 
1/2 lemon or 2 lime juice
1/2 pinch teaspoon grated black pepper
Ingredients for Italian Salad:
1 pack Italian salad (normally it contains lettuce, rocket leaves, etc)
1-2 tablespoons Italian balsamic vinegar
2-3 pinches salt
1-2 pinches Italian chili pepper flakes
2-3 tablespoons extra virgin olive oil
For smoked salmon, just place them evenly and dress with lemon or lime juice. The last step is to top up with some grated black pepper. For Italian salad, as many Italian mama's, you should never "have short hands" when using olive oil and salt.
Italy is famous for balsamic vinegar from Modena. There are many qualities according to the years. We prefer our balsamic with at least 5 years. The one we always use is 10 years, which is thicker in texture and gives a sweeter and more dense flavor. However, I will not suggest wasting a 25-year-old premium balsamic for an Italian salad. If you have that one, you should pair it with very good cheese, fresh strawberries or even gelato.
Multigrain Penne Salad (for 2 persons)
150-200gr multigrain penne
4-5 big fresh basil leaves
8-10 cherry tomatoes or 3 normal tomatoes
1 tin tuna in salted water 
1/2 tin black olives 
2 tablespoons extra virgin olive oil 
2-3 pinches salt (1 pinch is for cooking the pasta)
Add 1 pinch of salt in the pot when the water is boiling, then add pasta. Set the timer as the instruction on your pasta bag.  
Meanwhile, the pasta is being cooked, chop tomatoes into small cubes. Wash the black olives and cut in half. Once the pasta is done, drain them and mix them with all tomatoes, olives, and tuna. Dress with olive oil and salt, and decorate with basil leaves.
Always add salt after the water is boiling because if you add before that, it'll take a longer time for the water to reach the boiling temperature. 
Sometimes, I'll reduce one minute of pasta-cooking time because I love a harder and more Al Dent pasta.
Always rinse the black olives from a tin or a glass jar, because you don't want that original black water in the tin/jar in your fresh-made dish.
Burrata with Tomato or Watermelon
Ok, I won't write a full recipe here because those two ideas are actually from two lifestyle bloggers I'm following. The key is, you need to get a burrata with good quality from your local cheese shop (not from a random supermarket shelf). In Rome, we go to the cheese stall in our market. 
The more Italian way is, you always know which shop has the weekly fresh delivery of the best quality cheeses from their regions. We have one with twice-delivery-a-week Burrata, directly from Puglia. So, we call them to place the order and confirm the pick-up day. 
For the recipes, I suggest the one by San Francesco based lifestyle blogger, Ashley Kane, who has this beautiful Braised Tomatoes with Burrata. I also love the guys behind Probably This, and their creation of Watermelon & Burrata Salad is insane!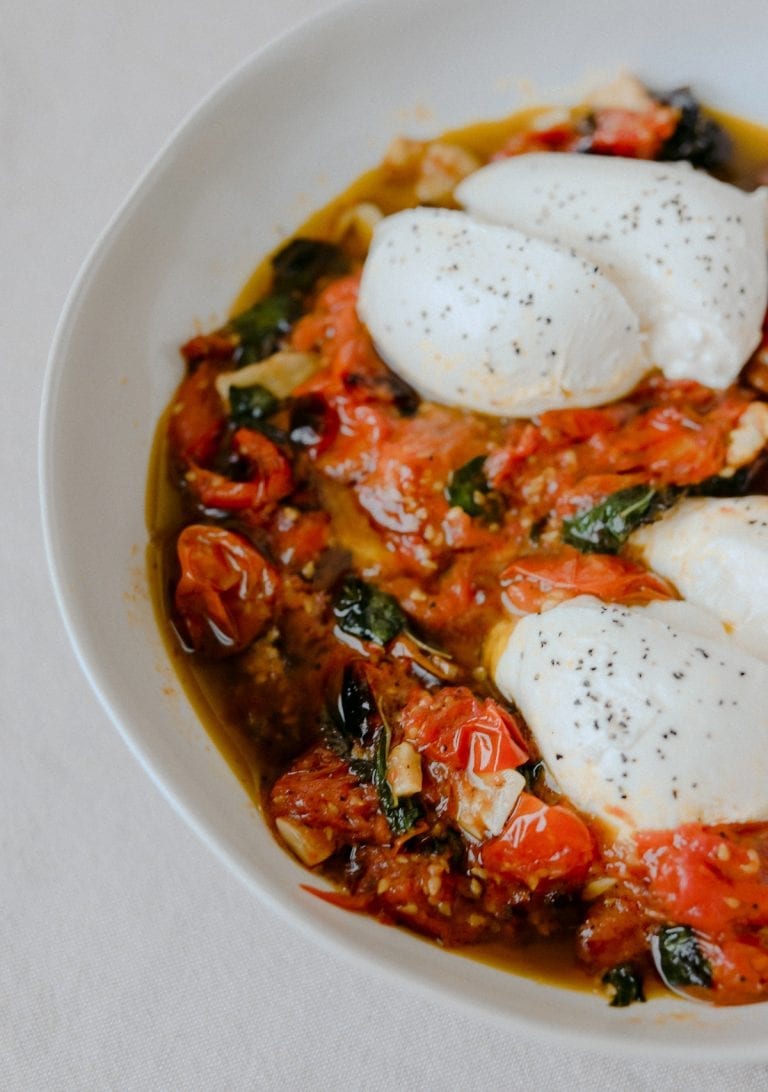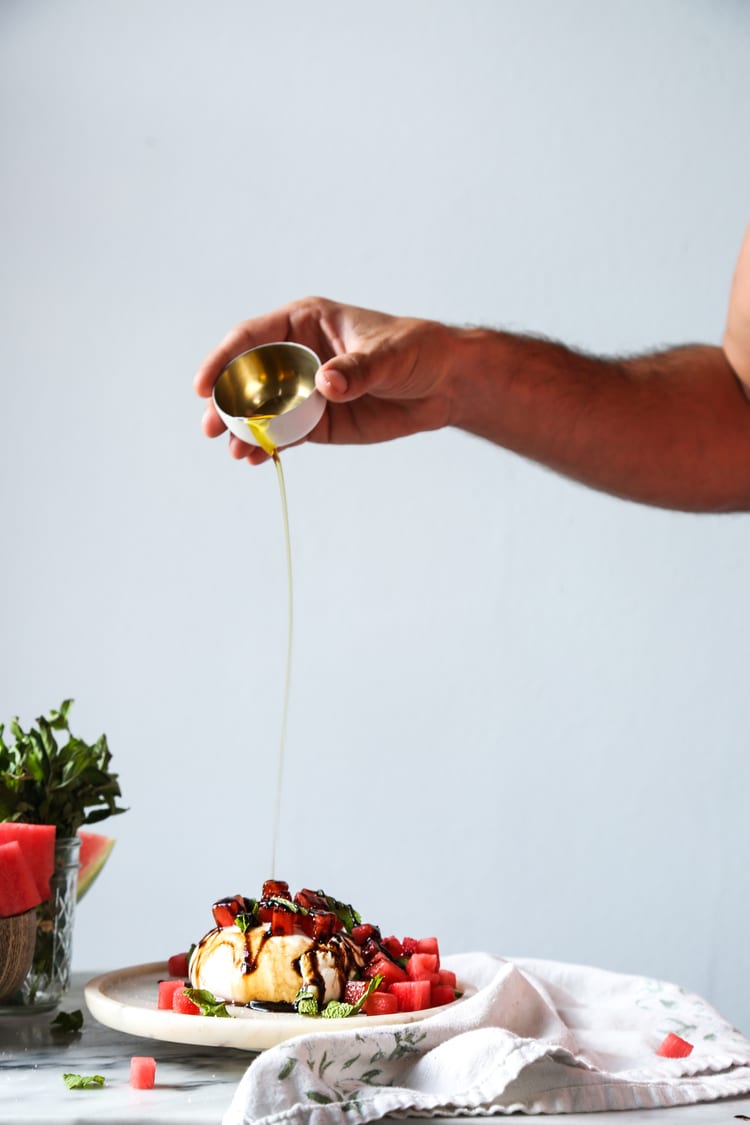 CousCous with Traditional Italian Insalata di Mare (for 2 persons)
CousCous is more common in southern Italy, especially in Sicily. But it is not an original Italian food ingredient. 
Insalata di Mare (seafood salad) is typically Italian and we love it no matter in summer or winter. It's normally with shrimps, octopus, shell animals, squid, and so on. You can find them easily in the supermarket here and they normally come in olive oil or vinegar. Both serve the purpose of preservation, however, I like the one in olive oil when I'm going to make couscous or a cold pasta dish. The other one is more for an Aperitivo dish (eating by itself). 
50-80gr insalata di Mare (in olive oil)
3-4 tablespoons mixed vegetables (in olive oil)
1/2 tin sweet corns
1/2 tin black olives
3-4 tomatoes
100-150gr couscous
1/2 dice chicken soup concentrate 
3-4 tablespoons extra virgin olive oil (including 1 spoon for couscous preparation)
1-2 pinches Italian chili pepper flakes (optional)
Mix the couscous with one tablespoon of olive oil while boiling water with the same amount as the couscous. Add chicken soup dice inside the boiling water and wait until it's melted. Pour couscous into the boiling water, turn off the fire, and put the lid for about 2-3 minutes.
Cut the tomatoes into small pieces and olives in half. Mix insalata di Mare with them and the marinated vegetables, and sweet corns. When the couscous is ready, mix them well with the others and add one to two spoons of olive oil. If you like a bit more intensive taste, you can dress with some Italian chili pepper flakes.
I normally avoid the extra preserving oil from the package of insalata di mare and mixed vegetables, and always pre-wash the sweet corns and olives from the tins. The reason is the same: You don't want preserving oil or water in your fresh-made dish.
Simple Spaghetti with Tomato Sauce (for 2 persons)
This is one of the most well-known Italian pasta dishes in the world, however, it is also always misunderstood outside Italy. For example, people think it should be with meatball and its sauce is Bologna sauce. Not really, because this dish is without any meat ingredient. And, in traditional Italian cuisine, there is no pasta dish with meatball. (By the way, there is no chicken in any pasta dish, nor any type of pizza in Italy.) 
This simple Spaghetti dish is also one of the most traditional Roman pasta dishes. The locals love it so much because it's simple and light, perfect for a quick lunch on a busy weekday. If you are interested to know more Italian light-weighted pasta dishes, AKA. summer Italian pasta, read this one.
150-200gr spaghetti
1 tin tomato sauce for pasta (normally is around 250-300gr)
4-5 cherry tomatoes 
4-5 fresh basil leaves 
1 tablespoon extra virgin olive oil 
2-3 pinches salt
2-3 pinches Italian chili pepper flakes (optional)
To prepare the pasta, let the water boil first, and add one pinch of salt. Pour the spaghetti into the water and follow the instruction of cooking time. 
While boiling water or cooking your pasta, chop all tomato in half. Heat the pan with the olive oil, pour tomato sauce and add chopped tomato inside. Switch the fire to medium to cook them for 1 to 2 minutes. Then, you can switch to the small fire. 
Drain the pasta and pour them into the pan. Switch the fire back to medium and mix well the pasta with the sauce for not more than 2 minutes. Now it is time for the basil leaves. I like to break most of them and add them into the pan before it's well done, and I will preserve only one big leave for the final decoration. However, you can do whatever you want. Put all in and cook them until soft, or just place them on top when the pasta is done.
You can always reduce half or one minute of pasta cooking, if you love an Al-Dent pasta, and also because we will cook the pasta a bit in the hot pan later.
Pour the tomato sauce in before the pan gets too hot, unless you don't mind the "killing" oil jumps up on your finger or hand. 
Greek Salad (for 2 persons)
It is not an Italian dish but you can find it everywhere from a restaurant to an Italian kitchen. Greek Salad is the simplest and also healthiest dish of the Mediterranean cuisine. And, it is just tasty!
1 small onion
8-10 cherry tomato or 3 medium-size tomato
2 medium-sized cucumber
½ tin black olives
1 pack Feta Cheese
½ tin sweet corns (optional)
3 tablespoons extra virgin olive oil
3 pinches salt
2-3 pinches Italian chili pepper flakes (optional)
Chop onion, cherry tomatoes/tomatoes, cucumbers, and Feta cheese into small square cubes, and also cut black olives in half. Mix them well with olive oil, salt, and Italian chili pepper (optional) and sweet corns (optional).
I hate to cry when I'm dealing with an onion. So, I always prepare a bowl of water and put the chopped onion inside, before I start to prepare other ingredients.
I like to peel all skins of cucumbers because I just discover that all the cucumbers in Italy taste much more bitter than the same ones in China.
In Rome, you can find Feta made with goat milk or cow milk. They are slightly different in taste and texture. I prefer traditional goat milk one with drier texture with more acidity. Luigi prefers the one with cow milk, exactly because it tastes less acid.
For all tin products like black olives, sweet corns, or any other products you want to add, do rinse them before pouring them into your bowl.
Bresaola with Rucola (for 2 persons)
This is another typical Italian appetizer dish in which you can find it easily in a restaurant. However, even it is an "Appetizer", the Italians make it a lot as a main dish in summer.
Bresaola is a type of air-dried and salted beef in Italy. It has a deep pinky color, and tastes drier and much less grassy than Prosciutto. 
1 pack Bresaola (normally 150gr)
1/3 to ½ pack Rucola (Rocket salad)
½ lemon juice or 1 lime juice
5-6 big but thin slices of Parmesan cheese (optional)
2-3 pinches grated black pepper (optional)
1-2 pinches salt (optional)
2 tablespoons extra virgin olive oil
Place all Rucola evenly on a big plate, and then place all Bresaola slices on top. Pour lemon/lime juice and olive oil on top and make sure all Bresaola slices get some dressing.
If you like, you can places some Parmesan cheese on top or dress with grated black pepper and salt.
That's all. Do you like it? Let me know.
Also, like an earlier post of mine, which talks about How To Make Italian Aperol Spritz, I always love to share with you some recipes I've read and loved!
Here you go, again.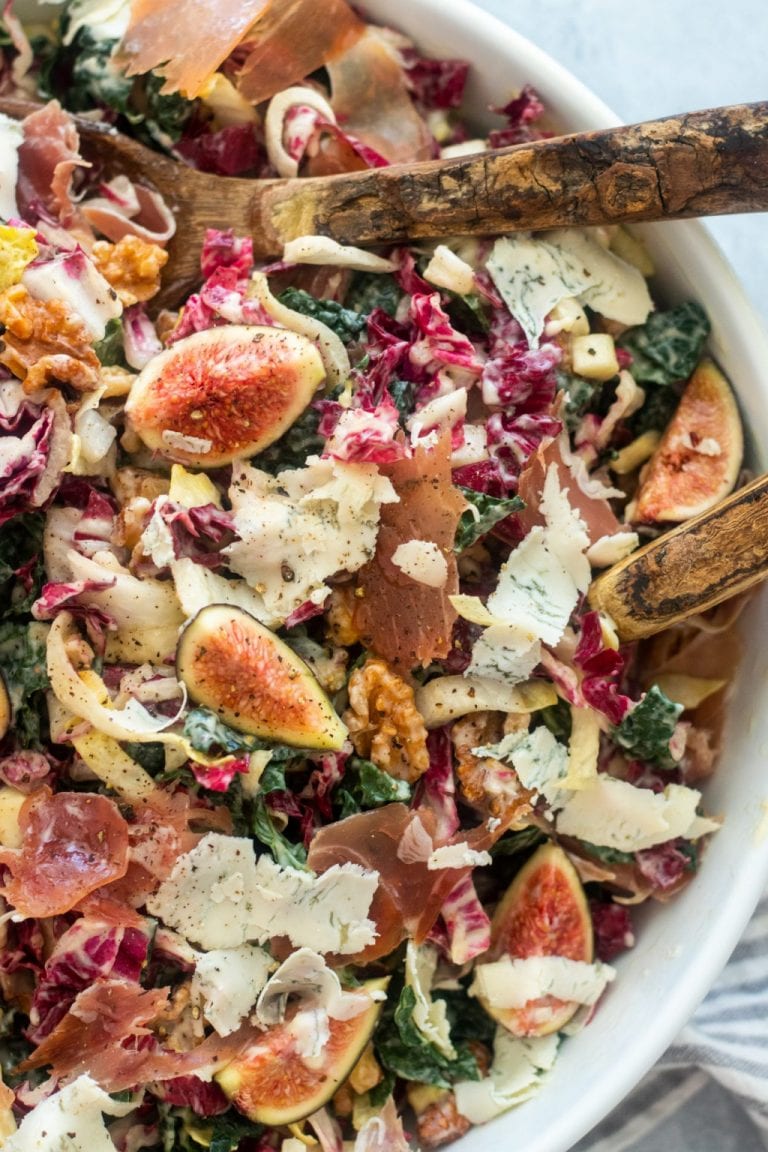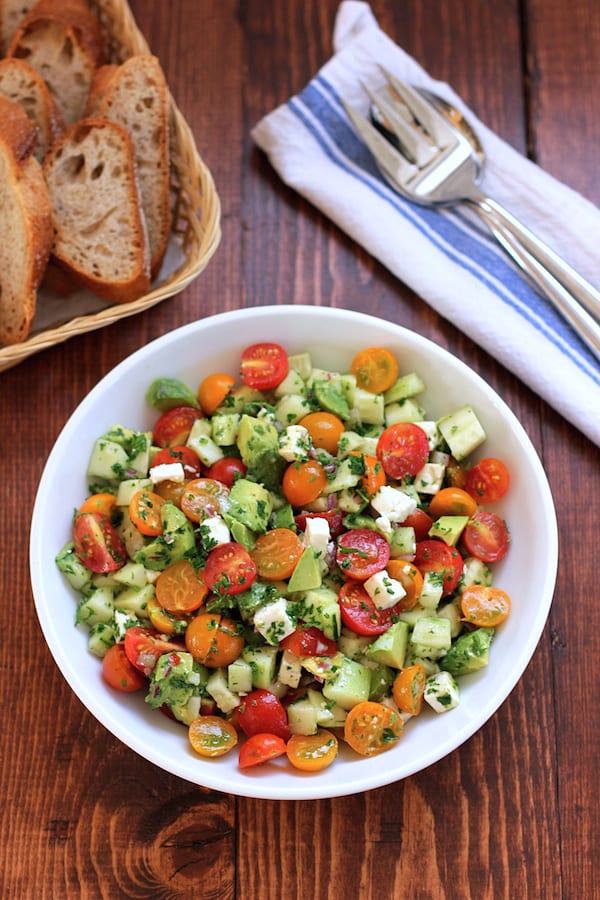 To replace the normal Italian salad, you can do this beautiful and healthy, Kale Salad with Prosciutto and Figs (OMG, my favorite prosciutto and summer fruit, figs!!!)
If you are an avocado lover and have a healthier diet methodology, this Tomato, Cucumber, Avocado Salad can do better than a normal Greek Salad.
Cheese lover, you cannot miss this Bresaola Rolls with Goat Cheese and Wild Rocket. It is just a little more complicated than my recipe but it becomes such a rich dish. If you are cheese lover, especially the soft and creamy goat cheeses, believe me, you will love it!