My summer days in Rome: drinking Spritz, eating seafood, drinking frozen limoncello, or taking a midnight walk to our favorite Gelateria. If you ask me where to eat in Rome, I'm not able to finish the list in a single post.
I'm seriously self-doubting my every-two-day gym routine won't work well with my growing human-pancetta. Signing, while smiling and picturing the other night's beautiful dishes, I call it, Italian summer.
Guys, I always want to write about the restaurants, trattoria, gelateria, osteria, pasticceria… in Rome, and share where to eat in Rome with you. However, I'm super bored with that type of single-restaurant-review writing.
It's the thousand times that I mentioned the word "unbearable" when talking about the recent weather in Rome. It is truly very hot! We don't dine out that much, as we prefer buying fresh ingredients and making our own simple Italian or Chinese dishes at home. But, these days, we are on a high frequency of Italian salad, pasta salad, and cold cuts. Somehow, I start to miss the talented Italian chefs and to hang out more.
We've been doing Aperitivo mainly but also a few seafood dinners. Indeed, the Italian's culinary culture has a heavy focus on fresh seasonal ingredients. We eat as the weather goes. That's why I come up with this topic of "Where to eat in Rome" for the month.
I don't want you to miss the best local restaurants, but also have the best experience by tasting the most up-to-date Italian dishes, while experiencing how a local Roman enjoys his food.
We've got Teo's name a long time ago from a close friend in Hong Kong (he's authentic Roman) however, due to Luigi's "Trastevere belongs to tourists" theory, we never dine out there since we moved to Rome.
Can you believe that?!
The other day, I dragged Luigi out to Trastevere, finally! Very randomly and luckily, we got a table on a Saturday night, even without remembering it's on our "restaurant-hunting" list. 
Trattoria da Teo is a traditional restaurant with a Roman menu. Trippa, Carbonara, Coda… all heavy and meaty dishes are there. Lovely thing is they offer seafood and seasonal fresh ingredients alternatively in summer. I'm mouth-watering while thinking about that night's raw seafood, the beautiful Burrata with anchovies and millefoglie (thinking about French cuisine now), and the simplest-but-directly-from-the-woods porcini!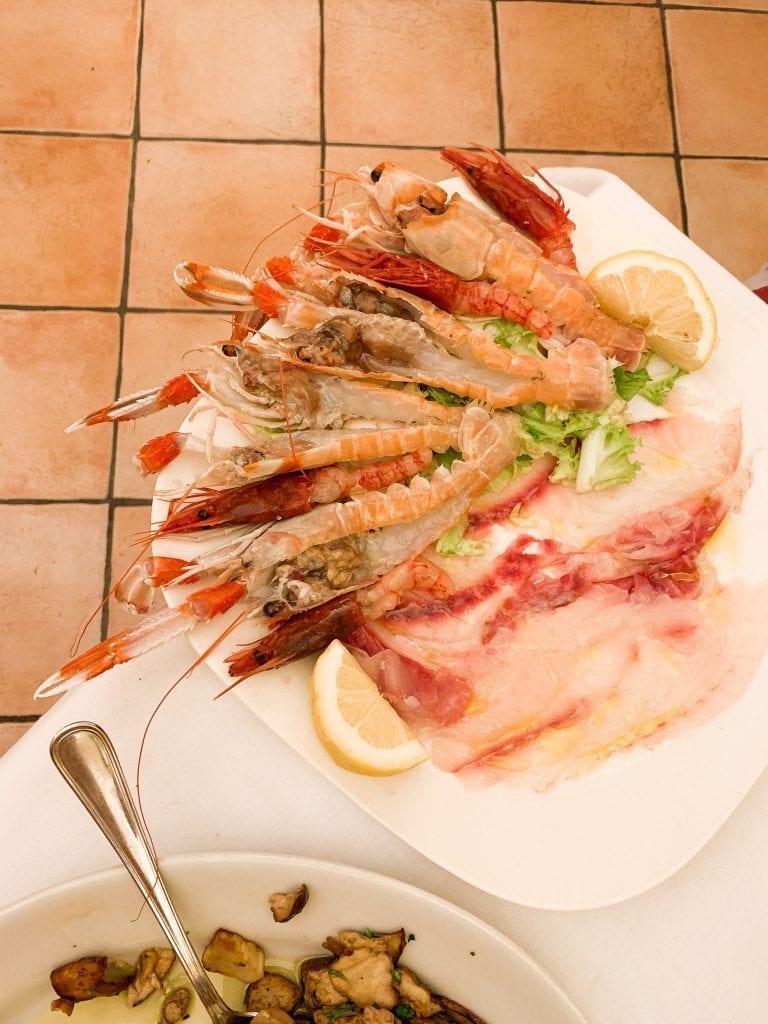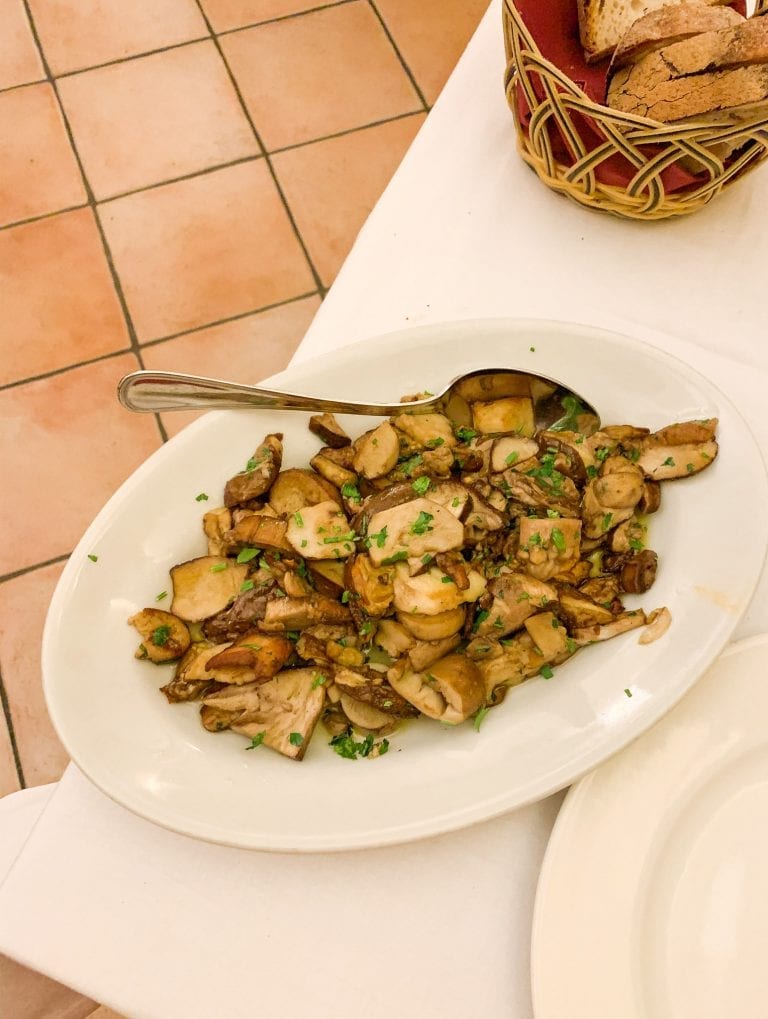 When you got a restaurant name from the locals, and Google tells you the best routine to get there combines a metro ride and a walk? You are getting a good restaurant, especially in Rome.
Modo Ristorante & Cafe got us some Italian classics and Tiki cocktails. Aperitivo menu is simple but honest, and probably very-much-what-you-expect if you are used to those Instagram photos of the big cold-cut platters as the Italian-standard-Aperitivo.
If you never hear about Pinse, you need to try there. It's a square-shape pizza, typically for snacking according to the Romans. Different from the crispy Roman pizza, it's not cheesy, less savored, satisfying but not overwhelming as a snack.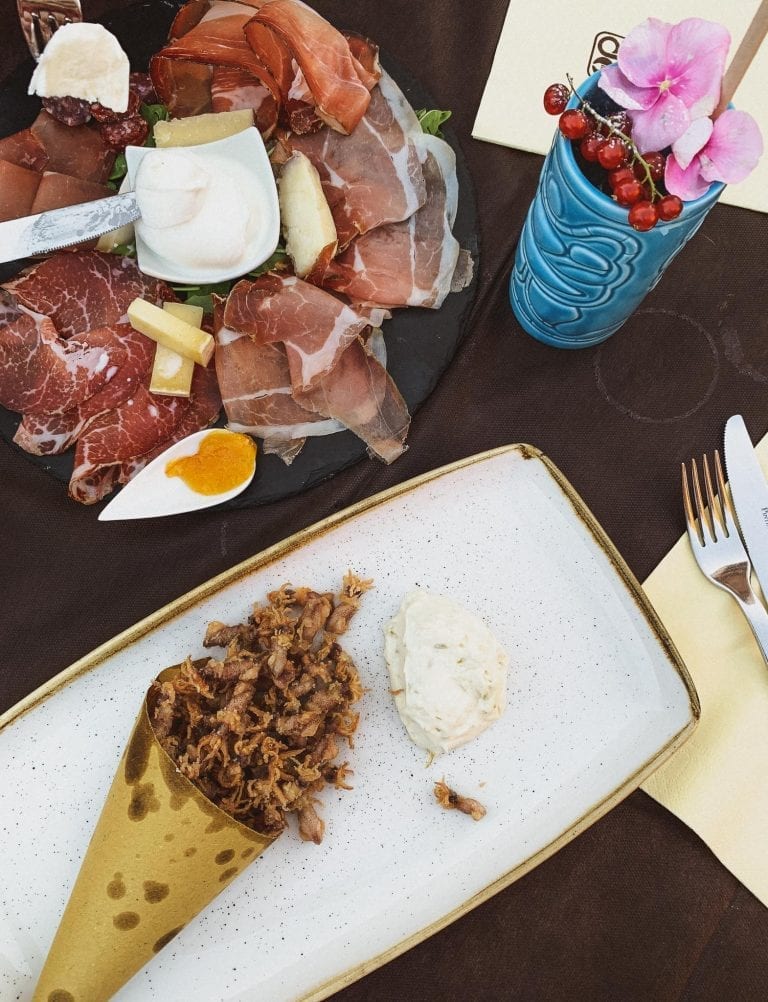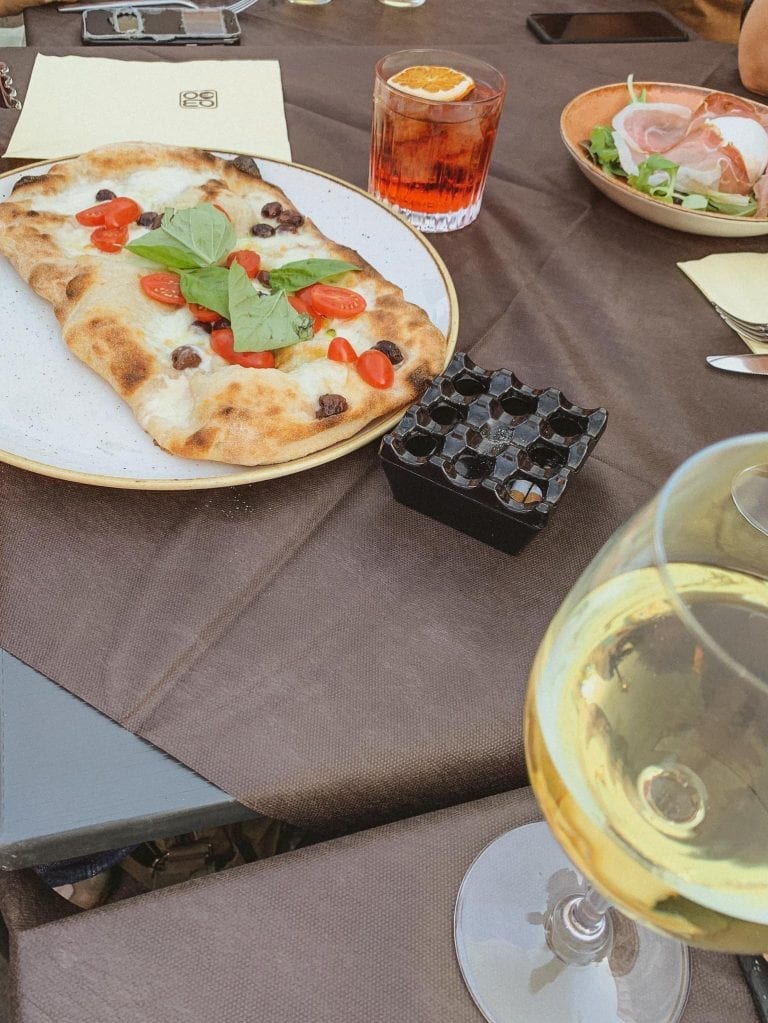 Pasquino Wine Bar & Bistrot
Pasquino is right next to the "famous" Piazza Navona, which makes us prepare for a "fancy" price. However, many of my friends claim Pasquino Bistrot as their favorite.
I admit after trying. 
It's super chic to chill in their outdoor dining area, with a big glass of Aperol Spritz, some hot-and-crispy Bruschetta, or a Roman pizza with seasonal zucchini flower and anchovies paste (my favorite).
Eating, drinking, talking while people-watching, the narrow cobblestone street is always busy with the elegant Roman buildings, handsome restaurant waiters, and stylish passengers. Especially when sitting there to savor Rome's amazing sunset, it was also the best moment to enjoy the most stylish Italians "street-cat-walks".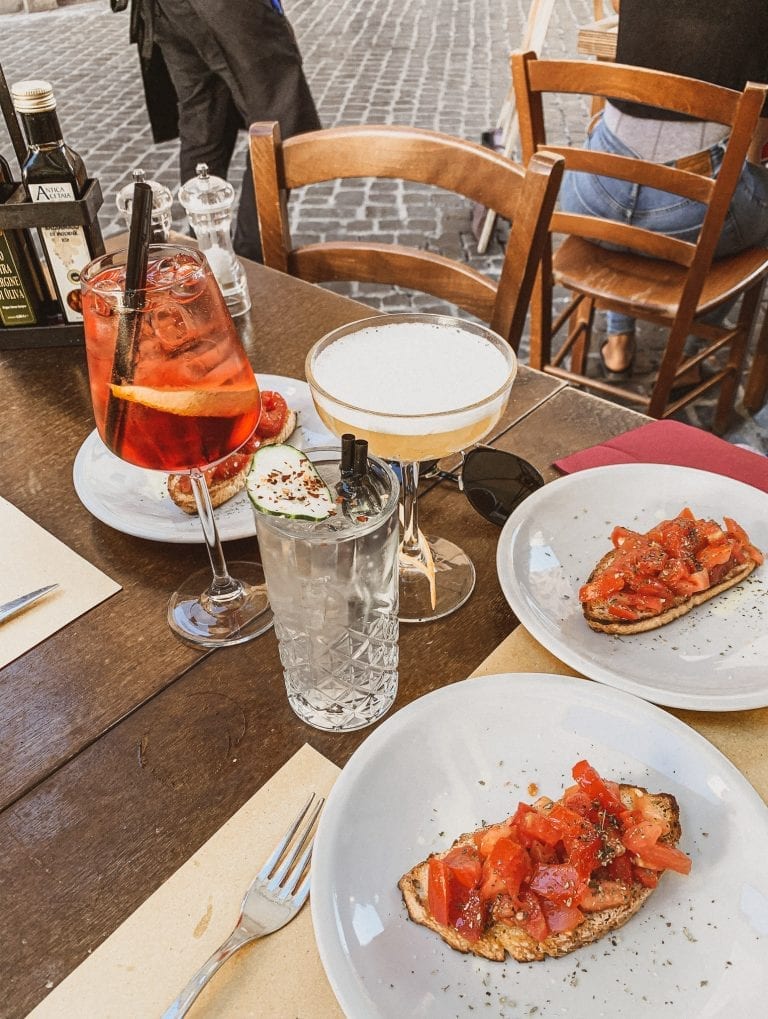 Value-for-money is the ultimate reason we go back all the time. Can you imagine to have Roman pizza from the stove for free, and not only one pizza, but as many as you want?! 
Momart is the dream place for a true foodie! They just worked so "hard" and well to "feed" you with their many salads, Italian cold cuts, fruits, desserts, and pizza! That really makes us guilty if we don't drink as much as we can (you only pay for the drinks), even they cut the price in half from the second round.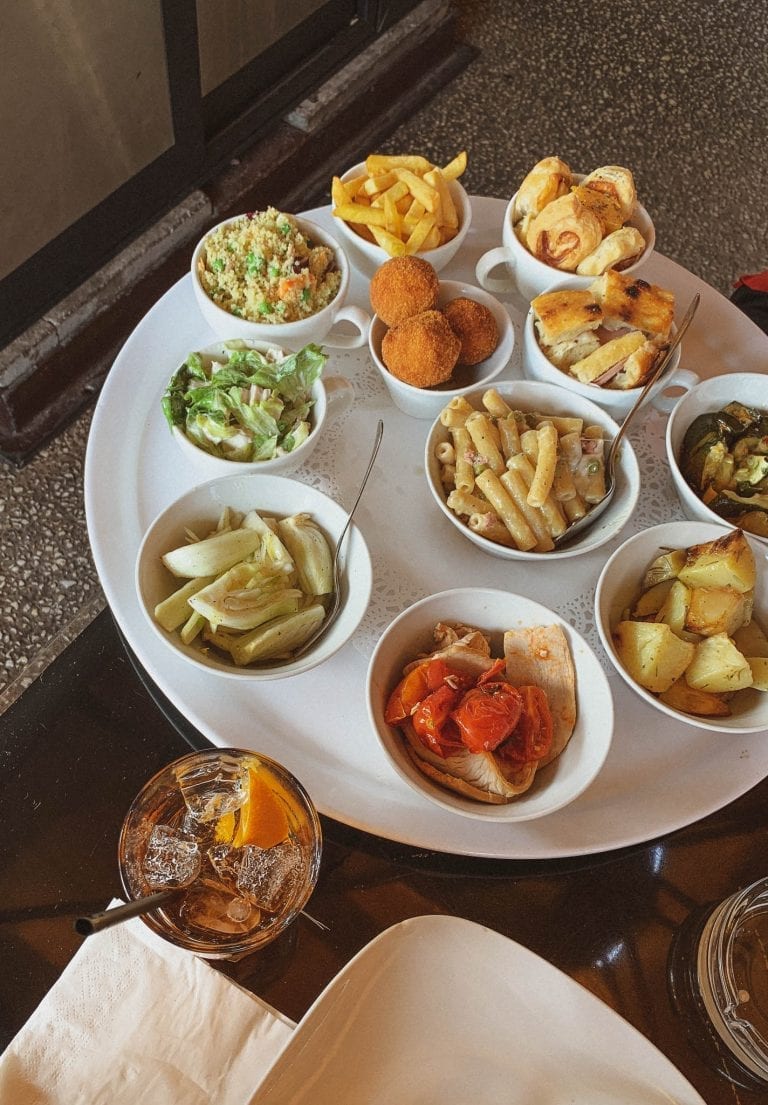 Rome is not lacking good Gelato places, but Fassi is the one you shouldn't miss. Fassi Gelateria starts from 1880 – a true Gran-Grandpa! So, don't expect some fashionable gelato flavors from Fassi. Grandpa is traditional! However, Grandpa always worries that his kids don't have enough food and starve. So, you always have 3 huge gelato balls layering up on the tiny cone in danger, while melting faster than you lick. If you are a "Panna" (light cream) fan, show your big smile and they will be so happy that you appreciate their made-in-the-kitchen cream, and give you more.
Many times, we take away Fassi' "San Pietrini" for a home party. It's a gelato type of chocolate cubes, like the cobblestones in Rome. We always get a box with 4 different gelato tastes. Believe us, that box seldom survives till the next morning.
Red wine from the fridge, half-liter size, yes
A wooden platter for cold-cuts and cheese, even including fresh Mozzarella, ohhhh
Two-people-potion of Porchetta! 
Guys, I'm talking about what we've had last time in this Fraschetta place – La Fraschetta Tuscolana. The way of eating and drinking there is sooooo "neighborhood". I literally believe that night, except us who traveled from Rome city center, the others – all of them know each other, bump to each other in their daily supermarket run, or during their kids-playground-duties.