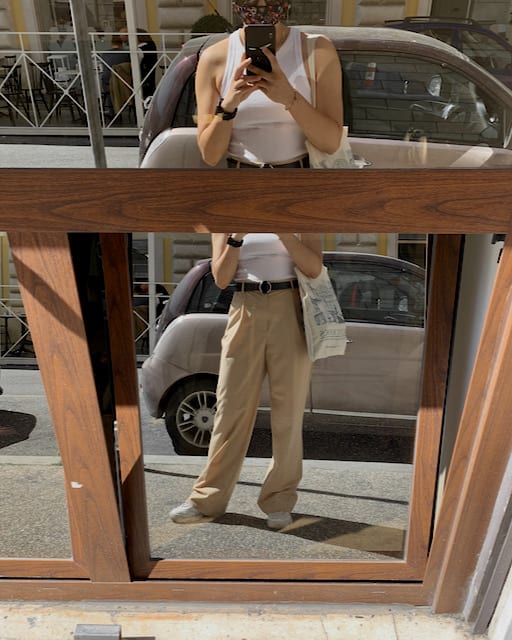 Hey, another weekend, how are you? Today, I want to chat with you about the wardrobe basics checklist for this spring/summer.
I always have a "fever" to Scandinavian minimalism/basic-wearing style. Sorry, not the traditional Italian style in general, as it doesn't fit me who has no pale skin tone, nor with the matching body shape. Of course, I also love many Italian modern brands with a clean-and-chic minimalism style.
We are in the middle of May. Normally April and May is the changeable season – one day with rain, one day with sun. Another thing is the day-and-night temperature difference. I still remember we have a 12-15 degree daily temperature change in April. Even now, I might sweat in my already-tank-with-light-trousers outfit after walking more than 30 minutes outside in the day. However, a wool blazer or a trench coat is needed after the sunset.
This is the perfect situation for layering, right?
I mean, I did buy and own quite a number of non-basic or non-minimal clothes. Over the years, I recognize that those dress-ups, colorful, or printed designs only work well if they are summer dresses.
When I hang out in Rome, I tend to wear something makes me feel comfortable, clean, and chic. Even for a limited number of special nights in the city like Rome, I prefer an elegant black slip dress than anything else. The others, they probably only belong to the "forgotten" vacations.
Collecting good pieces of basics makes dressing-up easily. The basics in nice shapes and good quality naturally form up the perfect outfits. They never go wrong with you.
I have made a few purchase in April. Most of them are basic tops and shirts as when I was doing my wardrobe clearance, I recognize what is seriously missing. Since early spring, I also fell in love with the pleated trousers. They just go perfectly with all the basic tops from tanks to jumpers. They are the best friend of sneakers. 
I know almost all brands offer basic pieces, and sometimes, it is difficult to get an idea about its quality and fitting when shopping online. So, I put a few recent purchases of mine below.
I love almost all the pieces I got from Arket, and now wearing them on repeat. It is so easy to throw on any piece of theirs. The only tip I would like to share is the size. I did go for a one size up for their T-shirts for a relax style.
Ginatriot is another rabbit hole, even they are much boutique-like small. I love the way how they offer a big variety of colors for one single type of basic piece. Their basic sweatshirt is sooooooo soft and airy! I also put my hands on their recently-launched gina-lab. It has unisex and sustainable approach.

Please note that this page contains affiliate links and any sales made through such links will reward me a small commission. That's rewarding my work and supporting more content in the future. You can always drop me an email for further information or simply refer to Privacy Policy terms here.