Even we live in Rome, which summer, in general, is longer, I still feel the subtle change of everything since the last day of August. This morning, when I had to put up a full makeup (even you might still think I didn't wear anything on my face) for a business video shooting, the dullness showed up. I was surprised!
This month's The Goods edit – I would like to add a few more skincare and glowy makeup recommendations.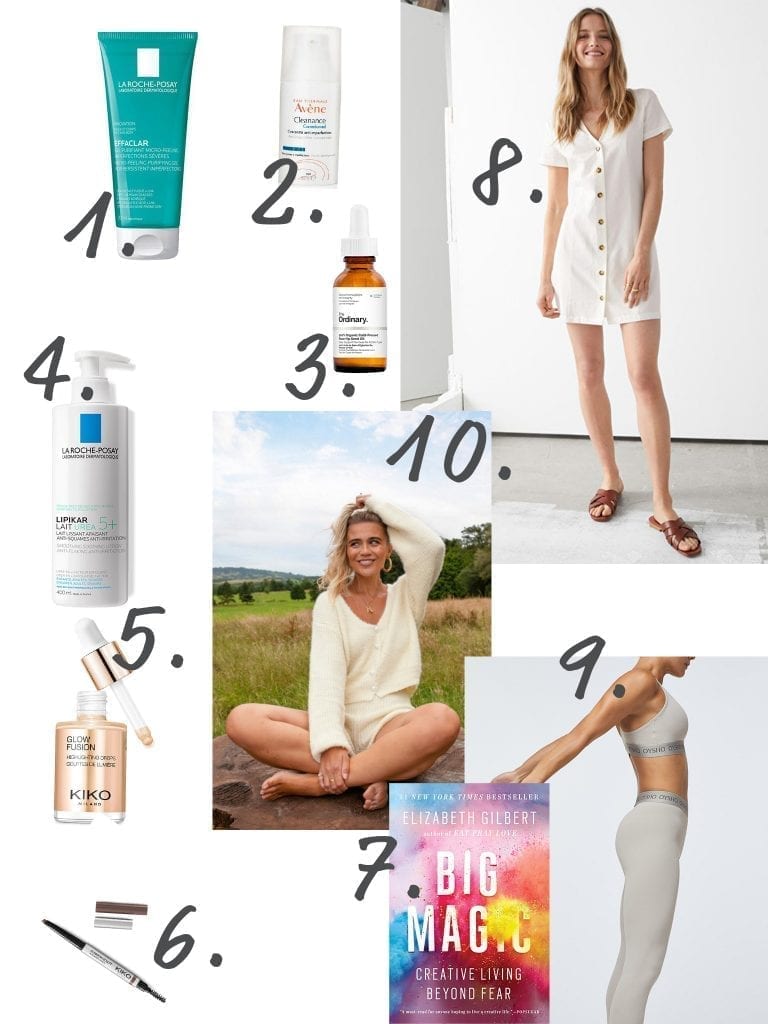 I have my eyes on, La Roche-Posay Effaclar Micro-peeling Purifying Gel Wash, since early summer, because it contains Salicylic Acid (2%). It is a perfect mild daily polishing product for the heavy and sticky summer weather. After finishing my last cleanser which is also one of my favorites and I have recommended in my August's edit, I started it straight-away.
The very mild cooling effect while using it on my face is super awesome. No irritation or any other thing happened to me for roughly a month of using. Every time I looked in the mirror, my face looks a little brighter. I give the credit to that 2% acid. Indeed, for a lazy skincare-r like me, my goal is to use the minimum basic products to achieve the OK result. A good face polishing product is always a good idea but it might no longer the best idea for 30+ skin. So, a product with some active acid which can chemically bring away the dead skin is more ideal than a physical one to "rub" my face.
I started to use Avene Cleanance Comedomed Concentrate as a day cream about a month ago too. Honestly, it contains alcohol ingredients, which if you are a straight alcohol-free user, please jump this point. However, I love this product.
It's a light day cream with a texture between gel and cream – milk. The product is fast to be absorbed and leaves a non-sticky finishing. The special trademarked Comedoclastin works to decrease sebum, helps to unclog pores, and also decreases the chance of blemishes. You see, my summer skincare is all about cleaning.
I always want to talk about The Ordinary, because I have been using many of their products for a long while (and I just realized it keeps being out of stock in the two online shops I always make my skincare shopping…).
The performance and the friendly price are nothing to be compared to the other brands. I add a few drops of the Organic Cold-pressed Rose Hip Seed Oil in my daily routine recently because you know, the season is changing (and also I just found out my little bottle is going to be expired soon! Tips: their products doesn't have a normal long shelf life). I use it more for the nights, but some mornings, I use it when my just-wake-up skin is super dry and "dead". It adds one thin layer with a feeling of being well protected, plumped, and healthy – ready for a full day's activity.
La Roche-Posay Lipikar Body Milk is simple and lovely. I've got it a while ago but just started to use it recently. It has a light texture but you still feel if after applying a thin layer before sleep. You know, some products say they are ultra-light and easy to absorb. True, but maybe too light and not enough for the long-lasting moisturizing purpose. 
Unexpectedly, I got this Kiko's cute golden bottle on a random girls' shopping afternoon. It's called Glow Fusion Highlighting Drops. They've got 3 different colors for the different skin tones or makeup style. I got the golden one, and it works excellently with a natural glowy effect on the cheeks. I just love everything (makeup) on a liquid, glowy, and cream base. Tips, I use it a bit on everywhere, nose bridge, under brows, even shoulders
Another Kiko product, but I've stocked up immediately after the first try. It's the Eyebrow Sculpt Automatic Pencil (I'm using No.5 color). I found it super easy to apply with good color, right softness and it works as well as MAC's sculpt pencil and just a bit harder than the one by Bobbi Brown. However, it is undoubtedly, the best value for money options.
Big Magic, is such a fluent-written and cheering book by Elizabeth Gilbert, who wrote the best-seller Eat, Pray, Love, which I recommended in my Book Club as well.
I read it, doesn't because it talks about creativity by a writer, but also creative thinking and living from a normal person's point of view. Creative living, as she said in the book, is not a career to make you live (not even rich), but simply open more opportunities for your maybe-boring-or-tiresome life! OH, and even it is not a novel, it is such a page-turner! I finished it on the flights of our London trip.
I have noticed many questions about my little white summer dress on Instagram, so I add it here. It is an old dress from last summer and I got it in &Other Stories shop in Milan. However, when I got your questions, I start to search in their online shop without the hope that I could find it. But, I did! So, here you are.
In Italy, we have got a delayed summer sales this year due to COVID-19. So, the real damage is happening these few weeks. I suggest thinking twice when you go for a sales season shopping because in many cases, you will just get something you will regret right after stepping out of the shop. Also in many cases, I get in with a hope to find something nice on sale, but get out with a bag of all new season items!!! Here I am again. I got this new Oysho sportsbar and legging set, with a super soft and comfortable touch. It's for light sports, so I will wear it when it is a strength training day. 
Last, I'm having my eyes on a few loungewear options on Nastygal. I mean, "Loungewear" becomes a big thing since the pandemic and the lockdown. However, dressing up in your best and most comfortable homewear (loungewear) also helps improving the home office efficiency. My priority goes to those slightly oversize knit design in shorts but also wide-leg pants.
Please note that this page contains affiliate links and any sales made through such links will reward me a small commission. That's rewarding my work and supporting more content in the future. You can always drop me an email for further information or simply refer to Privacy Policy terms here.