Hey, it's me, as promising you many times here and there, finally, I'm coming with my first The Goods edit. I will simply share what I've tried, used, tested, collected with you, from a very simple category – "lifestyle".
This is the first edit from The Goods, and I dedicate it to August, as you will find all the cute stuff for this summer. If you are trying to survive in the hottest days like me in Rome, I hope, these selected items could be a great rescue for your life there. Coz, when I'm putting things up for this post, I'm feeling me myself melting on my home office chair, and even part of me will blend in the leather chair forever. While except a small part of my brain is focusing on the writing and photo editing, most of it has only one thought – Fresh, fresh, fresh.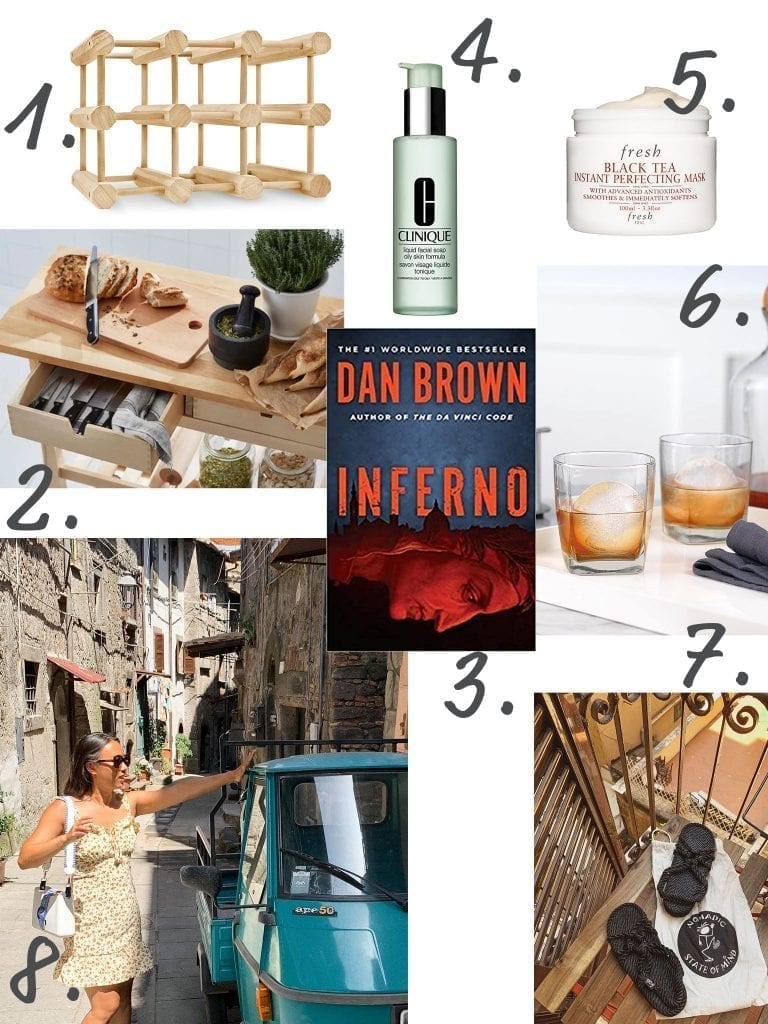 I and Luigi are always dedicated ourselves to a good bottle of wine or two. During days, I like having one small glass of the "gorgeous" Italian table wine. And, we love taking out our best, most unusual collection when we hold a home party with friends. Apart from that, we do work in the wine industry, which leaves us no excuse to say NO to a good bottle, and I'm always coming with long stories of those impressive Italian wines and wineries. Which, if I tell you, just a few weeks ago, finally we've bought ourselves a wine rack, you probably will be so surprised. Luigi found this amazing wine rack on Amazon, which is made-by-yourself and super flexible in terms of the shape so that it can fit your other furniture or ideal space for wine storage. We bought one for 9 bottles first and topped up another one after proving it's super practical and beautiful in our kitchen.
Another sister-piece in our kitchen, which comes almost in the same period as those wine racks. I always want a separate working space for pizza, bread, or anything that requires a flat spacious platform. This IKEA Forhoja table is just perfect depth, color, and style for us. I admit so far, we haven't tried to make any pizza or bread on it, as you know, it's summer now, and I don't want to work my sweat into the dough. But, it serves very well for our wine collection and water stock.
I guess books will always have a spot on my The Goods list. If you've been following my blog for awhile, you probably know that I've been "hocked" up with Dan Brown recently. My reading habit is quite stubborn. Until I finish one, I won't start another. So, yes, I'm finally closing the last Hollywood style story by Dan Brown, Inferno. Honestly, the first two (Angels and Demons, Da Vinci Code) are my favorites, and I feel so attracted when the storylines are developed on something I'm so familiar to – Rome, Florence, and Italy. However, they are novels only, don't take it as your art history textbook.
Skincare, as part of my personal life, I guess this is the first time to introduce to you. Ok, in general, I'm a French pharmacy girl, sometimes I try Italian pharmacy brands. Clean and natural skincare concepts like Drunk Elephant, The Ordinary, win a spot in my heart too.
Clinique is one of the first French brands I've been in contact with since young age. Yes, starting with that 3-step concept, exactly. However, as years go on, I've stayed with only its liquid facial soap, and I know perfectly which type I use in which season. For August, I go for type No.3 – for oily skin. I'm obsessing with that extra freshness and mint aroma coming out while "rubbing" my face with this face wash.
Except for my love and extreme loyalty to Fresh's face wash, I want to recommend this Black Tea Instant Perfecting Mask for August, especially. I don't see any "instant perfecting" effect on my skin, however, absolutely agree on its "instant cooling" effect in the recent hot days. The mask is not thick nor thin, with its decent floral scent and I don't feel any dryness even sometimes I forget it for more than an hour. Please don't do that. It makes me cool down from face to toe – magic! and of course, soften the skin after using it.
I love this genius design soooooo much! We love throwing Aperitivo party at home, or sometimes on our terrace. A lot of ice, is always what we need for Spritz and now for wine even. This sphere shape ice mold, makes perfect ice ball for a standard whiskey glass, and it fits into a white wine glass too! Believe me, we've tested. The ice stays for at least more than 30 mins. That's super lovely when you have many friends around, drinking something with ice. It's making our home party easier.
Talking about iced wine, yes, we chill them down even it's a red bottle. Believe me, 30+ degrees here makes all red wine non-drinkable. We bought also these stainless steel ice cubes, which won't dilute any drink but just keep them at the perfect temperature! Wine lovers, here you go.
I've been talking about this pair so many times, everywhere, and many of you asked me where to get them also. Nomadic State of Mind, doesn't it sound perfect for who's a traveler/adventurer? It's made with rope material, machine-washable, super comfy, and very surprisingly, stylish and goes well with different summer outfits, floral dresses, bike shorts, mom jeans, you name it.
I got them a while ago when &other stories just started their summer sales online. I was so lucky that I got the last black pair before everything's out of stock – crazy! It's not there anymore, but luckily I find them on Farfetch, and if you don't mind a bit different design, Oysho's having an equally lovely pair as well. Besides, I've got a few more chic and comfortable recommendations for this summer.
I love basics, but in summer, I excuse myself for more floral mini dresses with air-weight textile, so I can survive the heat. I got those two floral summer dresses from Nastygal a few weeks ago, and I was living in them recently. I seldom buy clothes online, as you know, feeling insecure about the sizes and fits, but it looks like Nastygal fits me. Just in case you ask, I did a quick quiz and got the size recommendation before ordering. So, if you doubt, try it too.
Please note that this page contains affiliate links and any sales made through such links will reward me a small commission. That's rewarding my work and supporting more content in the future. You can always drop me an email for further information or simply refer to Privacy Policy terms here.