Happy Sunday! The rain doesn't stop, and we continue switching between the "yellow zone" and "orange zone" in Rome. It means – we do have a lot of time at home. Today, I want to share with you my simple recipe inspired by the Italian Frittata with ricotta cheese and spinach.
Cooking has become the biggest hobby of ours. And, I believe you have the same feeling. Let the Italians deal with their Italian businesses – this is kind of my motor (and the way to escape from cooking sometimes). However, I like experimenting in my kitchen. This recipe is inspired by the traditional Italian frittata with ricotta cheese and spinach with a few life-changing products I have discovered. I will explain later.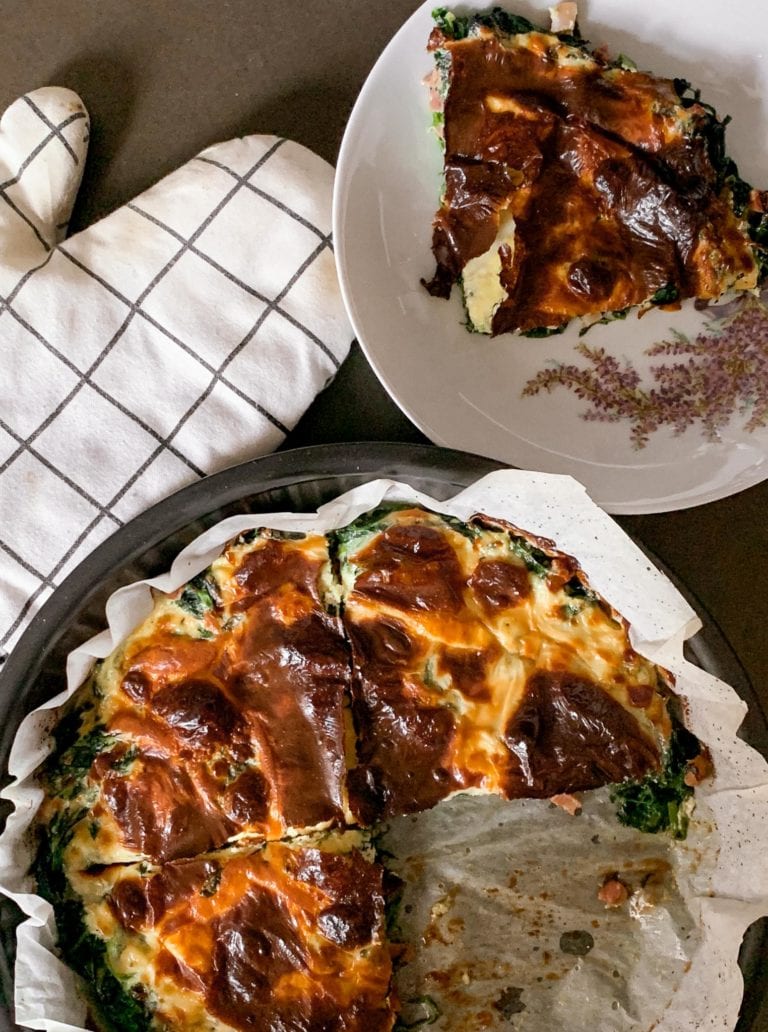 Italian frittata is not too different from what we think about Omelette or Spanish Tortilla. Of course, they are different in a thousand ways in the eyes of the locals. The Italians are perfectionists for their food.
This "perfectionism" is very much on the opposite side of my root (Chinese culinary culture). Instead, I'd love to make experiments with different traditional recipes with different ingredients. This Italian Frittata is surely not your traditional Italian Frittata. It has a bit of British touch with the crust. Or, I'd like to call it a pie. We fell in love with the simplicity of a great hot "pie" this winter. It is partially inspired by our last London trip and my biggest discovery of Sfoglia.
Sfoglia is a type of pre-made fresh dough. You can find it in all supermarkets here in Italy. It has different shapes in round or square, different functions for salty pastry or sweet. Each package has one sheet wrapped with a sheet of baking paper. Considering the time and effort it saves for you and the crispy result from the oven, it is my "kitchen hero" recently.
The traditional home-style Italian frittata has egg, spinach, bacon, and cheeses. Ricotta cheese is the major one. It works as a cream product. However, Parmigiano Reggiano gives a beautiful cheesy and salty taste.
In my recipe, I add some sliced mushroom. On the top, I use Sotilette cheese to create that golden-brownish look. They were just in my fridge that day. So, why not? Sotilette is a kind of cheddar cheese. Honestly, I think it is just called differently.
As long as you are not a recipe perfectionist, I always recommend to be creative and "recycle" whatever is left in your fridge, especially the vegetables! I have an impression that a person should take 5 different types of vegetables in his one-day diet. I have no idea where and why I have this idea… So, if you have onions, carrots, potatoes, sausages (that's not vegetable – marked), and even other types of cheese. Feel free to make fun in your kitchen.
Below is my simple recipe of Italian frittata with ricotta cheese and crust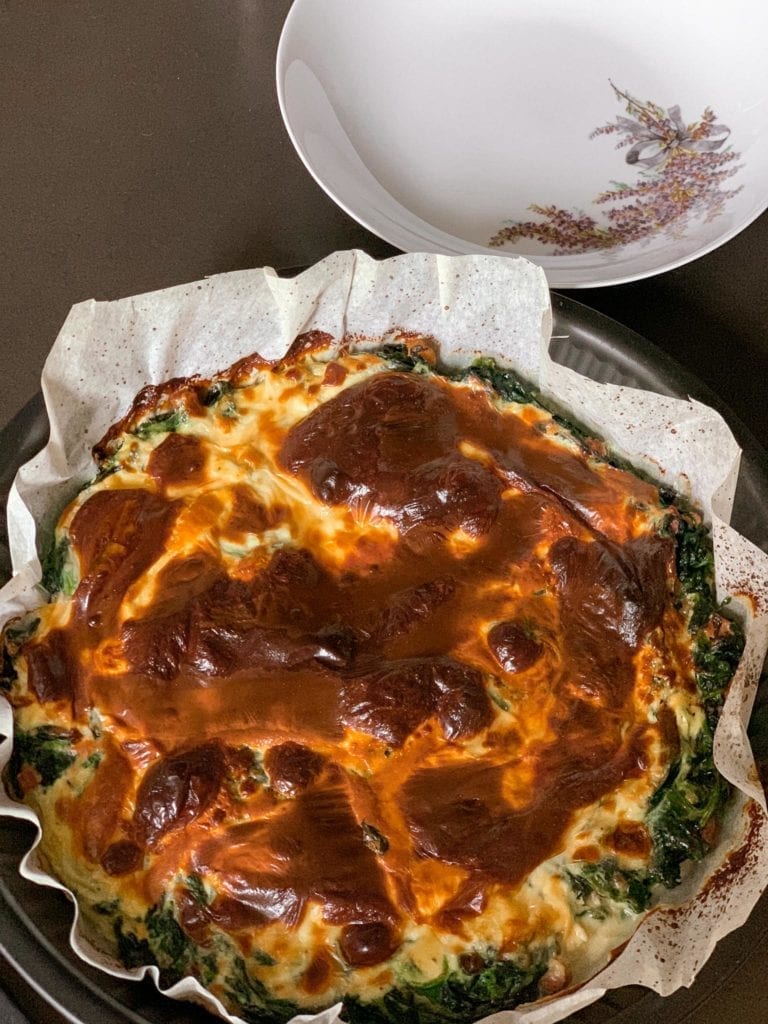 Ingredients to prepare:
Fresh big eggs (4-6 pieces as you like)
Ricotta cheese (125-150 grams)
Sotilette cheese (2-3 sheets, I use this one)
Parmiggiano cheese (some pitches only)
Spinach (500 grams)
Champignon mushroom (5-6 pieces)
Diced pancetta (1 box or 70 grams)
To cook:
 Set the oven to 200°C. I usually will set the oven in a fan-forced model.
I like to keep the baking paper with the sfoglia when placing them on a baking tray. You can take away the baking paper, but then remember to brush lightly the tray with butter or baking oil. You can press the dough gently.
Cook spinach and mushroom on a pan and the diced pancetta (bacon) in another smaller one. Mix all together after all are cooked.
Get a large blow to beat the eggs first. Then, mix the eggs with ricotta cheese until the texture is creamy without blocks of cheese.
Add shredded Parmigiano Reggiano cheese to the egg mix. I will give a pinch of salt and black pepper as well.
Move spinach and mushroom on the dough and carefully place them even. The dough is quite delicate and wet, so be careful not to break it.
Pour the egg mix into the tray. It shouldn't reach the edge of the dough nor fully cover the spinach.
Break the Sotilette cheese into thin slices or small pieces. I like placing them evenly to cover almost the whole surface.
Bake in the oven for around 15 minutes first. Normally, I will add another 5 minutes – more or less according to the color of the sfoglia dough and the sotilette cheese on the top. When you see both are turning golden color, it is time. Even it becomes a bit brownish, it is fine.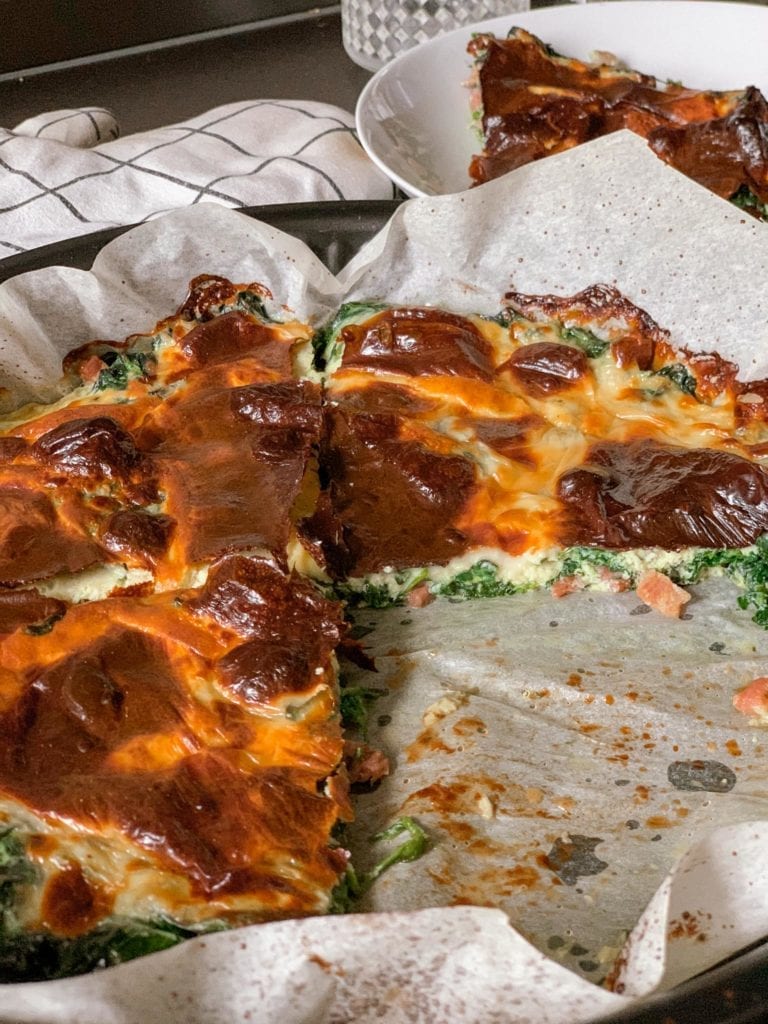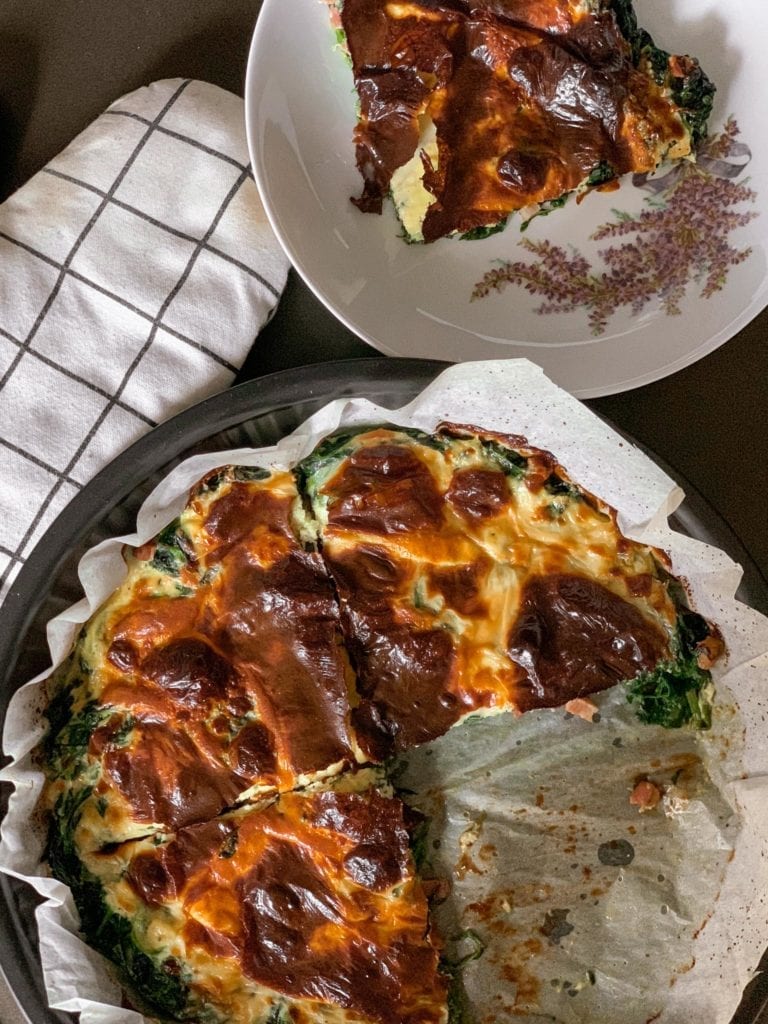 I hope you like this post and would enjoy a nice kitchen afternoon like me. See you soon here.