Satisfaction is the fulfilment of your wishes, expectations, or needs, or the pleasure derived from this.
Blue Happy Monday! 
How is your weekend? This week, I've got so many things to share with you. Right now, I feel a bit overwhelming as I'm catching up the delayed projects and works from the weekend's unexpected "laziness". However, there is equally satisfaction upon me. Last week, I really have done many things. Traveling, feeling connected, learning and creating are all the little contributions to my big satisfaction.
Please note that this post contains affiliate links and any sales made through such links will reward me a small commission – at no extra cost for you. That's just the beauty of affiliate marketing and you can always drop me an email for further information or simply refer to Privacy Policy terms here.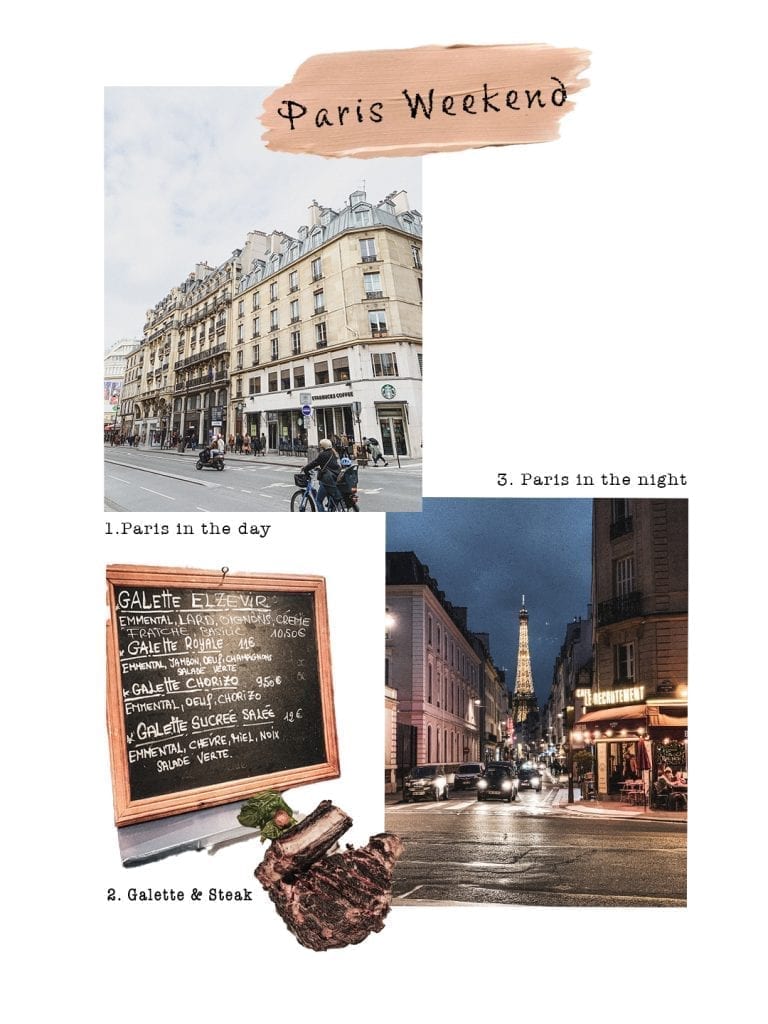 As you know, we went to Paris for Valentine. Yes, we did, even we are never that type of couple to share Valentine, Yearly Anniversary or sort of things. We prefer to celebrate with little things every day. There is a story of this "spontaneous" trip.
Before the new year, I've decided to join my girlfriend's big Europe trip. She will stop by Paris for 5 days and I will join her for a short weekend. We've booked flights, hotels and almost everything, however coronavirus hits us. She has to cancel the whole Europe plan as she lives in Shanghai. But, my part continues. I was thinking to make this a solo trip, but then I just realized my flight date is exactly the Valentine. I threw a signal to Luigi and how lovely he is. He booked the flight straight-away even he was busy with his study and projects. Viola! We were in Paris for 2.5 days.
Both of us have been to Paris, so this time, I made a no-plan plan. Basically, I pinned all the places those I've saved in my my Instagram and Pinterest on Google map. Each morning before we left from our hotel, I picked up a major neighborhood I would like to start with, and we just walked in the city to discover unexpected spots.
I really love the way how we explored Paris this time. We've passed the cute and ultra-busy neighborhoods like Jewish Quarter and Latin Quarter without knowing it in advance! Before I've got a full Paris post for you, I made this special-mentioning list here.
Cognacq-Jay Museum. The museum offers a rich collection of world-class paintings, sculptures and collections of 18th century artworks. It's absolutely not overwhelming and provides an almost intimate vibe for the visitors. And it is free! (I will share how I know this museum with you later.)
Fragments. Another famous café in Paris where I enjoyed a beautiful piece of carrot cake decorated with rose. Luigi, finally, got his satisfaction of avocado toast. Mine is a big cup of latte, which I did miss a little bit after drinking too much

Italian coffee

in Rome.
La Maison Rose. The little pink house in Montmartre is not only Instagramable but also a perfect place for a light Parisian/Italian lunch. We went in straightaway on the Saturday noon. Super lucky! Those vivid rose wallpapers and vintage glasses, I wanted them back with me in Rome so much. I definitely recommend to spend some noon hours there because I just couldn't stop playing with the magic rainbow shines on our table.
Creperie Suzette. This is another spontaneous decision. We told ourselves, we could not leave Paris without a crepe. We've got the beautiful salty galette instead of crepe there and I could have ordered another Nutella crepe if I was not that full!
L'Aller Retour Marais. We really wanted a dinner at a Parisian steak house as we missed the French steak and shoe-string fries in Hong Kong. That raining Sunday night, we booked a table at L'Aller Retour Marais near Republique, and we were so impressed. The place is very small and super crowded during peak time. However, it doesn't affect its classic-chic given by the red velvet door-way curtain and the antique-style bookshelf. We opted in their 1kg steak. It was said for 2 persons. Truth to be tell is we barely finished all. It was huge!!!
//
I specially mentioned about Cognacq-Jay Museum is because the way how I know it is exactly I feel cheering when connect with like-minded people online. Everything started from a random comment on Instagram which lead a long discussion about my Paris trip. She recommended this museum along with a few others and it turned out to be such a great experience for me and Luigi.
//
Last week, I published my second collaborated post with my fellow female bloggers. We talked about Culture Shock experiences with our personal stories. I don't know whether you are interested to read something purely about culture and thoughts. However, it was such a big satisfaction that I received interests immediately from my blogging community and we've worked out this post so efficiently! I always love reading personal stories, and if you are like me, give a read and you might laugh on some points.
//
I've started to mention about my project. Actually while working on that, I realized a huge workload with the endless needs of inspirations and creativity. It is actually very similar to what I'm doing now – writing a blog. I always need to keep an eye on the other interesting content to keep myself inspired. However, humans are not like computers. I cannot achieve everything. So, I use Pinterest and Instagram to mark down the instant sparkling. It might sound overwhelming and I do feel sometimes, but meanwhile, I got satisfaction from what I'm working on.
Currently on my Pinterest, I'm using the Words board to stimulate my minds for the project. For blogging and lifestyle ideas, I keep two boards, Art & Design and Instagram Love. Last but not least, I try to remind myself to keep a good lifestyle by the board Inspiring & Lifestyle. If you are interested to know what tools I'm using for my project, blogging and social media content, Canva, Adobe Lightroom CC and Photoshop are the primary ones.
//
My last little satisfaction comes with my commitment to the goals those I've set for this year. They are listening to more Podcasts and reading more books. I think it's time to bring in a couple of more sharing here.
For the Podcasts, my recent following is The Wit & Delight by Kate Arends. A weekly digest of self-empowering and discovery. I also follow her blog and love her creativity works as well.
For the books of last week, I just finished the second book of Israeli author Yuval Noah Harari, Homo Deus: A Brief History of Tomorrow and The Rosie Project by the Australian author Graeme Simsion. The first one is about history, politics and civilization, however the second one is purely entertaining and romantic. I love mixing non-fiction books with novels to adjust my reading rhythm. If you've read those two, welcome to leave your thoughts down below.
I hope you enjoy today's reading. Pin It To Share With Others.