Music, is such a way to produce beauty, harmony, and expression of emotion.
In this special period of time, I want to add my own definition. Music is a new way how we keep our social connection while in our social distancing.
Personally, I do love talking to my Alexa during lunch and dinner, and at the weekends like, "Alexa, please play music on Spotify". I'd love some international POP or Latin American songs while preparing our lunch and dinner. When we have a glass of wine or two, it will be the turn of jazz or lounge music.
For the Romans and in general, the Italians, music is even more essential. In this quarantine period, I've been so happy to experience and collected many "music" moments. I know, our "war" to this coronavirus won't be short. So, I would like to share with you those excellent music moments from Italy to the world, and hope they will always cheer you up.
Music is like a dose of medicine, healing and calming our tight minds.
I think you've known that Andrea Bocelli has performed a special online concert "Music for Hope" from the Duomo Milano on Easter Sunday. The time, the location, and the artist, and the concert itself formed up the best combination. If this depressing crisis in the world is trying to beat everyone, I believe the team of Andrea Bocelli and the people who worked to make this online concert happened had showcased an excellent fight-back from humanity.
The concert was on Andrea Bocelli's Youtube channel, and I've put this 24-mins Live video below. Guys, feel free to share if you believe it's healing!
Many of us are going through the feeling of unmotivated and isolated, however, do you know? Music is one of the universe forms for communication.
I've been online like everyone and I've seen.

In Spain, people clapped hands.

In France, people enjoyed wine or champagne while listening to the typical French songs.
In Italy, people played music and danced to their favorite music songs on the balcony.
(If you are from many other countries and regions, please share with me, how music is involved in your area?)
When we started our quarantine, I shared a short video from Instagram. You can watch here. The cute Italians played classic music or DJ-ed on their balcony, while others cheered, danced, singed and of course, recorded many videos to share those amazing moments with the world. Guys, we are in social distancing, but we are not isolated. Through music, we are able to cheer others not only from our balcony but also on the Internet.
I never imagine that I have a chance to participate as well!
Before Easter, exactly at 6pm, I noticed Opera singing from my studio. When I went to our living room window, I saw all our neighbors standing in front of their windows. Basically, it was happening in our whole block! Some of the ladies held lyrics in their hands, and a few had a glass of white wine also. I was so excited to shoot the video, but then I started to recognize IT IS ON LIVE! A live opera literally happened in our building. Our neighbor's wife was an opera singer and probably, the couple and a few neighbors organized this. I don't have any idea how they organize it, but definitely, this is the best showcase of how we can turn social distancing to social connection through music.
Now, it's my turn to invite you to keep the social connection with me and many others.
As I mentioned at the beginning, I and Luigi love music. So, a random unmotivated night we rooted in our sofa for a couple of hours and created our Spotify playlists.
So far, I've published 3 playlists on my personal Spotify account.
Vecchio Italiane is so far my favorite one. I really need to give Luigi the most credits as he contributed a lot of his childhood memories and probably the shared memories from his parents. Because, if you researched a bit, those artists are the 60s or even earlier! Somehow, I felt their songs are the best examples to show the Italian classic style. Listening to those songs brought my imagination to those black-and-white Italian movies.
You can play directly here to have a quick taste or you can head to this playlist on Spotify and follow it.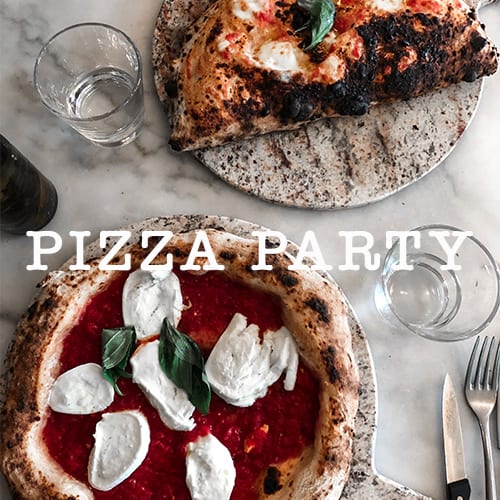 Pizza Party
is my second Italian playlist. It is for the 21st century and most of the songs are on the 2019/2020 hit list. If you are planning a pizza night with some drinks, and you want an Italian-Latino party vibe, this playlist will fit perfectly.
Repeat Daily
is my last playlist, which is NOT related to any Italian culture. I simply created it with a few of our favorite international songs.