Hey, how are you? I'm glad that I could find some time to sit down and talk to you here. 
I really want to make my blog a causal and relax "chat-box". My goal is to talk – Yes, I am probably getting too much influence by the Italians. Talking becomes more and more important, and the topic? Well, it is just a few thoughts and mostly "meaningless-while-delight weekend-or-after-dinner-style" things.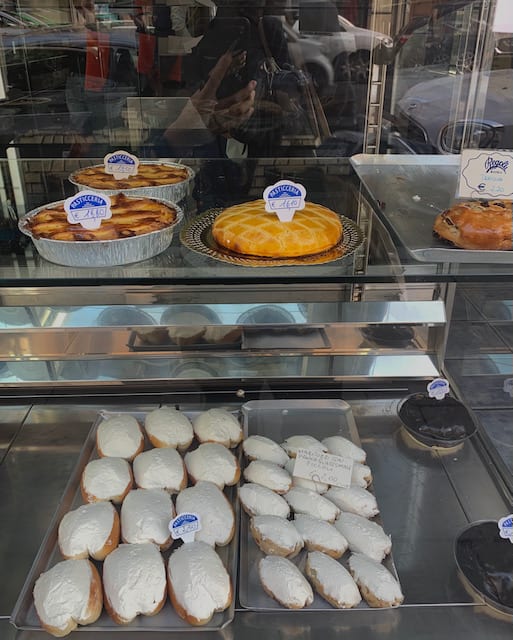 I caught the chance! 
Somehow, the Italian lifestyle makes me a chance-taker. 
What do I mean?
I make a quick decision or slightly twist my original plan so "impulsive" and randomly while living here in Rome. In Italy, even before the complicated situation like last and this year, everything works in such a romantically casual way. 
Let me give you a few examples.
The Italians love a Sunday pre-lunch run to their favorite and famous neighborhood Pasticceria for a tray of fresh-made sweet bites. I never succeeded in that. If you were me, look at the line and the double-parked cars.
When it is a public holiday and I am excited to discuss with Luigi about the grocery shopping trip as well as more-than-we-actually-need ideas of the cooking plan, "Babe, it is a public holiday, everything closes, even the supermarket."
…
There are many interesting unfamiliar "living rules" in Italy.
Slowly, I take whatever chances show up when I see them. It doesn't matter I do have a plan for it or not. Believe me, it definitely will show you what it deserves.
Passing by a nice Gelateria and spot an interesting flavor? Take it, because they probably are available only in this season with the seasonal fresh ingredients.
Thinking about a nice Aperitivo or dinner with friends? Book it immediately. You really need to compete with the locals for a good restaurant in Rome or Italy.
"Unfortunately", this is Italy. This is the Italian way. Whatever you like it or not, they just live in their own way. I mean, because why to change? You can say that it is so romantic that they live around their own clock. You might think they are too stubborn about the holidays and the traditions. But, the thing is, if you look around (the world), preserving this life attitude is quite difficult, right? How precious this life attitude is!
My typical caught-the-chance recently was the Pasticceria case.
I didn't expect such a long line outside Regoli during the random Friday pre-lunch hour. However, it happened when I was eyeing the famous Maritozzo. They are waving hands to me from the window!
If you don't know the meaning of Pasticceria. Well, it is the general type of dessert shop. Sometimes it is also a bakery, but not necessary. You will find fresh-make cakes, sweet pastries, and biscuits in a Pasticceria in Italy. More importantly, every neighborhood has one or two well-known Pasticceria. If a quick stop for short lunch is Forno, then a quick stop for an Italian sweet breakfast is Pasticceria. Who can resist the freshly made cornetto? The downside is you might miss a shot of coffee.
Regoli is that neighborhood-famous Pasticceria in Esquilino of Rome. Maritozzo is one of their star sweets, and they do make two types of Maritozzo – the traditional plain one and the one mixed with nuts. 
Maritozzo is a kind of Rome sweet. It is simply made with a soft bun (something very similar to Brioche) and a loooooooooooot of panna (light cream). It is very soft, airy, and of course, sweet. This is a very interesting story about Rome's Maritozzo if you want to read.
Surely, you don't find only Maritozzo there. For example, like many Italians, we always get a small tray of mini pastries or a small crostata from Regoli before visiting our friends on the weekend. What can make a normal weekend nicer with some beautiful sweets and a glass of Italian sweet alcohol with families or friends?