Rome is slowly stepping into the post-lockdown period, and surely the almost two-month lockdown in Rome city changed many people's life opinion. However, 2020's pandemic and lockdown don't bring us absolute negativity, for example, the recovering earth environment in a big way. In a much smaller way, I do discover a lockdown benefit personally. I was able to, literally, discover those hidden Rome street art in the city center. Simply because that hidden Rome street art is painted on the street shops' roller shutters which won't be seen during business hours in the normal days.
A collection of the hidden Rome street art on the shops' roller shutters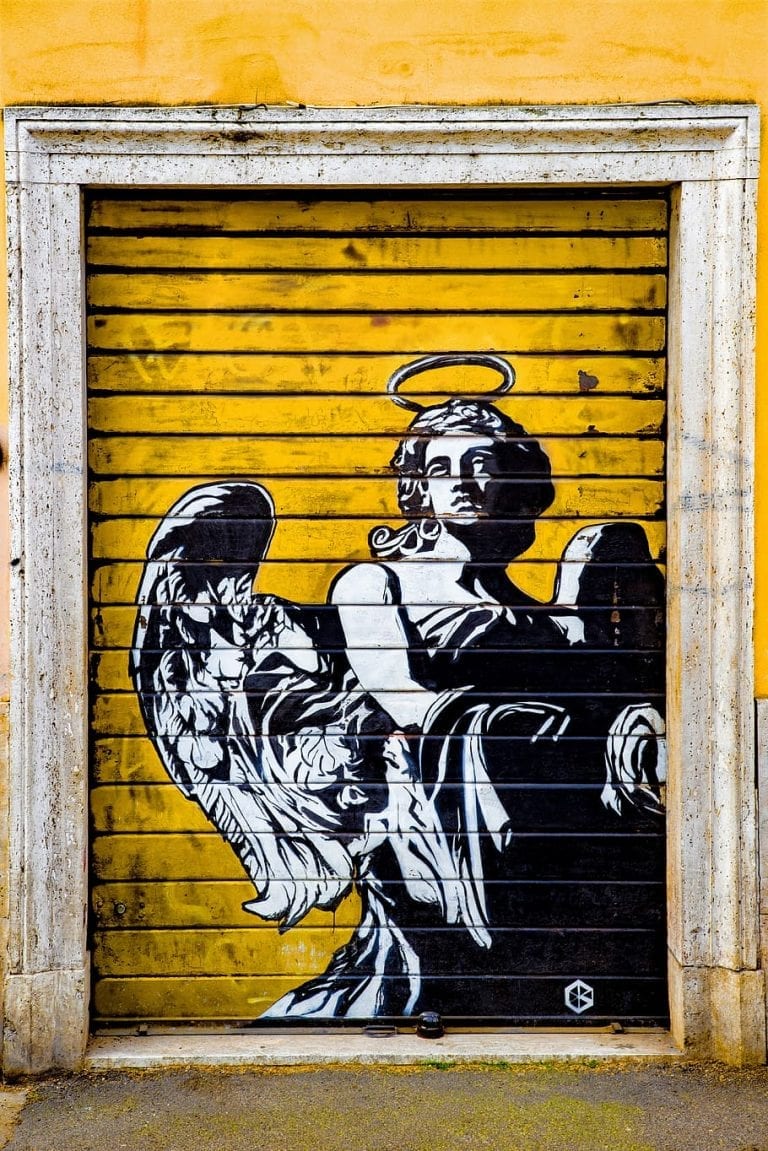 Maybe you are out of Vatican and walk straight towards Castel Sant' Angelo. Or maybe, you are admiring the beautiful vivid sculpture of Angels on Ponte Sant'Angelo while trying to figure out which one is made by Bernini.
Head to Via del Banco di Santo Spirito, you will find another angel on a bright yellow roller shutter.
(Photo by Wallpaperflare)
Among the many famous Rome street art in Trastevere
Trastevere is really a 5-star rated place in Rome for everything related to hippy and vivid. Apart from the eating and drinking culture there, street art or graffiti becomes another important things-to-do-in-Rome there. Even, among the rich street art in Rome, Trastevere is one of the listed quartier (neighborhood) you cannot miss.
I took this photo when walking around and enjoying an outdoor coffee chat with my friend and another Rome blogger. Grandma looks quite determined. I believe the artist means to show the strong spirit of Italian women.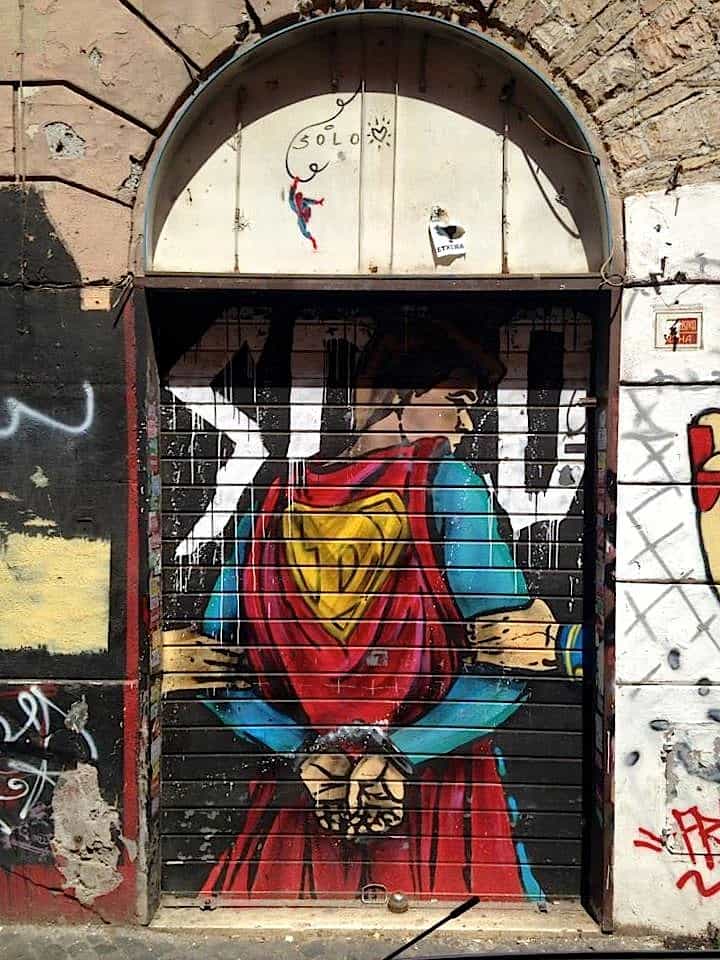 Another famous Rome street art neighborhood, San Lorenzo
If you are looking for Rome street art or Rome Murals specifically, San Lorenzo is the one Rome neighborhood on your list. It is also recognized as one of Rome's art districts. The area houses the street art by a few of famous international street artists like the Italian artists SOLO, Unga, and the French artist Christian Guemy (C215), whose street art on Via Baccina near Arco Dei Pantani I talked about before.
(Photo by Romeing.it)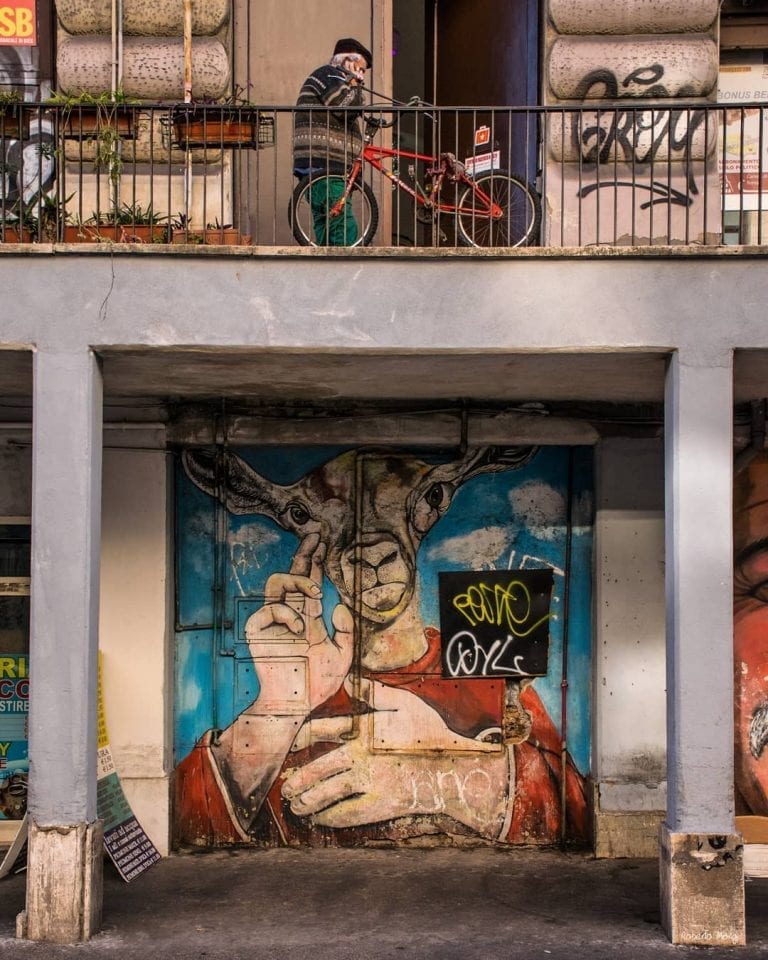 The forgotten dark side of Rome, Roma Termini
I live very close to Roma Termini and traveled so much to share with you an in-depth guide of Roma Termini on my blog. However, many people leave this area directly after arriving by train, or maybe the highly mixed population and the chaos there make the tourists mistake it as a boring and commercial area. However, if you walk along Via Giovanni Giolitti, you will discover the amazing and colorful street art there.
(Photo by @robemme)
A glimpse of the normal Roman life
Rome has attracted many international well-known street artists and even carried out some big street art projects if you visit Testaccio or Tor Marancia neighborhoods in Rome. However, Rome street art has more than this. Many graffiti is simply showing the most normal Roman life like what they eat and drink, how they shop, etc.
Near Mercato Tuscolano (the nearby metro station is MEA, Lucio Sestio), you will find some very interesting Rome street art.
The eating-pasta scene in the movie "Un Americano a Roma" is now officially in Mercato Tuscolano. I don't have doubt about the Italians' passion for pasta, just like Sophia Loren said, "Everything you see I owe to Spaghetti".
P.S. The movie is very iconic in the Italian movie history, so as the Italian artist, Toto, who played this pasta-eating guy. Actually, he has played another pasta-eating scene which is way more impressive and famous.
(Photo from Pinterest)
Believe me, you will see a similar scene every morning in a random bar. This is too iconic. I love the faces of these two middle-aged Italian men. That cappuccino breakfast must be in a moody winter morning.
P.S. Cappuccino, only in the morning, as the Italian coffee culture.
(Photo from Pinterest)
Here are some more with the unknown location in Rome
Well, this one achieves both ironic and iconic goals. The shop is truly a bakery and its name is Panificio Nebbia Roma. (Photo from Pinterest)
Obviously, they sell many Mozzarella di Bufala, which means Mozzarella made from the milk of buffalo. It is originally from Campania region of Italy, and definitely a must-try Italian fresh dish. (Photo from Pinterest)
Rome street art is derived from the Ancient Roman Graffiti?
Rome street art comes with a long history and influence than we expect. You might think it's something related the contemporary or modern art, however, Rome street art is just a strong come-back of the ancient Roman graffiti.
If you look at the basic purpose of many different Rome street art, it's not far different from the ancient Roman graffiti.
In ancient Rome, the royal families and the rich Romans could pay for the artists to produce marble or bronze sculptures for themselves. The main purpose was to tell their stories to many others after their death. However, what about the normal Romans? Especially, the women, children, and slaves were with the lowest social identities in ancient Rome, how can they tell their stories?
The ancient Romans painted just the modern Romans do nowadays. The ancient Roman graffiti tells many normal Romans' daily lives. They even left their favorite jokes, gossips, ironic comments on the political or events in their time.
Where to see the ancient Roman graffiti?
Unfortunately, in Rome, the ancient Roman graffiti has disappeared over the years of wars and chaos. The largest preservation of the ancient Roman graffiti is in Pompei, where you really can visit and see the ancient Roman life.
Want to have a quick look now? The documentary, "Meet the Romans with Mary Beard" perfectly includes two short conversations about ancient Roman graffiti. I also include the full documentary series in my Free Virtual Resources for Rome.