Ok, I promise a recipe for my weekend homemade granola with oats. Here I am. I have to admit that Luigi doesn't love my first try, but he loves my last try. I guess the difference is the crunchiness.
We used to and still stock up a couple of boxes of granola and cereals for the breakfast. It is yummy, fast, and yes, we think it is healthy too. Honestly, I know it contains quite a lot of sugar. The processing might not as healthy as we imagine all the time.
Meanwhile, I always tend to keep a bag of raw oats in my pantry. Who knows, maybe on a random weekend (or even weekday) morning, I will have time and make some cooked oatmeals from my laziness. Add a bigggggg scope of peanut butter and some sliced banana.
I really want oats for my rushing weekday mornings!
The truth is once I have figured out my own version, it becomes the easiest and hands-on breakfast option at home. When we have time, we mix it with fruit and yogurt or milk. A handful of it directly in the mouth is what we do when we rush to a Zoom meeting in the mornings. Very often, (only me) I snip into the kitchen and grab some as snacks in the afternoon. Meanwhile, Luigi grabs taralli – he is "still" an Italian.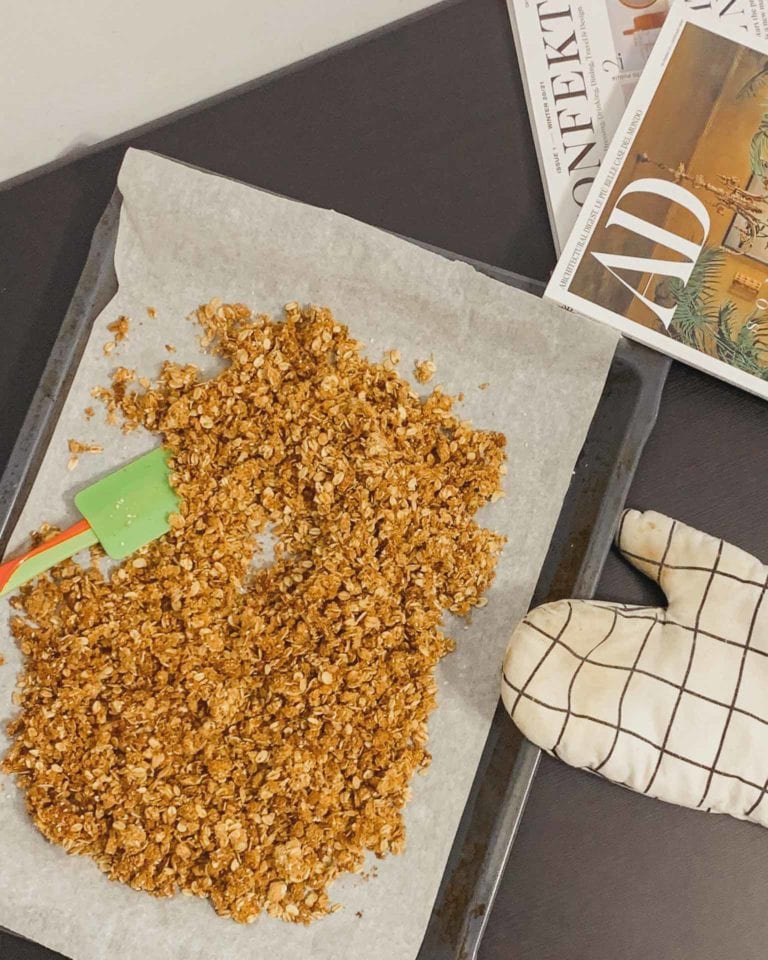 I started to research the recipe online and tried it on the weekends. The recipe is not that different from one to the other, and it looks super easy and simple. So, I dive in (the experiment) directly. The result is not satisfying. It was a bit burned and the crunchiness was not enough. Also, I didn't manage to get those slightly bigger chunks. Luigi didn't show much interest either.
Therefore, I came back to Google and search more. Then, I found the maple-maca granola on Eyeswoon with different seeds and maple syrup. I also watched the live by Pamela Reif on Instagram where she shared her chocolate version with banana instead of honey and oil.
I started to realize the problem could be the solid-form honey and the variety of the ingredients I was using. Then, I made my little adjustment, and voila! 
I cannot wait to share with you my recipe of crunchy homemade granola with oats!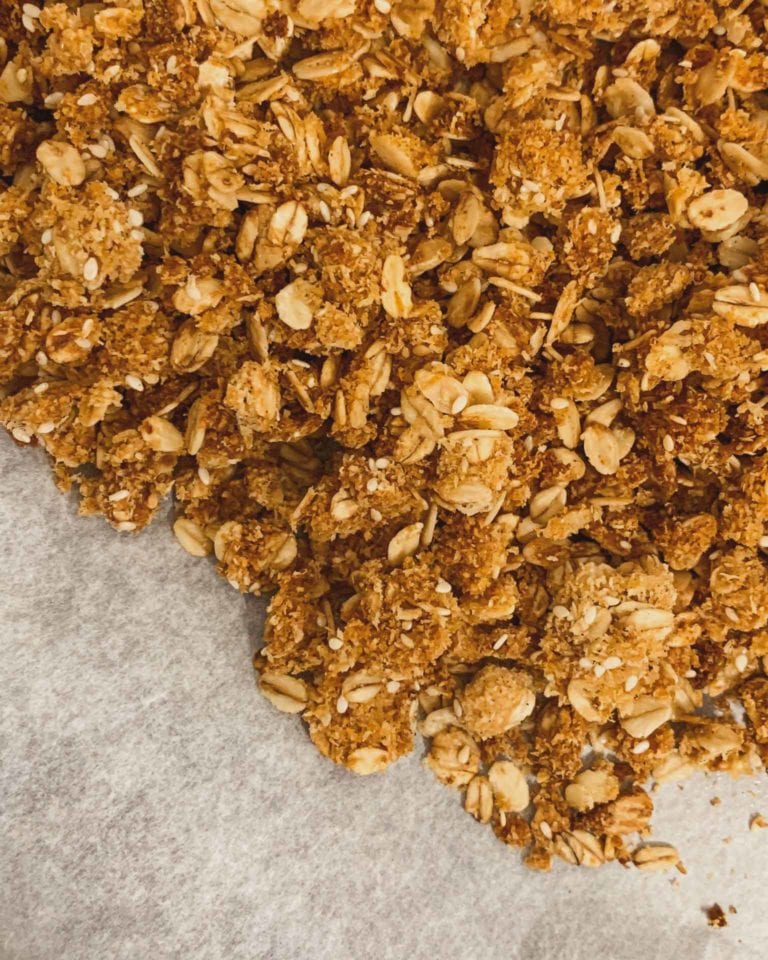 2 cups of oats (or around 200gr)
1 cup of raw coconut flour (or around 70gr)
a pinch of salt
a pinch of sesame
a teaspoon of cinnamon
5-6 tablespoons of honey (I use the raw one in a semi-solid form)
6 tablespoons of extra virgin olive oil (you can also use coconut oil)
Pre-heat the oven with a temperature of 150-160 degree without a fan
Mix all dry ingredients
On a small fire, carefully melt the honey (if you have your honey in liquid form, skip this step) and then mix with extra virgin olive oil
Pour the wet mix slowly in the dry mix, and mix them well until all dry ingredients are evenly coated
Spread the mix on a baking tray and bake in the oven for around 10 minutes first
After the first 10 minutes, take them out, flip and mix a bit so that all mix can get baked evenly. And then, put back into the oven for another 10 minutes
When it is done, take the tray out from the oven and let it cool down naturally. To store them, I put them in a glass jar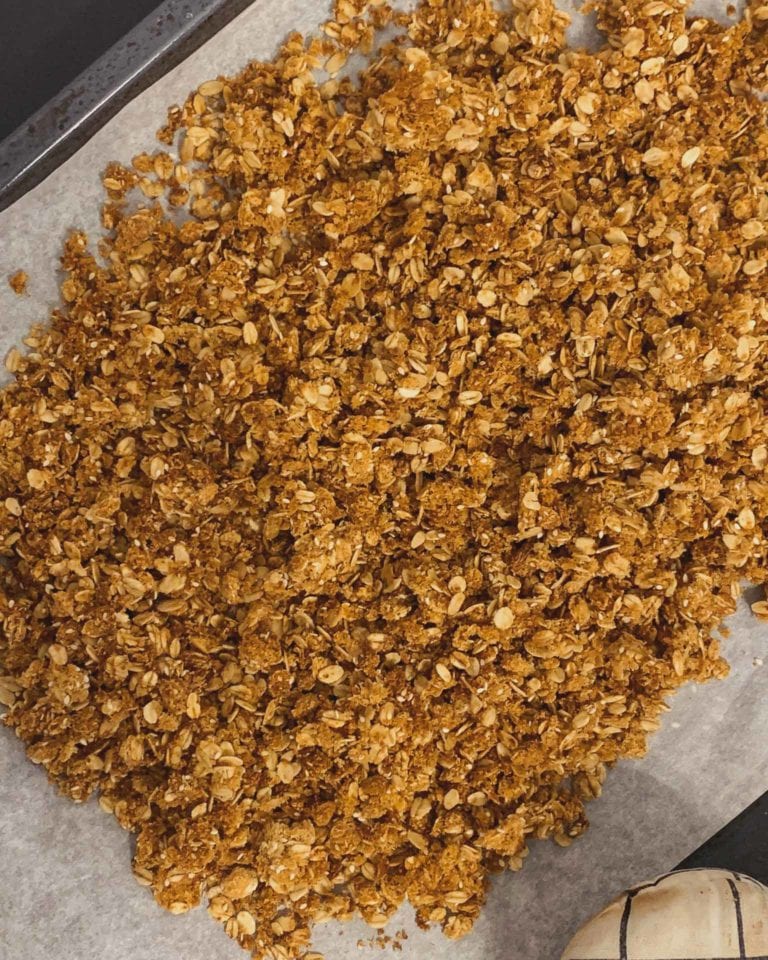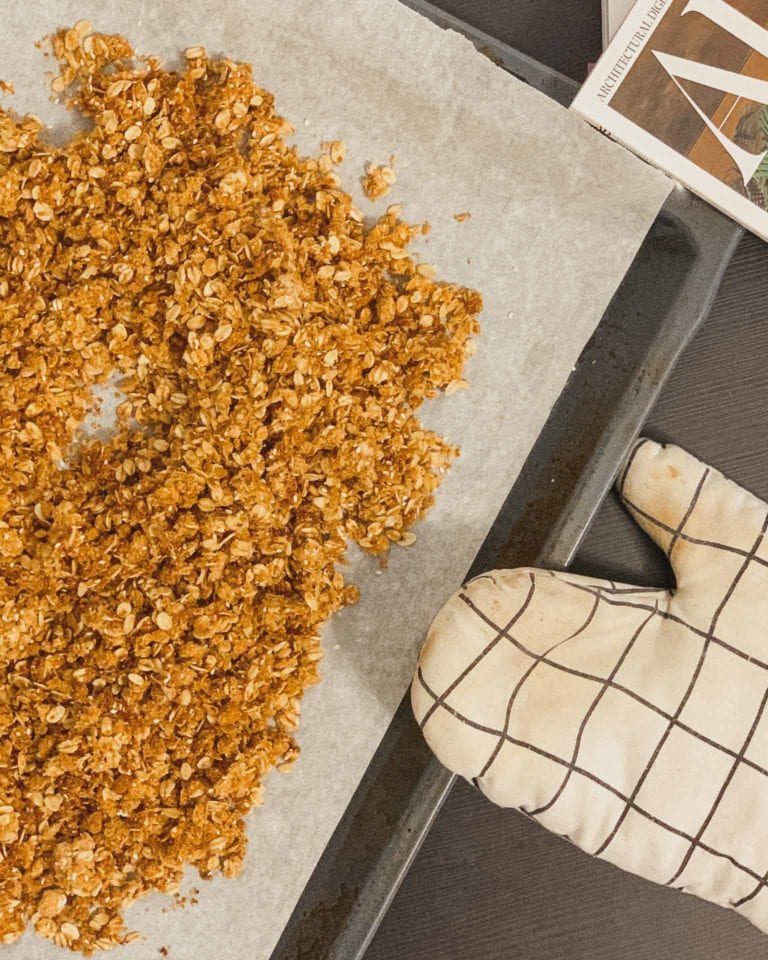 Due to the difference of ovens, the timing might have a few minutes difference. However, it always gets ready earlier than it turns the color from pale yellow to a golden brown. Actually, you shouldn't wait for the brownish to show up, because that means it is getting burned.
The second thing is about the crunchiness. Once it is baked, you find it super soft and sticky wet. No worries. It is purely because of the heat. You don't need to put it back into the oven, but just let it cool down. Once it is at room temperature, you will find the perfect crunchiness in your homemade granola with oats.
I found it entertaining and satisfying by researching, experimenting, and making things in the kitchen. Normally, I don't have time for it on workdays (even we work from home now).
However, playing around in the kitchen is one of the best ways to get you relaxed and rewarded on the weekends.
Hope you enjoy it and see you in the next post.