I always want to share something about skincare with you! Well, I guess, finally, this will be the first chapter – just a few carefully selected "best skin care products of all time" according to me. 
I like trying new skincare and beauty products. Plus, I don't have a sensitive skin type but a just-the-everyone-has-it combination-to-oily one. However, the desire of trying new skincare products is no longer strong like when I was in my 20s. I know which brand and what major functional ingredients are good for me.
Another "self-claimer": I don't own "big brand" products. I am not against the good ones, but I tend to support French-pharmacy skincare and smaller individual brands.
Growing up and aging offers us so many gifts in our lives – not talents (don't just worry about wrinkles and losing your value as a woman). We are, surely, more experienced and confident about what is good for us and what we want. This is forged by years of experimenting – not something we were born with.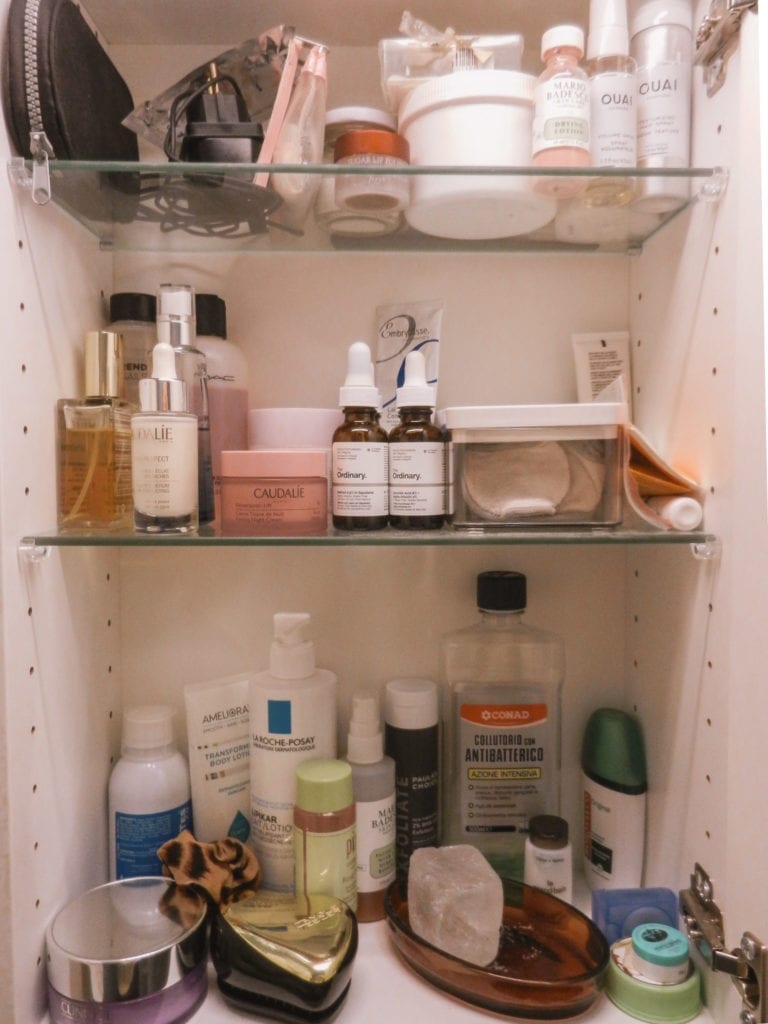 Please note that this page contains affiliate links and any sales made through such links will reward me a small commission. That's rewarding my work and supporting more content in the future. You can always drop me an email for further information or simply refer to Privacy Policy terms here.
Growing up and aging offers us so many gifts in our lives - not talents. We are, surely, more experienced and confident about what is good for us and what we want. This is forged by years of experimenting - not something we were born with
Staying clean is my priority. It gives me a feeling (or you can call it sensation) of refreshing and even detoxing. I like gel-to-cream cleanser. Foaming up during the finger movement on my face makes me believe my cleanser is doing its job – sensation, you know. However, my cleanser must not tighten my face. In the night, I add cleansing balm as a pre-clean step. I swear that once every 100 times, I might only skip this step once or twice (probably this happens after a crazy non-stoppable movie-junk night). When I work on my face with the balm, I often feel some invisible things coming out – I mean I can feel them on my fingertips. Do you feel the same sometimes? Tell me this is not my long-time imagination.
I believe, moisturizing is the base of everything else
I think we are lead to many higher-level of skincare like anti-aging, detoxing, and skin cell generation by many marketing messages. However, many of us overlook the importance of keeping ourselves moisturized. When I pick a product, I always make sure moisturizing function is included.
If I have to name one skincare product category (or maybe two) to meet my moisturizing request, I think they are toner and mask. I love Caudalie Vinopure Purifying Toner. It is so refreshing by its smell and cooling effect on the face. It has a low level of salicylic acid (BHA) for its clear skin purifying function. 
However, recently, I tend to eliminate the toner from my routine. First, I love
Mario Badescu face spray
so much and it is such a perfect replacement for a toner. Second, by reading the ingredients, I recognize my facial wash, serum, cream, and even masks, they all incorporate AHA or BHA more or less. I think it is not a bad idea to "go lighter". For a nice face spray, you can find many in your next-corner pharmacy shop. However, if you want to try the ones by Mario Badescu, the pink one with rose water and
the orange one with sage
. I just got the
green one with cucumber and green tea
last Black Friday.
Honestly, I am still working on myself to stick with a proper "masking" routine. I am trying to do different masks twice or three times a week. Regarding the function, it is as simple as just deep cleaning and moisturizing. And, unless I am traveling, I don't normally use a sheet mask. I have to say, doing a mask is a way for me to relax and to enjoy the "me" moment. That moment of me, in my bathrobe, hair up in another towel, with either a white or green face, is the best of the weekend therapy.
I am a fan of
Kiehl's white clay mask
and seriously, I never think about a replacement. Let's be honest. You don't expect it works perfectly like what they say, right? However, I don't have a negative comment for it either. I am exploring a good mask for moisturizing and nourishing, so if you have a good recommendation, let me know.
You can really tell the difference between a good working serum
First, I don't mean you can see the difference after just a night's use. My instinct tells me this is either too dangerous or too fake. I still remember my 20-ish swear to
Estee Lauder Advanced Night Repair
– always grab one combo set when passing the airport duty-free shop. However, I have found equally good serums and incorporate them into different routines.
In the morning, I use Caudalie Vinoperfect radiance serum. It is a lightweight serum and super easy to be absorbed by the skin. The key ingredient from the grape works like vitamin-C to brighten and even the skin tone while working on the dark spots. 
In the night, I am switching from a couple of The Ordinary products according to my special treatment schedule. My favorites are 100% Organic Cold-Pressed Rose Hip Seed Oil, Hyaluronic Acid 2% + B5, Retinol 0.2% in Squalane, and Lactic Acid 5% + HA. 
I like to use oil at night for a deep-moisturizing and nourishing. This rose hip seed oil sinks into the skin so fast and I don't really feel that "oily" after using. Normally I use it when it is a night for exfoliation, so it can calm my skin without putting extra stress. Hyaluronic Acid 2% + B5 is a very good moisturzing serum and safe to use compared to other AHA/BHA serums. I don't mix Retinol 0.2% in Squalane and Lactic Acid 5% + HA in one single night. Because the first one works on cell regeneration on a deeper level for younger skin, while the latter one works on exfoliation for cell regeneration. They are both strong serums, works in a different way but have similar results. 
Serum does the "hero" job, cream is to make sure all the efforts. I don't have very typical requirements but moisturizing when selecting a cream. However, I do switch among different ones according to the seasons and temperature. If you are living in a city like Rome – burning and drying up everything in the long summer, non-stop raining in the winter, you might consider my selected products.
I use
Drunk Elephant's Lala Retro Whipped Cream
for summer nights and winter mornings. The consistency is just perfect. I love this brand's concept with all-natural ingredients. It is so nourishing without making me feel heavy. The special design to prevent the direct contact of my finger and the cream is another win.
I added
Caudalie's Resveratrol Lift Firming Night Cream
in the autumn. Despite its natural collegian boosting function, the night cream texture itself is interesting to me. The cream is very silky and fine, however, I still need to massage a bit to let the product sink in totally.
Some trendy special treatments, but I love them
Acid is surely the trend. And, I am sure one of your skincare products are featured in AHA or BHA. I have a BHA exfoliation toner by Paula's Choice. I prefer a toner or a mask for special treatments because they are just easy to use and don't affect my normal routine too much.
Paula's Choice exfoliation has 2% BHA
which is mild but I use it once or twice a week only. After it, I use only mild and simple products without any strong functional ingredients like AHA, BHA, or Retinol.
I keep one
Mario Badescu's drying lotion
in my skincare cabinet. I mean who doesn't have a small breakout occasionally? It is quite strong and dries up the next morning as it says in the product description. I don't use it often, but it deserves a chance in this best-skin-care-products-of-all-time list.
I don't know applying suncream daily is a trend or not. Surely, Luigi asks every time, you are not going out why wearing sun cream? or isn't it RAINING? Well, first, sun cream has nothing to do with brightening your skin but only protecting it from sun damage. The damage might be aging, drying, breaking out rather than simply darkening your skin tone. So, let's put a bit of sun cream every morning. I like Clarins UVA/UVB 50+ for its light-touch effect. A few months ago, I got a travel-size Anti-Wrinkle Face Suncare SPF30 by Caudalie. I will come back with my opinion later on.
Don't forget your body when thinking about skin care
Body care is not only in winters but also in summers – probably even more in summers. The reason is that we spend a long time under the sun which dehydrates our skin more. Just believe me, if you are living in Italy. Summer equals the endless sun and sea waves. I love dipping in the sea and enjoying the freshness under the burning Italian sun. However, this all thanks to those packed body lotions in the holiday luggage.
I use two body cream products. Ameliorate is a French pharmacy brand. I use their no-perfume body cream with AHA ingredients on my chest and upper-back. It is almost a liquid cream for easy application. For the rest, I got a super big bottle of milk lotion by La Roche-Posay. It has nothing spectacular to tell but just does its moisturizing job so well!
Errrr… I think it is good to pause here. As the best skin care products for all time, at least in 2020 I mean, I will definitely re-purchase a couple of them. If you have anything to share with me, leave a comment below or find me on Instagram.